Mid/high-end GPU prices to increase because of mining & PUBG
Cryptocurrency mining continues to deplete global GPU stocks, with price rises possibly on the way.
Published
3 minutes & 28 seconds read time
It looks like we are to expect graphics card prises to rise in the next few months, with these inflated prices lasting throughout most of 2018, something that is being amplified by cryptocurrency mining.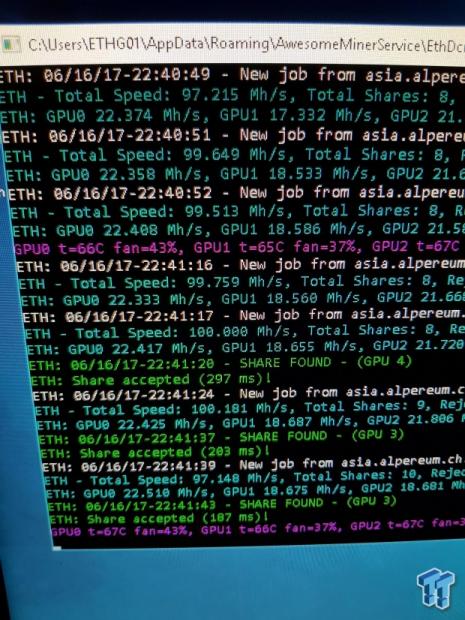 According to DigiTimes, graphics card vendors are expected to increase the price of mid/high-end graphics cards by $5-$20 in the "near future to reflect increasing product costs caused by the tight supply of memory devices and GPUs". DigiTimes continued, saying: "Since demand for graphics cards from the cryptocurrency mining segment has not waned as quickly as expected, GPU supply remains tight in the first quarter of 2018".
The site adds that companies like ASUS, GIGABYTE, and MSI all "benefited from the cryptocurrency mining demand and their shipments dropped only mildly in the fourth quarter of 2017", adding: "Meanwhile, graphics card upgrade demand has been picking up in the gaming sector thanks to the recent release of the blockbuster game PlayerUnknown's Battlegrounds. Demand has been especially strong from China due to the game's strong popularity".
So it's not just crypto mining that is driving up GPU prices, but the huge success of Battlegrounds, especially in China, is spurring an increase in GPU cost globally.
DigiTimes finished by saying: "Some graphics card vendors believe the price hike will only have limited impact on demand from the cryptocurrency mining sector, but could undermine graphics card sales in the gaming sector. The graphics card vendors expect their shipments to fall sequentially in the first quarter of 2018, but their profits and gross margins from the product line will both improve from those seen in the same quarter a year ago because of the price increases".
More Crypto News/Content:
Ripple (XRP) sets a new all-time record price of $3.17
Ethereum closes in on $1000, momentum isn't stopping
Ethereum reaches new record all-time high price of $870
Ripple (XRP) value blows up, bypasses Ethereum's market cap
Crypto expert kidnapped, had to pay $1 million BTC ransom
UnikoinGold is now available on Bittrex
Bitcoin could be worth $0, according to Morgan Stanley
Facebook Messenger malware mines Monero on users' PCs
Using 'blockchain' in new name, company shares rise 500%
MiningSky 8-GPU Mining Rig V1 Review
French dominatrix pimps clients out in 'Crypto Slave Farm'
North Korea hijacking cryptocurrency industry workers
Analyst: Bitcoin on its way to $400,000 - will happen soon
Related Tags