E3 2017 - Microsoft's newly announced 4K-ready Xbox One X console carries with it a $500 price tag, and releases in November.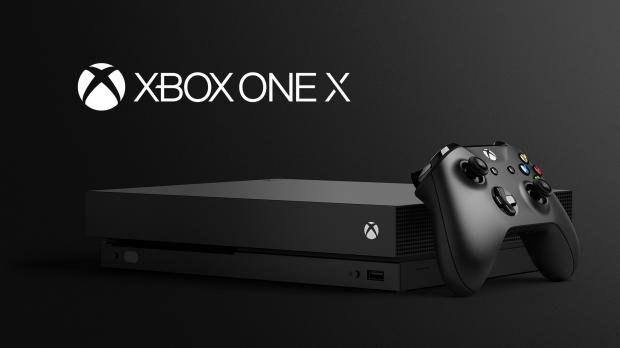 Microsoft today announced that its new premium Xbox One X system costs $499 and comes in a single 1TB configuration. The new 4K box will be able to play games in native 4K on 4K displays with HDR, but only supports HDMI 2.0. Gamers can enjoy low-latency experiences on Xbox One X with FreeSync 2 display support, and developers are adding in key optimization enhancements to run games in native 4K 60FPS, such as Turn10's new Forza 7 game.
Xbox One X features a highly customized and tweaked 16nm SoC with a heavily customized 8-core Jaguar CPU at 2.73GHz, alongside a Polaris-grade GPU with 40 Compute Units, 1.71GHz of clock speed, and 6TFLOPs of compute power. 12GB of GDDR5 unified memory gives the console a hefty bump of system memory with 326GB/sec bandwidth.
All of these components sit in a small, sleek chassis that closely resembles the Xbox One S in form factor, but the Xbox One X is actually the smallest console Microsoft has ever made.
Microsoft's high-end Xbox One X launches November 7, 2017 for $499. Check below for a list of everything we know about the console so far.
Project Scorpio confirmed specs
SoC: Highly customized 360mm² AMD System-on-Chip built on 16nm FinFET
GPU: Polaris-derived GPU with 40 Compute Units at 1172MHz, 6TFLOPs of Compute Performance
CPU: Custom x86 "Jaguar Evolved" 8-core CPU at 2.73GHz, 4MB L2 cache
Memory: 12GB GDDR5 memory with 326GB/s bandwidth (12x 6.8GHz modules on a 384-bit bus)
Storage: 1TB 2.5-inch HDD
Media: 4K UHD Blu-ray player
Project Scorpio coverage index