Microsoft is set to reveal the exact name and price point of its high-end 4K-ready Project Scorpio console at E3 2017, but first we get a better glimpse at the system's development kit.
Xbox spokesman Larry "Major Nelson" Hryb recently sat down with Kevin Gammill from the Xbox engineering team to discuss Project Scorpio's devkit, and how it'll arm developers with the most powerful console ever made. We've already seen the devs at Turn10 hit native 4K 60FPS in Ultra PC settings with 88% of Project Scorpio's GPU utilized, and other developers like Monolith Productions are aiming for native 4K resolution in games like Middle-earth Shadow of War.
As we reported weeks ago, Project Scorpio's devkit is beefier than the retail model so that developers can "come in high and tune down," as Gammill says. The devkit features 12GB more RAM than the Project Scorpio's base 12GB GDDR5 RAM, or 24GB of GDDR5 unified RAM total. The devkit also features four more Compute Units, for a total of 44 customized Polaris-derived GPU Compute Units, and the GPU itself is clocked at 6.6 TFLOPS versus the retail model's 6TFLOPs of power.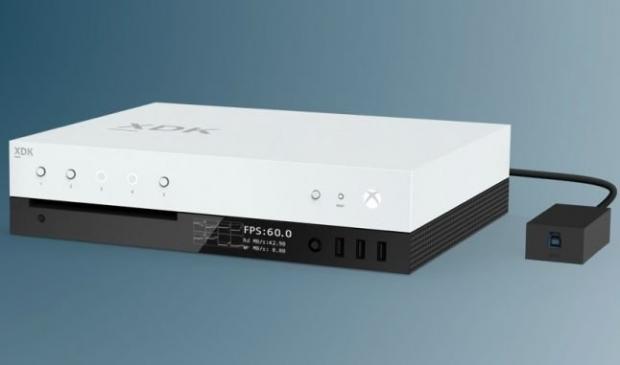 Read Also: Project Scorpio has dynamic GPU/CPU perf scaling
Interestingly enough the Project Scorpio devkit's front LCD panel and accompanying five buttons can be customized to do "anything the developer wants," according to Gammill. At the press of a button devs can trigger different settings and graphical presets to test various scenarios. We've also seen the LCD panel being used to show live frame rates of the tested games.
"The front panel display and the five programmable buttons. We ship with a number of what are called 'canned' or 'samples' for those, but those are programmable by the developer to do anything they want," Gammill said.
"You can imagine a scenario in a lab where they go headless, where they don't want to have a monitor for every devkit, they can basically use these buttons to change the gameplay."
"I've seen people use the screen in a number of ways; I've seen frame rates, I've seen people create mini versions of their games, and I've even seen games specifically made for the front panel display just for fun. And Snake is running!"
Microsoft is set to reveal Project Scorpio's retail version at E3 2017 starting on June 11th at 2PM PST / 5PM EST, and the beastly console is set to ship Holiday 2017.
Check below for everything we know about Project Scorpio so far, including a massive content index for more info.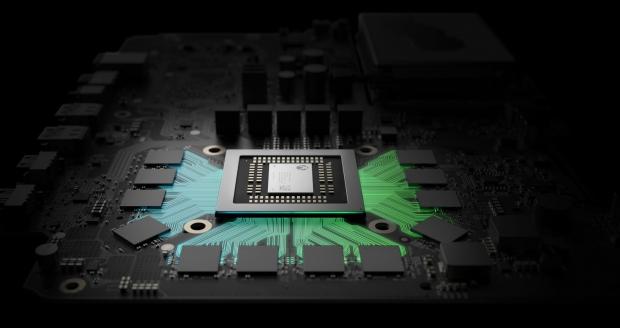 Project Scorpio confirmed specs
SoC: Highly customized 360mm² AMD System-on-Chip built on 16nm FinFET
GPU: Polaris-derived GPU with 40 Compute Units at 1172MHz, 6TFLOPs of Compute Performance
CPU: Custom x86 "Jaguar Evolved" 8-core CPU at 2.73GHz, 4MB L2 cache
Memory: 12GB GDDR5 memory with 326GB/s bandwidth (12x 6.8GHz modules on a 384-bit bus)
Storage: 1TB 2.5-inch HDD
Media: 4K UHD Blu-ray player
Project Scorpio coverage index