Project Scorpio has dynamic GPU/CPU perf scaling
Microsoft's 4K-ready Project Scorpio console knows when to scale its performance so no voltage or power is wasted.
Published
7 minute read time
Thanks to its impressive hardware and software synergy, Microsoft's new Project Scorpio console is able to hit amazing performance like native 4K 60FPS Ultra PC settings in games like Forza 6: Apex. But the system isn't just about 6TFLOPs of brute power--it has an optimized intelligence that automatically scales performance to ensure no power is wasted during non-demanding activities.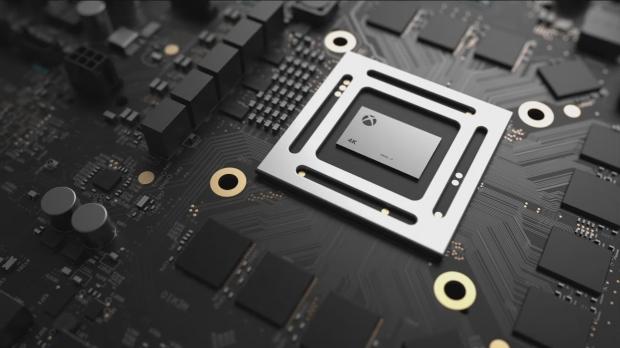 Most consoles scale their hardware with specific power states that reserve CPU and GPU perf for specific activities, dialing back resources while watching a Blu-ray or steaming Netflix. This keeps power draw down and reduces heat. Project Scorpio takes this dynamic performance scaling to a new level thanks to these optimizations: highly customized hardware that's specifically designed to compliment one another, a tailor-made cooling solution with a vapor chamber heat sink and a blower-style fan, fine-tuned voltage scaling via the Hovis Method, and the Scorpio Engine's built-in power states.
"The number of power states we have in the SoC - the Scorpio Engine itself - is eight CPU states, five GPU states, three for the memory," Leo Del Castillo, General Manager of the Xbox Hardware team, told Digital Foundry in a recent interview. "Naturally all of those will be maxed out if you're playing a high performance game, but for other modes of operation you want to minimise the amount of power the system is consuming."
Read Also: Project Scorpio's tuned power efficiency reduces heat
Scorpio's power states are exactly new advancements in the console world, but the console has an advantage over other systems simply because of its highly customized hardware. Remember that everything inside of Project Scorpio's box is fine-tuned in a next-generation type of compatibility: for example, the Scorpio Engine's highly evolved Jaguar-based CPU has been significantly tweaked and scaled to compliment the Polaris-grade Radeon GPU.
But this harmonious union extends to every component within the box itself; from the motherboard's built-in voltage control scaling, to the 12GB of GDDR5 RAM, the VRMs, the cooling solution, and even the custom hard drive--all of it has been tweaked to work near-perfectly well with one another.
So Project Scorpio's power states will likely be much more effective in controlling and scaling performance across the board, culminating in cooler temperatures thanks to a more efficient power draw. Since Project Scorpio is definitely a compact and smaller powerhouse console, it's very important it stays cool.
"It's better for the environment when you use less electricity to power the box and it minimizes the demands on the thermal system, and you can run the fans as slow as possible... when you're watching a movie [or] watching television through your HDMI, or when you're doing something that doesn't require all of the performance. You can scale all of that back and make the system much more efficient that way," Del Castillo affirmed.
Read Also: Project Scorpio supports FreeSync, FreeSync 2, HDMI 2.1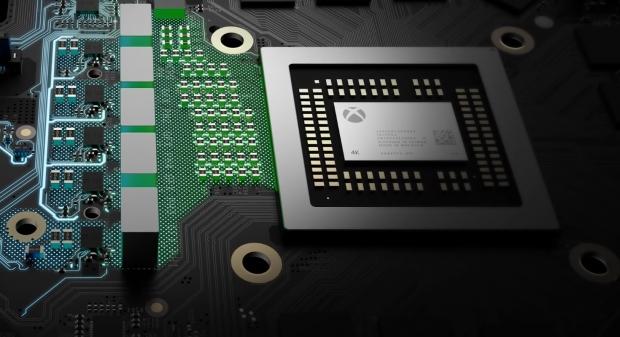 Project Scorpio's power is relegated and controlled by five VRMs that are covered by the console's full copper-coated vapor chamber cooler heat sink, and centrifugal blower-style fan. Del Castillo discusses how the VRMs work with the console's Hovis Method voltage regulator to ensure the components are only drawing as much power as they need and not wasting anything.
"Between trying to target a compact design, and also strike overall efficiency and minimize power use, we do a lot of things that are special. One of the things we do is we basically fine-tune the voltages for each of the chips and optimise them so the chips are getting exactly what they need to get the job done."
All in all I'm quite impressed with Project Scorpio. Microsoft has used everything they've learned about Xbox One's failures and taken all of that wisdom and know-how and made the world's most powerful console out of it. But Scorpio isn't just powerful, it's also quite smart, and that's what impresses me the most. In fact, it marries brains and brawn in a way that we've never seen in a console before, and Microsoft may have just revolutionized how consoles are not only made, but how gamers see them.
Project Scorpio will release Holiday 2017, and will be revealed during Microsoft's E3 2017 showcase in June.
Check below for a huge content index on everything we know about Project Scorpio so far.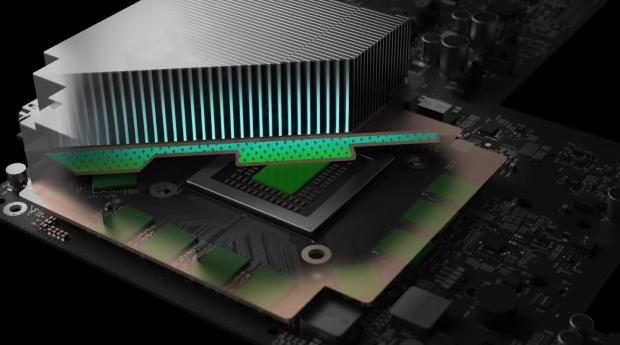 Project Scorpio confirmed specs
SoC: Highly customized 360mm² AMD System-on-Chip built on 16nm FinFET
GPU: Polaris-derived GPU with 40 Compute Units at 1172MHz, 6TFLOPs of Compute Performance
CPU: Custom x86 "Jaguar Evolved" 8-core CPU at 2.73GHz, 4MB L2 cache
Memory: 12GB GDDR5 memory with 326GB/s bandwidth (12x 6.8GHz modules on a 384-bit bus)
Storage: 1TB 2.5-inch HDD
Media: 4K UHD Blu-ray player
Project Scorpio coverage index
Related Tags