AMD Ryzen 7 1800X CPU Review - Intel Battle Ready?
AMD created an immense amount of hype regarding its brand new Ryzen 7 1800X processor. Is the hype real? Is Intel nervous? Let's find out right now.
Published Thu, Mar 2 2017 8:00 AM CST
|
Updated Tue, Nov 3 2020 6:58 PM CST
Rating:

94%
Manufacturer: AMD
Introduction, Specifications, and Pricing
I know what you are here for, and you know what you are here for. You are here to see if you should cancel your pre-order or if you should immediately place your order before the Ryzen sells out and AMD raises their prices.
You are here because AMD provided the public with benchmarks that showed its $500 CPU matching Intel's $1000 CPU, and you want to see if we came up with the same results as AMD. I am here to tell you the story of my past seven days with Ryzen. To be clear, no media I knew had Ryzen in their hands before the 21st of February, which is very different from other CPU launches, where we have at least two weeks (sometimes months).
There is only one option when you have very little time and a deadline, you immerse yourself in work and don't pop out until you are done. Lucky for you, my full-time job is to evaluate computer hardware at TweakTown, so I got to know Ryzen pretty well. Ryzen is exciting for many reasons other than the marketing hype. It offers a true 8-core CPU for everyone, not only those with padded pockets. It's very competitive in both multi-threaded and even sometimes IPC related tasks against Intel. It's also the first time in over half a decade that an AMD CPU is competitive in the enthusiast segment.
AMD fans, rejoice. Ryzen is very strong - but there is a lot more to the story. For the past half-decade, if you went to buy a CPU for anything more than web-surfing, you probably looked towards Intel. Since Intel ranks their performance based mainly on price, you were buying a CPU based on how much you had in your bank account rather than what met your needs. It's like if you went to buy a car and there was only one dealership in driving distance (a BMW dealership), so you could only buy based on what you wanted to pay and the level of performance you could afford. Introduce a Mercedes dealership down the road, and now people rank their needs whether it is performance, luxury, or reliability at a certain price.
Ryzen is that addition that makes CPU buying a bit more complicated since now you have to take into consideration what you are using the CPU for, which will determine your optimal core count, frequency, and IPC requirements. In the end, AMD's introduction of Ryzen results in more competition, which in turn results in more value for you, the consumer.
Things are changing, let me show you how.
Specifications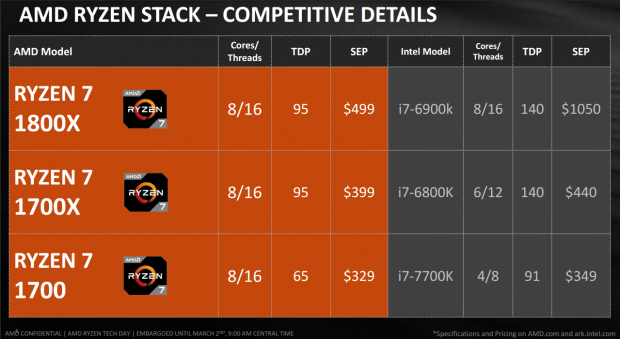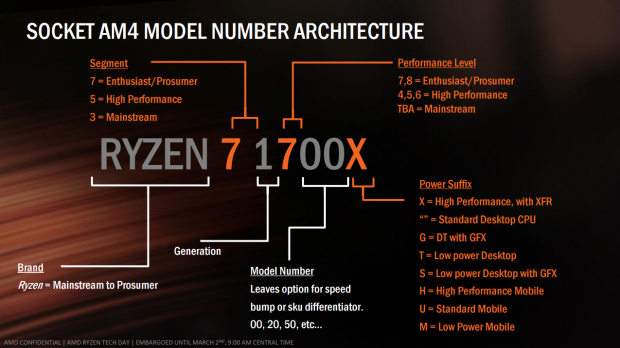 Three processors were launched today, the Ryzen 7 1700, the 1700X, and the 1800X. The Ryzen 7 1700 has a base clock of 3GHz with a 3.7GHz Boost, the 1700X has a base clock of 3.4GHz with a 3.8GHz Boost, and the 1800X has a 3.6GHz base clock with a 4.0GHz Boost. The 1700X and 1800X both offer XFR and have a TDP of 95W, while the 1700 has a TDP of 65W.
The naming conventions are simple enough, but we do see some hints from the slide of what's to come. We already know about the lower-end Ryzen products, but AMD also hints at a Ryzen 8 in the future. The power suffix also gives away a few hints such as upcoming integrated graphics.
Pricing
AMD is going after Intel with very aggressive pricing.
The top Ryzen 7 1800X will cost you $500 and is aiming at overtaking the $1000 6900K. The Ryzen 7 1700X costs $400 and is aiming at the 6800K at $440, while the 1700 is aiming at the 7700K at $349.
I am quoting the prices for the Intel CPUs from AMD's charts. Intel's CPU prices can be found lower than those in the chart above.
The New Microarchitecture
Ryzen Microarchitecture
AMD's target was to increase IPC 40% over their previous generation CPUs, but they chimed in on average 52% higher than their previous chips. That type of increase will probably never be seen again on either side of the aisle.


Zen's new core has a heavy emphasis on learning from past mistakes with Bulldozer and subsequent microarchitectures. One great new addition is a micro-op cache (like Intel introduced in Sandy Bridge). Cache and branch prediction also get big improvements to improve overall performance.
The core of the CPU was improved in regards to SMT (multi-threading improvements), and AMD improved branch misprediction by three cycles. The addition of micro-op cache, larger schedulers, larger retirement, improved FPU, and larger queues helped Ryzen as well.
The cache system was improved by targeting write-back cache, L2 and L3 cache were sped up, L1/L2 prefetchers were also improved, and load times to the floating point units were reduced by two cycles. AMD estimates that the L1 and L2 bandwidth were doubled over previous generations while L3 bandwidth improved 5x.
Power efficiency was also improved with more aggressive clock gaming, write-back L1 cache, the micro-op cache, stack engine, and an overall focus on power optimization.


Here we can see how AMD has organized the core to maximize efficiency. Branch prediction is important business, and it's very important to overall processor performance and power efficiency. AMD's Neural Net Prediction is a fancy way of saying that their branch prediction is smarter and more effective than it was in Bulldozer.
One highlight of this "Neural Net" is the 512 entry indirect target array, which will handle incoming dynamic indirect branches. Another change is that the TLB was added to the branch-predictor block (in the pipeline), which provides physical addresses earlier on and accelerates prefetch speed.


Ryzen offers double the L2 cache bandwidth and over 4x the L3 bandwidth compared to Bulldozer. The L2 cache's arrays and macros make it much more area efficient while the L3 cache gets four gated clock regions make it more power efficient. The L3 cache runs at the same speed as the fastest core.


Shadow tag macros help improve efficiency by reducing probe traffic into the L2 cache. When misses get to a certain point, the stage-2 tag and state activate. All cores in the CPU Complex get the same average latency to L3 cache, data is addressed and not resident to any of the four L3 slices.


AMD's problem with Bulldozer and subsequent architectures was the heavy sharing of resources between cores. Bulldozer shared parts of the pipeline, L2 cache, and FP units between each two cores. Zen departs from the sharing idea, and each core now has dedicated resources. AMD moved towards two-way SMT (simultaneous multithreading) to get 16 threads out of 8 cores. Two threads share the resources of each core, and while they compete for most of the core's resources, some resources are statically partitioned. With the results I have seen in benchmarks, even with lower single threaded performance, Ryzen can still beat Intel's Broadwell-E in regards to multi-threaded performance at the same frequency, so whatever AMD has done is working well for them.


One issue with modern CPUs is power efficiency, and AMD made huge investments to reduce power consumption. In the past they used a single level of clock gating, now they use two. They have seen a drop of 14% in power overhead.


AMD SenseMI technology is no joke, with over 1300 critical path monitors, 48 power monitors, 20 thermal diodes, and nine drop detectors, the CPU can monitor itself quite well. Rumour was that Intel replaced the FIVR in Haswell/Broadwell with LDOs in Skylake, AMD skipped the integrated silicon voltage regulator all together and went straight for LDO. LDOs are linear regulators, and unlike FIVR, they make a lot more sense for integration for core power regulation.


Here we see AMD toting their linear regulators.
SenseMI's 1000+ sensors help to dictate precision boost levels and XFR, so we know AMD didn't just set one profile. The profile adapts to the current conditions of the CPU.
The CPU, Platform, and Test Setup
The CPU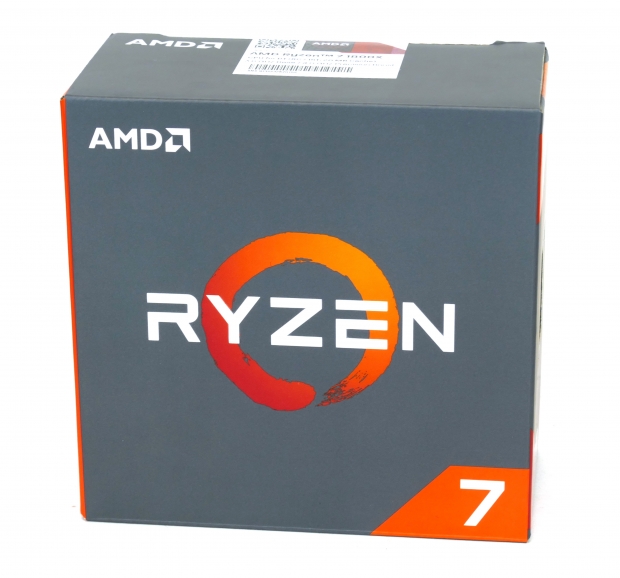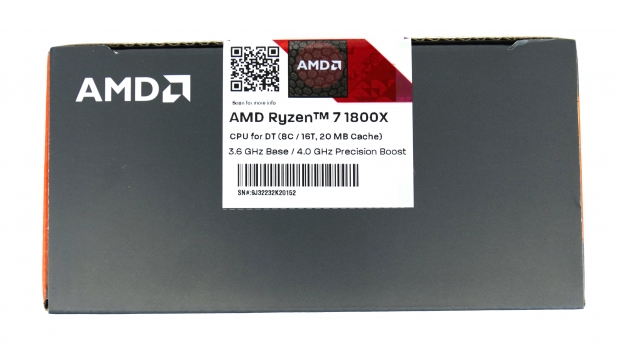 The Ryzen box has already been widely publicized, but if you wanted a closer shot of what's written on the sticker, here you go.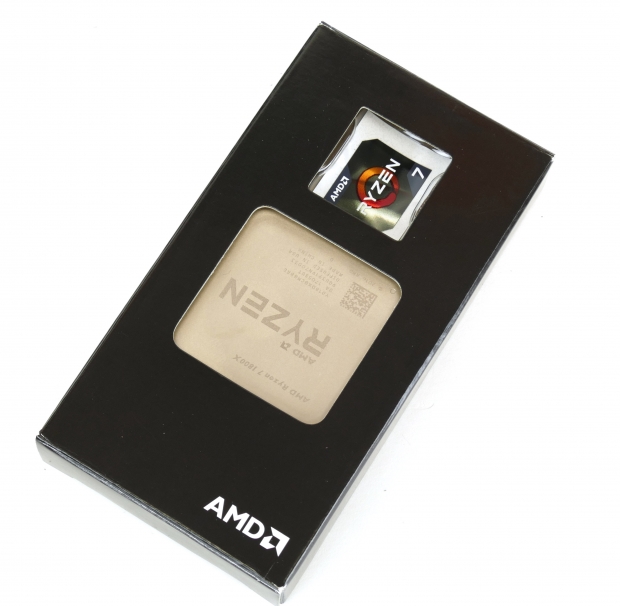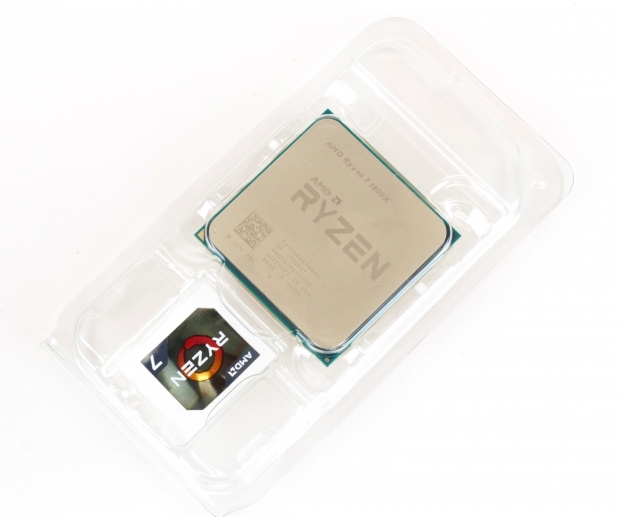 Packaging is very simple, the CPU and a case badge sit inside a plastic cage. Be careful handling the CPU, it has many pins, and if you haven't dealt with a CPU with pins in a while, do your best not to bend any pins because straightening them is very hard.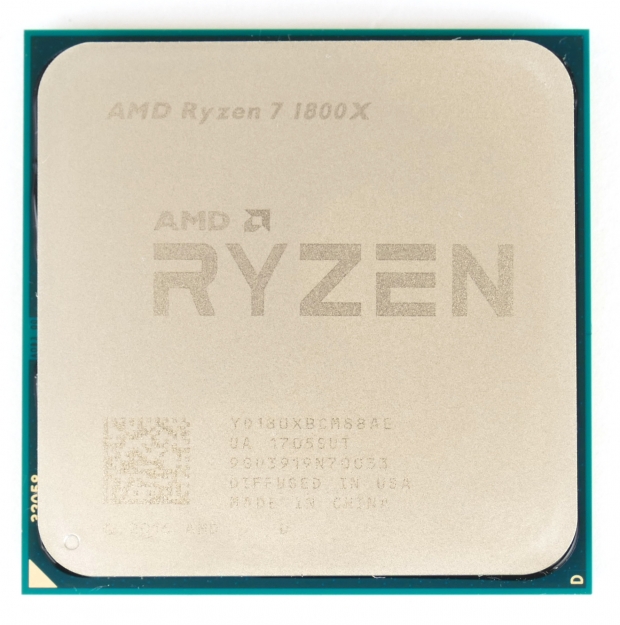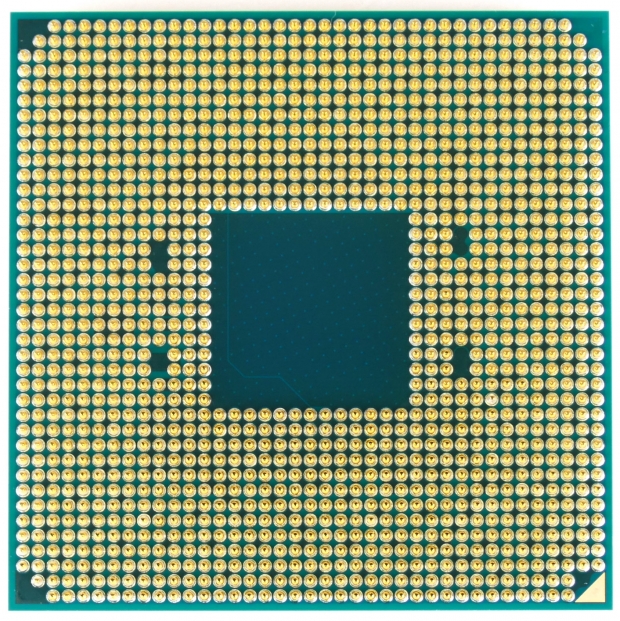 The top and bottom of the Ryzen CPU.
The Platform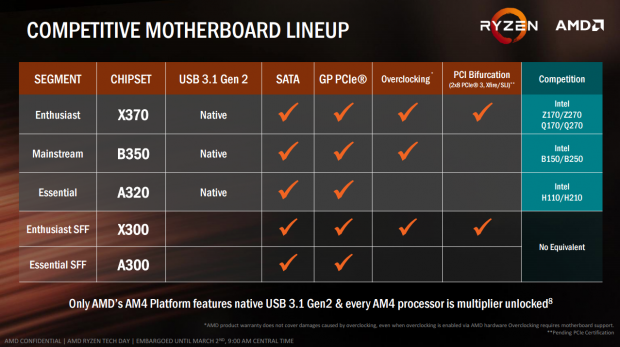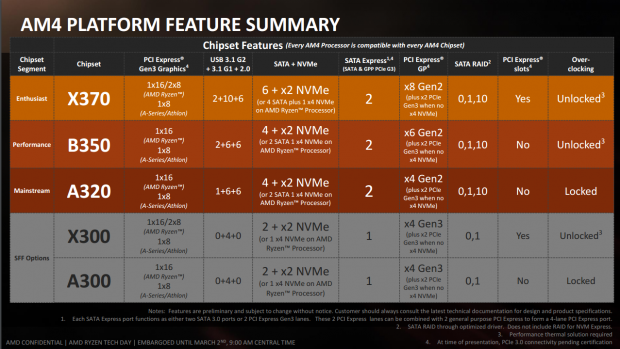 AMD's Ryzen CPUs move one step closer to eliminating the motherboard chipset. AMD's CPUs integrate not only PCI-E lanes for the GPU but also some storage and USB. If you don't want to spend a lot of money on an X370 motherboard, the B350 chipset also allows for overclocking. Some people mentioned they didn't see any mini-ITX motherboards for Ryzen, and that is because of X300. The X300 chipset is a tiny chip that has no IO and allows for overclocking, its main purpose is to validate the CPU is authentic and provide some security measures for the system.
We should see some very interesting mini-ITX motherboards for Ryzen CPUs. The one thing that AMD's chipsets have over Intel's is integrated USB 3.1. Now, I won't lie, it can be confusing as to what IO comes from where with the chipsets, AMD tries to explain it in the charts but isn't very clear on everything. So I looked for another source.
The motherboard in this review is the ASUS Crosshair VI Hero, and the block diagram explains exactly what the IO split is. The Ryzen CPUs have x16 PCI-E 3.0 lanes for the PCI-E slots, as well as an x4/SATA connection for M.2 storage. The HD audio/I2C bus is also located in the CPU (on Intel platforms it's in the PCH). We also get four USB 3.0 ports from the CPU as well. The CPU is connected to the Promontory X370 FCH by an x4 PCI-E connection (similar to Intel's x4 DMI). The promontory X370 chipset offers eight PCI-E 2.0 lanes (almost identical to X99, but nothing compared to Z270), that is where you get your LAN (one lane), extra USB 3.1 (two lanes for 10Gbit/s), and WIFI/BT adapter.
The chipset also six USB 3.0 ports, same as the CPU for a total of ten, four more than Intel Z270. The chipset offers eight SATA 6Gb/s ports and a bunch of USB 2.0. It's also where the native USB 3.1 ports come from. It's an interesting choice regarding IO selection, especially with the heavy proliferation of x4 PCI-E 3.0 M.2 drives.
Test Setup
At the Ryzen Tech Day event in San Francisco, I picked up our Ryzen test kit, and this is what I received.
Out of the Box Performance: CINEBENCH, wPrime, and AIDA64
CINEBENCH results are as expected, except for the OpenGL, where the Intel CPUs do much better.
AIDA FPU tests also show that while integer performance is strong, floating point is a bit behind, but it might be a bug in the software since AIDA warned me that the software isn't yet optimized for the CPU. AIDA's memory performance shows what we would expect from a dual channel DDR4 setup.
Out of the Box Performance: Handbrake Video Transcoding, ScienceMark, and SuperPI
The 4K handbrake results show that the 1800X is faster than the Intel alternatives, but when we switch to the 720p project, the FPS go back in Intel's favor.
ScienceMark is interesting, it uses some legacy code that makes the 1800X not do so well in specific tasks, but it keeps up overall.
SuperPI shows the strength of Intel's IPC.
Out of the Box Synthetic Gaming Performance: UNIGINE and 3DMark
The synthetic gaming benchmarks are interesting because the Broadwell-E CPUs do very well in Physx, but the 1800X keeps up overall. However, the 7700K starts to show its strength here.
Unigine is quite interesting because it keeps benefiting from extra cores at 720p when the benchmark isn't GPU limited, but when the benchmark is GPU limited the 6900K and 1800X tie.
Out of the Box Gaming Performance: Resident Evil, Tomb Raider, GTA:V, Ashes of Singularity
When we lower the resolution in Resident Evil, so that the games are no longer GPU limited, we see that the 7700K does well. In GTA:V, a game that uses CPU cores well, the Broadwell-E CPUs do well when the game isn't GPU limited, Ryzen only seems to have an advantage with maintaining a higher minimum FPS.
Tomb Raider shows how Intel's IPC helps it stay ahead in games, but when the game becomes GPU limited, there isn't much difference regarding what CPU you use.
Ashes of Singularity is where I figured the Ryzen CPU would do well, but based on their announcement today of future optimizations, it currently does better on Intel, although not by much.
Clock for Clock Performance: CINEBENCH, wPrime, and AIDA64
Things get interesting clock for clock with Broadwell-E, Ryzen, and Skylake head to head. Ryzen shows its strength in multithreaded CINEBENCH, while Skylake shows us its IPC strength.
We can now see how Ryzen took the CINEBENCH 8-core world record from Broadwell-E; it wrecks it by 100 points at 4GHz. Oh, I should mention, all speeds including memory have been equalized. The 1800X beats out Broadwell-E in wPrime as well, and Skylake gets wrecked.
I am still weary of the single-precision floating point AIDA64 score; I will retest this when AIDA gets their hands-on Ryzen and releases and update.
Clock for Clock Performance: Handbrake Video Transcoding, ScienceMark, and SuperPI
HandBrake HD transcoding has the 6900K ahead, but UHD once again puts the 1800X ahead.
We see the same behavior in ScienceMark that we saw at default speeds, with the 1800X losing in some of the individual tests but winning overall. SuperPI shows us that Skylake still has the IPC advantage.
Clock for Clock Synthetic Gaming Performance: UNIGINE and 3DMark
It looks like FireStrike does take advantage of those extra cores, but Broadwell-E's IPC puts it ahead of Ryzen by a razor-thin margin, the same thing happens in CloudGate.
UNIGINE results show that gaming performance is a bit better on Intel, but the difference is small.
Clock for Clock Gaming Performance: Resident Evil, Tomb Raider, GTA:V, Ashes of Singularity
We see similar results to the stock tests, except for the fact that Broadwell-E's extra cores are helping it along with its IPC advantage, especially in GTA:V and Resident Evil 6.
Overclocking and Power Consumption
Page 12[Overclocking and Power Consumption]
Ryzen CPU Overclocking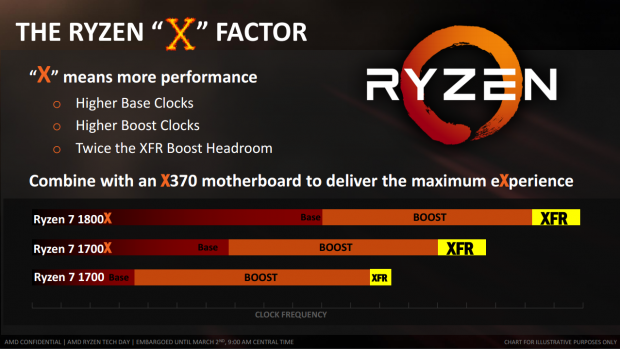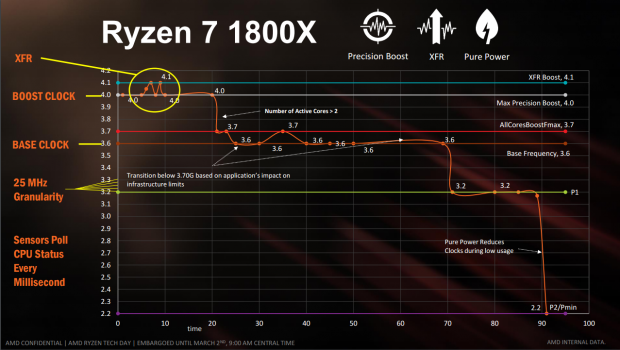 The 1800X and 1700X features XFR, or eXtended Frequency Range. The 1000+ sensors in the CPU allow for the CPU to overclock itself to a maximum of 4.1GHz (on the 1800X). A single core can go above its 3.7GHz boost limit (all cores run at 3.7GHz), to 4.1GHz.
AMD is working on expanding this range in the future, but for now, it's 4.1GHz. AMD's CPU multiplier can increase in 0.25x increments.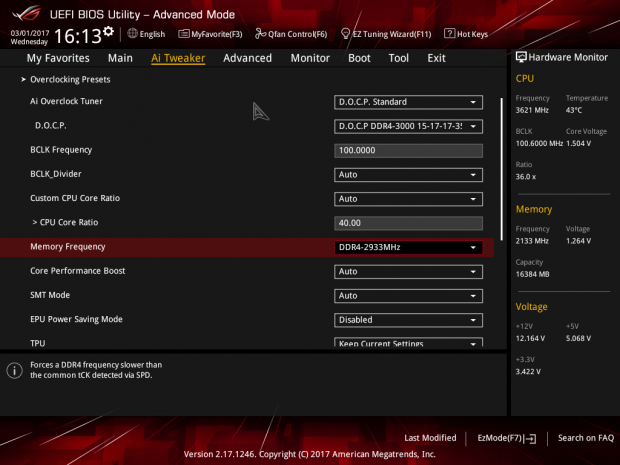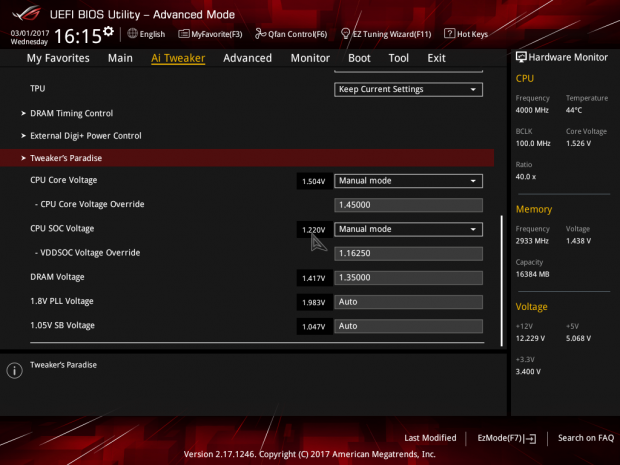 ASUS's UEFI has built in profiles under overclocking presets; I just decided to use DOCP, which is AMD's version of XMP. It brought the DDR4 multiplier to 2933MHz and set my timings as per the kit's SPD. I should mention that the platform likes DDR4 to run at T1 and that you are going to hit your daily limit around 3000MHz, you need very good memory to go higher and a motherboard to match (like this one).
I then set the core ratio to 40x. The VCore to 1.45 (recommended maximum, but try to keep around 1.4v) and SOC to 1.162 (maximum is around 1.2v for daily use). VCore is useful for core overclocking, while SOC can help both core and memory. You also need to set your DDR4 voltage if it isn't already set by DOCP.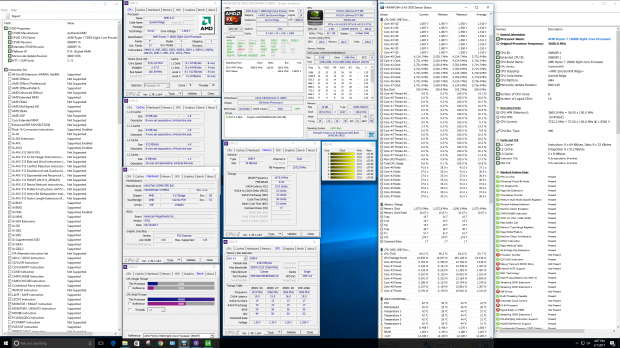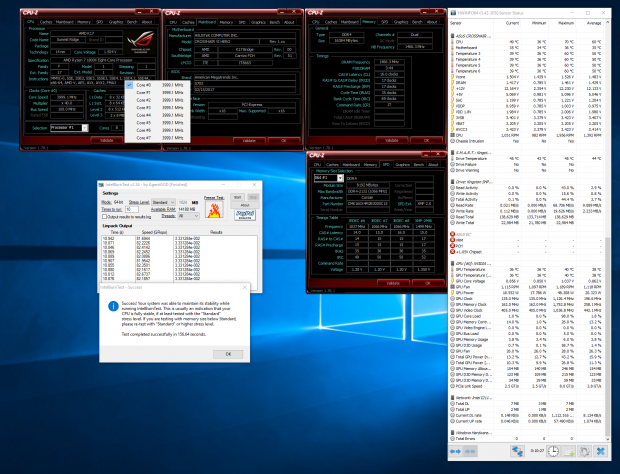 On the left are our results at stock and on the right, we have overclocked the CPU to 4GHz on all cores and the memory to 2933MHz. The overclock you see here is the maximum of most first generation 1800X, at least from what I can gather, when overclocking all cores. AMD recommends trying to disable cores and overclock higher as you will see below.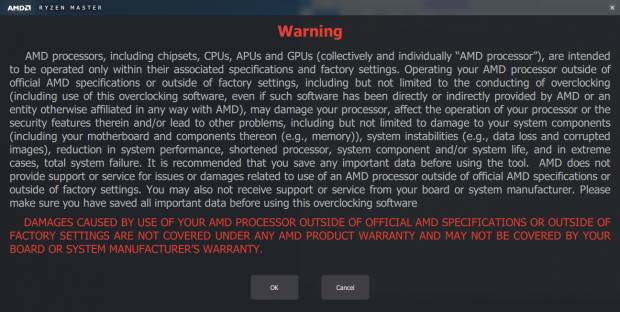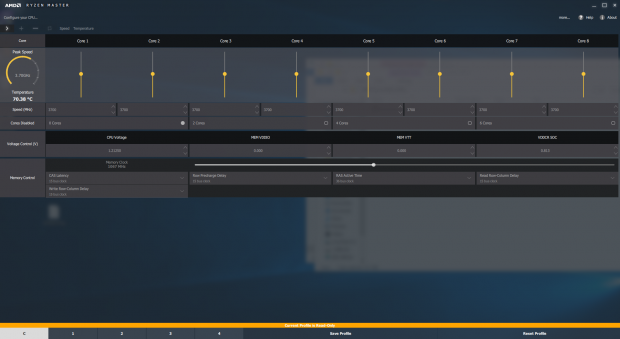 AMD's Ryzen Master is their overclocking software, similar to WattMan for AMD GPUs. Every time you use the software, you must agree to the terms. It's an easy to use GUI with a really nice look and feel to it. You must change the profile from current "C" to one of the other four profiles to make changes. The software has a setting called "Cores Disabled, " and it's where you can disable pairs of CPU cores to achieve higher overclocks on the other cores.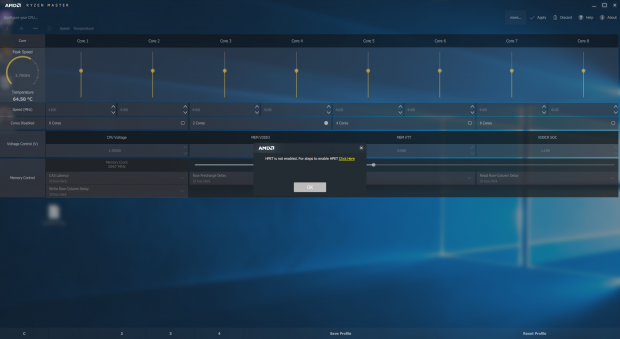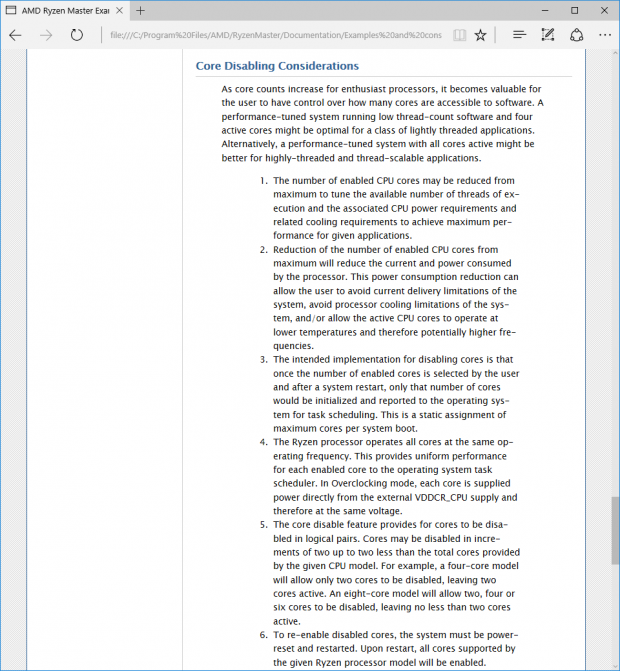 HPET must be enabled to use the software. I also read a bit of the ReadMe for the program and came across this part. It states a few interesting things. For starters, AMD is adamant the CPU will overclock higher with fewer cores and explains the benefits to disabling cores. I also read, "the Ryzen processor operates all cores at the same operating frequency," which would hint that we can't stagger the overclock so that some cores operate at lower frequencies than the others like XFR does.
AMD did tell us during their OC session (where they overclocked memory to 3600MHz on air and a CPU to 4.1GHz on all cores), that they would be improving overclocking as time goes on. For now, taking all cores to 4GHz provides a good boost in performance.
Ryzen Power Consumption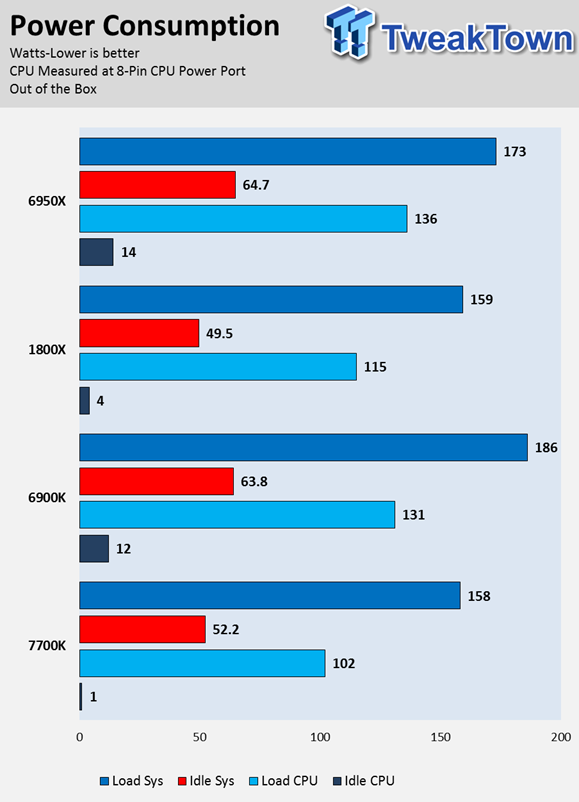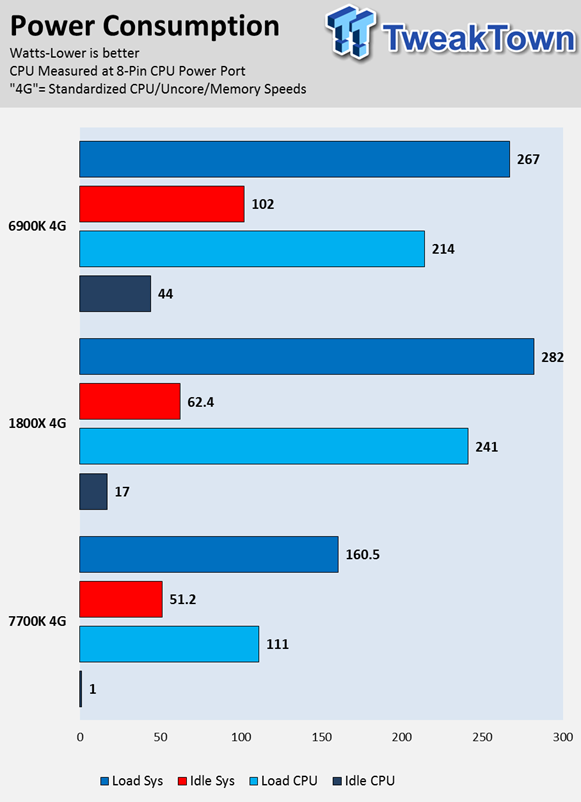 So, I have a handy device that measures CPU power consumption separately from that of the rest of the system. I also measured power consumption at the wall to get total system power consumption.
You need to keep in mind that the Ryzen CPU is a SoC with a lot of extra IO compared to the Intel processors.
What's Hot, What's Not & Final Thoughts
This is where you can fast forward to the final section of the review, and get a quick recap and points on the Ryzen 7 1800X.
What's Hot
SMT FTW!: Ryzen keeps on surprizn'! AMD's processor teams deserve a round of applause for catching up to Intel regarding multi-core performance. There is a reason that a Ryzen CPU currently holds the world record for the fastest 8-core CPU in CINEBENCH. At the same frequency, Ryzen's multi-core performance is stronger than Broadwell-E's in programs such as CINEBENCH. In Handbrake transcoding a 4K video, it has a clear advantage. That is a big deal because multi-core performance is critical in modern workloads, especially those that rely on thread count the most.
Excellent Affordability: The 1800X costs $500, half as much as Intel's 6900K. That is a shockingly low price, and it will force Intel to move down the price on the 6900K. However, that $500 mark is also AMD's price for their top of the line 8-Core, which sets the stage for the other two 8-core CPUs to become mainstream-affordable.
SoC to a New Level: Adding IO into the CPU, as AMD did with Ryzen, is a very interesting move. By separating out some of the IO from the chipset, AMD can bypass their CPU to chipset connection for certain ports so that it doesn't get bottlenecked. It also means that your rear panel IO USB 3.0 traces are shorter, which could result in better performance. The final benefit is that it sets the stage for chipsets such as the X300, which are super small and don't take up as much motherboard real-estate, which should result in very interesting mini-ITX and PicoATX designs.
Broadwell-like IPC: Broadwell-E is Intel's current microarchitecture for their high-end desktop product like (X99), so every Intel CPU with six or more cores currently uses that microarchitecture. The fact that AMD can come very close in IPC and frequency to those processors at stock makes them competitive.
DDR4 1T: Many people know that it's difficult to get DDr4 to run 1T with XMP on Intel platforms, but AMD's IMC does so without a hitch, at least around the 3GHz mark.
What's Not
Overclocking: Almost everything we saw at Ryzen Tech Day was impressive, except the overclocking (LN2 exempt). For those of us who are used to overclocking all cores beyond the processor's maximum auto boost levels, we can't help but be disappointed when all cores can't even match XFR's single core maximum. I am not sure if it's due to the maturity level of the silicon process (first time AMD is using FinFET), the uArch itself, or the fact that AMD stuffed IO into the CPU but I do expect overclocking to improve a little bit with BIOS updates and possibly more with newer iterations.
IO Priorities: Having so many USB 3.0 and SATA6Gb/s ports is nice, as is the integrated USB 3.1, but M.2 storage is all the rage these days, and most motherboards only come with a single x4 PCI-E 3.0 slot, which many drives can saturate. I am also a bit confused on the limited number of lanes for the PCI-E slots, as AMD's previous generation (990FX) offered more multi-GPU capabilities than their current lineup, granted it was PCI-E 2.0.
Final Thoughts
Right at this moment, the decision to buy a 6900K over the 1800X is extremely difficult - there just isn't that much more you get for an extra $500 over the 1800X - and that fact has shaken the CPU market. Not to mention, the two other much less expensive 8-core alternatives that bring 16-threads into the mainstream. For now, until we see what Intel will do with Coffee Lake and Skylake-E, AMD holds a very important piece of the CPU market, located right between Intel's mainstream desktop and high-end desktop segments. If you are a gamer, the 7700K is still worth it, but for many of those who need multi-threaded capabilities or want to invest in multi-threaded capabilities for the future, AMD is an excellent option.
It's almost as if AMD strategically chose to catch up to Intel in multi-core instead of IPC. Since Intel's 14nm process has been refined and is currently in its second iteration, AMD must have realized that it would take much more effort to match IPC because Intel could just dial up frequencies if they felt like it. Whatever AMD did, they should keep on doing, because it's working. They came back from a five-year hiatus with engines roaring and performance soaring.
Like I said earlier, AMD fans have something to rejoice about, and CPU buyers have some tough decisions to make. Regardless if you are a fan of either camp or an impartial observer, competition is always a good thing for the consumer, so I guess we all win!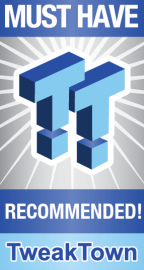 | | |
| --- | --- |
| Performance | 94% |
| Quality | 93% |
| Features | 92% |
| Value | 98% |
The Bottom Line: AMD's Ryzen X1800 processor at $499 is an excellent choice for anyone who needs eight fast cores, 16 threads, and some pretty astounding multithreaded performance.
PRICING: You can find products similar to this one for sale below.

United States: Find other tech and computer products like this over at Amazon.com

United Kingdom: Find other tech and computer products like this over at Amazon.co.uk

Australia: Find other tech and computer products like this over at Amazon.com.au

Canada: Find other tech and computer products like this over at Amazon.ca

Deutschland: Finde andere Technik- und Computerprodukte wie dieses auf Amazon.de