Witcher 3 won't support PS4 Pro 4K enhancements
If you want to play Witcher 3 in 4K, you'll have to do it on PC.

Published Fri, Sep 16 2016 4:35 PM CDT
|
Updated Tue, Nov 3 2020 11:58 AM CST
CD Projekt RED is completely devoted to Cyberpunk 2077 and doesn't have the time to upgrade Witcher 3 for the PS4 Pro.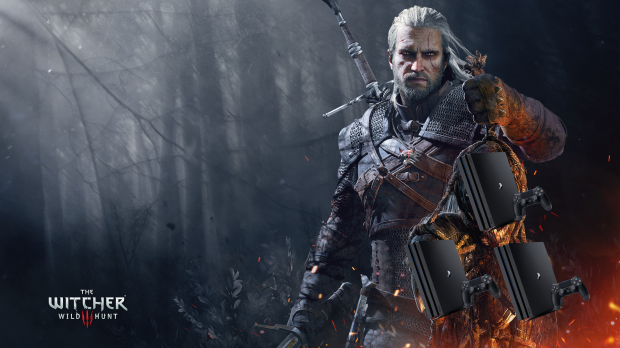 Sony and a smattering of third-party devs have embraced the PS4 Pro, and are busily upgrading their games to support upscaled 4K HDR, higher frame rates in 1080p, boosted environmental lighting effects, and super-sampling techniques. But PS4 Pro owners won't get to play one of the best games of era in 4K: The Witcher 3: Wild Hunt.
Curious Redditor govind1262 actually emailed CDPR to see if Geralt's last adventure would get upgraded on the PS4 Pro, and the devs actually responded, saying that Cyberpunk 2077 and Gwent have their full attention right now: "I'm afraid that we have no plans to release the PS4 Pro edition for The Witcher 3: Wild Hunt. Our teams are currently working very hard on our upcoming projects such as GWENT: The Witcher Card Game and Cyberpunk 2077. We want to be entirely focused on the development of these projects."
Read Also: Here's every PS4 Pro upgraded game so far
While it'd be great to see Witcher 3 look even better than it does now on consoles, I personally think the game is basically perfect in its current state. I've played the game a ton on Xbox One and it not only looks gorgeous, but it runs immaculately, which is no easy feat for the console's underwhelming performance. Of course, Witcher 3 gets 4K support on PC, and looks absolutely amazing in that resolution.
Even if CDPR had the time, I doubt they'd want to do it anyway, especially since consoles barely have adequate hardware to run Witcher 3 at a steady 1080p 30FPS, so upscaling the game to 4K would likely be an incredibly daunting task. Also I don't think the devs would be too happy about how Sony's PS4 Pro basically only supports 4K upscaling for intensely demanding games like The Witcher 3, not native 4K gaming.
Read Also: CD Projekt RED now worth over $1 billion
Also remember that CD Projekt RED just put out the Witcher 3: Game of the Year collection, which is basically the developer's send off to the franchise and the game.
From now on, it's full steam ahead to Cyberpunk 2077 and Gwent. Oh, CDPR is also working on a brand new AAA RPG that will be released alongside Cyberpunk 2077 by 2021.
If this new iterative console cycle keeps up, by 2021, we should have a real next-gen console whose performance is worthy of Cyberpunk 2077's awesomeness. Of course by then AMD will likely have its HBM2-powered Navi GPU architecture out, and NVIDIA will have its insane new Volta GPUs out as well, so there just won't be a comparison. But that's a story for another day...
Related Tags