CD Projekt RED's total worth now exceeds one billion dollars thanks to consistently strong cummulative sales growth in Witcher 3 properties and record-breaking GOG.com and GOG Galaxy revenues.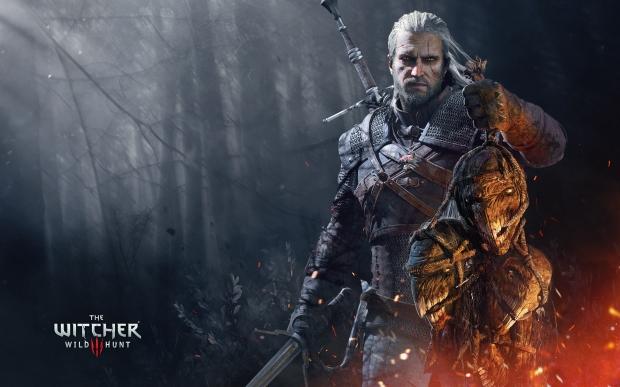 Witcher 3 developer CD Projekt RED has just posted its first half earnings for 2016, and the results are good. CDPR's year-over-year earnings fell a bit as H1 2015 saw huge earnings thanks to The Witcher 3: Wild Hunt's launch, but the Polish AAA devs have raked in 319 million Zloty ($82.7 million USD) in sales revenues. Out of that value the company earned 135 million Zloty ($34.9 million) in profits, representing 42% profitability. That's only down 4% from CDPR's 1H2015's net profitability of 46%.
As a result of this consistent market performance, CD Projekt RED now has a rated capitalization of 3,919,038,000 Zloty, or $1 billion USD.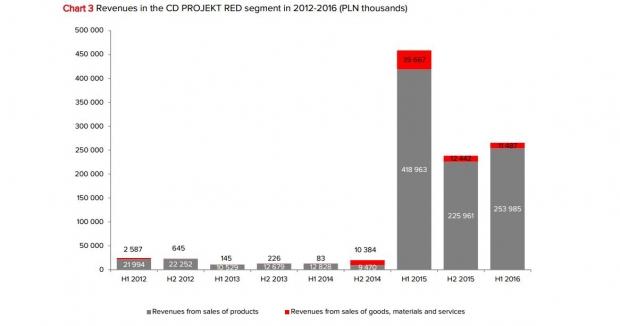 CD Projekt RED CEO Marcin Iwinski reveals that The Witcher 3's latest Blood and Wine DLC pack was one of the main earners for 1H2016, combined with base game purchases across GOG Galaxy and classic GOG.com game purchases.
Total GOG revenues hit a record-breaking 69 million Zloty ($17.8 million USD) in 1H2016, with key events like No Man's Sky pre-orders, Gwent, and additional currency support driving platform success.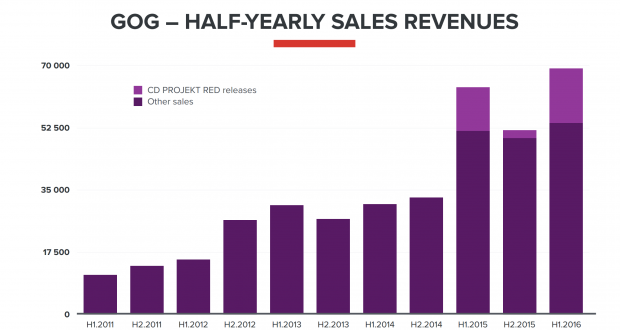 "The GOG.com platform, which is owned by the CD PROJEKT Group, also posted good H1 results, with 69 million PLN in sales revenues. This is a new record for the company, made possible by good sales of the back catalogue along with GOG Galaxy support for the release of Blood and Wine," said the press release announcement.
"CD Projekt RED Group's sales revenues and net financial result were dominated by continuing high sales of The Witcher 3: Wild Hunt and by the global release of the game's second expansion - Blood and Wine," reads a press release.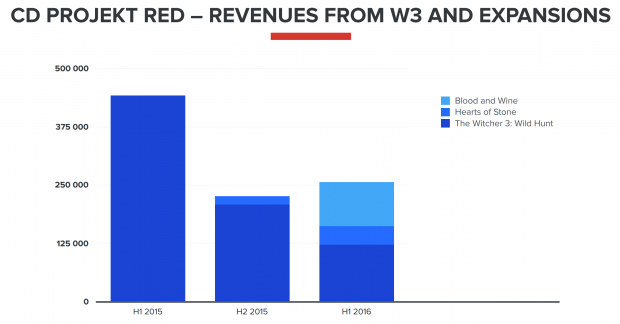 In fact, Iwinski says that the studio sold more copies of Blood and Wine throughout this period than the copies of The Witcher 3 when it launched in 2015.
"GOG has improved year on year sales results. In the past period of the current year, we received first visible effect of our technology GOG Galaxy. Thanks to it, we sold through the channel digital more additives, especially the 'Blood and Wine' than the game The Witcher 3 a year ago." The studio will round off Witcher 3 sales with the new Witcher 3 Complete Edition, which includes the base game and both expansions in a single package.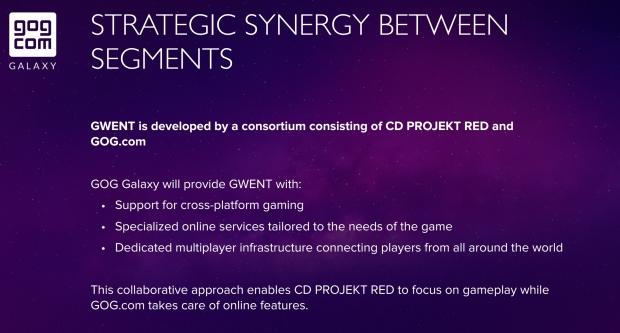 CD Projekt RED promises to tap "strategic synergy between segments" with its new free-to-play cross-platform Gwent card game, which features optional microtransactions and a paid campaign. Powered by the online GOG platform, Gwent will feature cross-play between PS4, Xbox One and PC players as well as a "dedicated multiplayer infrastructure connecting players from all around the world."
Gwent's closed beta launches on October 25, 2016 on PS4, Xbox One and PC. Right now CDPR isn't focusing on mobile versions and is instead trying to get the base game up and running on announced platforms, but they haven't ruled out a mobile flavor.
Apart from Gwent, CD Projekt RED is working on its major new AAA game Cyberpunk 2077 that's expected to launch between 2017 and 2021.

During this four-year time period the studio will also launch a completely new separate unannounced AAA game likely set in a new IP.
Interesting enough, The CD Projekt RED Group is a parent company made up of five different smaller divisions. These divisions are included below and give key inference on the group's total influence.