Battlefield 1 'rooted in history', not based on alternate WW1 timeline
Battlefield 1 is based on authentic World War I history, says DICE.

Published Mon, May 9 2016 5:11 PM CDT
|
Updated Tue, Nov 3 2020 12:00 PM CST
When DICE unveiled their new powerhouse WW1 shooter Battlefield 1, everyone was under the impression the game represented an alternate history. Now the devs have come in to set the record straight.
Battlefield 1 is based on authentic World War I history and doesn't feature any alternate history elements, according to DICE lead game designer Daniel Berlin. "Battlefield 1 is definitely rooted in history. There's no alternate mix of anything else. All the stuff you see is equipment that was available. All the vehicles you see were available at this time. This is our depiction through a modern lens, looking at World War One, the Great War," Berlin said in an interview with GamesBeat.
DICE has gone great lengths to showcase the cultures and technics of the time, promising that the 64-player multiplayer battles will be more chaotic than ever before. Both the multiplayer and campaign will be littered with accurate depictions of WW1, including new-world tech like biplanes, zeppelins, battleships, and tanks against old-war themes like horseback cavalry and sword combat. It even has biological weapons and trench warfare, along with accurate WW1 weaponry.
"Battlefield 1 is all about the old world meting the new world, we wanted to depict this. the old tactics meet the new with cataclysmic results," said DICE's Lars Gustavsson. "The battles will be intense, the physicality really brings the immersion to the battles, and allows players to turn beautiful pristine landscapes into devastated landscapes."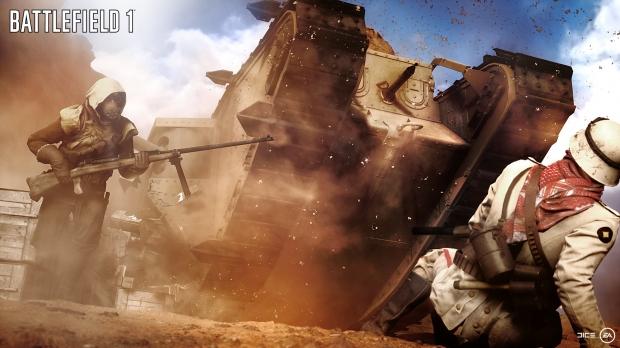 In that same interview, Berlin discussed Battlefield 1's perspective-shifting campaign, promising that it will feature an authentic representation of world cultures reacting to the war.
"When we set out on this game, we wanted to depict not just the common view of what the war was like. We wanted to challenge some preconceptions. We want to delve into some of the unknowns of World War One. Maybe people don't know that this person fought or that person fought, that this army was involved. We're stretching out and bringing all those stories into the game."
Berlin further said that the campaign will shed light on obscure real-life WW1 forces like the scimitar-wielding, horse-riding Arab Bedouins and the Harlem Hellfighters. Sadly, it looks like the campaign might only have six missions.
"We want to show diversity in the game. That's been a key goal. You can see in the trailer that there's a Bedouin woman warrior on a horse. She's a playable character in the single-player campaign,"
Battlefield 1 launches on October 21, 2016 on PC, PS4 and Xbox One. Check below for everything we know about the game so far:
Related Tags