Why I'm worried about BioWare's new IP
BioWare's new IP might be their swan song, but it could also end up being quite lukewarm thanks to EA's business policies.

Published
5 minute read time
BioWare is working on a massive new ambitious IP that will incorporate more than 20 years of games development into one game. In many ways, BioWare's new IP is their dream game--it's their "Destiny." But...it could end up being marred by microtransactions and business strategies that ultimately pull the magic out of gaming.
BioWare's new IP is 100% brand new and the studio has been working on it for the past 5 years. This new IP is built from scratch, will be in the action-adventure vein instead of RPG, and it will be a new franchise.
We've seen strong evidence that this new IP will be online-based, somewhat like Destiny, and I even wrote that the new IP could be BioWare's unique answer to Destiny.
BioWare has confirmed that they're trying to make a "fictional world that feels real and is alive and is constantly changing," which strongly hints that it'll be online based. Plus there's this little bit of info which says the new IP will have "extensive online elements."
So when EA is involved with anything online-based, what does that usually mean? Microtransactions, DLC, season passes--the bane of most gamer's worlds. Even Destiny has microtransactions now--or MTX, as EA calls them--to continue funding the development of new content. But there's many other reasons why I'm worried about the new franchise.
"We're trying to build a fictional world that feels real and is alive and is constantly changing."
During EA's recent fiscal earnings call, EA CEO Andrew Wilson said something that perked my ears right up: he said that instead of RPG-based, the new IP would be "genre-melding," and thus incorporate all of BioWare's best features into one game.
When asked if the new IP would be an RPG, EA CEO Andrew Wilson answered with the following:
"About the new BioWare IP...I think you mentioned it was action/adventure in the description. Is that an RPG game and should we assume that from BioWare's history? And is that a wholly-owned IP or is that a royalty-bearing IP?"
"It's action-adventure, not RPG. So what we're starting to see more and more in games is kind of genre-melding, which is great components of a number of different genres really coming together in a single game.

"So when you're thinking about this game you should be thinking about the great RPG character development and storyline progression that BioWare is known for, but in a world of greater action and greater adventure. Which is growing to be the largest categories of games. It will be a wholly-owned IP and we're very excited about it and we'll share more in the year to come."
"At BioWare, we're building games for the next generation. How far can we go with these new games? Wait and see."
Now if you saw my concerns about Mass Effect: Andromeda, you'll know that BioWare has been doing this genre-melding thing for quite some time.
In fact, most of the newer games are a melding of accessible elements meant to attract mainstream gamers rather than core RPG fans. Look at how the Dragon Age series has changed over the years, and look at how Mass Effect has become considerably more "safe" and less risky--and more popular, as a result.
I foresee this trend continuing in the new IP alongside microtransactions, subscription-based services, DLC/season passes, and all of the other things EA does to make money.
In many ways, I think this new IP will be a vehicle for new levels of profits, recurring consumer spending via digital content, subscriptions, and higher engagement with a massive online multiplayer push.
Genre-melding...wait, that's not new! EA's done that for a while now
On the content side, EA promises that the new IP franchise will incorporate action-adventure experience that combines the core talent BioWare is known for, including the deep character progression and story elements. A true "genre-melding" shift.
As far as the genre shift, I predicted a long time ago that the new IP would be action-based instead of RPG-based.
EA is pushing the action genre really hard, and I wouldn't be surprised if it categorized Mass Effect: Andromeda as an action game. For example, all of the upcoming Star Wars games are action-based
Now to me it sounds like EA and BioWare want to suck out all of the things that make their games great, put them into a blender, and mix it up for gamers to consume. But the problem here is that early BioWare games have proven to be lightning in a bottle, and BioWare has consistently proven it has no interest in capturing that magic again.
As such, I think the drink BioWare and EA give us may be lukewarm. Sure it'll be tasty, and it might be something we can sip on for a while, but...it won't be the same as early BioWare experiences.
New horizons, new depths, new ways to make lots of money
Also I believe BioWare's new IP could be that "gigantic open-world action game" EA has always wanted to me. Scratch that; I think this will be the game both EA and BioWare have always wanted to make, and will be a clear contender for Destiny 2.
The new IP has been in development since 2012 by BIoWare's Edmonton team, which is the same team that created Mass Effect. Based on the short teasers, we can discern the new IP will be sci-fi based.
Despite the clues EA and BioWare have already given us that the new IP would be online-based, they give us another one:
"This game has the potential to fundamentally disrupt the way people think about an action title, bringing friends together to play in exciting new ways. We're very excited about the future of this new franchise and its ability to attract a larger global audience."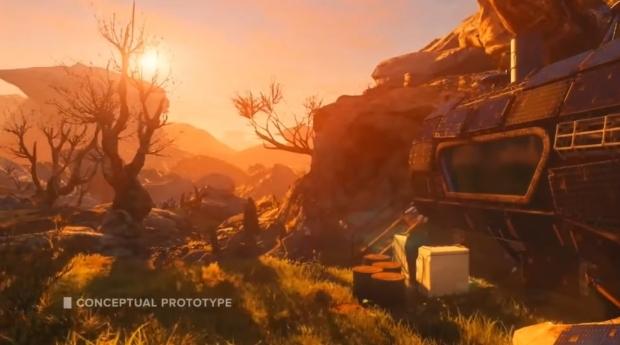 Is this a turning point for BioWare?
Now here's the main reason why I'm worried about this new IP.
All of the other things--the microtransactions, the online-focus with subscriptions, the season passes and weird genre melding--come second to this main worry.
I'm mostly concerned that BioWare could use this new IP as a transitioning point. I'm worried the new IP will give BioWare an excuse to focus solely on whatever's most popular or most profitable, including action-based online games with microtransactions.
I'm worried that everything BioWare does from this point on could be affected by this new shift, and the turning point could affect Mass Effect, Dragon Age, and everything else it may do.
Finally, I'm worried that Dragon Age and Mass Effect will be put on the back burner in favor of this new IP. Sure that sounds paranoid given Edmonton was working on this while Mass Effect: Andromeda was in development at the Montreal studio, but...look what happened to Bungie.
That's really all I have to say: look what happened to Bungie.
Bungie was given the rights to make their dream game, and it fell apart before their eyes and they had to put it back together. Hell, Bungie practically fell apart in the process, and the Original Seven are fractured forever.
I don't think EA and BioWare will have the same troubles that Bungie faced with Activision. For one thing, EA and BioWare are extremely close, and BioWare doesn't have to prove itself the same way Bungie had to to Activision.
But I'm still worried, and now you know why.
The new IP should be released sometime in 2018, and will likely be unveiled at E3 2017 in June.
Hi everyone,

As we're working hard to finish Mass Effect: Andromeda, I wanted to take a minute to talk about our new IP. As our CEO Andrew Wilson mentioned, we're creating a unique IP that will bring players together in exciting new ways.

There's much more to say in the coming months, but for now, I wanted to offer this additional background.

In 2012, we began crafting a new universe full of new characters, stories, and gameplay. Our ambition is simple: Draw upon 20+ years of development knowledge and lessons to create something fun and new for you to enjoy with your friends. There's nothing quite as exciting as building a new IP from scratch, and it will be even more thrilling for us to share more with you in the future.

Thanks,

Aaryn Flynn, General Manager, BioWare
PRICING: You can find products similar to this one for sale below.

United States: Find other tech and computer products like this over at Amazon.com

United Kingdom: Find other tech and computer products like this over at Amazon.co.uk

Australia: Find other tech and computer products like this over at Amazon.com.au

Canada: Find other tech and computer products like this over at Amazon.ca

Deutschland: Finde andere Technik- und Computerprodukte wie dieses auf Amazon.de
We openly invite the companies who provide us with review samples / who are mentioned or discussed to express their opinion. If any company representative wishes to respond, we will publish the response here. Please contact us if you wish to respond.