BioWare is working on a new IP with extensive online components
A new job listing says BioWare is developing a fresh new IP with heavy online gameplay.

Published Mon, Feb 15 2016 1:35 PM CST
|
Updated Tue, Nov 3 2020 12:01 PM CST
Even with no official release date in sight for Mass Effect: Andromeda, a new job listing confirms BioWare is already setting up development on a fresh new IP with an emphasis on online play.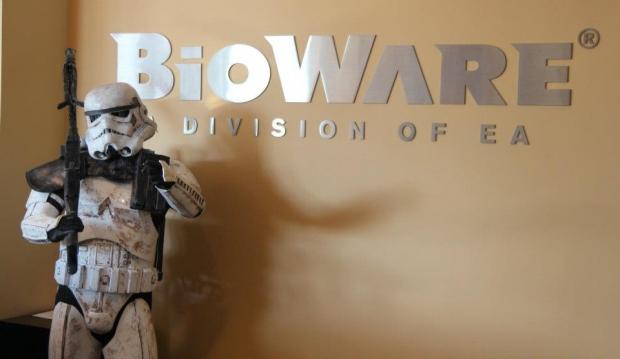 BioWare Austin's new job listing calls for a server engineer to lead the team that creates the backend system to power an "exciting, new unannounced IP". The listing directly references that the candidate should have experience developing games with "extensive online components" and cloud-based computing, hinting the new IP could be a MMO.
"BioWare is seeking a qualified Senior Lead Server Engineer for a new, unannounced BioWare IP. This role will direct a team of software engineers to create the backend systems that will drive online play for this exciting new game. The successful candidate will have expert knowledge of and experience in the design, implementation, and continuing support of large scale real-time client/server applications using primarily C++. Extensive experience with and knowledge of multi-tier client/server architectures as well as scalable distributed systems are required. Experience developing PC or console games with significant online elements is a strong plus. Experience with current cloud-based computing solutions and technology is beneficial."
So what is BioWare cooking up next?
We know that EA wants Battlefield 5, Titanfall 2 and Mass Effect: Andromeda to drop before April 2017, but all of those games are announced and well-known by the gaming community. BioWare traditionally focuses on expansive, story-driven content, so I don't see them pushing out a free-to-play shooter or a MOBA. Only an MMO would fit the bill, considering the new IP isn't just a new RPG with online multiplayer like Dragon Age: Inquisition.
A new "unannounced" IP means that the project is entirely fresh and won't make use of BioWare's enormously popular Mass Effect, Dragon Age or Star Wars franchises. I find this to be disappointing, as I'd love to see a MMO game set in any of these series, and I can only speculate what the studio has up its sleeve. It's already tackled medieval sword and sorcery fantasy and futuristic sci-fi, so what's left?
Whatever the game ends up being, I'm betting it'll have BioWare's patented magical recipe of deep lore, multi-faceted story, dynamic characters, and sprawling, wide-open world's to discover.
Related Tags