I'm worried about Mass Effect: Andromeda. Actually, I'm worried about the future of the games industry as a whole--it feels like publishers only want to do safe bets and not take any chances. I think this strategy will bleed over into the latest, biggest Mass Effect game, and the RPG elements will suffer because of it.
BioWare has followed certain trends with their recent games: the titles feel derivative, casualized, and more streamlined towards all gamers, not just core RPG fans. Not too long ago, BioWare was known for making great RPGs; now the studio's identity is much more nebulous, much more uncertain. Many of BioWare's core fans who grew up playing Dragon Age: Origins and Star Wars: Knights of the Old Republic often feel alienated, and know that something is amiss. Games like Dragon Age: Inquisition feel off, as if something isn't right; there's a big immersion disconnect, and it all boils down to one thing: watering down RPG elements.
EA games as a whole are focused more on high-end flashy graphics, environmental effects, and other eye-catching features. While the fluidity of many games are noteworthy, especially those powered by DICE's advanced Frostbite 3 engine, there's a distinct lack of depth to the current games (with the exception of Respawn's Titanfall 2, which had impressive depth...but Battlefield 1's campaign could've been so much more than what it felt like, which was a glorified tech demo). Dragon Age: Inquisition is very guilty of this, and it felt like BioWare put graphics and effects over the meat and potatoes of the game itself.
This decision to water down elements and cater to a more casual crowd comes down from the highest tier of EA execs, not necessarily BioWare.
Now that EA has formed its new EA Worldwide Studios label, BioWare General Manager Aaryn Flynn now answers to EA exec Samantha Ryan. This means that EA will have even more control over BioWare games, likely tightening the newfound focus on action over RPG elements.
Read Also: Mass Effect: Andromeda: everything we know so far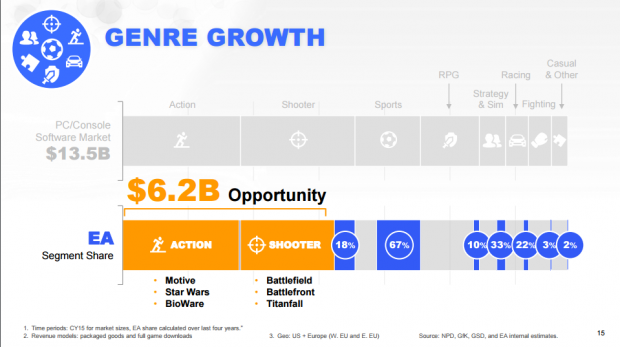 EA wants more action games with instant gratification
Not content with being overshadowed by the successes of huge franchises like Assassin's Creed, EA wants their own share of the action-based gaming pie. That's why they're pushing heavily into action territory and passing up key opportunities for something new, something fresh, in favor of what they see as guaranteed money-making strategies.
EA's newfound push into action games has manifested in its exclusive deal for Star Wars games; all of EA's upcoming Star Wars games are primarily action-based, despite the amazing opportunities to create another KOTOR-like RPG. In fact, "gigantic open-world action game" akin to Assassin's Creed, and even BioWare's new secret IP might be action-based too.
But EA isn't the only one who's been pushing derivative, watered-down action games: most of Ubisoft's triple-A catalog leverage the genre. I'd go so far to say that Ubisoft has dug itself into a hole by pushing too hard into the genre, to the point where nearly all of its open-world games suffer from the same severe player disconnect.
Nowadays, Ubisoft titles often feel less like games and more like interactive checklists--but to the publisher's credit, it has made some serious strides with games like Far Cry: Primal and Watch Dogs 2, both of which break their respective franchise molds in various ways.
EA wants to cash in on this and push more safe bets, and it's a huge shame. I predict that all future EA-published games will continue being watered down to the point where the DLC is required to add some actual spice to the game.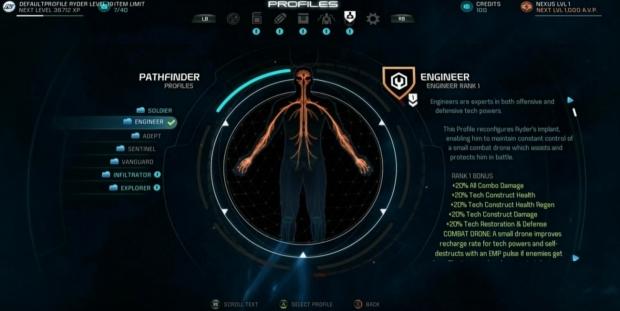 But I'm worried about Mass Effect: Andromeda, and I've seen many warning flags that tell me the game could suffer from being too casualized. I outlined many of my feelings in the video above, but it really comes down to specific things: industry trends, BioWare's recent decisions with Dragon Age: Inquisition and how the game quickly loses its focus and becomes quite jading for the player, and EA's newfound push for action-based content.
Some of these warning signs were apparent way before gameplay was actually released. The chief among these was the announcement that Mass Effect: Andromeda wouldn't have a set class system; instead you're a kind of jack of all trades.
As the protagonist Ryder, you can switch between any and all classes on-the-fly; swap out the Vanguard or Sentinel and become a Soldier at will. Skills are now available to all classes regardless, with the classes themselves adding special bonuses and buffs.
Now on one side, this is a great idea. But on the other, it significantly impacts the immersion and jeopardizes the player's identity throughout the game. To me, this signifies that BioWare is trying to appeal to a broader audience, likely at EA's behest.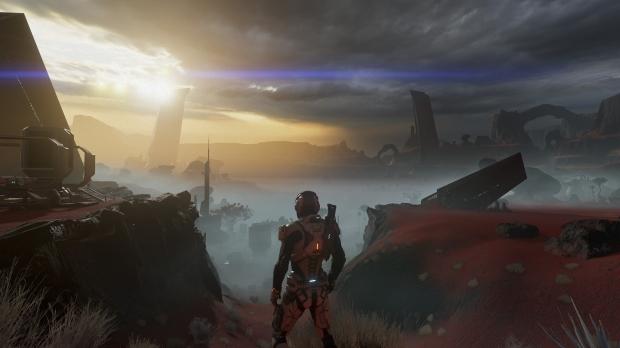 Publishers want safe bets, and don't want to take risks
EA, like all publishers, want their games to be instantly accessible to any player: they want people to be able to pick up a controller at any time and be able to play. Old BioWare games took investment, they took time, but as such we were greatly rewarded.
BioWare games--and most triple-A games--today take a lot less investment. There's a sense of instant gratification to all the latest games that used to take us days--even weeks or months--to get in the older days, especially with BioWare games.
This natural progression and evolution towards accessibility is, to me, detrimental to the core spirit of BioWare RPGs. Mass Effect was always an action RPG with third-person shooter elements, but it had a lot less hand-holding and led players in a distinct way.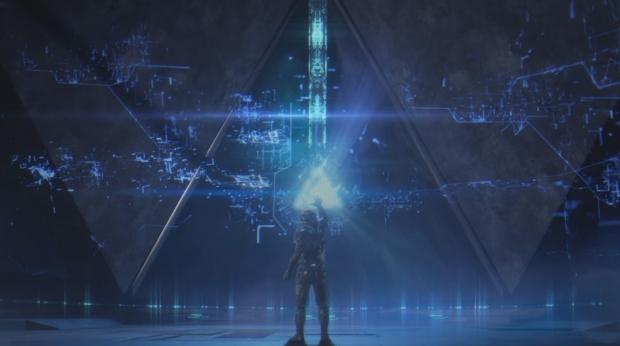 Conclusion
I'm worried that Mass Effect: Andromeda won't be paced properly and will give players too much freedom in certain ways so that immersion breaks down. In short, I'm worried ME: Andromeda will follow the same self-destructive and alienating cycle that Dragon Age: Inquisition did.
Maybe I'm wrong. I hope that this is just paranoia talking. But if it's one thing that 2016 taught me as a gamer, it's that skepticism is healthy, and we should be wary on the things that developers show us and publisher's promise us.
Based on the current trends in the industry, I don't think I'm wrong...but I hope I am.
Mass Effect: Andromeda releases on March 21, 2017 on PS4, PS4 Pro, Xbox One, Xbox One S and PC.