Serious Sam 4 Interview: Croteam amps chaos to 11
Serious Sam 4 is finally coming out next month, and to celebrate, we sat down with Croteam to discuss mayhem and double mini-guns.

Published Aug 27, 2020 9:40 AM CDT
|
Updated Tue, Nov 3 2020 6:57 PM CST
13 minute read time
Machismo power fantasy
After years of development, Serious Sam 4 is finally coming to Steam and Stadia on September 24. To celebrate the monumental prequel, we sat down with Croteam to discuss carnage of 100,000 enemies rampaging your screen at once, what it's like to be an indie dev and the surprising depth of Serious Sam 4's storyline.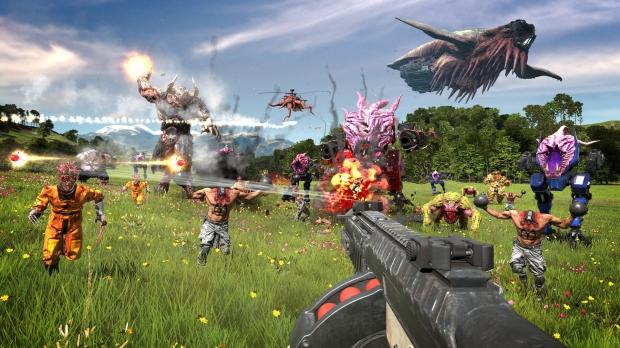 Few franchises celebrate over-the-top machismo better than Serious Sam. The series has always been about absolute havoc and memorable action, creating a muscle-bound mystique that's lasted decades. Serious Sam 4 will push the notorious chaos to 11 with a bunch of new tricks, including the Legion System, which can map 100,000 enemies in an epic no-holds-barred grand finale, upgradable guns, and double-wielding mini-guns.
To get a better picture of the brutality that Croteam has in store for us, we sat down with creative director/Croteam co-founder Davor Hunski and music composer/chief marketing officer Damjan Mravunac to discuss business deals, indie trials, next-gen consoles, and a whole lotta guns.
Here's a brief rundown of the topics covered in this interview:
Weapons can be upgraded this time

Dual-wield mini-guns!

Hundreds of enemies coming at you at one time

New Legion System allows for 100,000 enemies to be rendered on the screen at once

Serious Sam's grand finale has over 100,000 enemies, and Croteam says this is something that hasn't been done in first-person shooters before.

The Talos Principle was a much-needed break for Croteam, who then went on to make a VR-exclusive Serious Sam and port other Serious Sam games to VR.

Vehicles are included

The Talos Principle writer Jonas Kyratzes is writing Serious Sam 4's story
Fighting 100,000 enemies at once
Interviewer
Derek Strickland - TweakTown
Interviewees
Davor Hunski - Creative Director, Co-Founder, Croteam

Damjan Mravunac - Sound / Music, Chief Marketing Officer, Croteam
We just saw the new Google Stadia Connect. That's something I've been curious about, what it's like for developers to work with Google on the Stadia platform.
Can you guys share anything about that?
Davor: The thing about us is we've always been excited by new technology. If you remember a few years ago when VR was starting to come out, we were one of the first to jump on board. We actually made five VR games. It's kind of the same nowadays because we see game streaming as something that is becoming more and more popular.
We actually do believe it may well be the future of mainstream gaming.
We wanted to jump on board, and Stadia was just a logical partner with that. Working with Google has been really good, they've been nice to us, and we've been working closely together and having fun with this new tech and the challenges it provides.
It's much different than anything else. It's been really fun.
Damjan: Stadia works pretty good.
Davor: I think my favorite part about game streaming is no downloads. You just open up your browser on PC, press play, and you're in. I did play Destiny 2, I had some minor issues with it, but every other game I played was kind of cool.
Some of the big things about Stadia that impressed me was features like save state sharing. I don't know if Serious Sam 4 will implement that, but do you guys plan on using any Stadia-specific features?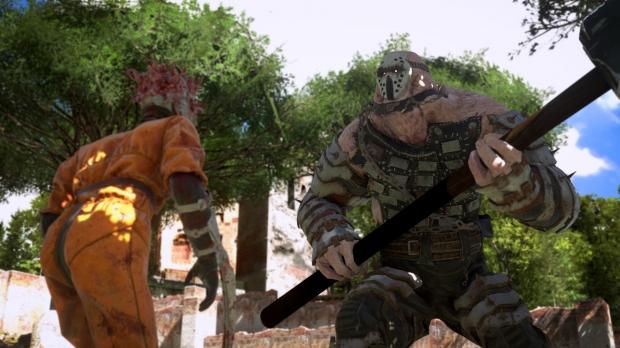 If you could describe the game in one word, what would it be?
Davor: Chaos.
Damjan: No, mayhem.
The big difference is that after Serious Sam 3, which was a bit grim, we listened closely to our community, and we went back to the roots. So the gameplay in Serious Sam 4 is more similar to the first and second encounters.
So it's blasting enemies, picking the best weapon for the enemy, and trying to stay alive and not live like a fruit fly. We have some new stuff here as well, like weapon upgrades. I know previous games you get the weapon, and that's it. But here you will be able to discover some upgrades that will actually change the way you play because your weapons will become more deadly.
It's a small feature. We're not trying to do a massive step from what we already established.
So it's not a RPG?
Davor: No, no RPG. No open world. We have some side missions, but they're optional. In old Serious Sam games, if you went exploring, you could find some secrets, some stuff that was not obvious on your main path.
So here, if you go explore some side missions, you will also get some rewards. But the fights in those side missions will be more challenging. It's a fine balance of players who just want to go the linear and traditional way and players who want to side-step a bit and try to discover as much as these new environments and worlds have to offer.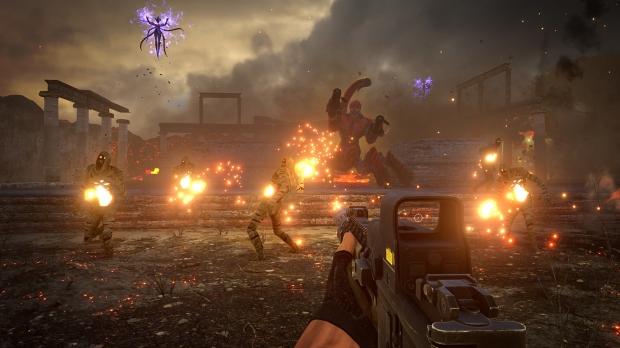 So I'm a really big fan of survival modes in games. I love it when there are just tons of enemies, and you're outnumbered, you mess up you're dead, I really like that. One of the things that drew me to Serious Sam was the chaos. There's so much insanity.
I read that Serious Sam 4 can support a ton of enemies. Can you give me a number of how many enemies can be on the screen at once?
Damjan: You heard about the Legion System.
There are layers to the kind of number of enemies that you can get. One part of it is for sure is that the Legion System allows us to render 100,000 enemies on screen without actually taking a hit on hardware.
That's a trick, that's an illusion, so to speak, that allows us to create a believable battlefield. If you've watched Lord of the Rings and you've seen two huge armies clash, and there are two heroes fighting each other, that's the point of the Legion System.
Anything that's close to you it's rendered in full 3D, and it's very detailed. Stuff that's very far away gets less detail. That way, we can maintain it. The point of that system is that it creates a believable environment.
As far as the regular fights go, they're also going to be very big with hundreds of enemies at the same time, coming at you, you're constantly at the edge of your seat, and it's some of the biggest fights we've ever had.
Davor: It's definitely the biggest in the series so far.
Legion System, challenges of Serious Sam 4's development
Will the Legion System be more cinematic or will you be fighting all these enemies?
Davor: You can actually fight them. They're all enemies that exist in this world. It's for the grand finale of the game, so it's a huge, huge fight that I don't believe was seen in first-person shooters before.
You can shoot at those enemies, but you will run out of bullets. They'll just keep coming.
It's like Damjan said, the battle of Helms Deep, they're all around you, you are fighting against them, but there are some enemies that actually have priority. That's your arch-nemesis, which you fight against.
The others you can shoot and kill, and they will behave like regular enemies, but it's not their purpose for you to fight them. They're just filling the space.
But yeah, you can try. You can pull out a minigun and go mop them up. They will die.
What has been your biggest challenge while making Serious Sam 4?
Damjan: Everything is a challenge. Development of the game is a tricky job. But Croteam has been alive for 26 years, so we're obviously doing something right.
The challenge...we announced the game in 2013. In the meantime, we did the Talos Principle. It's a completely different game from Serious Sam. It was a much-needed break for us as a team.
And then as we embraced Stadia as new tech, in 2016, we created VR and created Serious Sam The Last Hope as an exclusive VR. And then, we created VR versions for all of our other games.
We've been upgrading the tech in the meantime. WE've been working on our engine, the Terrain Engine, the Legion System, so getting to this point where we are near the release of the game, that's the actual challenge.
It's been a long journey, and fans have been waiting for this game for 7+ years.
Releasing it in September will be a big day for us. We're excited, and we're busy as hell. Some stuff needs work, but when I look at our previous games-I've been at Croteam for more than 20 years-so most of the polish came the last month. Now we are finished with integration and 40 hands-on deck, and now we're polishing this game to be as pretty as possible. This is actually the stage we're in now.
Croteam is only 40 people?
Davor: I think it's less, but it fluctuates. A year ago, it was about 47 of us, and now there are 40.
That's incredible. When I look at the Talos Principle and the VR stuff, I think at least 100 people worked on it.
Damjan: That was done by an even smaller team. Talos Principle was 25 people.
Davor: We never grew above 50. We love to keep it small. It's more like a family company. We've known each other for so long, and it's very comfortable working with each other. Each one of us is an expert in their own field. I don't see the need to grow too big. Then you need to introduce managers, and then you need to have managers that manage the managers.
It gets to be a mess. We still do games we want to play. That's the core spirit here. If the game is fun for us, if we want to play it, then I'm pretty sure players will want to play and love it too.
If we hate the game, what's the point?
We're actually lucky to be independent and to be able to pick what we're going to develop.
Sound and music: Metalhead riffs
How do you record the sound effects for the game? Are they from the original games?
Damjan: Each time we make a new Serious Sam game, we need to keep certain elements from the past. One of the trademarks is the kamikaze yell, "a!"
That's a sound we've been dragging with us for 20 years. But again, for Serious Sam 4, I recreated it to sound like the original effect but with more clarity. It's still the same trademark sound, but it's high definition this time.
I combine many tricks to make the sounds.
I have huge amounts of libraries. I do have a portable field recorder. I have a studio here with microphones, so most of the monsters we record ourselves. Most of the monsters are me. I yell into the microphone, and I have some cool plugins to distort my voice, and I get to be the monsters.
That reminds me of back in the 90s when my family had a video camera, and I'd record all kinds of goofy stuff. That's kind of what you guys are doing, but on a more professional level.
Yeah, I never thought of it that way. You could say that's what we're doing on a grander scale. I didn't have a camera growing up, but my friend did, and he's now with us. He's the cutscene director for Serious Sam 4.
Serious Sam has a long-lasting legacy. I still remember playing it back in the day and loving it. How proud of you of the Croteam devs for creating something that's endured this long?
Damjan: We are proud of our game. Croats are very proud people as well, imagine when we do something that actually has worldwide connotations. We are proud of every game we have released, even if sometimes it wasn't received globally like Serious Sam 2, which was a fun game but was more cartoony and wacky.
We are proud of that one as well.
If we stop being proud of our games, we'll probably stop making games.
Terrain Engine, vehicles!, and double mini-guns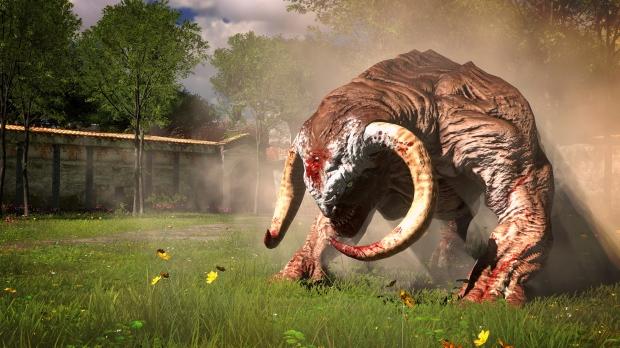 Back in 2018, Nika said Croteam had a new Terrain Engine in Serious Sam 4. Could you guys talk more about that?
Davor: So the Terrain Engine...just like the Legion System that allows us to create believable battlefields, the Terrain Engine allows us to create believable environments.
When you used to design a level, you'd create a map, and everything would be flat. You'd create a slab, and then you'd build on it. The Terrain Engine gives us flexibility. You do create a slab, but then you create procedural environments based around the region, like trees and forests or hills and mountains.
It creates the illusion that this is the real-world. You don't necessarily have to create everything by hand. It allows us to create maps that are diverse and unique.
Damjan: The best thing is that there's a very large square meters we can color with this. I believe one of the maps was 128km squared, and you could sit in a vehicle and drive for hours to reach the end of the map. Whereas the huge mountain, which is real, not just the background.
Davor: That was the point of it. We wanted to create this illusion that this is a real thing, and it's not a background. It made our level designers' jobs easier.
Will the game have landscapes that are that big, or was that just for testing?
Davor: Some of the landscapes, some of the levels will surely be big. There's this one level, which is 128km squared. The playing size is not that big. You could go to the end of the map if you wish, but again, that's not the point. You'll have a certain play area, and you can leave it, but there's no point in it.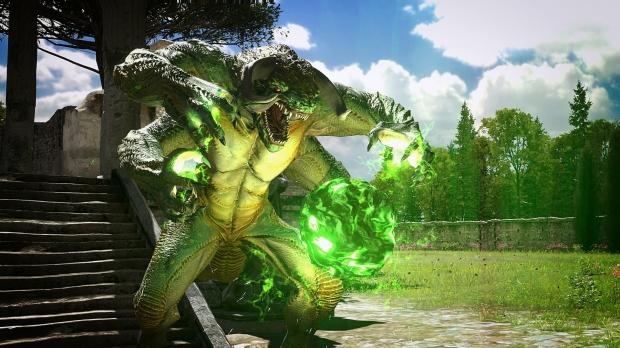 So there will be vehicles in Serious Sam 4?
Damjan: Yeah. There will be vehicles in. The last time we had vehicles in was Serious Sam 2.
Davor: Serious Sam 2's vehicles weren't optimal. This time we've really taken care to really create vehicles where it makes sense and use them in a way where it's fun. And I'm pretty sure that some of them will be absolutely fun for all players.
I'm hoping for a jetpack...
Davor: We'll have something better I promise you that.
Damjan: Yeah, something much, much better. You'll see.
Croteam's favorite parts of Serious Sam 4: Story, carnage, and more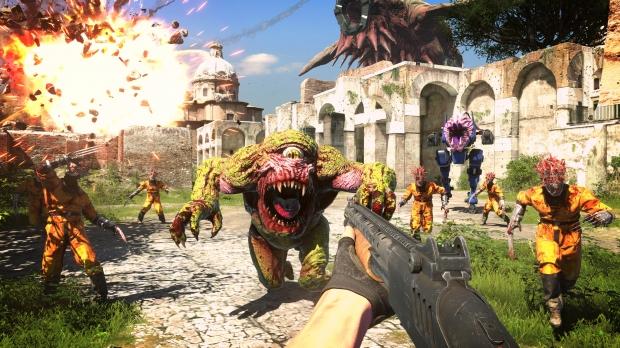 What do you think is the single most exciting new feature you've added to the game?
Damjan: Single most exciting feature...I mean, everything is pumped up here. You know, like the Marshall amp, it's not up 10, but up to 11.
So it's larger battles, bigger enemies, larger scale, longer gameplay. Something I'm excited about that I wasn't in the beginning--I was originally against it--is we finally have a really good story embedded into the game.
Serious Sam 4's story explains the lore a bit more. If you remember previous games, they weren't story-oriented. The story was just a backdrop for what was going on and presented in the form of cutscenes.
This time we have one of the writers for The Talos Principle, Jonas Kyratzes, working on the story. He and his wife joined Croteam, and they're now our writers.
They wrote a story that's something like a blockbuster flick between Expendables, Predator, Pacific Rim. It's this action-movie feel you get when you play Serious Sam.
What I also love is that Sam is not alone this time.
You're not alone. In Serious Sam 3, you're presented with a few characters that unfortunately die very soon. But in Serious Sam 4, which is a prequel, you will get to meet and learn about these characters, and they're like your buddies, almost like the tough guys from Predator. They're all part of the same team, and Sam is the leader.
They will play a big part in this game, helping you on your way, and you will grow attached to some of them. And some will die.
I'm excited about the story.
Davor: This game will offer many different people many different things to be excited about, and I'm a much simpler man than Damjan is.
I like the brutal action, and I like the music, so the fact that I can dual-wield auto-shotguns...that does it for me, and I can do that while listening to Damjan's riffs, and that does it for me as well.
I really think this game has the best soundtrack that we've ever had in any of our games.
I'm just excited about absolute chaos, wielding two auto-shotguns, and killing stuff. That's me.
Damjan: What's better than a double shotgun?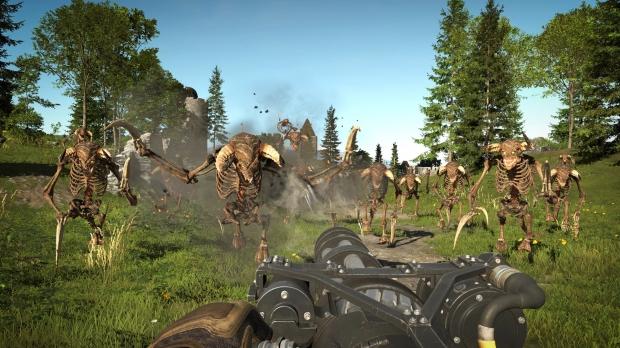 Double mini-guns?
Damjan: Double mini-guns..exactly! He got it! Perfect man. You'll dual-wield mini-guns this time. It's brutal.
Dual-wielding is something that I think really works for this game. You can double the amount of enemies as long as you have enough ammo. You can combine; you don't have to dual-wield the same weapons.
You can pick a grenade launcher and mini-gun. That's actually a fun part as well, and when you upgrade those weapons as well...it gets crazy. Just absolute mayhem.
I'd like to talk about what it's like being an indie dev. How tough is it? Has it gotten easier over the years?
Damjan: Well it's gotten easier ever since online distribution like the Steam store.
So in the early days, publisher-developer relations were a bit different. The retail is where we would sell most units. With retail, there was always a problem of expenses.
You really needed to make a game that sold a lot to be able to live off of retail.
And now, with online distribution and the revenue share with Steam or the Epic Store, it has become much easier for us to sustain our studio and development. We can track every day how many units are sold. If the game is doing good, we can react with live data.
I think things are now easier than ever regarding sales, but regarding competition, it's really tough.
How many games are out there? It's a lot. You need to find your space there, and only the best games will make it.
Davor: A good game is not enough any more.
Damjan: You need to have a great game.
Davor: We're different than other indie studios out there. We're borderline indie, I'd say, because we have 20 years behind us and we've got various successful games.
So it's a much different challenge for us than it is for someone who's just starting up. In that regard, it's much easier for us. We've got established connections and relationships with great publishers and great platform-holders, so this makes it easier for us.
The experience we've amounted, the games we have made, and the connections we have is what makes it a bit easier for us.
Next-gen console aspirations, and Talos Principle 2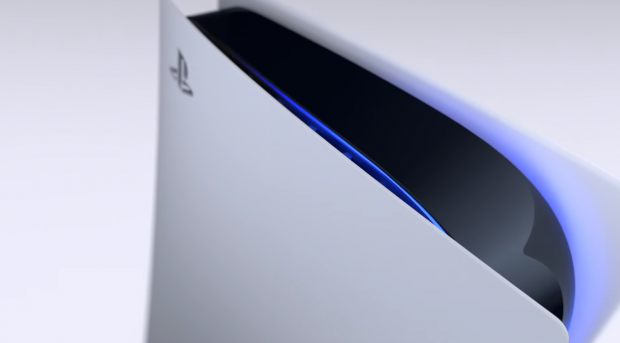 Have you guys thought about next-gen consoles at all? Can we expect Serious Sam 4 on PlayStation 5 or Xbox Series X?
Damjan: I mean not officially. I can tell you that if you look at our track record of our games so far and the platforms where we released those games....
Davor: Yeah, we've released on every single platform there is, including VR, so we're always looking at new platforms, and we're always interested.
And as I mentioned, our company is very tech-focused, so we like new technology, and we're definitely checking out what's going on with PlayStation 5 and Xbox Series X.
But as far as an official release goes, when we know something and when we have something to announce, we will announce it. Right now, we're super focused on making Serious Sam 4 available on PC and Stadia.
What's after Serious Sam 4?
Damjan: It's Talos Principle 2. We're notorious for announcing things early.
Serious Sam 4 releases on September 24, 2020 on PC and Stadia for $39.99.
We openly invite the companies who provide us with review samples / who are mentioned or discussed to express their opinion. If any company representative wishes to respond, we will publish the response here. Please contact us if you wish to respond.