BioWare's new mysterious IP may be action-based instead of an RPG, fitting neatly into EA's new action-oriented focus.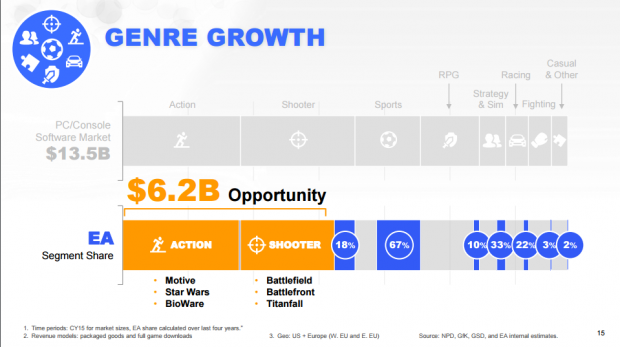 A new slide from EA's Investor's Day presentation may hint that BioWare's new unannounced IP is rooted in the action genre.
The slide examines the genres of today's current games, with EA affirming its commitment to the action genre. BioWare is listed under the action genre, which is curious considering Mass Effect: Andromeda is an RPG game. Now this all depends on how EA defines ME: Andromeda and whether or not they see it as an "action RPG" or just an "RPG". If it's the latter, then BioWare's brand new IP could be set in the action genre.
BioWare dev Mark Darrah recently teased the new IP on Twitter, showing us an internal dev document with a curious icon upon its cover. Darrah also asked the community if they'd play a Dragon Age: Tactics game, but seeing as the game is a new IP, it shouldn't be tethered to any existing franchise.
EA has also confirmed that a new unannounced IP is set to release in 2017 (presumably BioWare's mystery IP) with a reveal during EA Play in June.
Personally, I think BioWare should just keep doing RPGs. It's what they're best at. I'd like to see a return to the triumphant old days of Dragon Age: Origins, and I know I'm not alone. Sadly, we probably won't ever see EA push into true RPG ground ever again simply because it's not really lucrative or popular. The casualized action-based RPG content of Dragon Age: Inquisition is the best we'll likely ever get.
Here's everything we know about BioWare's new IP so far: