New BioWare IP might be EA's unique answer to Destiny
BioWare's new IP is completely new, melds action-adventure with the studio's deep storytelling, and may have extensive MMO-level online multiplayer.

Published Wed, Feb 1 2017 6:20 AM CST
|
Updated Tue, Nov 3 2020 11:56 AM CST
EA today revealed information on BioWare's mysterious new IP, confirming many of our reports to be accurate: the game is action-based, and will likely have online multiplayer. In a sense, this new game could be EA's unique answer to Bungie's MMO-like shooter Destiny that uses action-adventure elements instead of FPS.
"We're trying to build a fictional world that feels real and is alive and is constantly changing."
BioWare's new IP is entirely fresh, and isn't based on Dragon Age or Mass Effect. Interestingly enough, however, the new IP has been developed by BioWare's original Mass Effect Edmonton studio for the past five years (since 2012) and will release by March 2018. Based on the teasers video from E3 2014 (see above) we can surmise it's sci-fi based, which aligns with the Edmonton studio's skillset.
EA confirms the IP is a "clean sheet design with new concepts, new gameplay mechanics, and new stories set in a unique universe." EA has said that the new IP won't be an RPG, and will instead be "genre-melding" across the action and adventure genres while retaining the deep character progression and story that BioWare is known for.
EA CFO Blake Jorgensen goes on to heavily hint the IP will have strong online-based multiplayer elements, not unlike an MMO:
"This game has the potential to fundamentally disrupt the way people think about an action title, bringing friends together to play in exciting new ways. We're very excited about the future of this new franchise and its ability to attract a larger global audience."
When asked if the new IP would be an RPG, EA CEO Andrew Wilson answered with the following:
"About the new BioWare IP...I think you mentioned it was action/adventure in the description. Is that an RPG game and should we assume that from BioWare's history? And is that a wholly-owned IP or is that a royalty-bearing IP?"
"It's action-adventure, not RPG. So what we're starting to see more and more in games is kind of genre-melding, which is great components of a number of different genres really coming together in a single game.

"So when you're thinking about this game you should be thinking about the great RPG character development and storyline progression that BioWare is known for, but in a world of greater action and greater adventure. Which is growing to be the largest categories of games.

It will be a wholly-owned IP and we're very excited about it and we'll share more in the year to come."
Breaking down the PR speak
Essentially what EA is outlining here is a Destiny-like online game based on action and adventure possibly instead of FPS mechanics. I daresay it could be something like a Mass Effect online MMO of sorts that one-ups Bungie's Destiny and competes with the Destiny sequel.
We've already reported that BioWare's new IP will have extensive online elements, and the way EA talks about the game certainly seems like this will be an online-multiplayer based game. I think that this new IP will be the game that EA has always wanted to make, and will push the boundaries for genre-melded games like Destiny to new heights.
However, I do have to say I'm worried about "MTX," aka EA's term for microtransactions. If this is an online game from EA, we can expect microtransactions to rear their head into the mix--even Destiny has them now.
Despite my worries, I do think that BioWare's new IP will be a melded union of everything the studio has built throughout their entire 20 years: it will combine the strengths and elements of all of the franchises, including Dragon Age, Mass Effect, and even Star Wars: The Old Republic.
In a way, I think this game will represent BioWare's true ultimate potential.
Hi everyone,

As we're working hard to finish Mass Effect: Andromeda, I wanted to take a minute to talk about our new IP. As our CEO Andrew Wilson mentioned, we're creating a unique IP that will bring players together in exciting new ways.

There's much more to say in the coming months, but for now, I wanted to offer this additional background.

In 2012, we began crafting a new universe full of new characters, stories, and gameplay. Our ambition is simple: Draw upon 20+ years of development knowledge and lessons to create something fun and new for you to enjoy with your friends.

There's nothing quite as exciting as building a new IP from scratch, and it will be even more thrilling for us to share more with you in the future.

Thanks,

Aaryn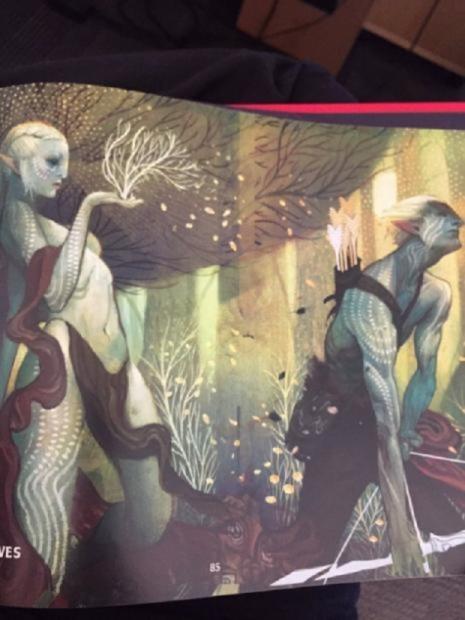 What about Dragon Age 4?
So where does that leave us with the new Dragon Age project?
Earlier we made the mistake in thinking the new IP would be set in the Dragon Age universe because we didn't think BioWare was would be working on a new DA game alongside the new IP.
But they are, and the new Dragon Age project has nothing to do with this IP.
pic.twitter.com/Vhs50xeZS4— Mark Darrah (@BioMarkDarrah) January 26, 2017
BioWare's Mark Darrah recently teased a new Dragon Age game with a bit of concept art, and since that's an entirely different project altogether, it could be Dragon Age 4 or Dragon Age: Tactics.
Would you play a Dragon Age Tactics game?— Mark Darrah (@BioMarkDarrah) February 19, 2016
BioWare's new IP will release sometime before March 2018, and will likely be revealed at EA Play in June.
Related Tags