First-Person Shooter is more than a documentary. It's the kind of mandatory curriculum that all gamers should be required to learn about.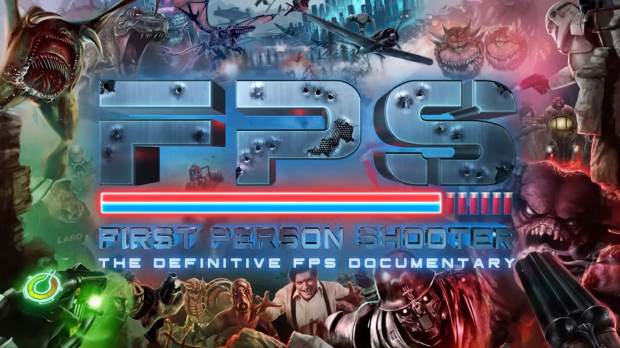 Release Date: August 31, 2023

Price: $49.99 (Buy Link)

Format: Digital, Blu-ray
FPS is the most complete, rich, and captivating video game history lesson I have ever experienced. I've learned so much that I now have a deeper understanding and appreciation for not only the early days of PC gaming but the entire video games industry.
The documentary has had such a profound effect on me that it has reinvigorated a kind of retro renaissance in my gaming habits. I am putting down modern games with flashy 4K 60FPS graphics in favor of these old-school shooters with their pixelated visuals because I can now look at them and attach real people, places, and events to the gameplay, sequences, and events. I can play Doom and realize what was going on in Romero's head during this specific part of the game.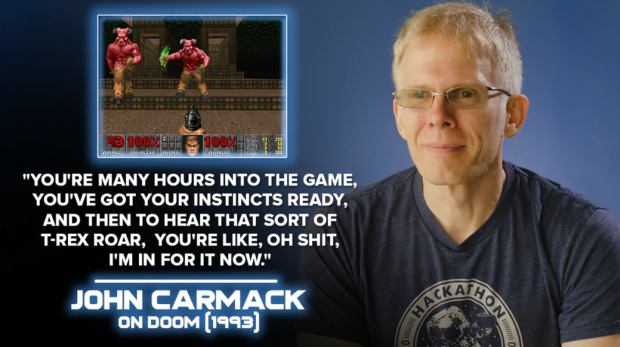 I can imagine John Carmack's frustration as he throws himself at Quake, to no avail, trying to figure out how to push the bar even further as id and the rest of the time simultaneously try to create a new game inside of a new engine at the same time (this rarely goes well, but in id's case, it did). I can marvel at GoldenEye's character models, knowing that each of the textures were created from new-age digital photographs.
Knowing the backstory and the robust history behind these games adds a new dimension of fun and satisfaction. Being able to match up the schisms in games like Quake II--which deviated so strongly from the norms of the original game--to actual real-life events just really paints a clearer picture of why things are the way they are. (Fun fact: Quake II was originally called WOR, but id scrapped that name and stuck with Quake II out of convenience, even though, as John Carmack says, "We knew Quake II had nothing to do with Quake I.")
The video games industry is so secretive that it's a rare treat when something like the four-hour FPS documentary comes out. This is a beacon in the dark that illuminates all the strange, unbelievable, and incredible eye-opening sequences that led up to the billion-dollar FPS market as we know it today.
Most gamers know, on a cursory level, that the $31 billion Call of Duty franchise owes itself to the humble, primitive beginnings of Doom. But being able to trace those events in a linear fashion, all the way back to the birth of the first-person genre at the Ames NASA research center (Maze War, a "game" from 1973, was created using NASA's IMLAC computers), to the modern era, complete with developer insights, technological advancements, and business trends...that's something that breaks the fog of myth and brings gamers into authentic history.
FPS is like time traveling in a way that's exciting, interactive, and engaging. After you watch the doc, you want to collect all the games shown so you can experience them anew. No matter how many times you've beaten Doom, GoldenEye, Quake, or Marathon, you will never look at these games the same way after watching this documentary.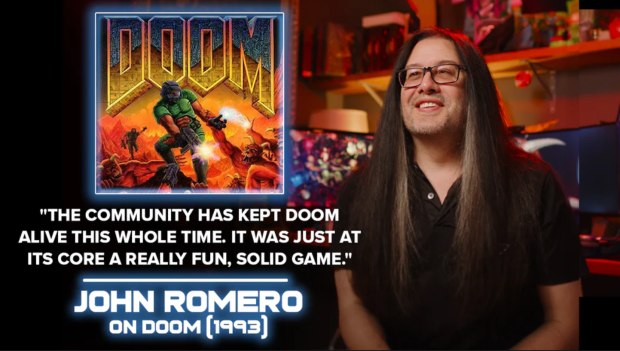 Each chapter chronicles major advancements in the games industry, with each game completely redefining what was possible on PC and consoles. To watch the genre evolve in real-time is transformative and gives you a newfound respect for those old-school grizzled developers who would work long hours just to sell their games as floppy disks through the mail.
Before shareware and the advent of distributing software by mail, there was Maze War, which pioneered first-person shooters as we know them. It was created at a NASA research center, and it even had multiplayer.
Games like Battlezone brought first-person tank action to coin-op arcades, complete with vector lines and joysticks.
David Smith's Mindscape Inc. led to the very first FPS game with an actual story. It was called The Colony, and it was on the Apple II. There was a lot of guesswork here, David says, but something must have worked: the game was so addicting that people actually got divorced because of it.
"I had no idea what a game like that should be." --David Smith, Mindscape Inc.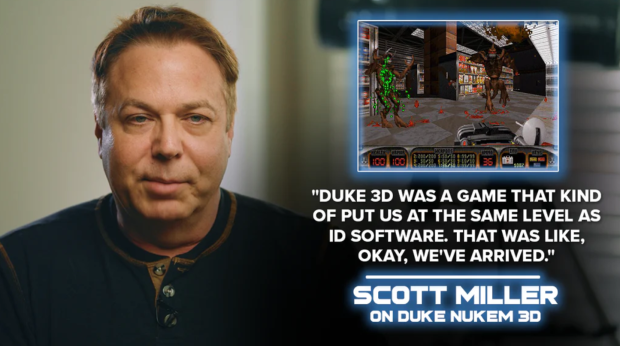 Modern gamers will learn about the beginnings of shareware distribution. Typically, games back then were episodic, and developers would dole out a free small slice, or demo, of a game on the internet and then sell the rest of the chapters for a set fee. The fathers of Doom, John Romero and John Carmack, started off selling games through a by-mail subscription model for a company called SoftDisk. For fun, Carmack and Romero made a little platformer called Dangerous Dave, which opened the doors for id Software.
Gamers will learn about how id was formed: Scott Miller, who started Apogee by selling shareware games, got the attention of Carmack and Romero and funded Commander Keen. This led to Wolfenstein, and the rest... well, was history.
You'll learn about how after the success of Wolfenstein, John Carmack bought a $15,000 computer to make Doom. Other factoids of this era include Trent Reznor reaching out to id Software to do the soundtrack and sound effects for Quake, the exact book that all the monsters of Quake were based on, and how Quake was inspired by Dungeons & Dragons.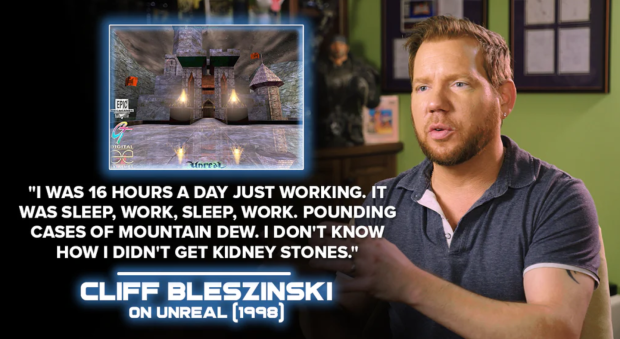 Games like Rise of the Triad and Marathon were the first to add dual-wielding, with the former aiming to be a sequel to Wolfenstein but becoming its own thing because of all the wacky additions (like the dog mode), and the latter laying the seeds to what would become one of the most popular video game franchises of all time (Halo).
"Marathon was the only fun game on Mac," --Halo co-creator Marcus Lehto.
You'll learn about how GoldenEye was developed in converted farm stables and how the game was originally supposed to be an on-rails shooter. Viewers will be shown the dynamics of RARE's foray into the 3D world of first-person shooters with GoldenEye, which was developed in conjunction with the feature-length film starring Pierce Brosnan, and what it was like to use digital cameras to scan images directly into the models, and how Nintendo literally told developers not to try and make FPS games because there was a chance the Nintendo 64 (then known as "Project Reality") may not be able to handle it.
The documentary shows the advancements of single-player-driven games like The Colony, which was technically the first story-driven first-person game, to the carnage of the split-screen deathmatch in Doom. This eventually grew with Quake, leading to massive LAN parties where hotels would rent out their convention rooms to host these events, complete with prize pools.
It goes through the history of Unreal and how the game was funded by a series of successful pinball games. James Schmalz, the pinball wiz, hit it big with his popular shareware game Epic Pinball which then helped fund Unreal.
Farther along in Unreal's story, marketing whiz Mark Rein suggested to Tim Sweeney, then a programmer, that they make their own engine to license out to external developers. The team would work closely with partners to iterate upon the engine so that it grows over time. Thus, Unreal Engine was born, and today remains one of the most-used and profitable video game creation tools.
There's so much to learn. I simply can't exaggerate that point enough. This documentary is a visual encyclopedia that makes learning fun and interesting. There's so much that I didn't know before I watched this documentary, and so many games I had no clue existed. I truly felt enlightened after watching FPS, and I will never see these old-school games the same again.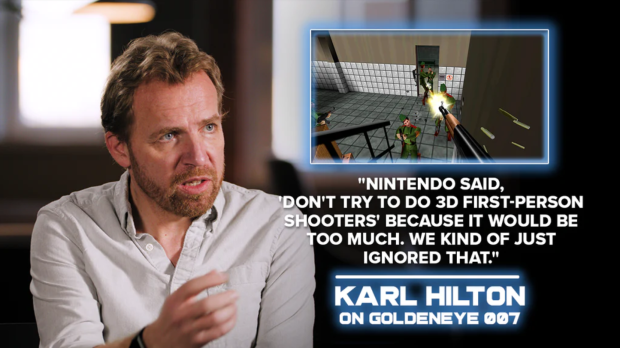 "Great game design never goes out to style." -Dave Oshry, head of New Blood Interactive.
You'll learn how John Carmack surrendered his Ferrari as a grand prize for the World Deathmatch 95 tournament, which was technically the first global esports tournament (Dennis Fong, a Doom and Quake pro, won Carmack's gleaming red supercar, and he wasn't even able to drive yet).
Gamers are privy to inside knowledge of Duke Nukem's rise to glory, how he used to be called Heavy Metal, and how Duke 3D established 3D Realms while proving that Apogee could compete.
"I remember first meeting with Gabe about Half-Life. His whole pitch was 'we're going to make a first-person shooter, but it's going to have a really compelling story.'" -- Ed Fries, VP of Microsoft Game Studios
Fast-forwarding to the Half-Life era, we see Randy Pitchford secure a win for his brand-new company, Gearbox. Pitchford had pitched Half-Life Opposing Force with a strict $750,000 budget, and Valve said yes. Bonus tip: John St. John, the voice of Duke Nukem, was actually the voice of the drill sergeant at the beginning of Opposing Force.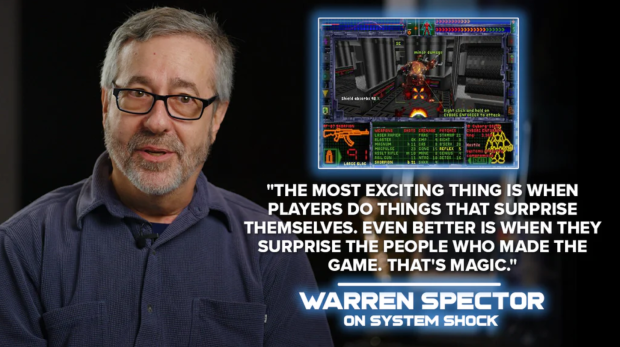 Viewers learned about how John Romero gave Warren Spector was given an unlimited budget and full creative freedom to make any game he wanted. The result was one of the most-lauded titles in history: Deus Ex.
"I told Warren 'you can make anything you want, use any engine you want, take as long as you want, and you can have as much money as it needs to do that.'" -John Romero, id Software.
In the Xbox era, an obscure squad-based shooter called Starsiege Tribes actually influenced Halo's development.
The Xbox's funding was achieved through a bait-and-switch gambit from Seamus Blackley and his team. It eventually worked, and Bill Gates signed off on it.
"It was a pure game console. It was always going to be a pure game console. I didn't even fu__ing care if it ran Windows. That's not what we told Microsoft executives. We told them it would get the Windows operating system into the living room." -Xbox creator Seamus Blackley
Halo was built with multiplayer in mind from the very beginning, and Jason Jones made a last-minute adjustment to make the original pistol do 300% more damage. As far as Halo 2 is concerned, the game revolutionized online gaming, with around 90% of Xbox LIVE players playing Halo 2 in the first 2 years of the service's rollout.
"I firmly believe you can't have Halo without Cortana." -Joseph Staten, original Halo developer.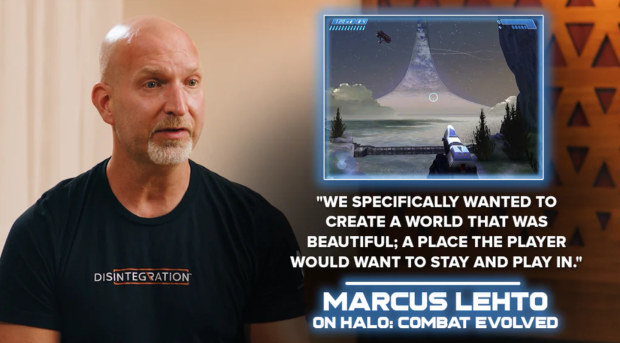 The thing that stands out to me the most is just how slipshod gaming was back then. Everything was put together with small teams of people who were willing to crunch out of sheer passion and love for what they were doing, but more than that, entire games were made with camera pictures and off-the-cuff writing. Developers took inspiration from TV and film (Quake II, for instance, was directly inspired by Guns of the Navarone, and Duke 3D's lines were lifted from action-hero movies). That love and determination shows in every single game that's featured in the documentary.
Watching the doc, you'll feel like you want to take notes and write everyone's names down and create a kind of family tree straight out of a George R.R. Martin novel. Instead of houses, there are studios like id Software, Apogee, Bungie, 3D Realms, Digital Extremes, Red Storm, and Looking Glass, and instead of heroes like Eddard Stark, you have your Carmacks, Romeros, Petersons, Millers, Sweeneys, Spectors-the list goes on and on.
By the time the documentary is over, you will be a well-learned scholar in the arts of boomsticks, demon-slaying, and chain guns.
Tracing the chronology of these games, people, and events is part of the fun, and most of the people in the doc are still involved in game development today. Tracing this lineage of talent, achievement, success, and iteration is one of the most rewarding parts of the documentary-being able to realize just how much of an impact these people and games had on the video games industry as we know it today is a meaningful experience.
FPS is all about fun and games, but it also has a lot of heart because it creates a deeper bond between the viewer, the gamer, the creators, and the games that we've been playing for many years. That's a rare occurrence, and typically developers are enshrouded by a cloak of NDAs. It's refreshing to see devs talk about their past glories and educate people on what it was like to make games back in those early days.
The First-Person Shooter documentary is the single greatest historical record for gaming's most popular genre, and it's something that every gamer needs to watch.
In its four-hour length, First-Person Shooter covers a significant portion of gaming's best shooters and first-person games, including but not limited to:
Maze War

The Colony

Wolfenstein

Doom & Doom II

System Shock

Marathon

Star Wars: Dark Forces

Duke Nukem 3D

Shadow Warrior

Blood

Quake I & II

Rainbow Six

Unreal

Sin

Trespasser

Half-Life

Deus Ex

Unreal Tournament

Quake III Arena

Counter-Strike

Starsiege Tribes

PlanetSide

Halo CE, Halo 2 & 3

Turok

Prey (2006)

Half-Life 2

The Orange Box/Portal/Team Fortress

FEAR

Borderlands 1, 2 & 3