Windows Vista SP1 vs Vista SP2 Release Candidate Performance
We managed to get hold of a copy of Windows Vista SP2 RC and decided to put it up against Vista SP1 to see what has changed in the performance stakes.

Published
|
Updated Tue, Nov 3 2020 7:04 PM CST
9 minute read time
Introduction

We managed to get hold of a copy of Windows Vista SP2 RC (Release Candidate) from Microsoft and decided to put it through its paces against Vista SP1 to see if consumers can expect to see any performance improvements in the latest service pack for the struggling Vista operating system.
Release Candidate or RC simply means that it is a possible final version for Microsoft to release to the public sometime soon after. Many previews of the Vista SP2 BETA were published toward the end of last year, but this is build 6002.16659.090114-1728 - a newer release which is likely to yield some improvements.
Besides any possible performance improvements, service packs always include new OS features and usually a truck load of bug fixes and security updates.
Here is a summary of the new features that Microsoft will add to Vista SP2 from
PC Adviser
:
• Let you record data onto Blu-ray discs

• Add into your system Vista Feature Pack For Wireless, which provides support for the latest Bluetooth technology - Bluetooth v2.1 - as well as for the Windows Connect Now (WCN) Wi-Fi protocol

• Give you better Wi-Fi performance when you're exiting Vista's sleep mode

• Make your RSS feeds sidebar gadget work faster and better

• Give you the latest desktop search engine, Windows Search 4

• Cut down the resources it takes to run your various sidebar gadgets

• It'll give your OS an overall tune-up, too

• Give your computer support for VIA Technologies' new 64-bit CPU

• Let your system support exFAT, which can handle larger files and can also use UTC timestamps so you can synchronize files across different time zones

• Boost your power management efficiency by as much as 10 percent
We installed fresh installs of both Vista SP1 and SP2 on our test bed, installed all available updates from Windows Update for both operating systems and got to work benchmarking over the past couple of days. Our SP2 Ultimate install took up a total of about 14GB of HDD space, while SP1 is slightly slimmer at around 13GB.
Let's get started now and see if it will be worth upgrading to Vista SP2.
Test System Setup and 3DMark Vantage
Test System SetupProcessor(s):
Intel Q9450 quad-core @ 3.2GHz
Motherboard(s):
MSI X48 Platinum (Supplied by
MSI
)
Memory:
2 x 2GB Patriot DDR3 1600MHz
Hard Disk(s):
2 x Western Digital 300GB VelociRaptor in RAID 0 (Supplied by
Western Digital
)
Graphics Card:
MSI HD Radeon 3870 X2 OC (Supplied by
MSI
)
Operating System:
Windows Vista SP1 64-bit and Windows Vista SP2 RC 64-bit
Drivers:
Latest Windows Updates and ATI Catalyst 9.1
After getting a fresh copy of Windows Vista SP2 RC installed on a clean partition of our speedy 300GB RAID 0 VelociRaptor setup, we were ready to begin testing.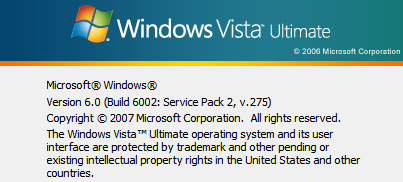 As a quick note, there was nothing new or special with the SP2 install. It also took roughly the same amount of time to install the OS as SP1. When Microsoft eventually releases Vista SP2 to the world, you will be able to download a smaller standalone update installer to update SP1 to SP2, but that's not out yet.
We would have liked to be using the latest graphics card (4870 X2), but we were unable to get one from AMD, so we had to stick with the capable Radeon HD 3870X2 OC from MSI.
3DMark VantageVersion and / or Patch Used:
1.01
Developer Homepage:
http://www.futuremark.com
Product Homepage:
http://www.futuremark.com/products/3dmarkvantage/
Buy It Here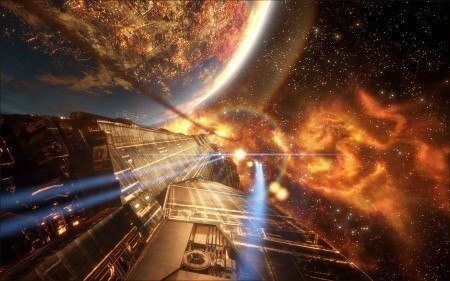 3DMark Vantage is the new industry standard PC gaming performance benchmark from Futuremark, newly designed for Windows Vista and DirectX10. It includes two new graphics tests, two new CPU tests, several new feature tests, and support for the latest hardware.
3DMark Vantage is based on a completely new rendering engine, developed specifically to take full advantage of DirectX10, the new graphics API from Microsoft.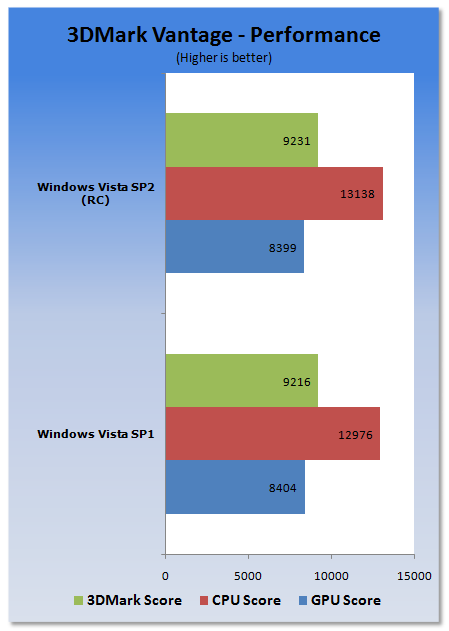 As you can see from our first test, there is little difference between SP1 and SP2 - however, SP2 does take the lead by a very small margin here. It is only in GPU score that it is a little behind, but not by much at all.
Benchmarks - PCMark Vantage x64
PCMark Vantage x64Version and / or Patch Used:
x64 November 2007 update
Developer Homepage:
http://www.futuremark.com
Product Homepage:
http://www.futuremark.com/benchmarks/pcmark-vantage//
Buy It Here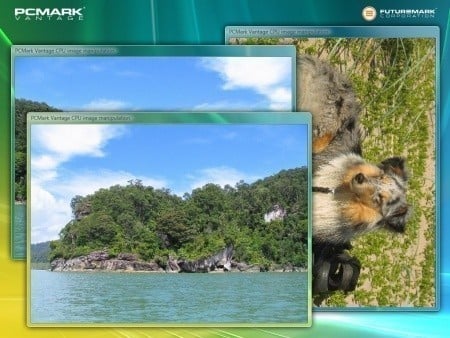 PCMark Vantage is the first objective hardware performance benchmark for PCs running 32 and 64 bit versions of Microsoft Windows Vista. PCMark Vantage is perfectly suited for benchmarking any type of Microsoft Windows Vista PC from multimedia home entertainment systems and laptops to dedicated workstations and high-end gaming rigs. Regardless of whether the benchmarker is an artist or an IT Professional, PCMark Vantage shows the user where their system soars or falls flat, and how to get the most performance possible out of their hardware. PCMark Vantage is easy enough for even the most casual enthusiast to use yet supports in-depth, professional industry grade testing.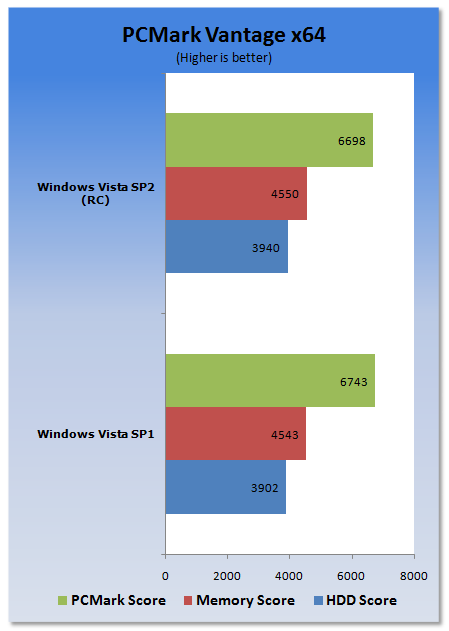 When it comes to PCMark Vantage x64, SP1 takes the lead back, but again, the results are very close.
Benchmarks - EVEREST Memory
EVEREST Memory BenchmarkVersion and / or Patch Used:
4.60
Developer Homepage:
http://www.lavalys.com/
Product Homepage:
http://www.lavalys.com/products/overview.php?pid=3&ps=UE&lang=en
Buy It Here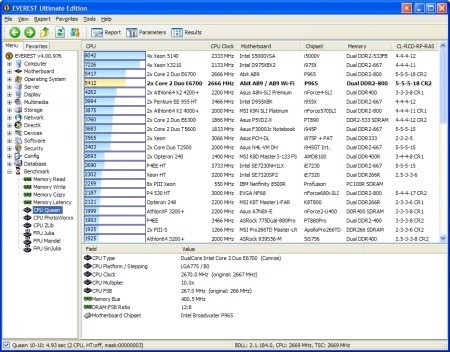 EVEREST Ultimate Edition is an industry leading system diagnostics and benchmarking solution for enthusiasts PC users, based on the award-winning EVEREST Technology. During system optimizations and tweaking it provides essential system and overclock information, advanced hardware monitoring and diagnostics capabilities to check the effects of the applied settings. CPU, FPU and memory benchmarks are available to measure the actual system performance and compare it to previous states or other systems. Furthermore, complete software, operating system and security information makes EVEREST Ultimate Edition a comprehensive system diagnostics tool that offers a total of 100 pages of information about your PC.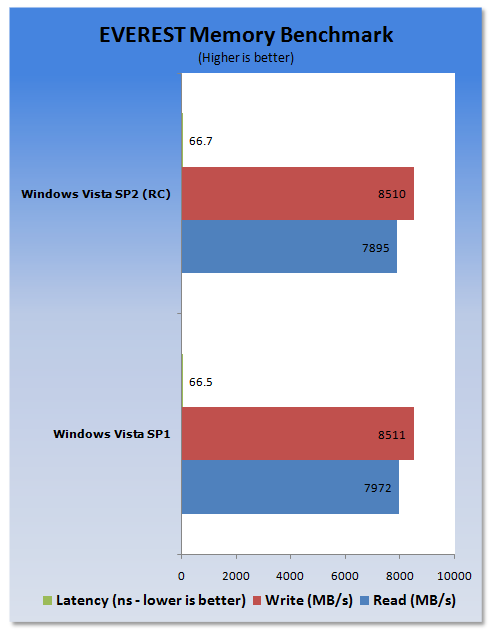 EVEREST Memory and Cache benchmark gives the win to SP1 again, but as we have seen so far in our tests, the results are very close and there's not much splitting them at all.
Benchmarks - Super Pi
Super PiVersion and / or Patch Used:
1.5 XS Mod
Developer Homepage:
http://pw1.netcom.com/~hjsmith/Pi/Super_Pi.html
Product Homepage:
http://pw1.netcom.com/~hjsmith/Pi/Super_Pi.html
Developed by some folks from the University of Tokyo (yes, Japan), Super PI is a small utility that does just as the name implies. It figures PI to a set number of decimal places. Since PI is an infinite number to the right of the decimal point, the utility measures the time it takes to figure a set number of places. It runs the calculations a set number of times and gives a time for the completion of the task. This is a simple and effective way to measure the raw number crunching power of the processor being used to compile the results.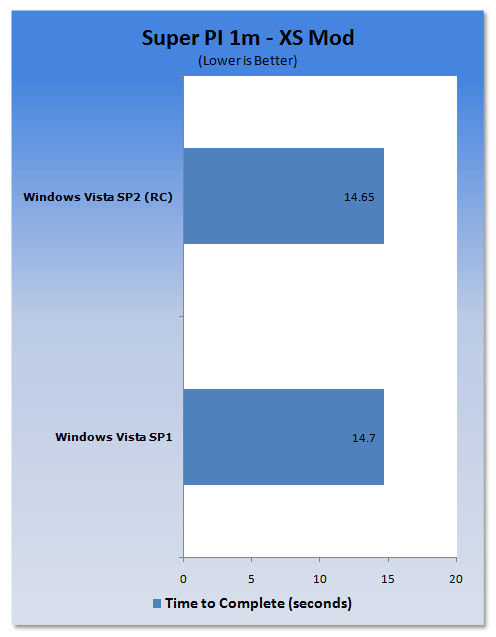 By the smallest of margins, half a second, SP2 takes the win here.
Benchmarks - CINEBENCH R10 64-bit
CINEBENCH R10 64-bit bikeVersion and / or Patch Used:
Release 10 64-bit bike
Developer Homepage:
http://www.maxon.net/
Product Homepage:
http://www.maxon.net

CINEBENCH is a real-world test suite that assesses your computer's performace capabilities. MAXON CINEBENCH is based on MAXON's award-winning animation software, CINEMA 4D, which is used extensively by studios and production houses worldwide for 3D content creation. MAXON software has been used in blockbuster movies such as Spider-Man, Star Wars, The Chronicles of Narnia and many more.
MAXON CINEBENCH runs several tests on your computer to measure the performance of the main processor and the graphics card under real world circumstances. The benchmark application makes use of up to 16 CPUs or CPU cores and is available for Windows (32-bit and 64-Bit) and Macintosh (PPC and Intel-based).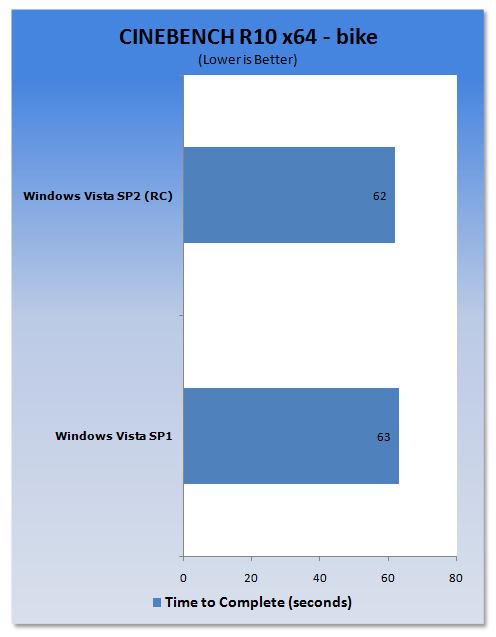 Again we see that SP2 is able to snatch the lead from SP1 by just one second - but a win is a win.
Benchmarks - HD Tune Pro - Read Performance
HD Tune Pro - Read PerformanceVersion and / or Patch Used:
3.0
Developer Homepage:
http://www.efdsoftware.com/
Product Homepage:
http://www.hdtune.com/>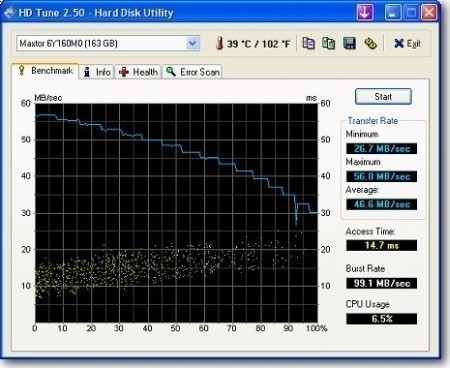 HD Tune is a Hard Disk utility which has the following functions:
- Benchmark: measures the performance
- Info: shows detailed information
- Health: checks the health status by using SMART
- Error Scan: scans the surface for errors
- Temperature display
HD Tune may also work with other storage devices such as memory cards, USB sticks, iPods, etc.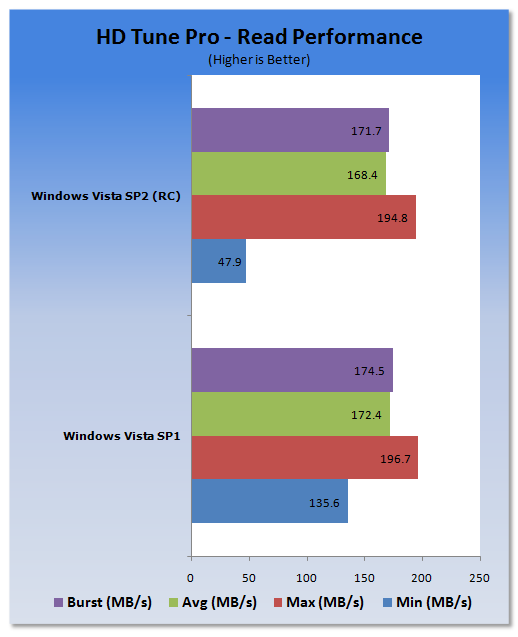 When it comes to hard disk drive read performance, we put our ICH9R-powered 300GB RAID 0 VelociRaptor setup to the test.
As you can see, SP2 RC has some issues at the moment with HDD performance. Burst and Max results are fine, but minimum and average speeds are affected. This may be fixed with a new INF driver or others from Intel, but that remains to be seen.
Benchmarks - PT Boats: Knights of the Sea
PT Boats: Knights of the SeaVersion and / or Patch Used:
Benchmark Demo
Developer Homepage:
http://en.akella.com/
Product Homepage:
http://www.pt-boats.net/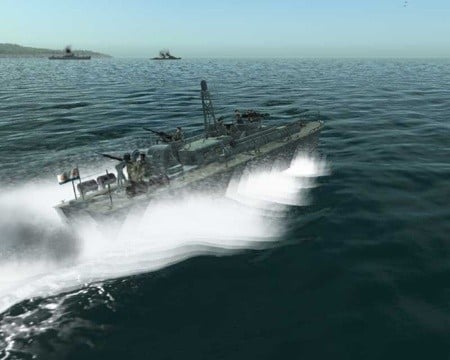 PT Boats: Knights of the Sea is a naval action simulator that places gamers in charge of a mosquito fleet of the Allied Forces, Russia or Germany during the height of World War II.
Using the latest Direct X 10 technology PT Boards - Knights of the Sea manages to apply a lot of stress to the components of today which in turn gives us quite an intensive benchmark.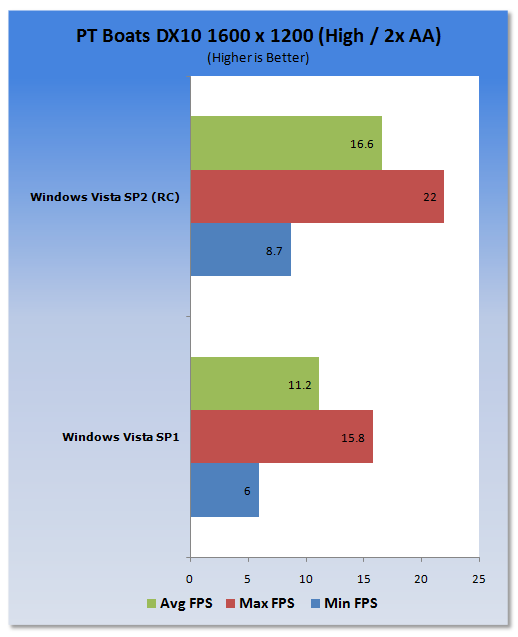 As we enter our first gaming benchmark, we can see that SP2 manages to do really well here. We ran the results several times and the results were consistent.
Benchmarks - Far Cry 2
Far Cry 2Version and / or Patch Used:
1.01
Timedemo or Level Used:
Ranch Long
Developer Homepage:
http://www.ubi.com/
Product Homepage:
http://www.farcry2.com/
Buy It Here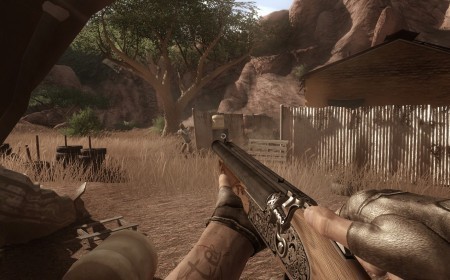 The Dunia Engine was built specifically for Far Cry 2 by the award-winning Ubisoft Montreal development team. It delivers the most realistic destructible environments, amazing special effects such as dynamic fire propagation and storm effects, real-time night-and-day cycle, dynamic music system, non-scripted enemy A.I. and so much more.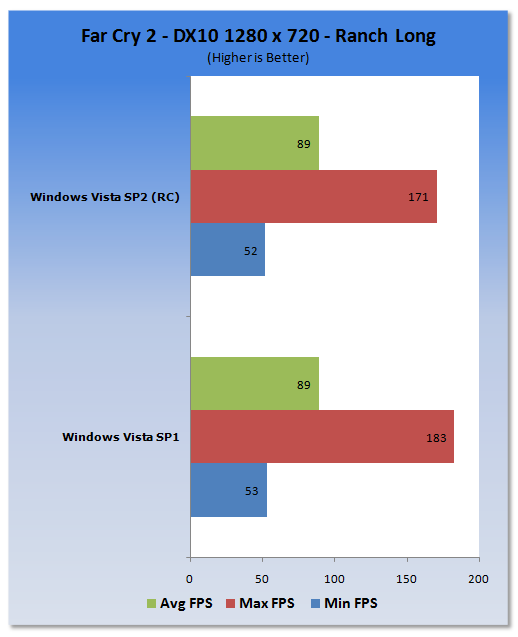 SP1 takes the lead here in the min and max FPS department, but when we look at the average FPS rate, things are all tied up here.
Benchmarks - Crysis Warhead
Crysis WarheadVersion and / or Patch Used:
Unpatched
Timedemo or Level Used:
Train
Developer Homepage:
http://www.crytek.com
Product Homepage:
http://crysiswarhead.ea.com/
Buy It Here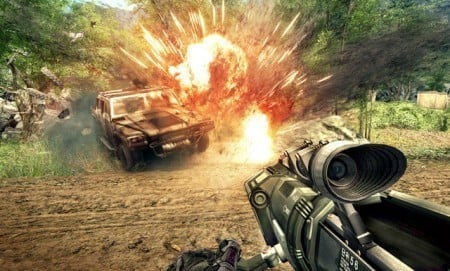 Crysis Warhead updates and refines the gameplay of the original game through a sidestory plot involving Psycho, one of previous protagonist Nomad's allies. The game is a parallel story that follows Sergeant Michael "Psycho" Sykes, a character from the original Crysis, as he faces his own trials and challenges on the other side of the island during the time period of the first game.
It also showcases a new, enhanced and optimized version of CryEngine 2 using full DX10 extensions and is the first game developed by Crytek's Budapest studio.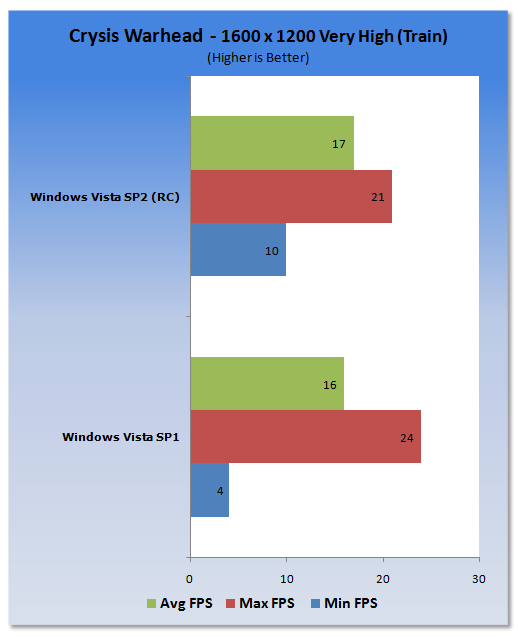 Under Crysis Warhead, SP1 is able to steam out in front in the maximum FPS department, but when it comes to the all important minimum FPS rate, SP2 is well out in front and because of this it is able to offer a better average FPS, just slightly.
Benchmarks - Loading Times
Loading Times
In our final test comparing Vista SP1 and Vista SP2 RC, we decided to do some manual tests with Apple iPhone 3G stop watch in hand. What a handy little thing it is.
Our first test is operating system boot time and we measure from the point we turn on the system until it reaches the desktop and the hour glass cursor disappears.
The second test is game level loading times and we used Far Cry 2 (Ranch Long benchmark demo). We time from the point of hitting the benchmark button in the built-in FC2 benchmarking application till when the benchmark begins.
For each set of tests, we ran the tests three times and averaged out the results, but surprisingly the results were rather consistent. We also removed half a second (0.5) from the final result to factor in human delay with the stop watch.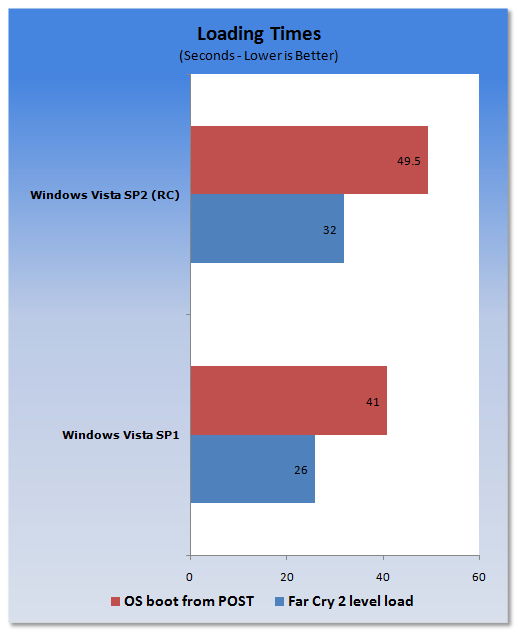 If you were paying attention to our hard disk drive read tests under HD Tune Pro, you will remember SP1 was well ahead in this area.
As we can see here, it seems evident that the slower HDD performance under SP2 also affects loading times by quite a margin.
This will need to be sorted out before users even consider moving up to SP2 from SP1 or others.
Final Thoughts
So, from our testing here today, what conclusion do we come out with at the end of the day?
Vista Service Pack 2 RC managed to steal some surprising gaming wins away from Vista SP1 - some by a fairly large margin. SP2 RC managed to offer much better performance under the PT Boats benchmark by up to almost 33% in the average FPS. And under Crysis Warhead the minimum frame rate was vastly improved, moving from four FPS in SP1 to ten FPS in SP2.
That unfortunately is about as good as it gets, though, for SP2 - in some of the other tests, both ended up with very even results, but most of the time SP1 came out first on the podium.
As for hard disk drive performance on the Intel ICH9R controller chip, performance was rather poor under SP2. We are not sure at this stage if it is due to the service pack or a poor driver, but clearly something needs to be done. It affected read performance greatly, especially in the minimum read speed where SP2 dropped right down to around 48MB/s whereas SP1 stayed strong at about 136MB/s.
This impact on HDD performance also had a negative effect on loading times with SP2 taking a full 8.5 seconds longer to fully load into the Windows desktop. Likewise, game level loading was also affected with SP2 taking six seconds longer to load into a Far Cry 2 benchmark demo.
Unless you require some of the new features in SP2 or like the idea of having all the latest bug fixes and security updates, we wouldn't recommend upgrading to SP2 at this point in time. New drivers from the likes of Intel, AMD (ATI) and NVIDIA may help boost numbers, but at this stage of the game and if performance is what matters to you, stick with SP1.
If you have already installed SP2 or wish to comment on this article, please direct your thoughts and comments
to our forums!
PRICING: You can find products similar to this one for sale below.

United States: Find other tech and computer products like this over at Amazon.com

United Kingdom: Find other tech and computer products like this over at Amazon.co.uk

Australia: Find other tech and computer products like this over at Amazon.com.au

Canada: Find other tech and computer products like this over at Amazon.ca

Deutschland: Finde andere Technik- und Computerprodukte wie dieses auf Amazon.de
We openly invite the companies who provide us with review samples / who are mentioned or discussed to express their opinion. If any company representative wishes to respond, we will publish the response here. Please contact us if you wish to respond.