Introduction & New/Updated Crossfire Profiles
AMD has been positioning itself in a better way over the last 6-12 months, not just for consumers, but to compete against NVIDIA. The first step was improving the Catalyst drivers, where the company shifted forward with its new Radeon Software Crimson Edition driver set, and second, splitting its GPU division into Radeon Technologies Group.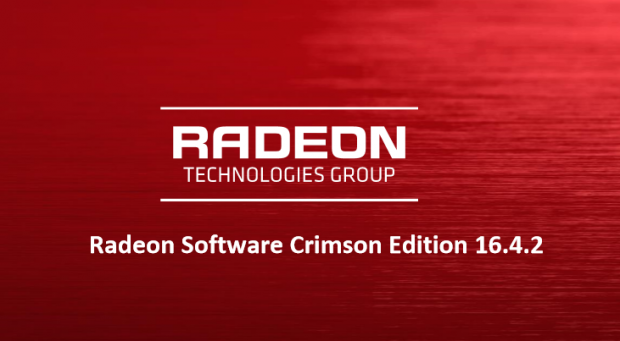 AMD morphing its GPU division into Radeon Technologies Group was the best thing the company has done since acquiring ATI all those years ago, as well as acquiring key talent over the last year - and shoving all of their chips onto the VR side of the betting table, a gamble that I personally applaud.
Recently, AMD revealed its new Radeon Software Crimson Edition 16.4.2 drivers, with some new features, support, updated/new CrossFire drivers, and another push into DX12 dominance. The new drivers are being compared against NVIDIA's GeForce 364.72 drivers, and while we didn't have time to do any performance testing, we're going to disassemble what AMD is doing with its new RSCE 16.4.2 drivers.
AMD XConnect Technology Support
This is one of the surprises and main features of the new RSCE 16.4.2 drivers; support for AMD's awesome XConnect technology. This allows full support for Thunderbolt 3-based video card enclosures, like the Razer Core for the Blade Stealth gaming laptop.

Gamers can use the Radeon R9 Fury, R9 Nano, and 300 series video cards inside of the external video card enclosure, and thanks to Thunderbolt 3, super-powering your mobile gaming experience.
New & Updated Crossfire Profiles
Starting with the new/improved CrossFire profiles, we have new and updated CrossFire profiles for four games: Elite: Dangerous, Need for Speed, Hitman, and Fallout 4. This is great to see especially after writing my scathing yet insanely well-received rage about the state of multi-GPU gaming.
Multi-GPU performance still isn't where it should be, but it's good to see AMD push forward with improved or new CrossFire profiles for some of the biggest games on the market.
Huge DX12 Improvements & Final Thoughts
Continued DX12 Dominance
AMD has had an early lead over NVIDIA in DirectX 12, with the new RSCE 16.4.2 drivers continuing that lead. The new drivers are faster than the previous drivers, with some nice increases.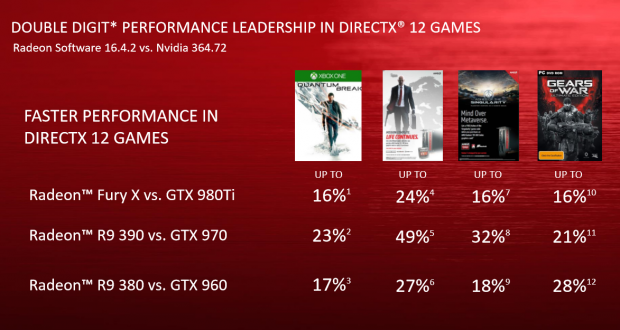 AMD benchmarked the Radeon R9 Fury X against the GTX 980 Ti, where it's up to 16% faster in Quantum Break. Hitman has up to 24% more performance, while Gears of War is up to 16% faster under the new Catalyst 16.4.2 drivers. Even Gears of War gets a decent (up to) 16% performance jump.
AMD also compared the Radeon R9 390 versus the GTX 970, with the R9 390 beating out the GTX 970 by a decent margin, with up to 49% more performance in Hitman.
Final Thoughts
Wrapping up on our quick article on the new RSCE 16.4.2 drivers, AMD has hit another leg in its strive to compete on a new level against NVIDIA. We have an average of 20% more performance under DX12, which is great, as most consumers would have to buy another physical component for their system to reach another 20% performance. AMD is giving this performance away for free with the RSCE 16.4.2 drivers.
If AMD can continue this going into the future, NVIDIA might experience some issues keeping up - not that NVIDIA isn't capable of that, but they're used to an AMD that isn't this efficient with driver releases.
It all changed when AMD split its GPU division off into Radeon Technologies Group, and that momentum hasn't stopped. The RSCE 16.4.2 drivers are a testament to that, so let's hope AMD keeps it up and pressures NVIDIA in the race to DX12 dominance.