Introduction and First Look

3DMark has been a staple of enthusiasts' rigs for years now, but for mobile reviewers, benchmarking software has been few and far between. Sure, we have some great benchmarks from Kishonti Informatics in the form of GLBenchmark, and Aurora Softworks' Quadrant.
Futuremark are like the Jay Z of the benchmark scene, everyone knows who they are and they've finally stepped out, boots tightened and fists clenched, ready to beat the living crap out of your mobile device - in a good way.
Futuremark are shifting in a new direction, where in the coming weeks they'll make Ice Storm Extreme (the 1080p portion of 3DMark) available to Windows. This means we'll have a truly cross-platform benchmark to run across our devices, and as mobile devices get closer to discrete GPU performance, we'll see that within the 3DMark benchmarks.
3DMark for Android is very polished, as I've been playing with it over the Easter weekend over multiple devices, so we'll jump right into the look of 3DMark for Android for now.
First Look
Before you even open 3DMark for Android up, you'll notice they've graced your eyes with a great looking icon - sure this isn't a make-it-or-break-it deal, but I'm a big fan of polished, sharp-looking icons. Jumping into 3DMark for Android, you're graced with a very slick, very 'now'-looking app.
The first options you'll see are the two benchmarks themselves, 'Ice Storm' and 'Ice Storm Extreme'. These benchmarks are set at 720p and 1080p respectively, and will test out your mobile device in multiple factors.
3DMark is a cross-platform benchmark for all smart devices, tablets, notebooks and PCs running a multitude of OS' - Android, iOS, Windows and Windows RT. This gives Futuremark an incredibly sharp position to benchmark all users' devices, no matter the operating system they're using.
Taking 3DMark Out For a Dinner Date Followed By a Rock Show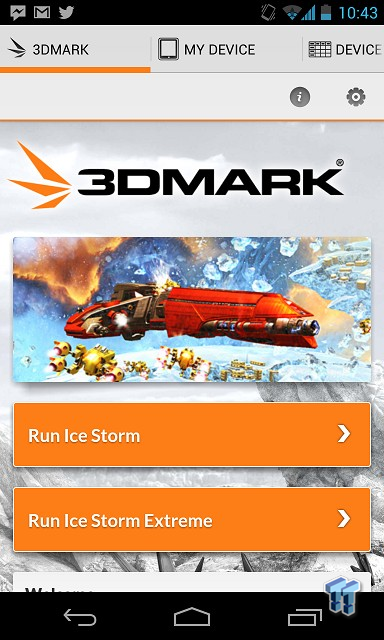 When I was e-mailed by Futuremark about accepting an NDA to test out 3DMark, I thought it could have not come at better timing - I had, on short-term loan to review, Samsung's 5.5-inch Galaxy Note II smartphone, and Sony's brilliantly perfect Xperia Z.
I used the Nexus 4 for all of the playing around, taking screenshots, experimenting, and getting to know 3DMark for Android inside out in our few days with it. Let's give you an overview of what it can do and how well it does it.
There are two parts to 3DMark - Ice Storm and Ice Storm Extreme. Ice Storm is an OpenGL ES 2.0 benchmark that is designed purely for mobile devices, where it runs a rendering resolution of 1280x720. Ice Storm Extreme ramps this up to 1920x1080, as well as enabling higher quality textures and post-processing effects, putting much more stress on your device.
You can slide left to right through 3DMark, from the opening screen where you can start your benchmarks, over to your 'My Device' - which give you plenty of detail - and then into the 'Device Channel' where you can compare your device against other devices across the world.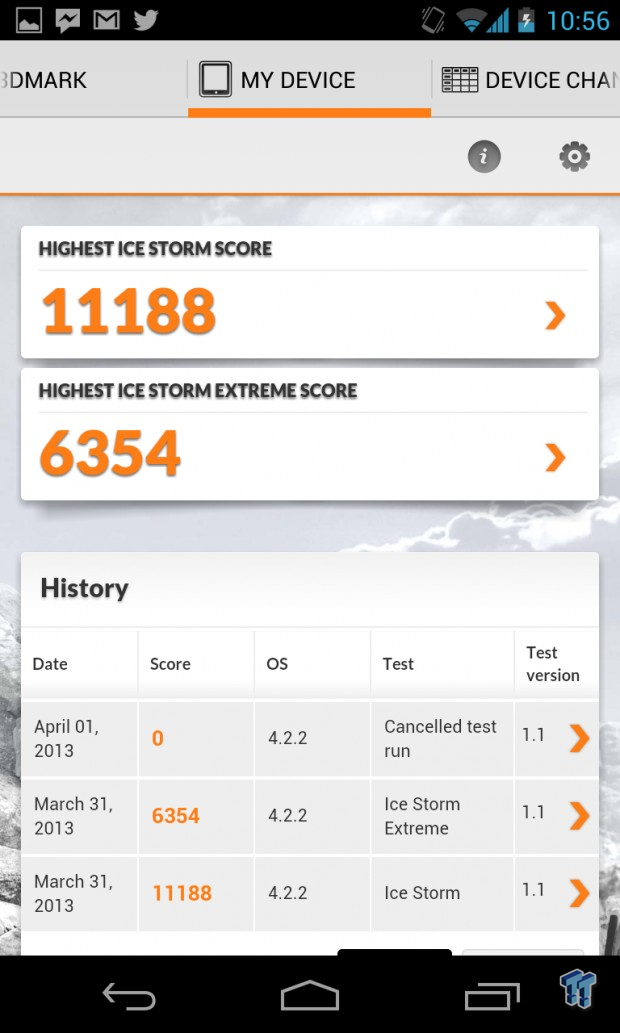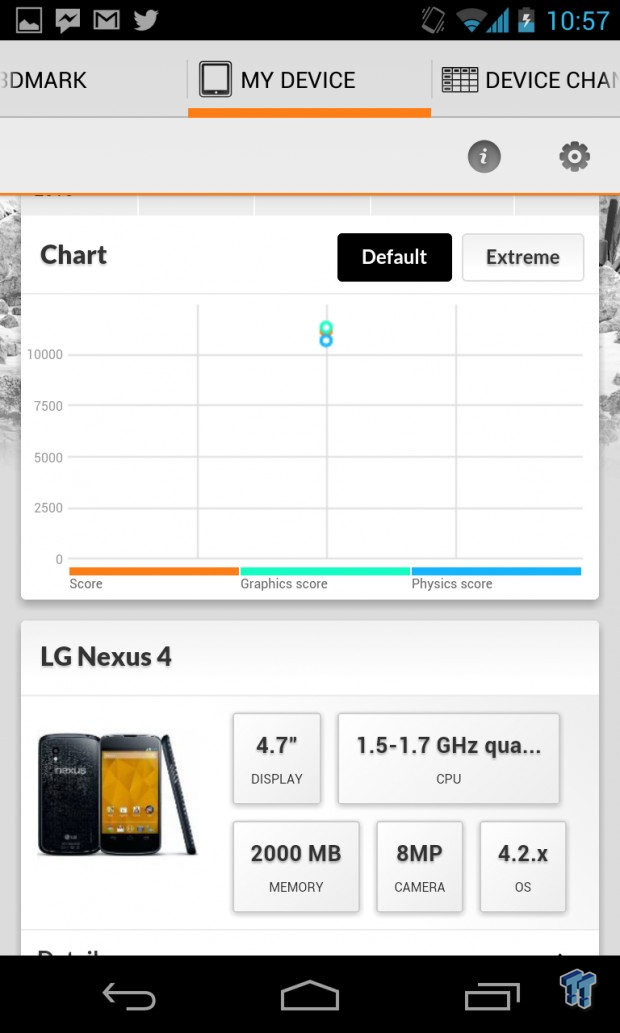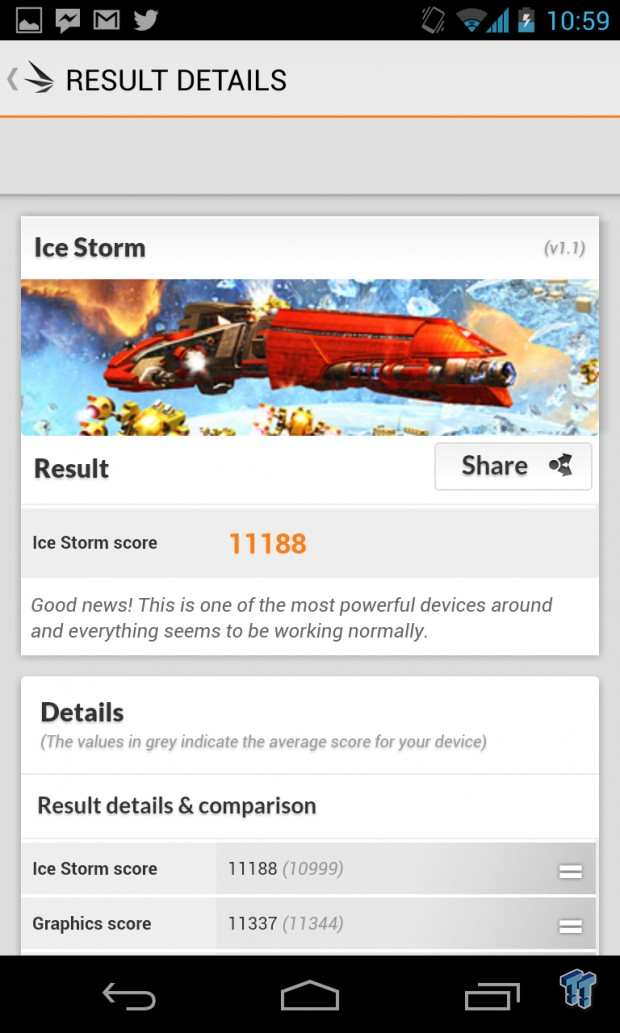 Starting with My Device, where once you've run the Ice Storm benchmarks, you can view your score details and history. Tapping into your 'Highest Ice Storm Score' for example, brings up your results, of which you can share through your device to any sharing-capable app on your device - something I wished was on the latest desktop-based version of 3DMark.
This little feature on its own makes 3DMark a much more social application, finally.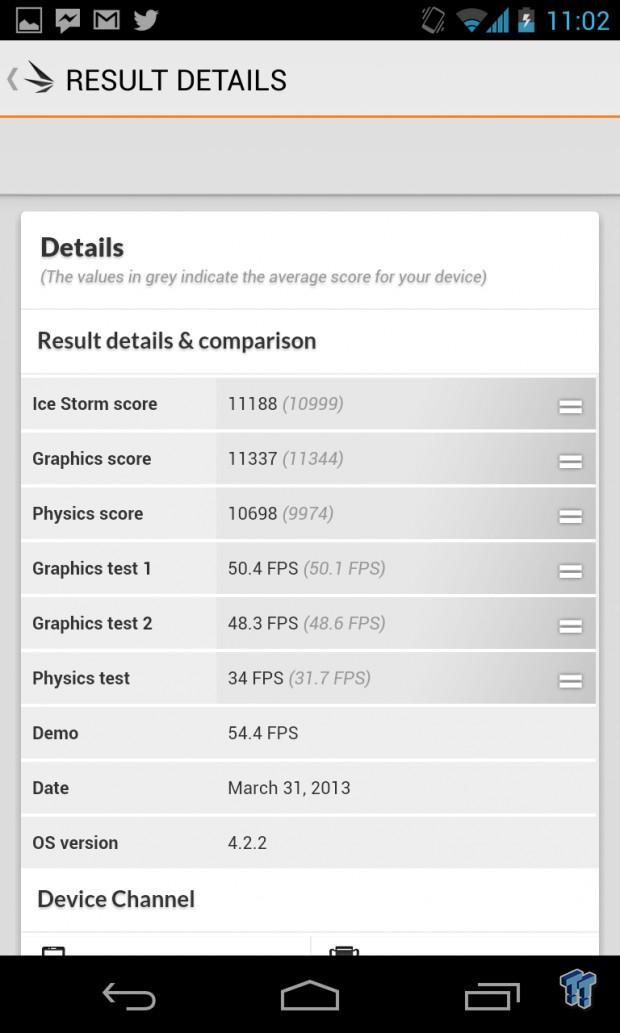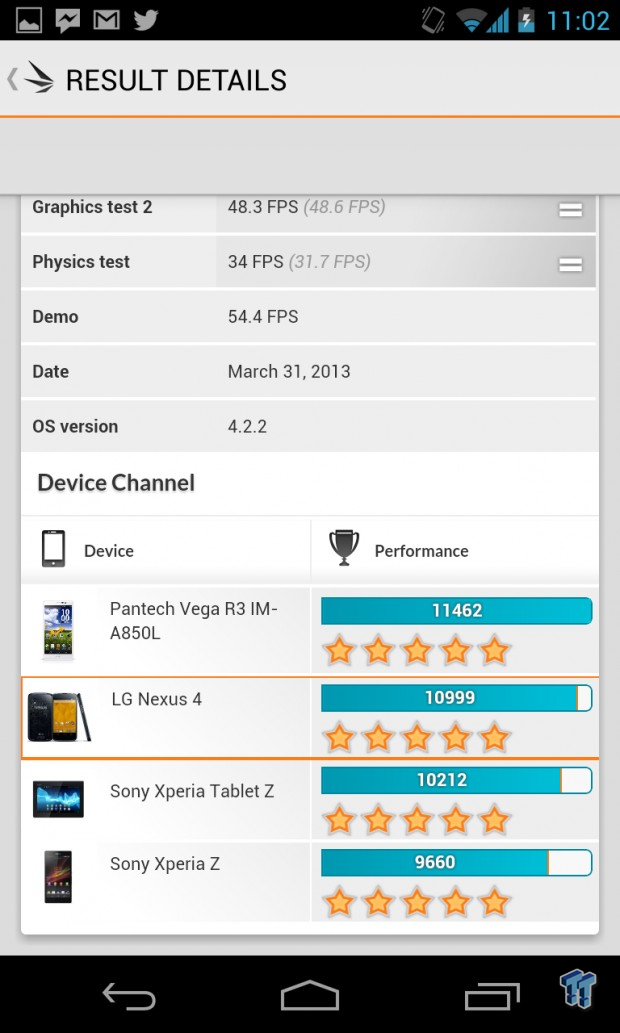 Below this, we have the Details section, which breaks your benchmark down into some impressive detail. The benchmark is broken down into Ice Storm score, Graphics score, Physics score, Graphics test 1, Graphics test 2, Physics test, Demo, Date and your OS version.
Backing out to the My Device section again and continuing, we have 'History'. This is self-explanatory, as it gives you a rundown of all of the previous tests you've run, which is really handy for looking back at your scores. You can tap each test, and it will show you the results of your test - another nifty feature.
Moving on, we have 'Chart,' which you can get a graphical look at your scores broken down into 'Score,' 'Graphics score' and 'Physics score.' This is another handy feature, and Futuremark have added the ability to choose between 'Default' and 'Extreme' here, so you can check between your scores and get a more graph-style look at things.
Below the Chart section, we have your device details.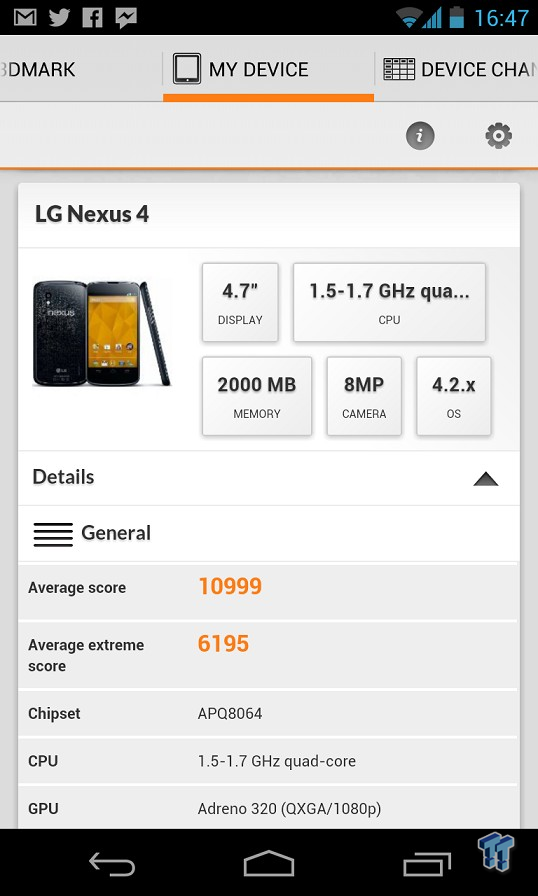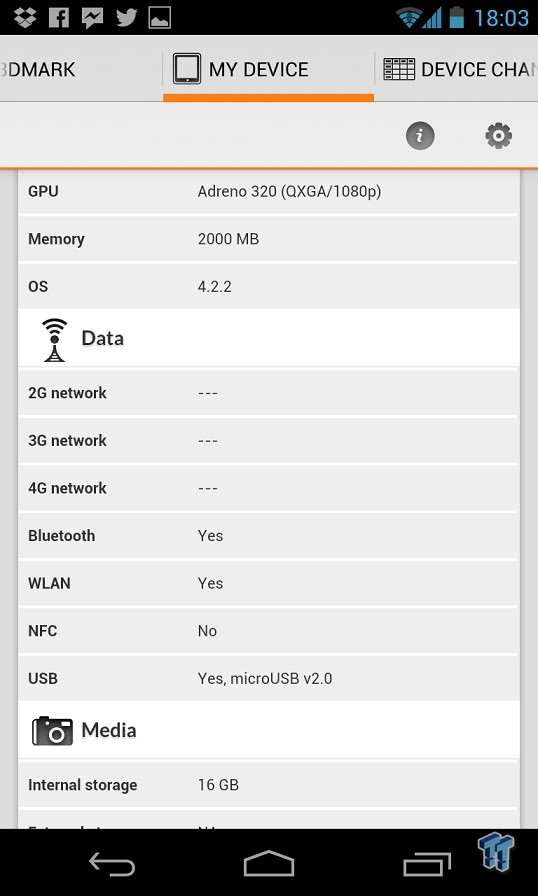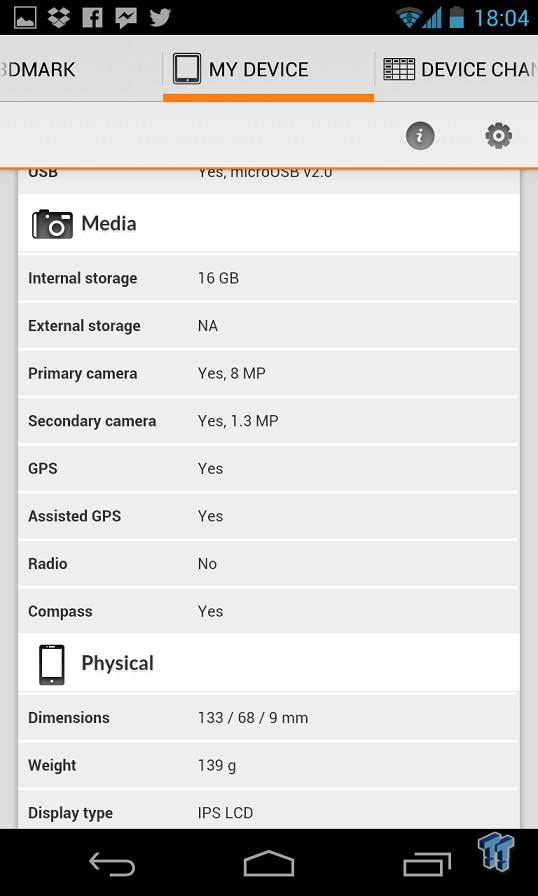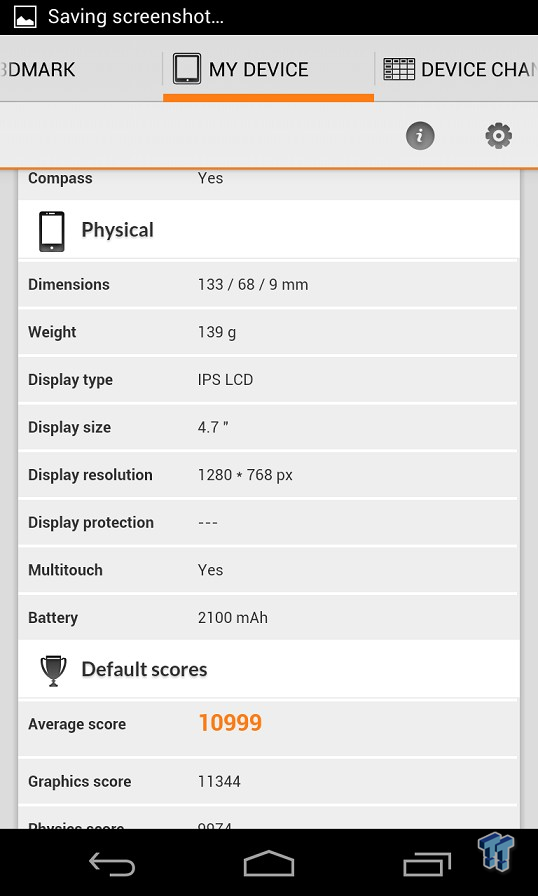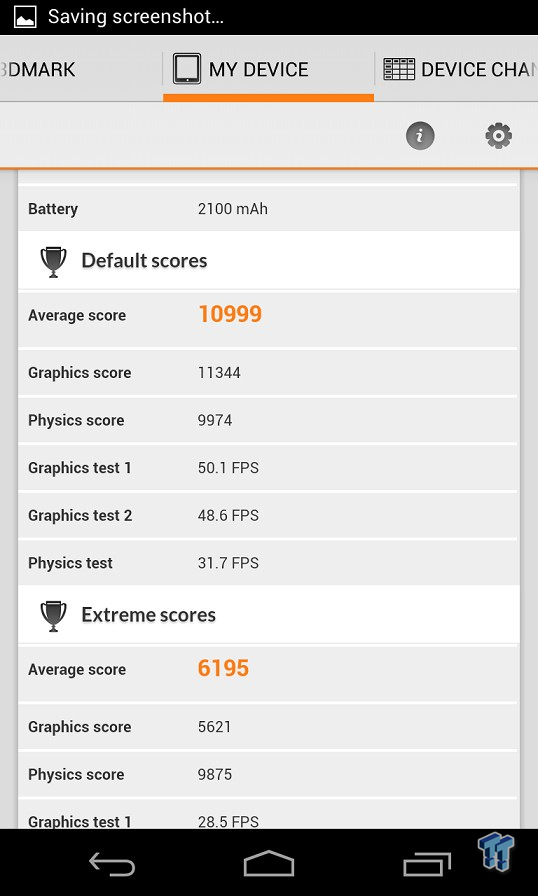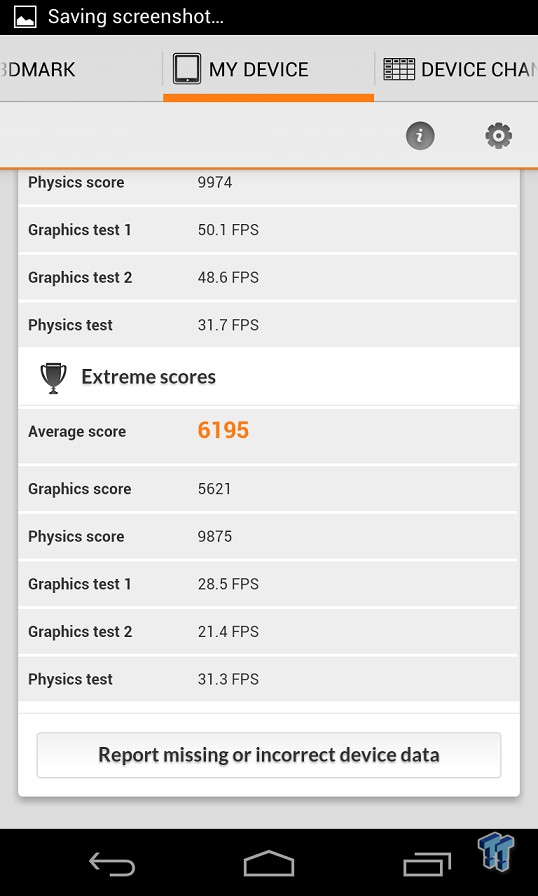 As you can see, 3DMark for Mobile (not just Android) is quite capable, and I'm absolutely loving the sharing aspect of it all. I haven't used the sharing aspects of 3DMark, because I couldn't share it without unveiling 3DMark to my Facebook friends.
Benchmark Results With 3DMark for Android and Final Thoughts
Since we had a bunch of smart devices in our labs, we gave the new 3DMark for Android a run across our devices. The results were very, very surprising to say the least.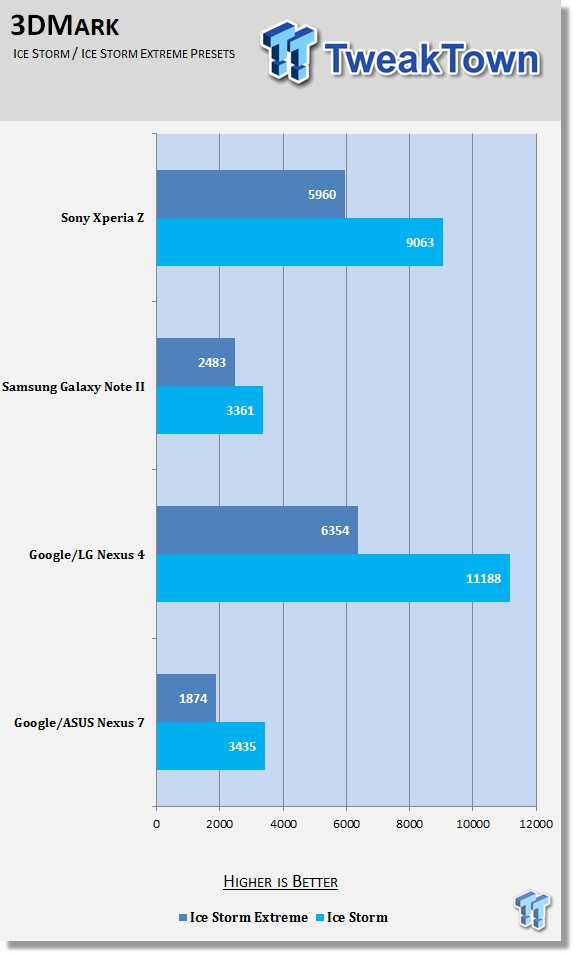 As you can see, Samsung's Galaxy Note II gets knocked onto the ground and kicked in the guts. I actually e-mailed Futuremark, asking if my Note II results were indeed correct for the Note II, to which I had the reply of "The differences between Android devices in the Android space can be quite large -one of the reasons that makes benchmarking in this area so interesting."
LG's Nexus 4 completely dominates 3DMark from our devices, but the Xperia Z is not far behind it. In the Ice Mark benchmarks, which are run at 720p, the Nexus 4 pulls ahead with a score of 11188, but the Xperia Z scores just 9063. The first Ice Storm Extreme benchmark, run at 1080p, sees the Nexus 4 score 6354 and the Xperia Z score 5960 - a much closer match.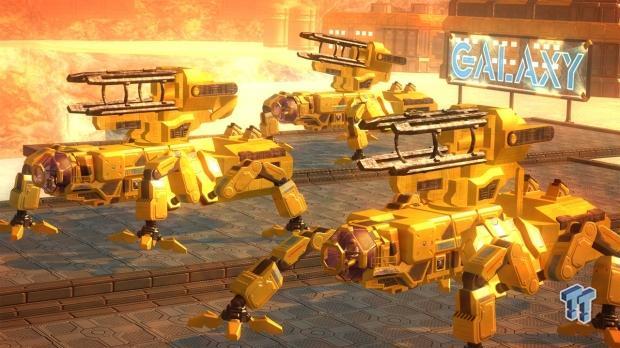 The ASUS-made Nexus 7 gets trampled, and a very surprising result for me is the Note II with 2483 and 3361 for Ice Storm and Ice Storm Extreme, respectively. This is nearly a quarter of what the much cheaper Nexus 4 scores for Ice Storm Extreme, and close to just a third of what the Nexus 4 scores in Ice Storm. These results were striking to me, and something I think we're going to see more of if our quote from Futuremark is anything to go by. Exciting times for mobile benchmarking.
Final Thoughts
There's not much to say that I haven't said above, but I'm a big fan of Futuremark's 3DMark for Android for multiple reasons. Firstly, as the Mobile Devices Editor for TweakTown, it gives me yet another benchmarking app to show the differences between devices when I'm reviewing them - and a much better application than others, as it is across multiple operating systems.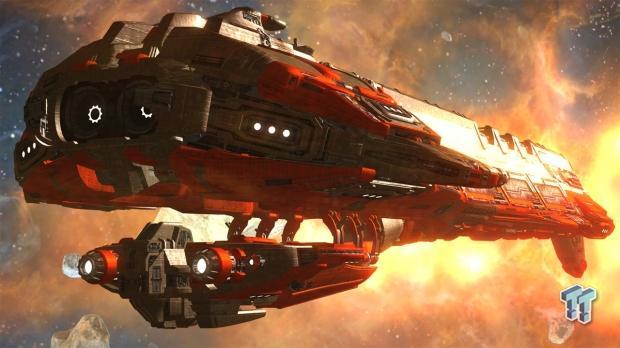 Secondly, as a lover of mobile devices, having one of the biggest companies known for benchmarking release a mobile benchmark makes me a very happy enthusiast. Futuremark entering the mobile benchmarking scene with an app release of this caliber for their first app is nothing short of greatness.
The sharing aspects of 3DMark have been fixed for me, something I complained about in the desktop version - something I'm now happy with.