Introduction & The Time Is Now
Futuremark is known for its infamous 3DMark software, with it being one of the most popular tools for benchmarking your PC. The company has, until now, concentrated on DX11-class hardware - but now we are entering the world of DirectX 12 thanks to Windows 10, and Futuremark is here with the release of Time Spy.
Time Spy is Futuremark's DX12-capable benchmark, joining the other benchmarks in 3DMark like Fire Strike, Sky Diver, Cloud Gate, and Ice Storm. Time Spy is the only DX12 benchmark, with Futuremark using a "pure DirectX 12 engine", with the Finnish company building the engine from the ground up to support features like Asynchronous Compute, explicit multi-adapter, and multi-threading.
Futuremark worked with AMD, NVIDIA, Intel, Microsoft, and other members of the Futuremark Benchmark Development Program, and now is the time for its release. The new Time Spy part of 3DMark is an update to 3DMark, so if you already own it for benchmarking purposes, you'll be able to now benchmark your DX12-capable GPU, as long as you've also got Windows 10 installed.
The Time Is Now
What better way to use the time pun than with Futuremark's release of 3DMark Time Spy, and with the time never being better with Windows 10 now here and very established. Not only that but NVIDIA and AMD both have various DX12-capable graphics cards to buy right now, with next-gen products continuing to be released.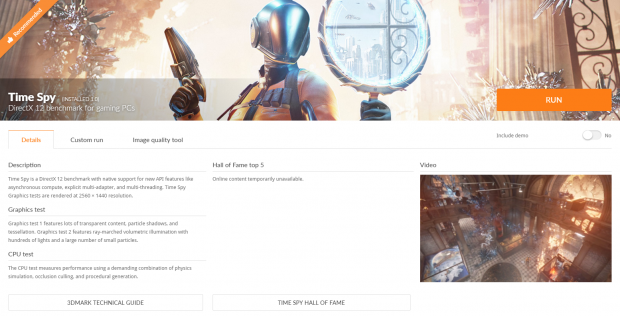 NVIDIA pulled the trigger first with its new GeForce GTX 1080 and GeForce GTX 1070 graphics cards, with plenty of custom cards now filling the market, slowly. AMD unleashed its next-gen Polaris 10-based Radeon RX 480 recently, priced at $199 and beyond. There has been no better time to buy GPUs, and it's only going to get better moving into the future.
A very large part of the new graphics cards is DirectX 12, Microsoft's new API within Windows 10 that amplifies your graphics card - and games. But with no real way to benchmark DX12, it has been hard... until now. Futuremark's release of 3DMark Time Spy represents a large change in the GPU benchmarking game, and I'm beyond excited.
The List of GPUs Tested & Test System Specs
Testing Everything Between RX 480 & GTX 1080
The release of Futuremark's 3DMark Time Spy is perfect, as there are countless new graphics cards released - and I've tested them all. In my arsenal, I've got everything from AMD's just-released Radeon RX 480 right through to NVIDIA's next-gen GeForce GTX 1080.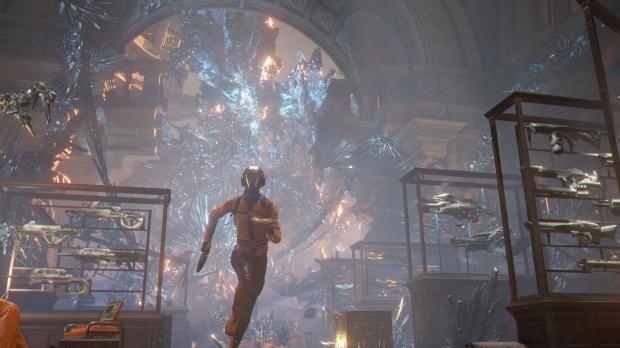 I've also tested a bunch of other graphics cards, and I've also got some SLI and CrossFire results to share in the coming days. For now, this is the list of cards I've tested:
NVIDIA GeForce GTX 780

NVIDIA GeForce GTX 960

NVIDIA GeForce GTX 980

NVIDIA GeForce GTX 980 Ti

NVIDIA GeForce GTX Titan X

NVIDIA GeForce GTX 1070

NVIDIA GeForce GTX 1080

AMD Radeon R9 380X

AMD Radeon R9 390X

AMD Radeon R9 Nano

AMD Radeon R9 Fury X

AMD Radeon RX 480
Test System Configuration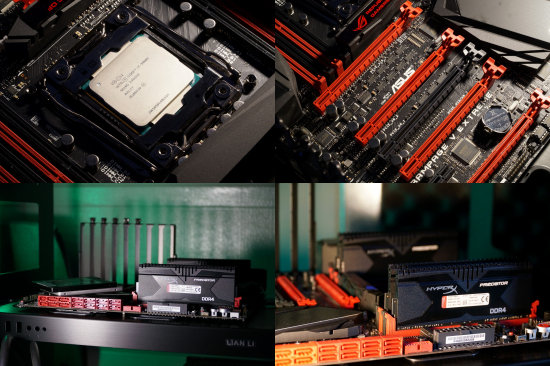 Anthony's Video Card Test System Specifications
Benchmark Results - Single & Multi-GPU
For this benchmark, I decided to split the results into single and multi-GPU. Because I'm testing so many cards, I thought it would be good to see how multi-GPU goes in DX12 with the 3DMark Time Spy benchmark. I didn't have too many AMD cards to test, but the most important one I wanted to test was the new Radeon RX 480 in CrossFire, which I was able to do.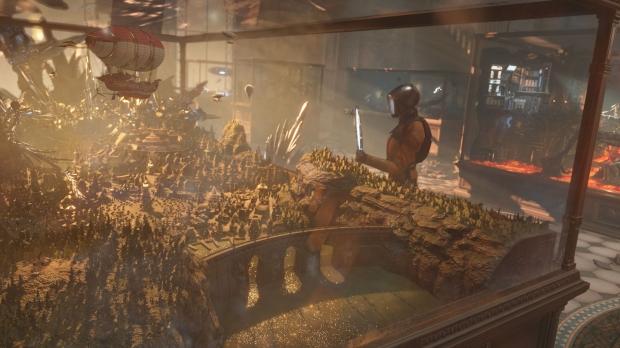 All runs of 3DMark Time Spy are done in 2560x1440, which is a nice starting ground for DX12 benchmarking. I'm happy to see Futuremark hit 1440p minimum for DX12 testing; I would've been pretty disappointed to see 1080p as the default resolution. So kudos to Futuremark for the push towards 1440p.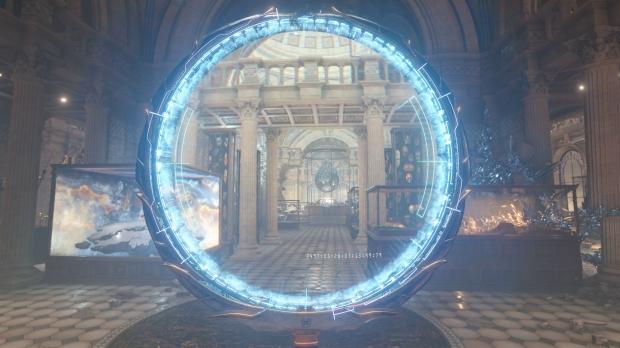 3DMark Time Spy - 1440p - Single-GPU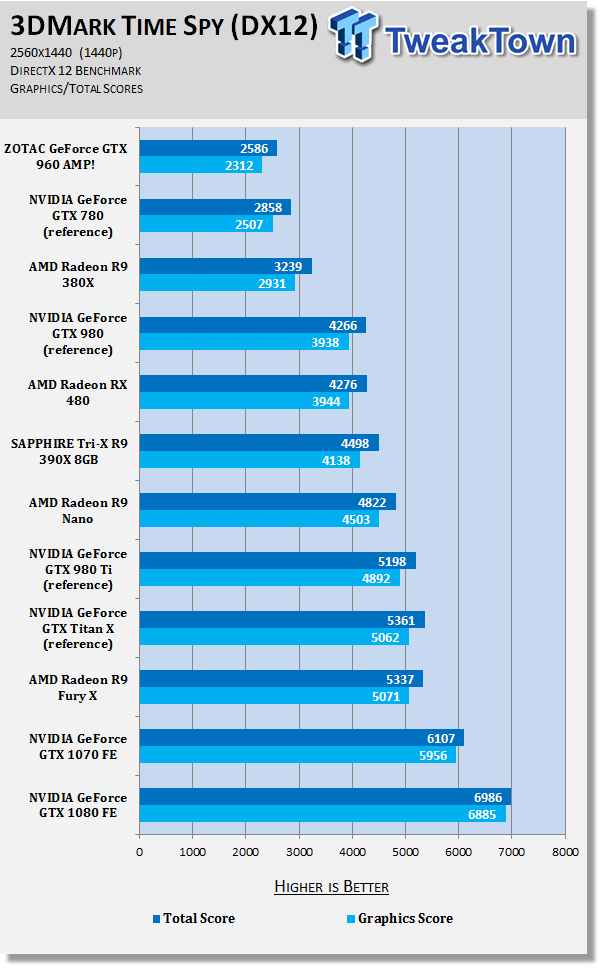 3DMark Time Spy - 1440p - Multi-GPU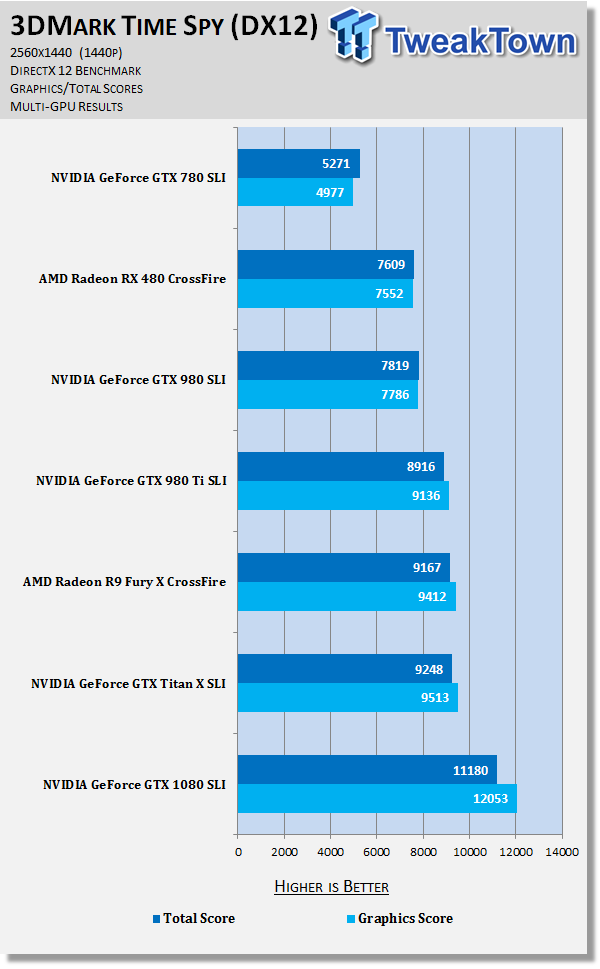 Performance Analysis & Final Thoughts
Performance Analysis
How did our cards perform? We can see that AMD is performing better than normal in Time Spy thanks to their early work into DX12 within their GPU architectures, especially the new Polaris architecture. AMD's Radeon RX 480 performs well, beating out the GTX 980 just barely, while the R9 390X isn't too far ahead.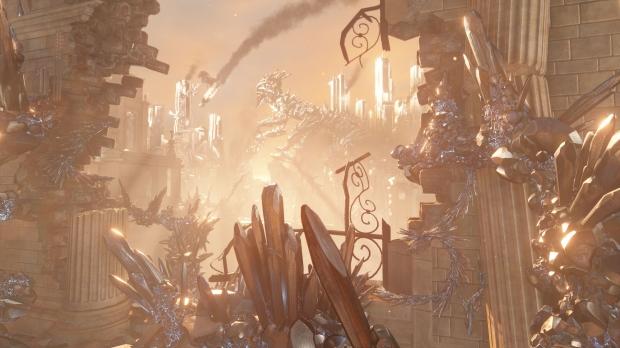 AMD's Radeon R9 Fury X beats out NVIDIA's GeForce GTX Titan X - and again, just barely - while the new GTX 1070 and GTX 1080 soar past without a problem. NVIDIA has been doing much more tinkering in its DX12 magic, and it shows with the new Pascal architecture and both the GeForce GTX 1080 and GTX 1070.
The multi-GPU results were more fascinating, as it shows how the aging GTX 780s in SLI perform against the newer GTX 980s in SLI, right through to the GTX 1080s in SLI. If we look at this testing, we are getting some great multi-GPU scaling thanks to DirectX 12, but it's the Radeon RX 480 CF versus the GeForce GTX 1080 SLI which everyone would be here for.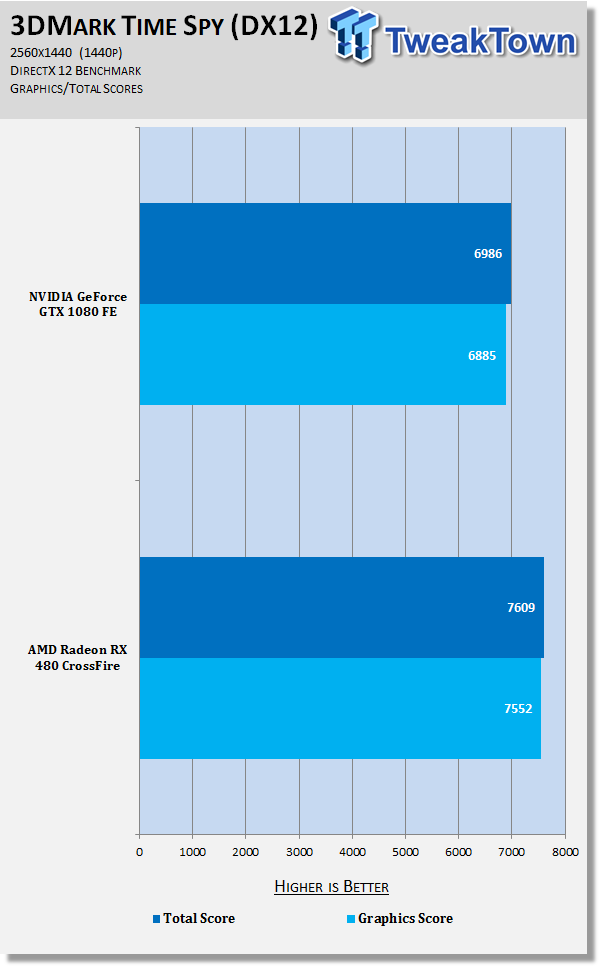 As you can see in this direct comparison, AMD's Radeon RX 480 CF beats a single GeForce GTX 1080. Considering that two Radeon RX 480s would cost less than $500 while the GeForce GTX 1080 is priced at $699 - this is some damn good multi-GPU performance.
Final Thoughts
Effective immediately, I will be rolling 3DMark Time Spy into my graphics card reviews, which will start with my upcoming review of NVIDIA's new mid-range GeForce GTX 1060. I actually have the results of the GTX 1060 running Time Spy, but we can't share them just yet.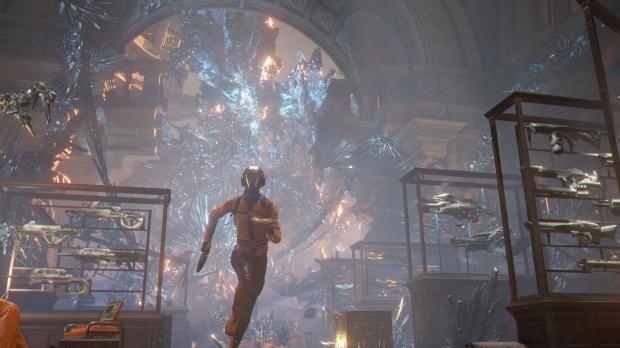 It's great to see Futuremark nailing the DX12 benchmark with Time Spy, which has me excited to start testing 3 and 4-way GPU setups. Futuremark now finds itself in a position of really owning the benchmark game with a suite of benchmarks starting from mobile, right up to DX11 tests, and now DX12 tests with Time Spy.
As for the performance, AMD nails DX12 performance with its $199-$239 price range on the Radeon RX 480 with some great results with the RX 480s in CrossFire. NVIDIA is showing the world that their new Pascal architecture isn't messing around when it comes to the GeForce GTX 1080 and GTX 1070 - both of which are new, and expensive - and we're not even talking about the new HBM2-based cards yet.
Both AMD and NVIDIA have some new cards to release in the Polaris and Pascal architectures, respectively - while looking into 2017 we have the next-gen Vega and Volta architectures to look forward to from both companies. The world of DX12 is just opening up now, so let's hope we see a full-steam ahead effort from game developers moving into the future.