Unigine Heaven Benchmark 4.0 Overview and Test Results
Unigine Benchmark 4.0 is here to give your system a work out - our GPUs are wiping the sweat off their faces.

Published Wed, Apr 10 2013 9:40 AM CDT
|
Updated Tue, Nov 3 2020 7:00 PM CST
Introduction

Unigine's Heaven Benchmark has been a staple of most tech sites reviews for quite a while now, stressing all GPUs in its benchmarking path. There are nearly two million Heaven Benchmark users, showing just how powerful Unigine's reach is in the benchmarking market.
Where Unigine do it right, is by offering Heaven to multiple platforms - Windows, Mac OS X and Linux. Other players in the benchmarking game only let users bench within Windows, but Windows isn't the only OS in town. Benchmarking Macs now that they're sporting fast GPUs is something important, and Linux, well, that has always been an important piece of PCs.
Heaven has gone through a few changes over the years, with version 4.0 ushering in a bunch of improvements:
- Benchmarking presets for convenient comparison of results
- GPU temperature and clock monitoring
- Drastic improvement of SSDO
- Stars at nighttime
- Improvement of lens flare
- New, improved version of UNIGINE Engine under the hood
- Detection of multiple GPUs
- Anti-aliasing support on Mac OS X
- Enhancement of automation scripts in Pro version
- New Advanced edition (see details below)
- Russian and Chinese localization
Let's dive in now and take a closer look.
Our Setup
The system I'm using comes from parts from our great friends at Corsair, Sapphire and ASRock. They've been a great help in hooking us up with some seriously slick components.
The specs we have cranking along inside of our system thanks to our partners are:
- Intel Core i7 3770K @ 4.8GHz
- Corsair H100 Hydro Cooler
- Corsair Force Series GT 240GB SSD
- ASRock Z77 Extreme9 motherboard
- Sapphire AMD Radeon HD 7970 Dual-X 3GB OC
- Sapphire AMD Radeon HD 7970 Dual-X 3GB OC
- Lian Li T60 Pit Stop
- Corsair Dominator Platinum - 16GB kit of 2133MHz DDR3 RAM
- Windows 7 Ultimate Edition x64
- AMD Catalyst 13.2 beta 7 drivers
We'll take a look at how Unigine Benchmark 4.0 runs in multiple ways - single and multi-gpu at stock clocks, then again overclocked. Then we'll get into some multi-monitor testing on a single GPU, then again with multi-GPUs.
For the monitor side of things, here in my lab I have a Samsung S27A950D as my primary center screen through DisplayPort, and two Alienware AW2310s to either side through the two DVI ports on the Sapphire video card.

When I test the single monitor, I will physically disconnect the other two monitors to ensure no extra pressure is being put on the GPU by outputting 1080p@120Hz to either screen.
Features and Benchmark Results
Features
Heaven Benchmark 4.0 includes most of the same settings, as you can see in the shot below. There's some new features, with the best one in my opinion being the "Preset" option. This allows you to run Custom, Basic or Extreme. Custom is the best way to go, as you can really push your system to its limits.
The Basic setting benches as the following: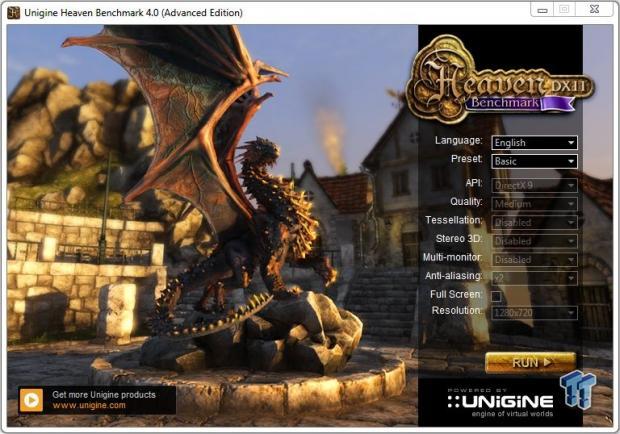 The Basic preset runs Heaven 4.0 in DirectX 9, the quality stays at medium, tessellation is completely disabled, anti-aliasing is set to 2x and the resolution is 1280x720. This won't stress modern day GPUs out too much.
The Extreme setting is a little harsher: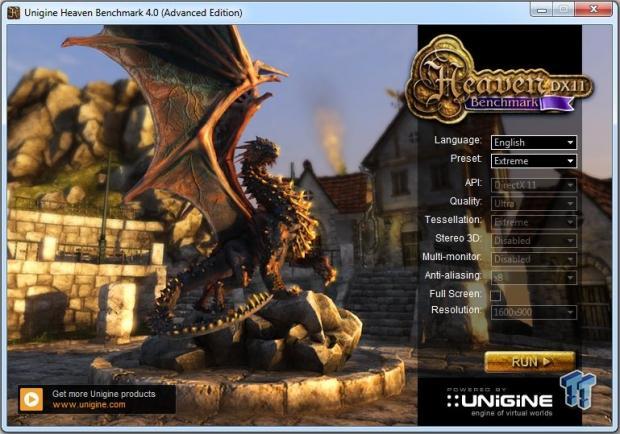 The Extreme preset is much harsher on the system, running Heaven 4.0 in DirectX 11, notching up the quality to Ultra, enabling tessellation and setting it to Extreme, enabling the anti-aliasing and cranking it up to 8x, but it keeps the resolution at a mid-range 1600x900.
And our custom setting is everything cranked to their maximum: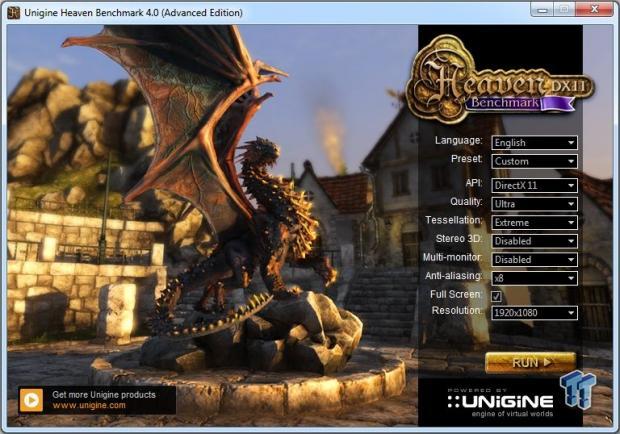 Our Custom setting ramps everything possible up to maximum - DirectX 11 is enabled, ultra quality, tessellation is set to extreme, anti-aliasing is cranked up to 8x and this time, we are running 1920x1080, which will stress the GPUs much more.
Multi-screen testing is something we're going to do, too, but first we'll get the single screen numbers out of the way and get into the juicy high-res scores after.
Benchmark Results
The results of our AMD Radeon HD 7970s in CrossFire is interesting, where we see some great CrossFire scaling at 1920x1080, but when it comes to EyeFinity - the scaling drops off the cliff.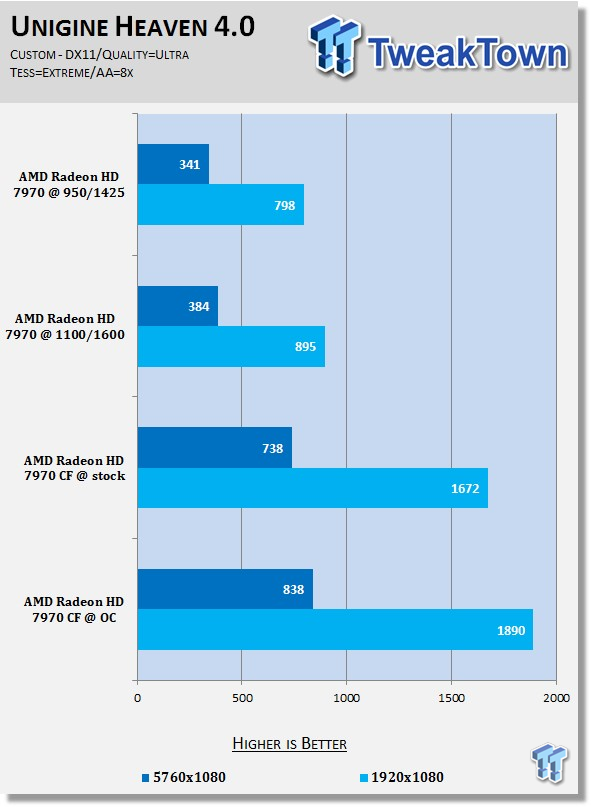 As we expected, a single GPU doesn't do too well - but there's no benchmark against other GPUs here, just the HD 7970s. Overclocking the HD 7970 sees around 20% improvements at the 5760x1080 resolution, but at 1080p, the improvement lowers to around 10%.
When we enable CrossFire, the overclocking on the EyeFinity resolution of 5760x1080 is at around 15%, and the 1080p resolution sees better scaling - of around 15% too. I'm looking forward to getting some NVIDIA GeForce GPUs in the near future, so these graphs can continue to grow and we can see how differing GPUs can scale in CrossFire/Surround Vision.
Final Thoughts

In my final paragraph, I'd like to say the same thing I said in my 3DMark article - I want to see more social integration in these benchmarks.
Unigine should include some ladder that threads into Facebook, as it would not only bring users together - but it would bring users (and thus, consumers) into the same loop as the overclockers. This would compound into more business for companies as users would want more hardware like the enthusiasts use to break world records. This is all on top of Heaven being more social, which is always a good thing.
The power of the benchmark has always been the same - to stress out your system as much as possible. Heaven does just that.
All Unigine need to do is continue on this path, and doing their usual little changes to Heaven to enjoy their position in the benchmarking market. I found Heaven stressed out my rig more than other benchmarks, having to play with my overclocks more than I usually do, too.
I'd like to see the next iteration of Heaven stress systems even more, cranking up the detail in the tessellation and maybe moving away from the themed island we have now and into something different.
PRICING: You can find products similar to this one for sale below.

United States: Find other tech and computer products like this over at Amazon.com

United Kingdom: Find other tech and computer products like this over at Amazon.co.uk

Australia: Find other tech and computer products like this over at Amazon.com.au

Canada: Find other tech and computer products like this over at Amazon.ca

Deutschland: Finde andere Technik- und Computerprodukte wie dieses auf Amazon.de
Similar Content
We openly invite the companies who provide us with review samples / who are mentioned or discussed to express their opinion. If any company representative wishes to respond, we will publish the response here. Please contact us if you wish to respond.