ASRock X299 OC Formula Motherboard Review
ASRock's X299 OC Formula motherboard by Nick Shih gets thoroughly investigated today as we see what it's capable of doing under our testing.
Published Oct 9, 2017 10:35 AM CDT
|
Updated Tue, Nov 3 2020 6:58 PM CST
13 minute read time
TweakTown's Rating: 93%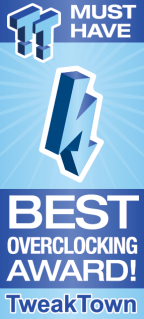 The Bottom Line
ASRock's X299 OC Formula is all about the megahertz. It was designed with only two things in mind; taking world records and keeping them, and it has done both.
Introduction, Specifications, and Pricing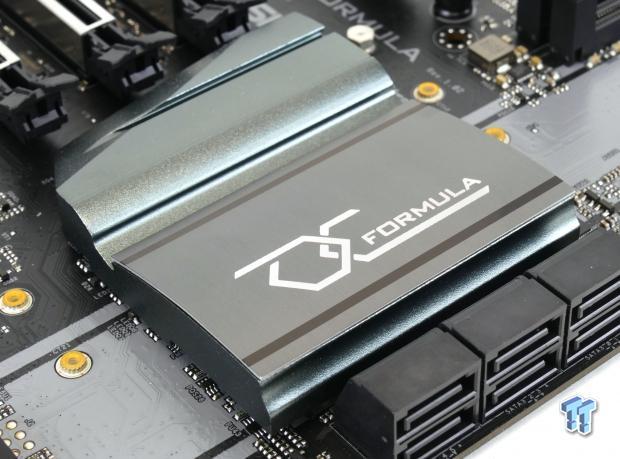 ASRock's OC Formula series motherboards typically trade blows with other top overclocking products such as ASUS's ROG Apex and GIGABYTE's SOC series boards, and with this generation, ASRock is bringing out their A-game.
While the motherboard might look very similar to other X299 overclocking boards with only four memory DIMMs, a hefty VRM, and many full-sized PCI-E x16 slots, it actually packs some serious hardware you won't notice without reading this review.
Let's take the board for a spin, specifically with Intel's 18-Core CPU.
Specifications

The X299 OC Formula offers 4-way SLI/CrossFire X, USB 3.1, dual 32Gb/s M.2 slots, and dual Gbit LAN.
Pricing
The X299 OC Formula costs $399.99.
Packaging and X299 OC Formula Overview
Packaging and Overview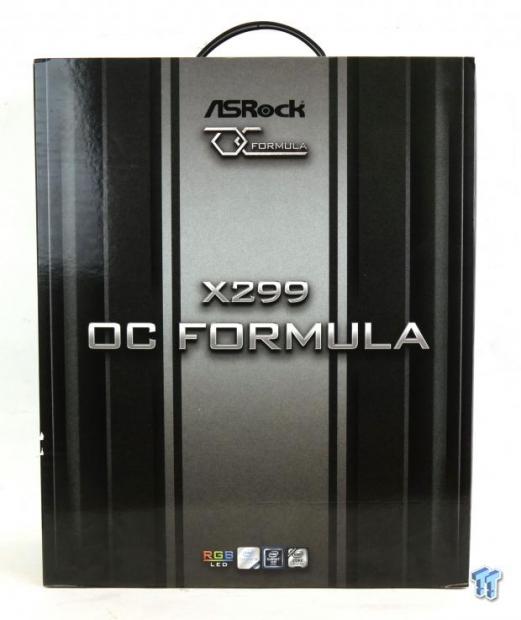 Box and packaging are straightforward, and the motherboard is extremely well protected inside the box.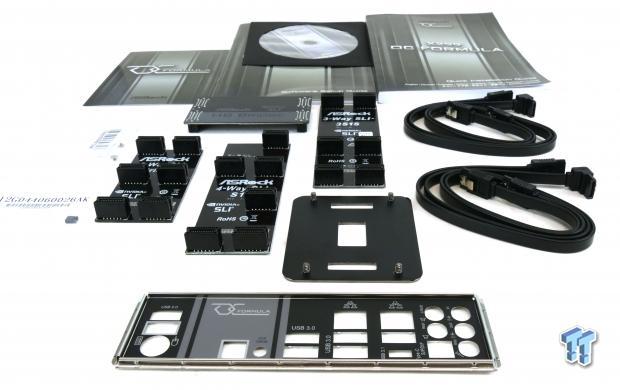 The accessory package includes four SATA6Gb/s cables, two 3-way SLI bridges, SLI HB bridge, 4-way SLI bridge, OC socket backplate, IO shield, vctrl jumper, postcard, driver DVD, manuals, and M.2 screws.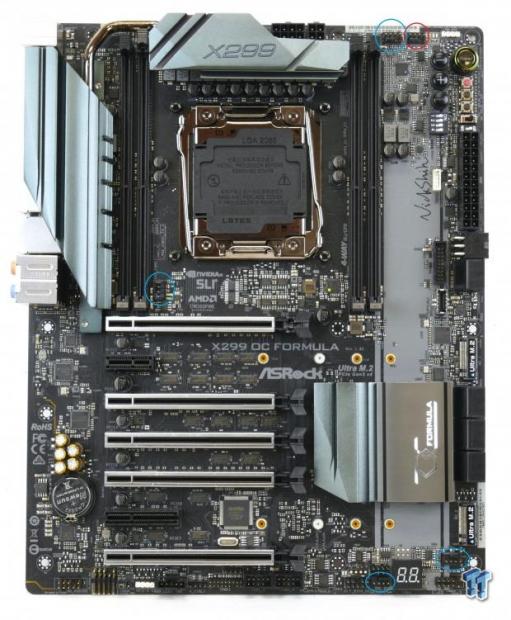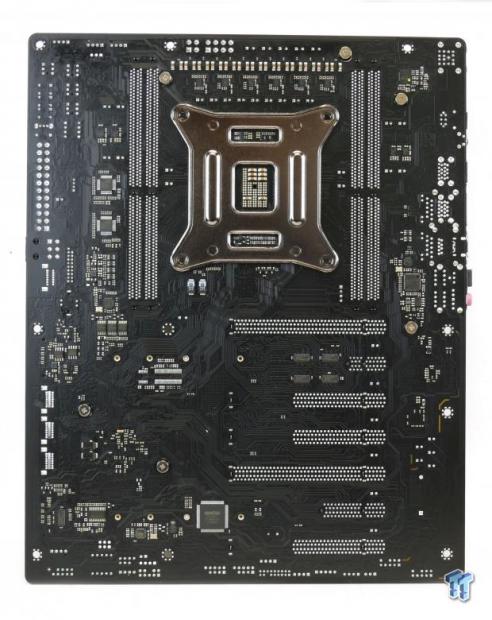 ASRock put five fan headers on the X299 OC Formula, the CPU header is circled in red and supports 1A, and the four headers circled in blue support up to 1.5A each. The chassis fan headers can auto-detect whether a PWM or voltage (DC) mode fan is installed, but all headers can be manually changed between PWM and DC mode.
The motherboard itself features a huge vertical gray racing stripe with Nick Shih's signature. You might have noticed the motherboard only had four DIMMs, that's one DIMM per channel, and it should greatly increase DRAM overclocking capabilities. The motherboard's color theme is simple, sleek, and elegant. The motherboard is a non-nonsense overclocking beast, and it features many chips on the back of the board, so take care to watch out for them when prepping for subzero overclocking.

The IO shield offers two USB 2.0 ports, four USB 3.0 ports, PS/2 keyboard/mouse port, BIOS Flash Back button, Clear CMOS button, two 1Gbit Intel LAN ports, USB 3.1 type-A, USB 3.1 type-C, and gold plated 7.1 audio jacks with S/PDIF out.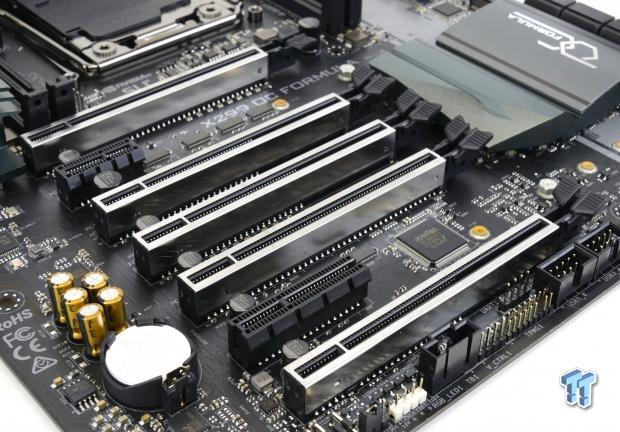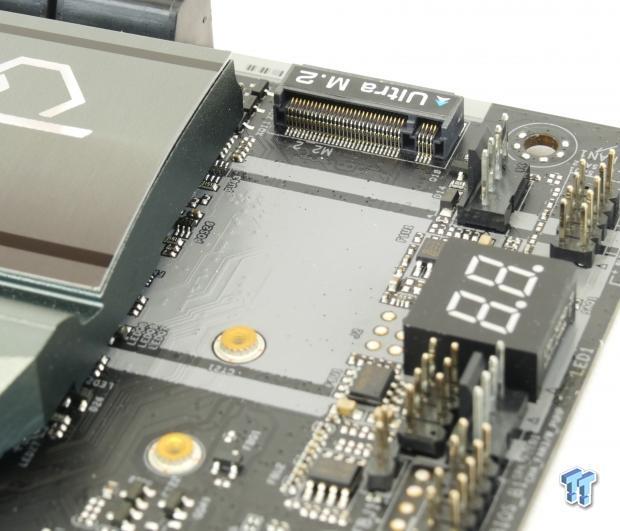 The PCI-E lane allotment isn't straightforward, and the manual isn't clear either. However, ASRock has confirmed that a 44-lane CPU will actually support all slots at x8 if you want. A 44-lane CPU will operate at x16/x0/x0/x16/x8 or x8/x8/x8/x8/x8. With a 28-lane CPU, the board will run x16/x0/x0/x8/x4 or x8/x8/x0/x8/x4 (the x4 at the last slot is switched to PCH bandwidth). With a 16-lane CPU, you can operate at x16/x0/x0/x0/x4 or x8/x0/x0/x8/x4 (the x4 at the last slot is switched to PCH bandwidth).
The x4 slot is wired to the PCH and will be disabled when using a 28-lane or 16-lane CPU, as that bandwidth will switch to the last x16 slot. The x1 slot is PCI-E 2.0 and gets its bandwidth from a PCI-E hub that is connected to the PCH. There are two M.2 slots on the motherboard, and if a SATA device is used, then it will disable one SATA port.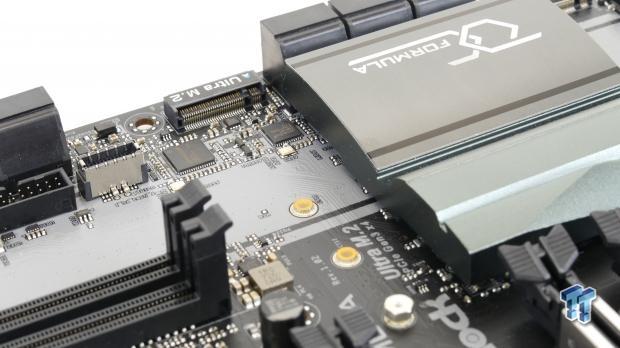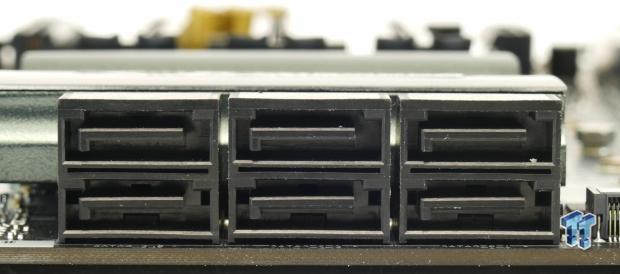 Another M.2 slot is located above the PCH heat sink, and it will disable one SATA port if a SATA M.2 SSD is used. These six SATA6Gb/s ports are connected to the PCH.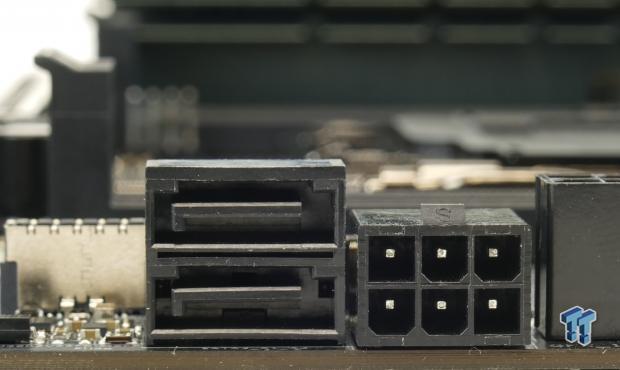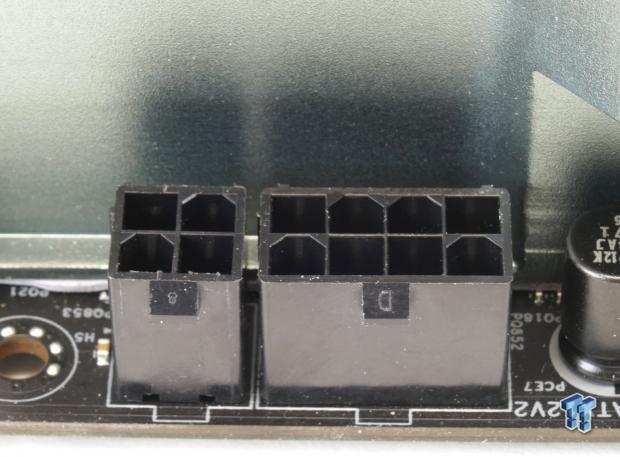 Two more SATA6Gb/s ports are located near a power plug for extra PCI-E power. These two ports are hooked up to an ASMedia controller, and they are used for booting legacy operating systems, such as Windows 7. The motherboard features an 8-pin and supplementary 4-pin power connector for the CPU.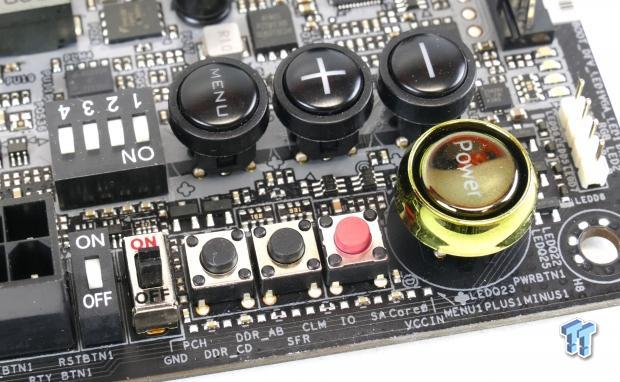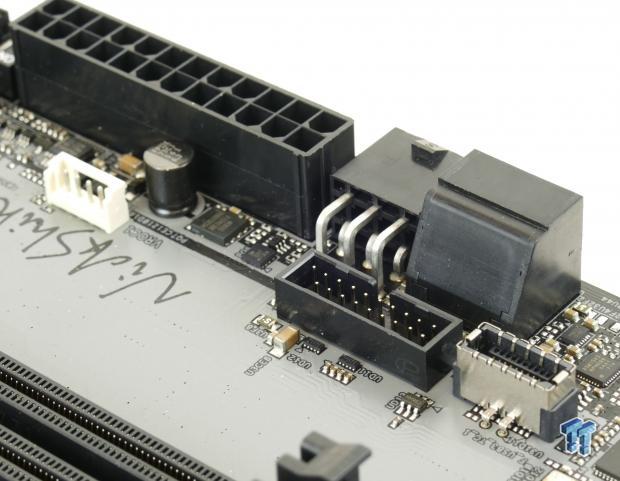 Overclocking features are plentiful. At the top of the motherboard is an RGB LED header located right above the power button, and the red button is a restart button. The button right below the red restart button is a hard reset/retry button, which will immediately shut down the system and attempt to boot again. Right below that is a safe boot button that will boot the system with safe defaults so you can't need to clear the CMOS.
You also get an LN2 mode switch as well as a slow mode switch for extreme overclocking. Voltage read points are very tiny and located at the edge of the motherboard. PCI-E disable DIP switches are located right below on-the-fly overclocking buttons. We also find one of the two USB 3.0 headers and the internal type-C header right below the 24-pin connector. The VROC header is located right behind the 24-pin connector.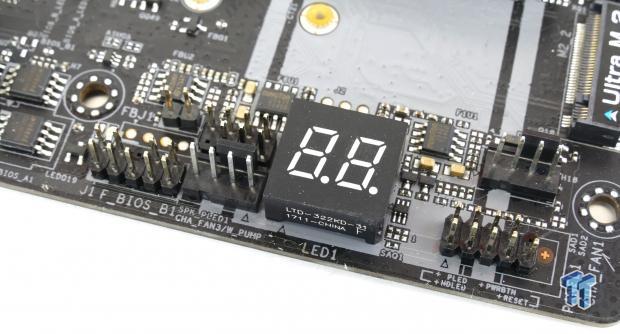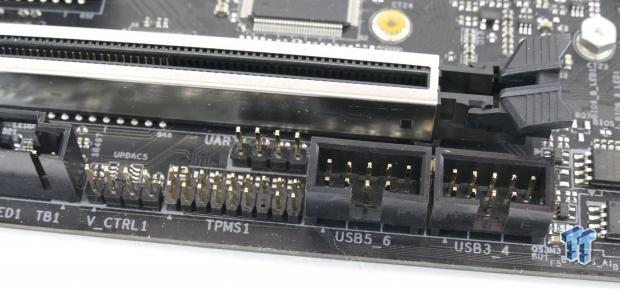 A post code display can be found in the lower right-hand corner near the front panel headers. A BIOS B selection jumper is found to the left of the POST code display. Two USB 2.0 internal headers are located at the bottom of the motherboard.
There is also a V_CTRL1 header, and this is used for controlling external power sources, such as the DMI pin mod wire, from the BIOS. The functionality for the V_CTRL1 pins are present, but those features are currently not available in public BIOS releases (OC BIOS you can find on forums or ask ASRock for could have it in there).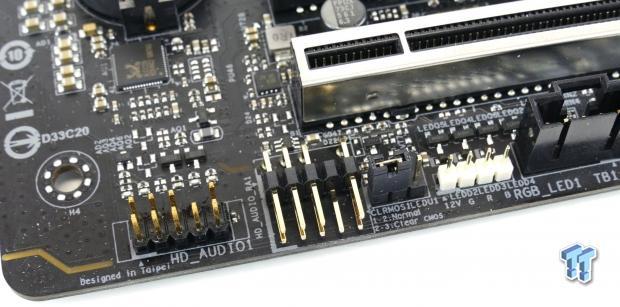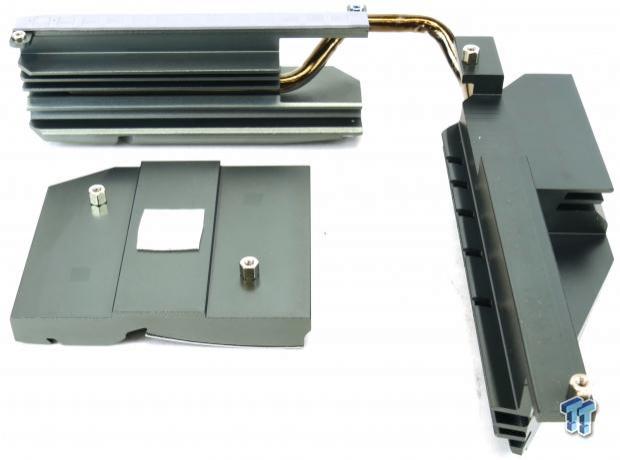 The motherboard features a second RGB LED header at the bottom of the motherboard near the clear CMOS jumper. Two HD audio headers provide the ability to plug in vertically or horizontally, they are identical. The VRM heat sink on this motherboard is thick and very heavy duty.
ASRock X299 OC Formula Circuit Analysis
Circuit Analysis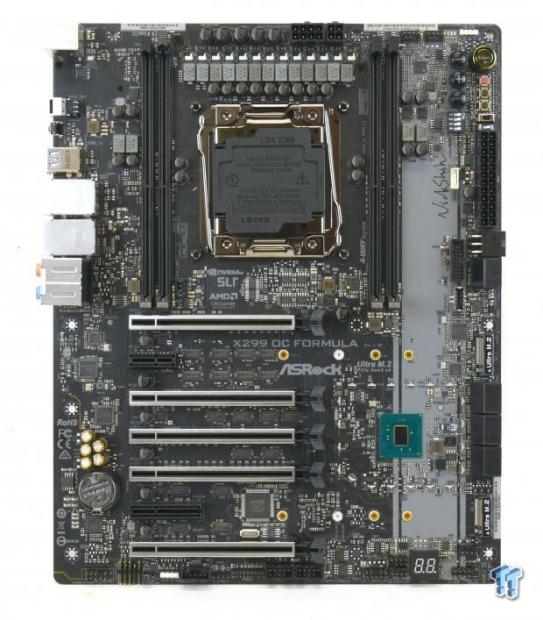 The X299 OC Formula really is quite beautiful.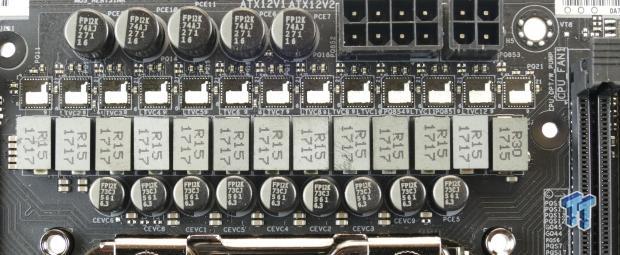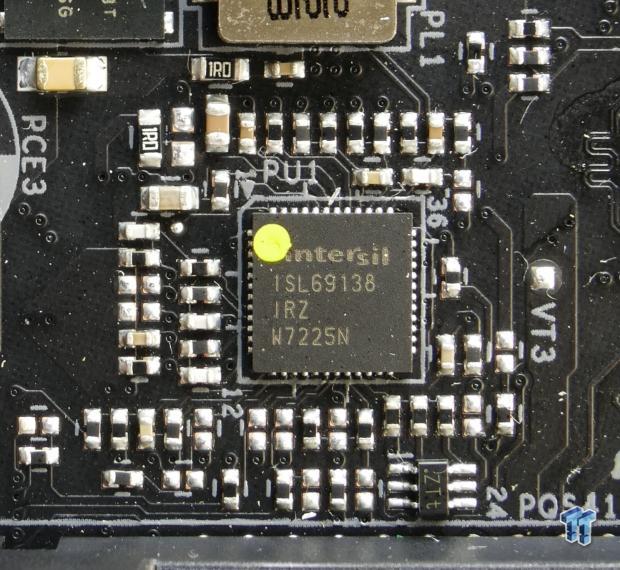 The motherboard uses a 12+1 phase configuration for the VCore and VCCSA, and ASRock is using Intersil's new fully digital PWM and Smart Power Stages. The ISL69138 is one of Intersil's first fully digital PWM controllers and can be flexible with their outputs up to 7 PWM channels. Here it is used in a 6+1 phase mode doubled to 12+1.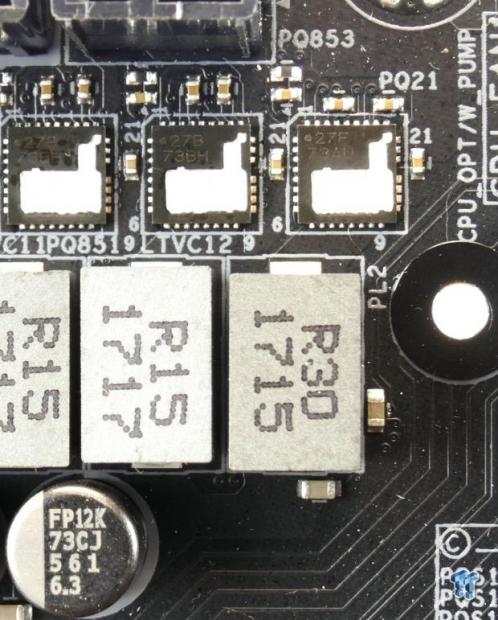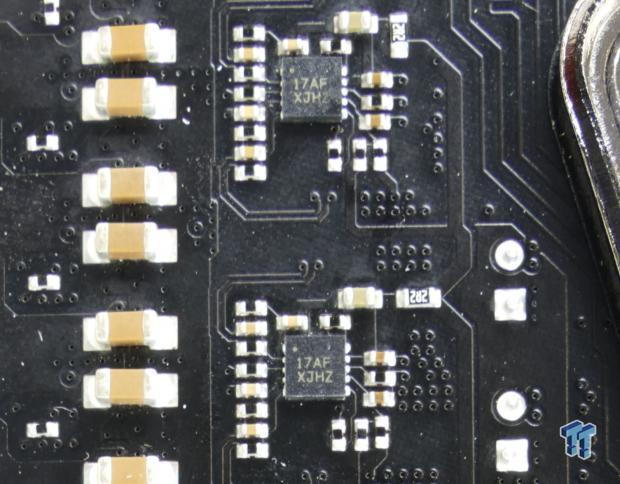 ASRock uses the ISL99227B and ISL99227F 60A Smart Power Stages with excellent internal monitoring and power efficiency characteristics. They can also be cooled on both sides of the chip. To double the phases, ASRock uses six ISL6617 phase doublers.
To get 12 phases from the six the PWM provides, ASRock uses a bunch of ISL6617 phase doublers on the rear of the motherboard. Here we find another ISL69138, most likely used to control the memory controller, and it controls two Sinopower SM7341EH dual N-channel MOSFETs.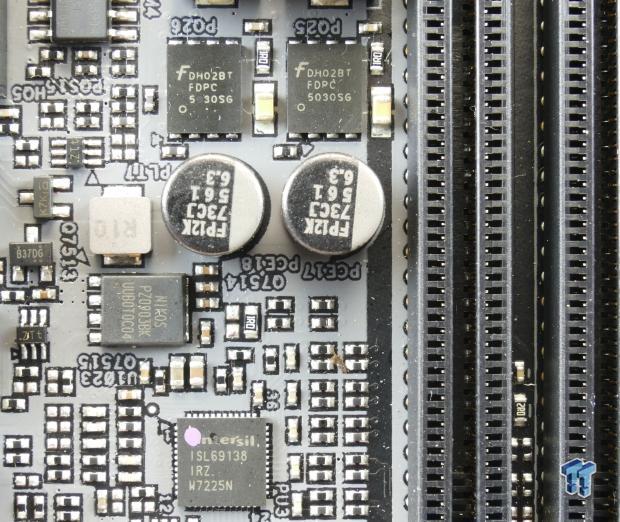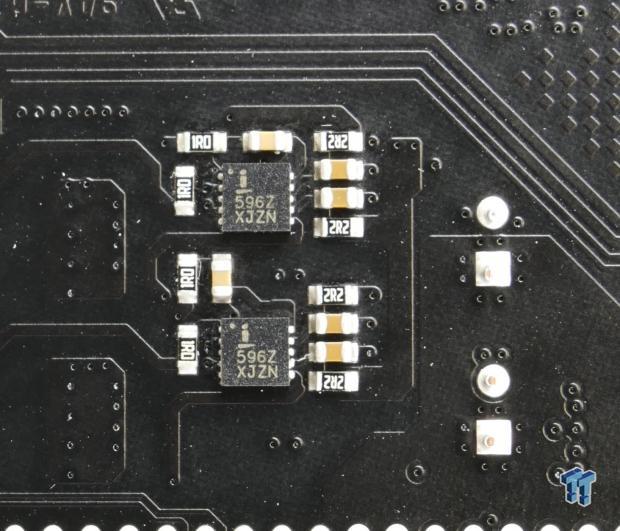 Each memory VRM uses the same Intersil ISL69138 digital PWM and two Fairchild Semiconductor FDPC5030 PowerTrech Power Clip dual N-channel MOSFETs for strong memory power delivery. Each memory VRM uses two ISL6596 N-channel MOSFET drivers.
ASRock X299 OC Formula Circuit Analysis Continued
X299-Aorus Gaming 9 Circuit Analysis Continued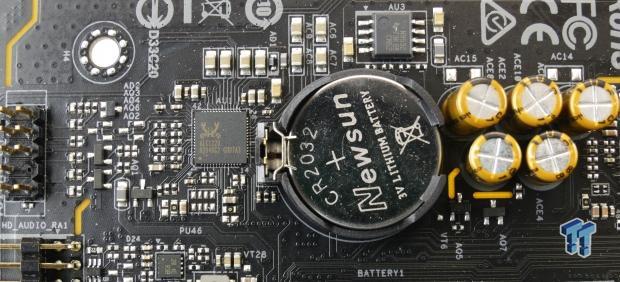 The audio hardware on this motherboard consists of the Realtek ALC1220 codec along with a Texas Instruments NE5532 amplifier, gold series capacitors were also used to improve audio quality as well as physical PCB division.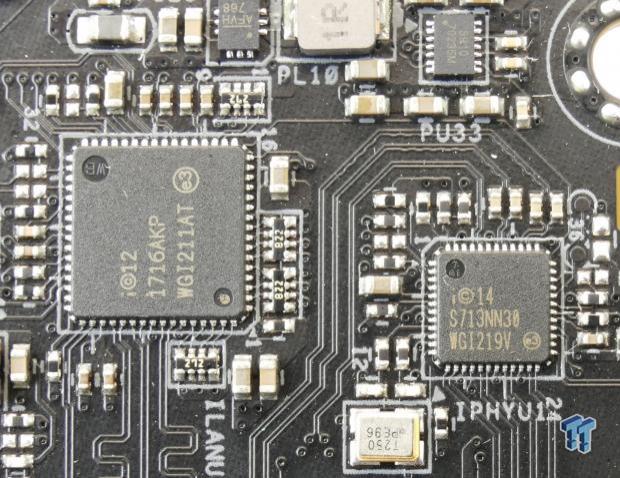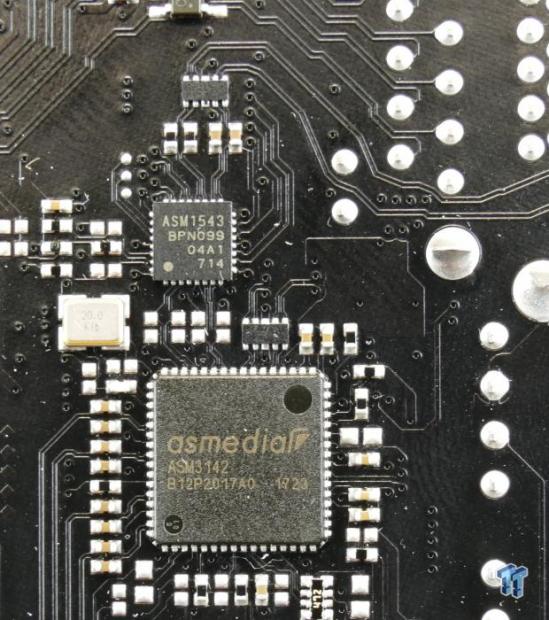 Both Gbit NICs are by Intel. The first is an i219v PHY that compliments the integrated MAC in the PCH, and the second is a standalone i211AT. The rear panel USB 3.1 comes from an ASM3142 controller and an ASMedia ASM1543 type-C switch and CC logic chip.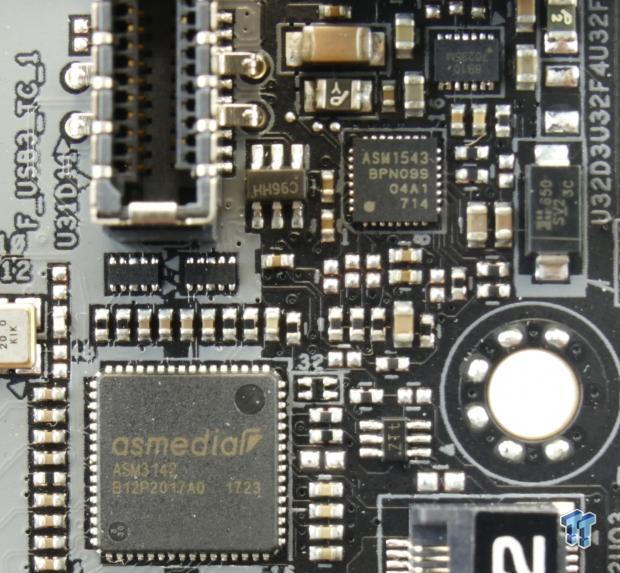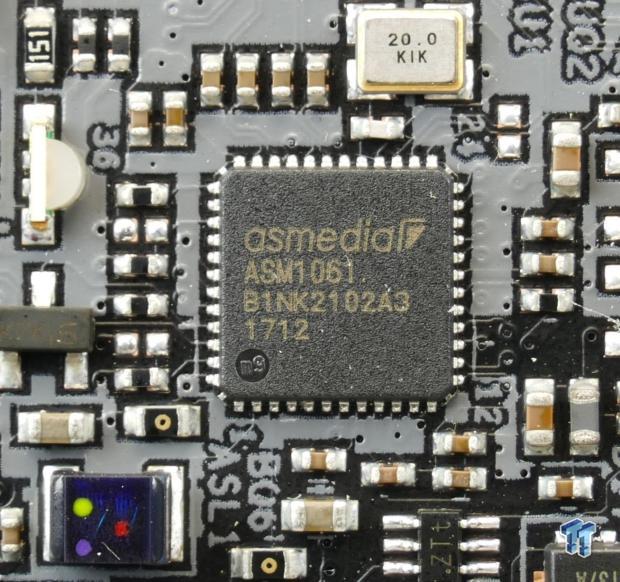 The internal USB 3.1 header gets its bandwidth from an ASM3142 controller and ASM1543 acts as the type-C switch and CC logic controller. The ASMedia ASM1061 is used to provide the two legacy-bootable SATA6Gb/s ports.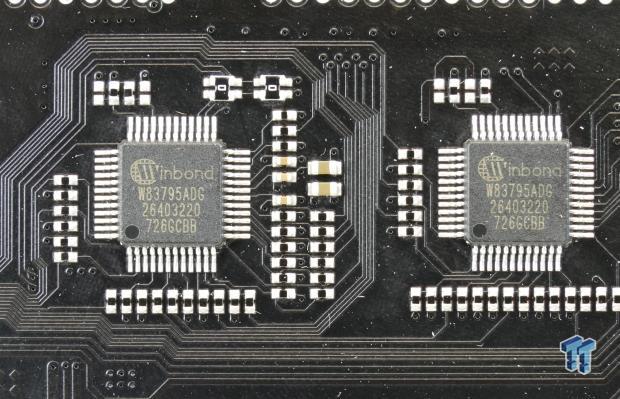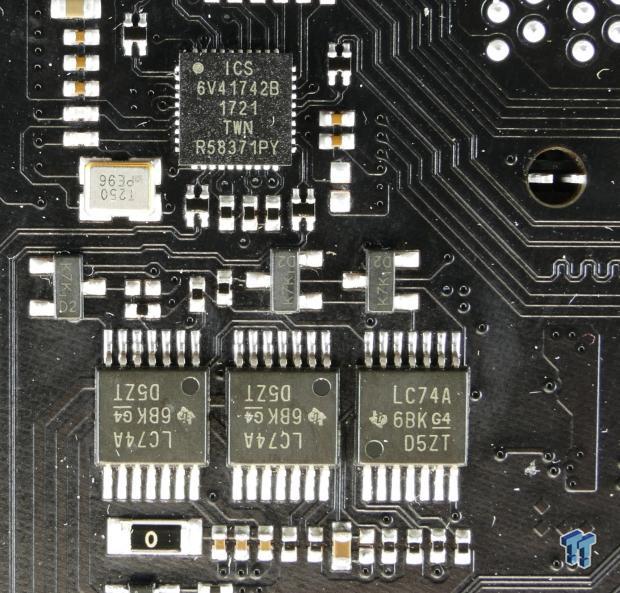 We find two Winbond W83795ADG hardware monitoring ICs on the back of the motherboard, and these provide enhanced CPU pin monitoring. You can see their traces go directly into the CPU socket. They provide accurate voltage readings and are not found on other ASRock X299 motherboards. We find an ICS 6V41742B clock generator to help improve overall BCLK overclocking margins.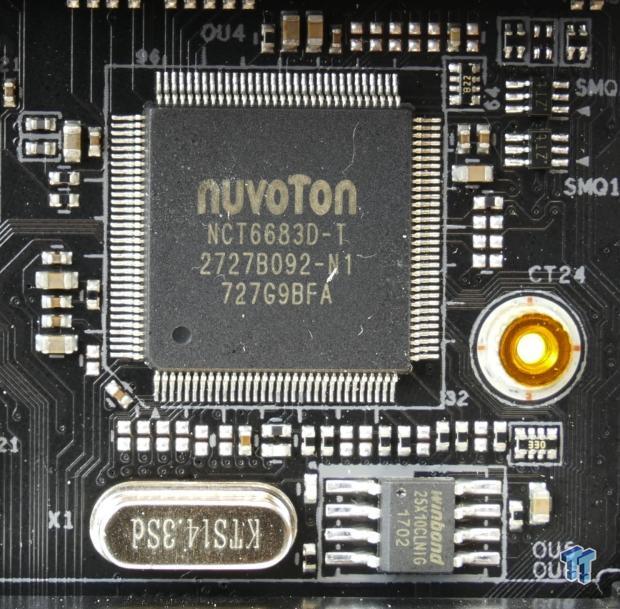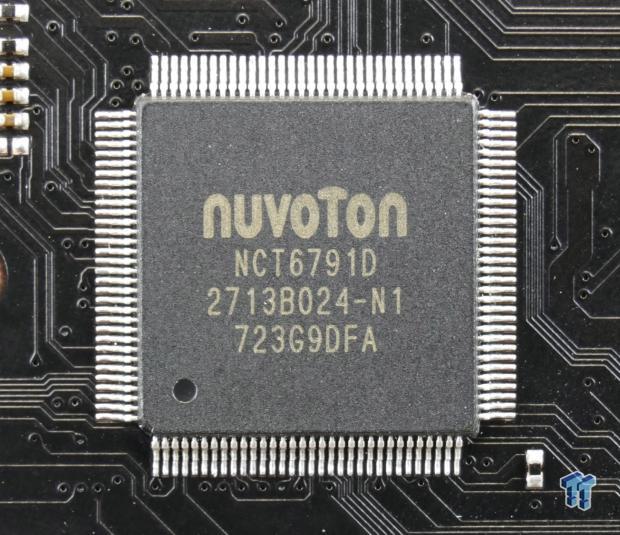 The nuvoton NCT6791D is the main super IO used for fan control and major system monitoring, as well as the PS/2 port. However, we find a second Super IO, and eSIO, the NCT6683D, which actually has a built-in microcontroller. Its purpose is to enhance the monitoring capabilities of the system, as the main SuperIO ran out of enough pins to monitor the outputs of the Winbond chips, so ASRock just added a second SIO.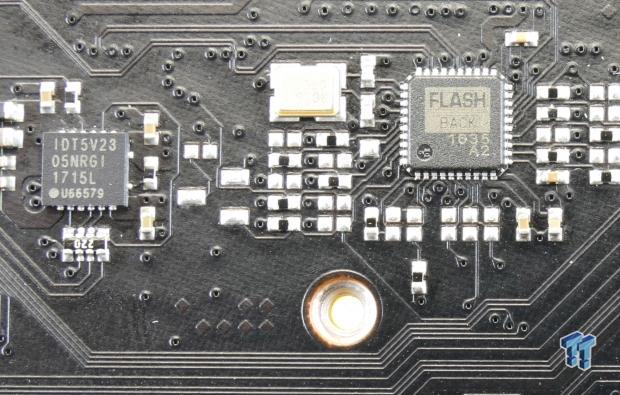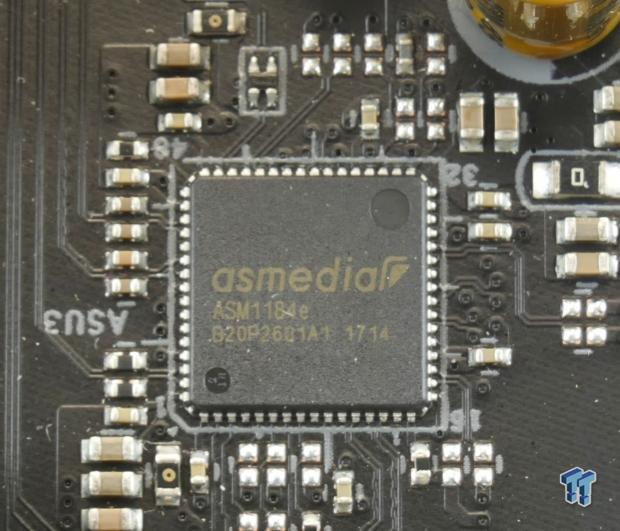 Another IDT clock generator is used to enhance PCI-E capabilities of the motherboard, and it's near the Flash Back IC used to provide the USB BIOS recovery feature. An ASMedia ASM1184e is used to provide multiple PCI-E 2.0 outputs from a single PCI-E 3.0 lanes for devices such as the ASMedia SATA6Gb/s controller, PCI-E x1 slot, and perhaps the i211AT NIC.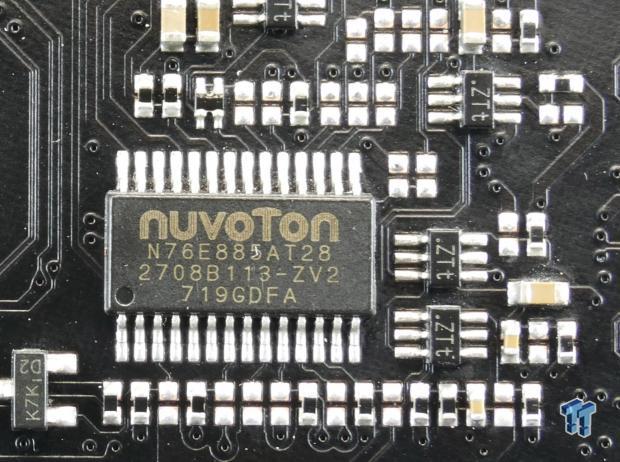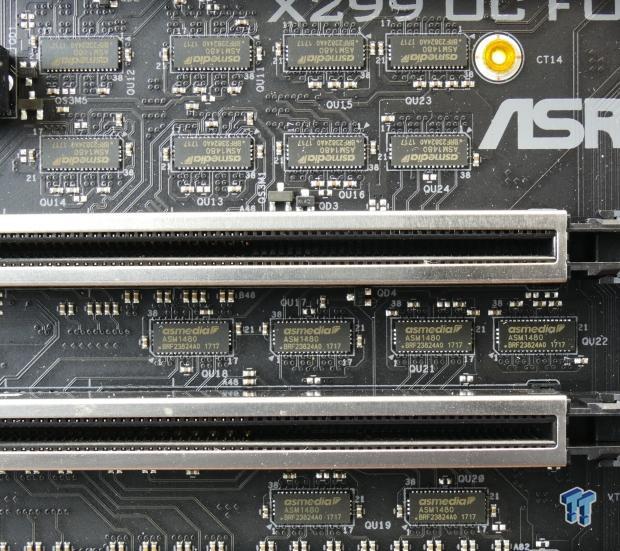 The nuvoton N76E885AT is used to provide RGB LED capabilities on the motherboard. We also find a plethora of ASMedia ASM1480 quick switches used to switch all the CPU and PCH's bandwidth around the slots, I think this motherboard might take the record for PCI-E quick switches, and it's the only one I know of that runs five slots are x8.
BIOS and Software
BIOS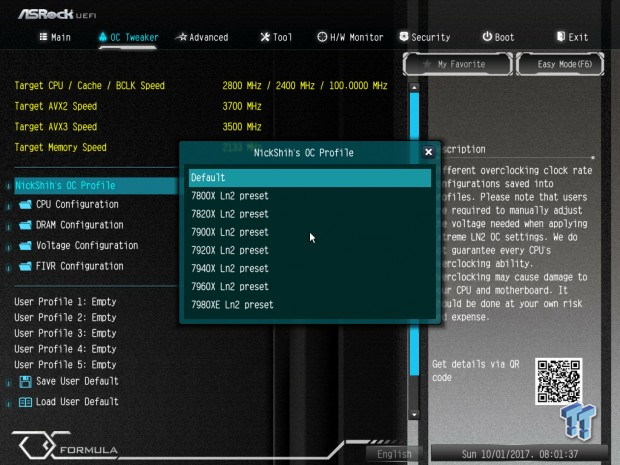 ASRock's X299 OC Formula UEFI isn't your typical X299 UEFI. Sure, it has all the basics for overclocking, tuning fans, setting boot modes, and controlling other motherboard and system features, but it's also got a bit extra.
For starters, Nick Shih's LN2 overclocking profiles are front and center, and there is even a Splave memory overclocking profile. Nick Shih is ASRock's in-house overclocking guru, and his OC Formula creations have been the main alternative to other vendors' overclocking products, and the X299 OC Formula is a very strong contender.
He brought onboard the extreme overclocker Splave, who helped him with the memory profile loaded in the UFEI. With overclockers like Nick Shih and Splave working with the motherboard, you can be sure many kinks in the UEFI have been dealt with.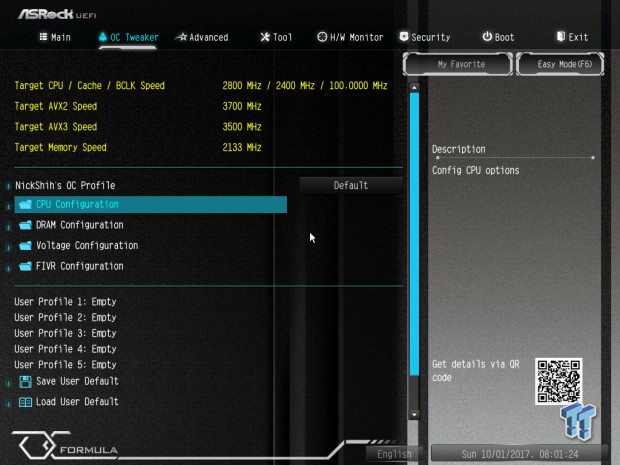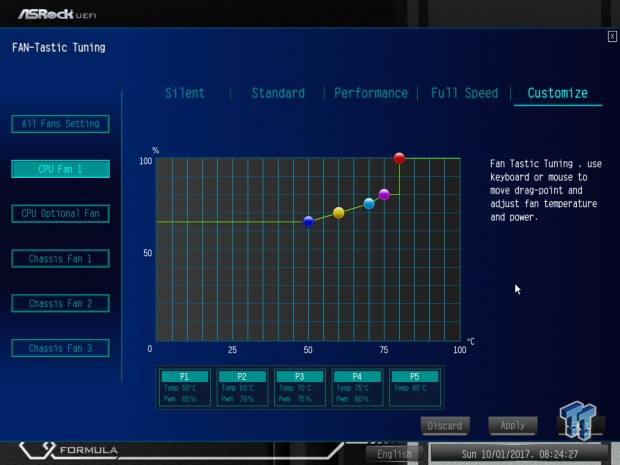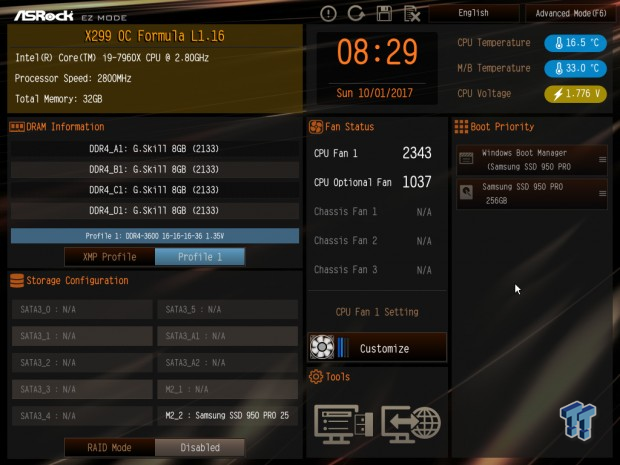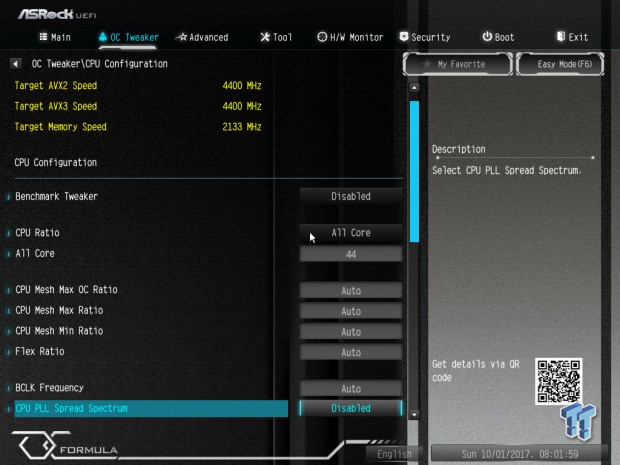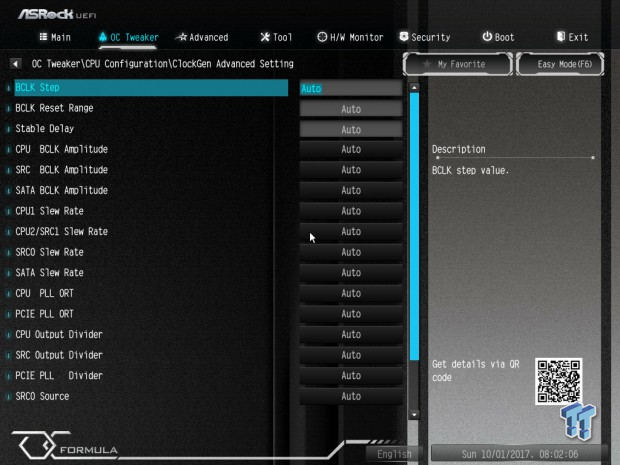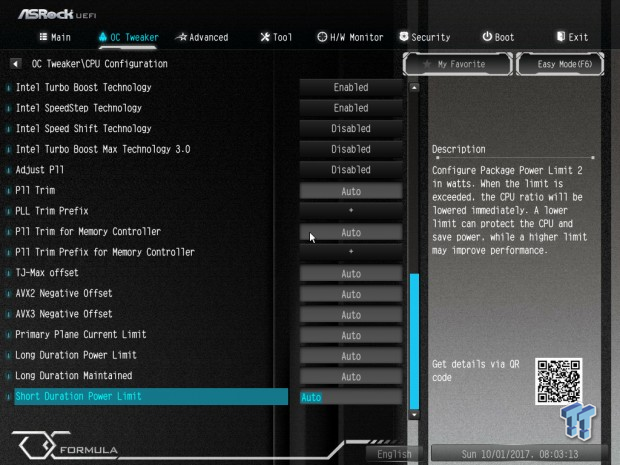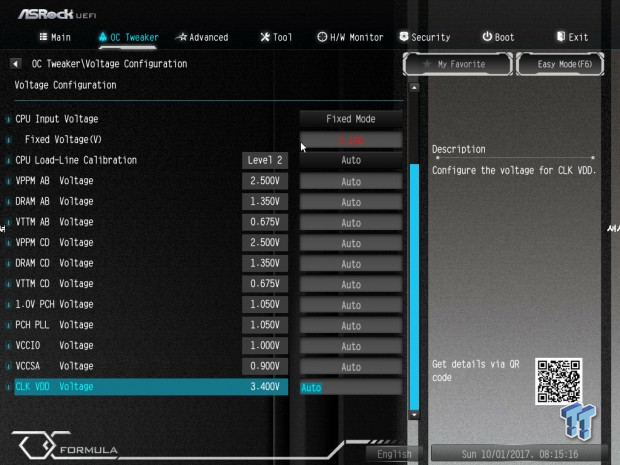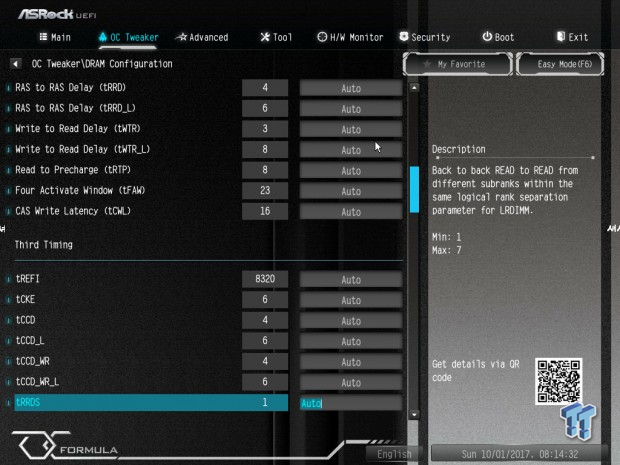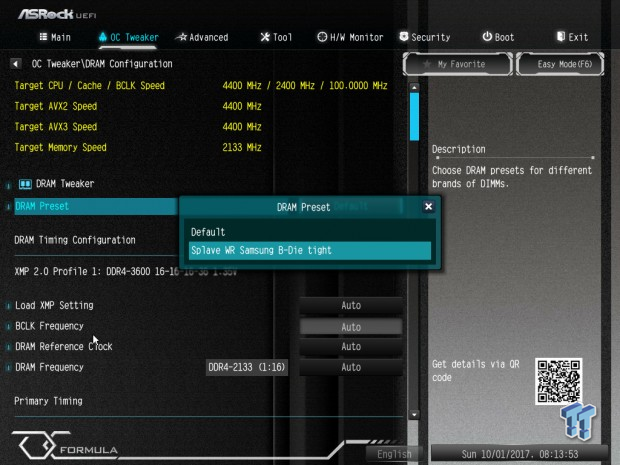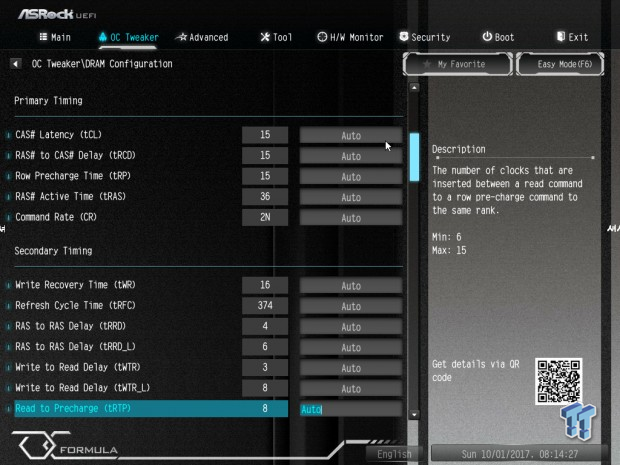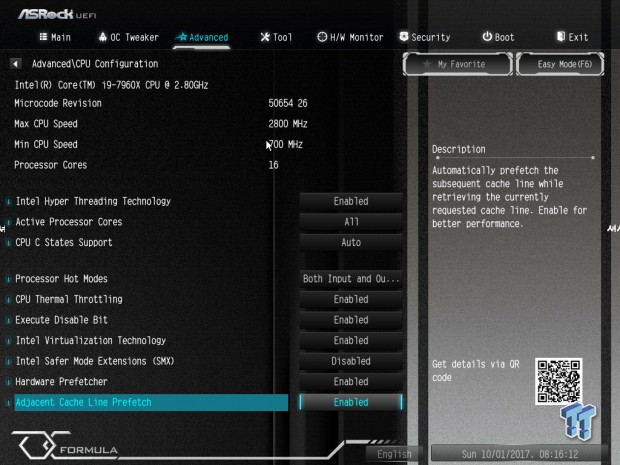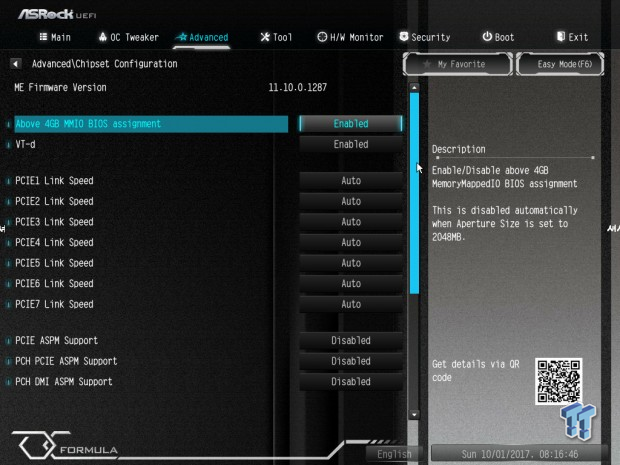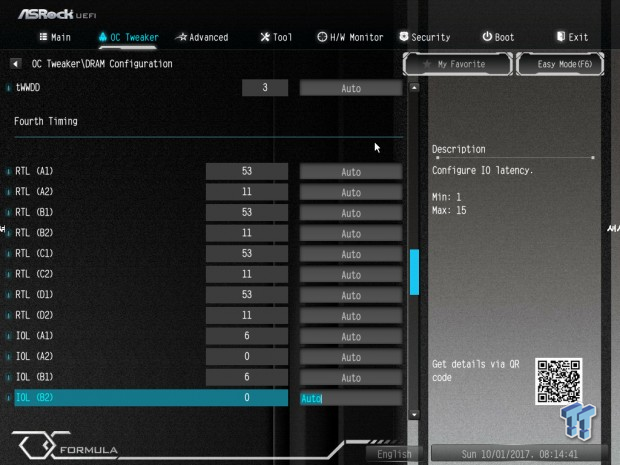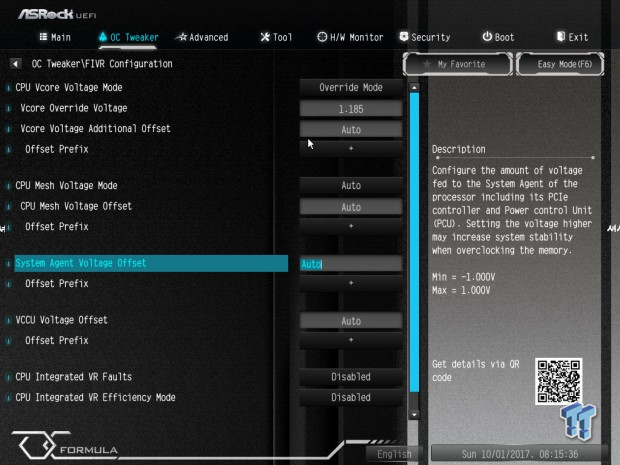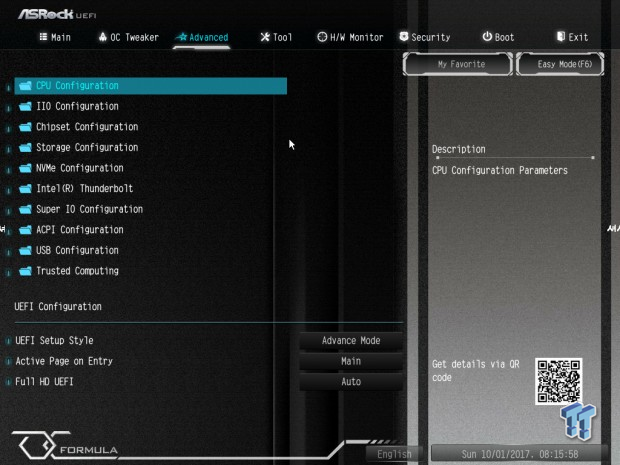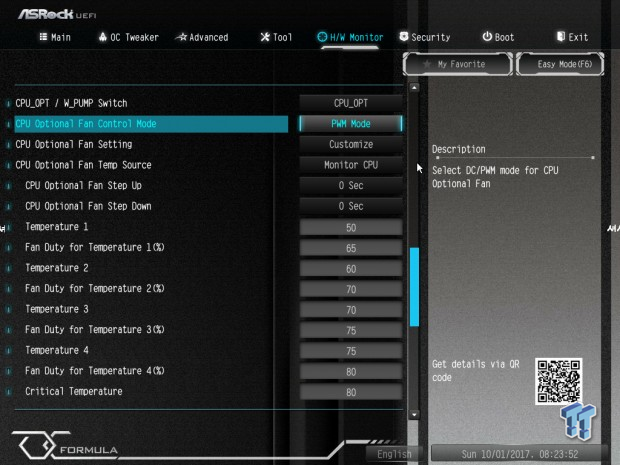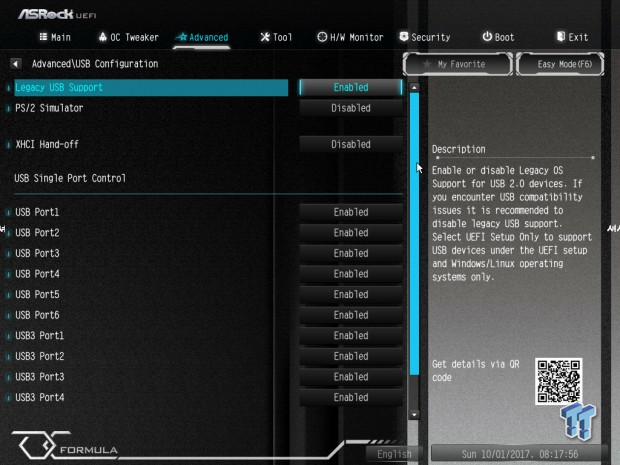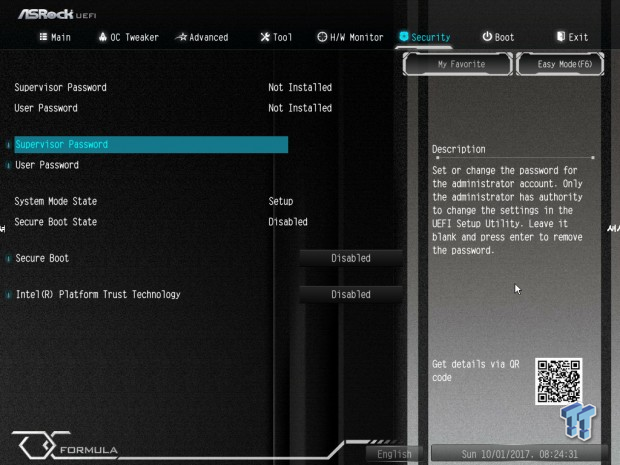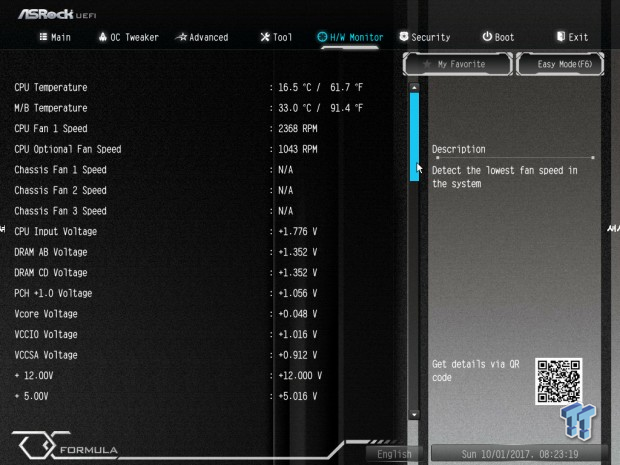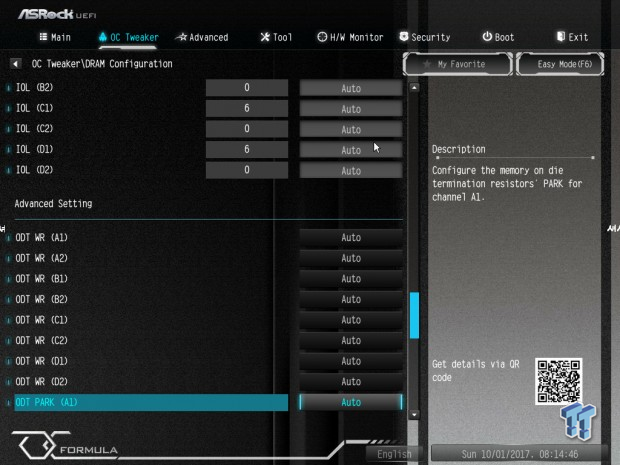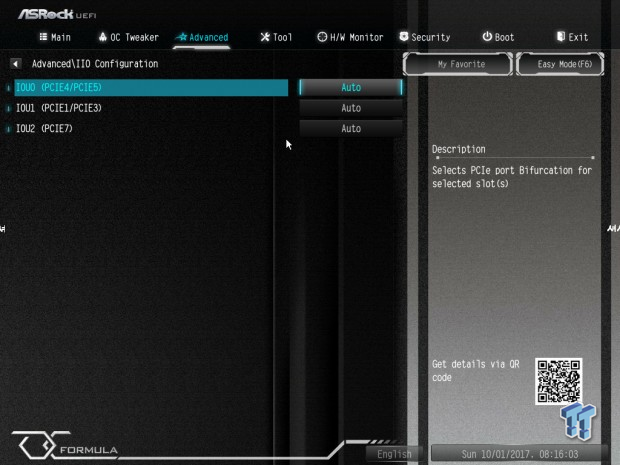 Software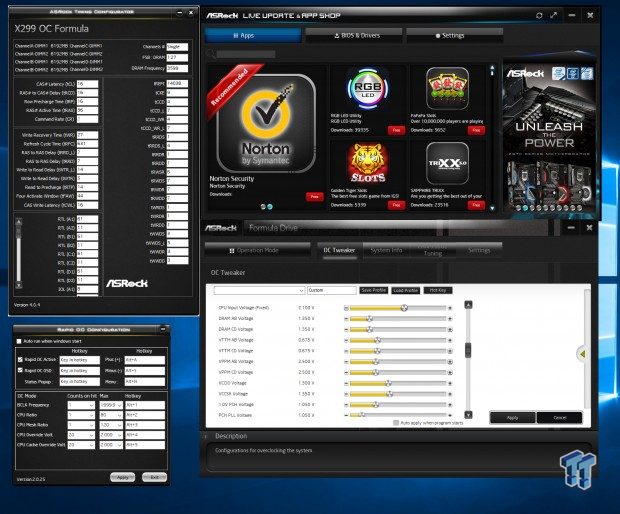 Software includes ASRock RGB LED, Formula Drive, Rapid OC, Timing configurator, and APP Shop just to name a few.
Test System Setup
Steven's Motherboard Test System Specifications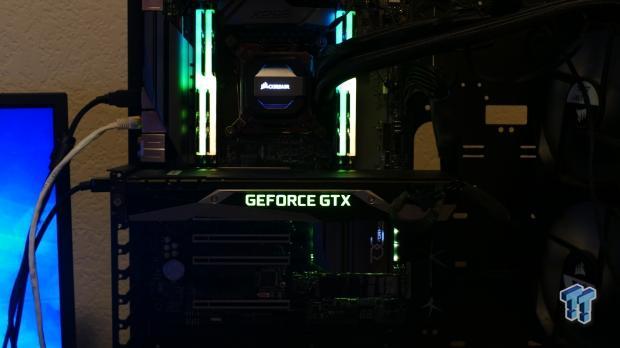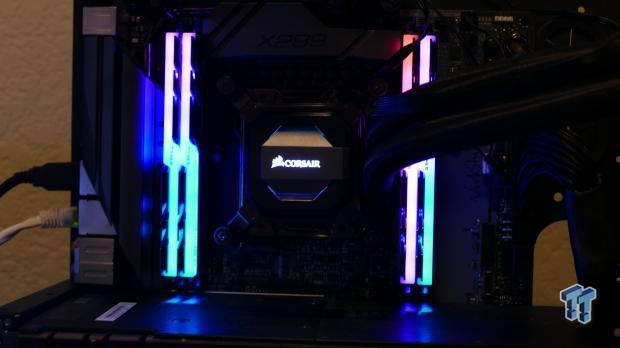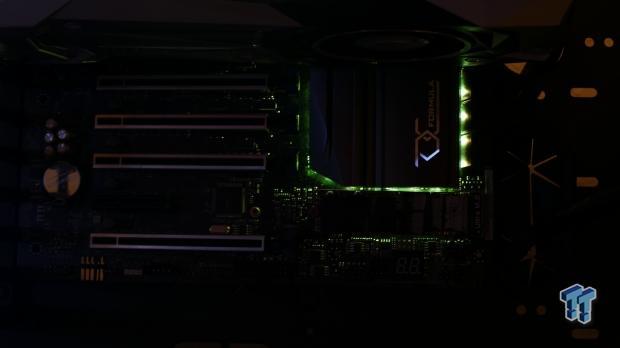 The X299 OC Formula is not RGB crazy, and while it does have RGB LEDs built under the PCH, the buck stops there. The motherboard has two RGB LED headers if you want to light up your system, but by default, it won't light up much.
You might also notice that we replaced the 7900X with the 7960X in our benchmarks.
Overclocking
Overclocking Results
CPU Overclocking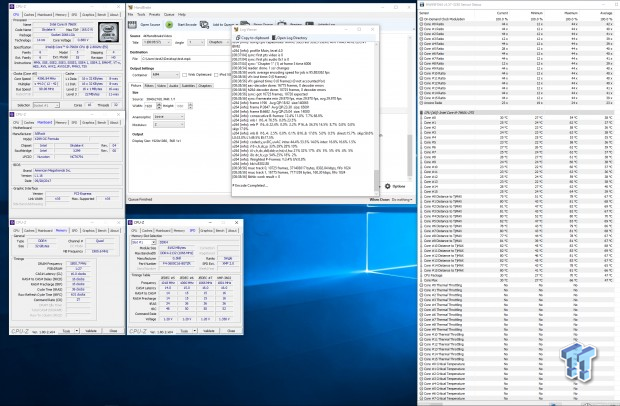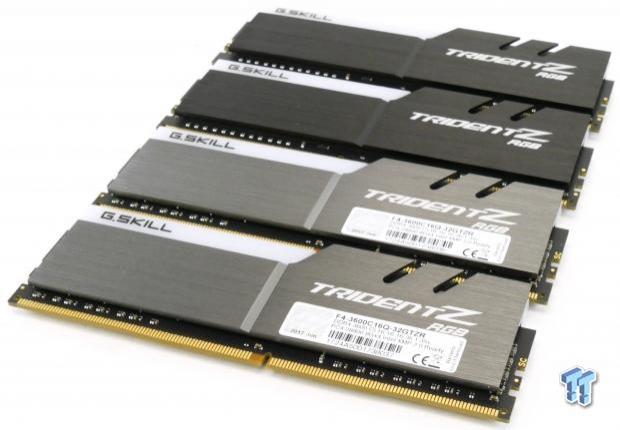 We have switched out the 7900X for the 7960X for the new 2nd wave of X299 motherboards, as the 7960X puts a lot more strain on the overclocking capabilities of the motherboard. We set VCCIN of 2.1v with VCore of 1.195v, set LLC to mode 2, XMP to enable, and then we just save and exit. We did have a fan over the VRM as our system sat on an open-air test bench.
Memory Overclocking
G.Skill TridentZ RGB 32GB (4x8GB) 3600MHz Kit:
As you can see above, this kit runs fine with XMP on the X299 OC Formula.
CPU, Memory, and System Benchmarks
CINEBENCH R15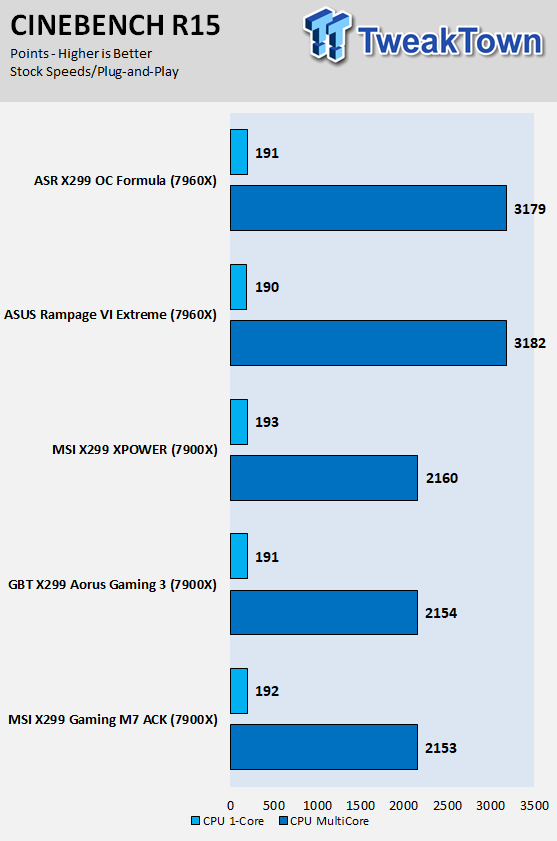 wPrime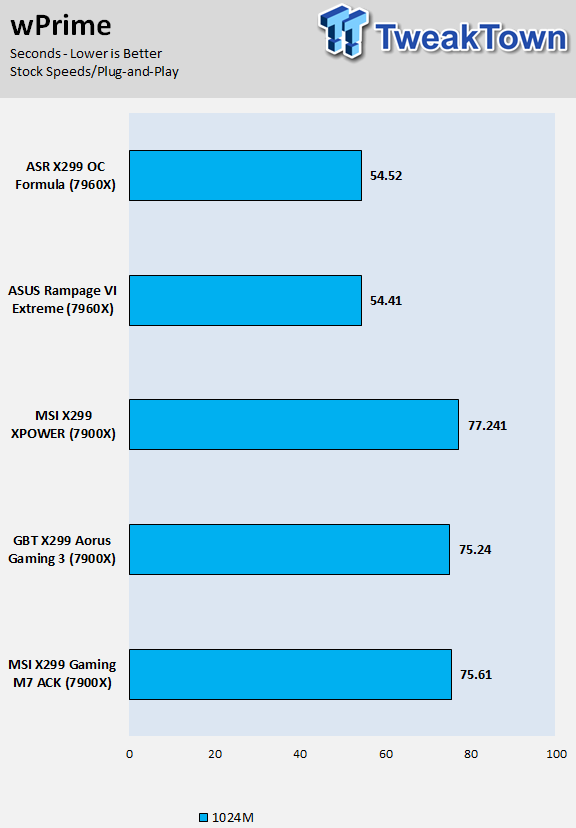 AIDA64 FPU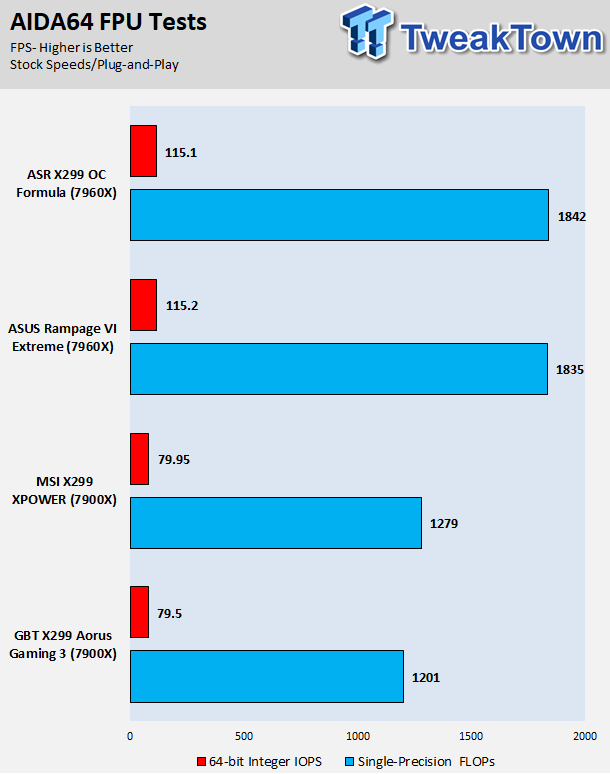 AIDA64 Memory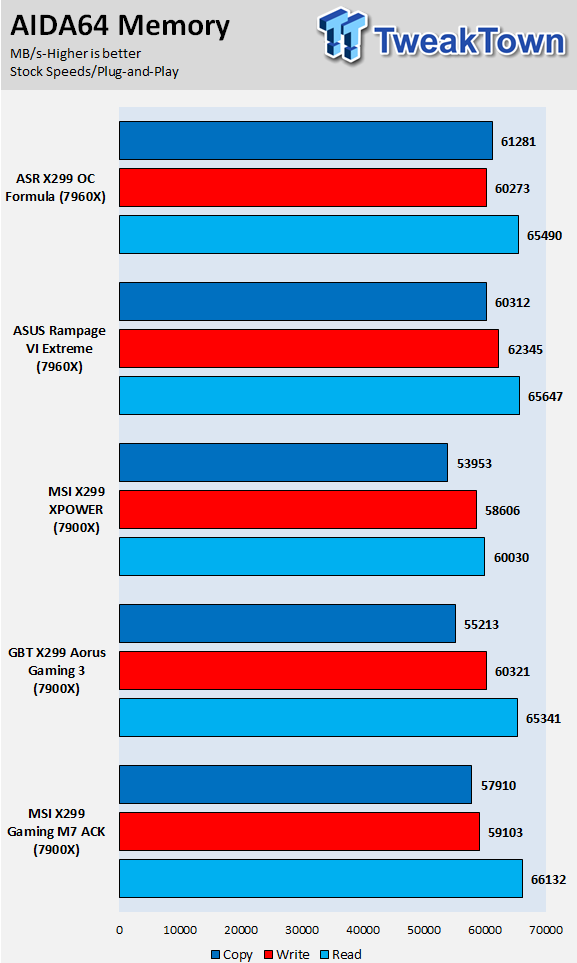 ScienceMark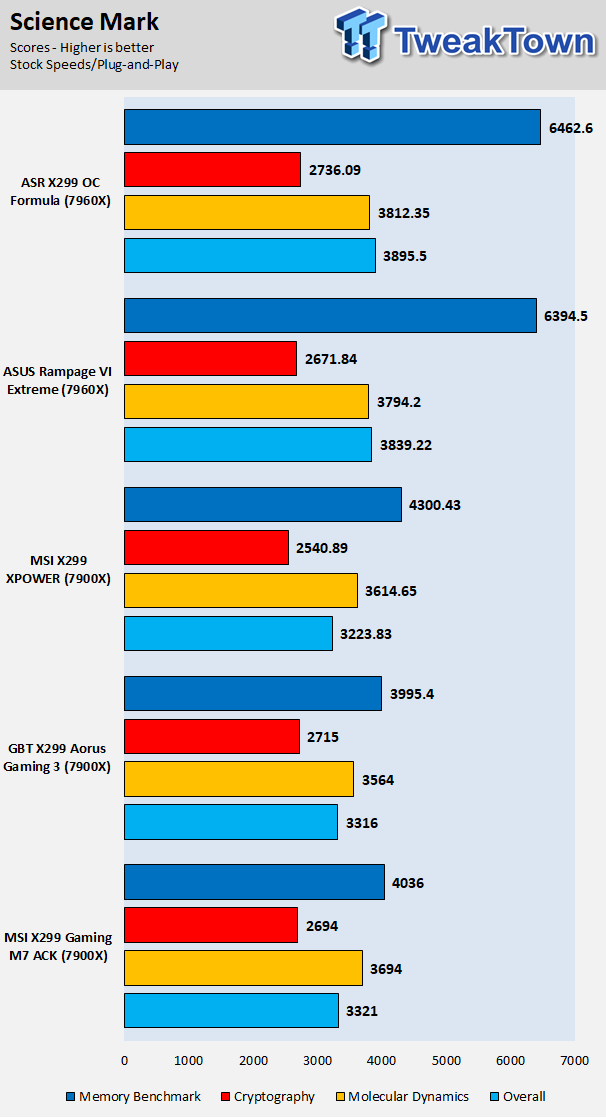 HandBrake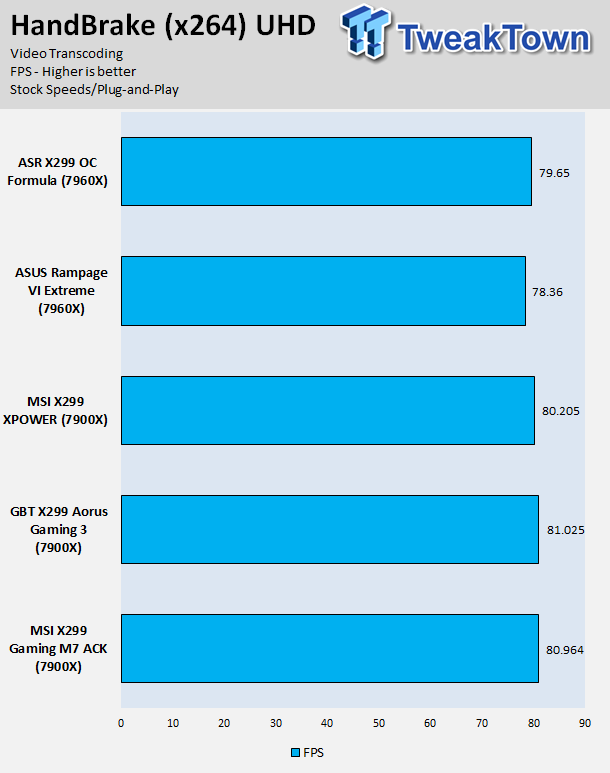 SuperPi 32M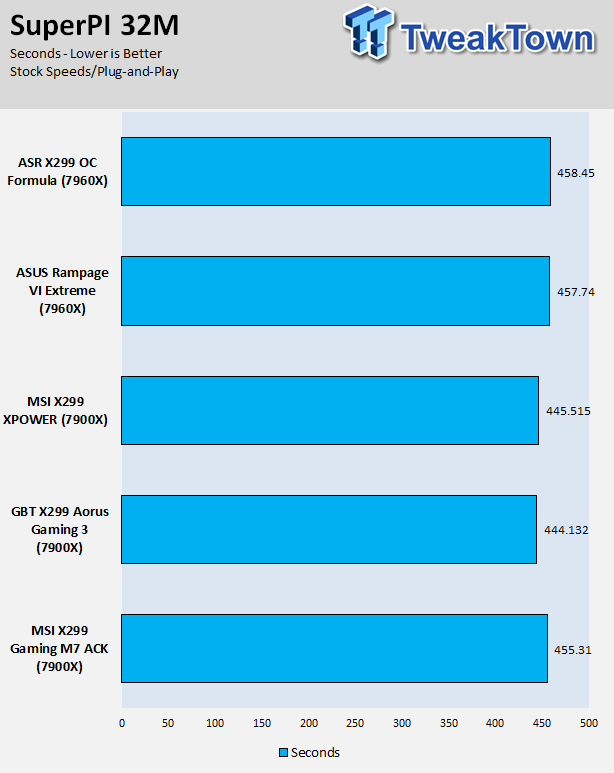 3DMark: Fire Strike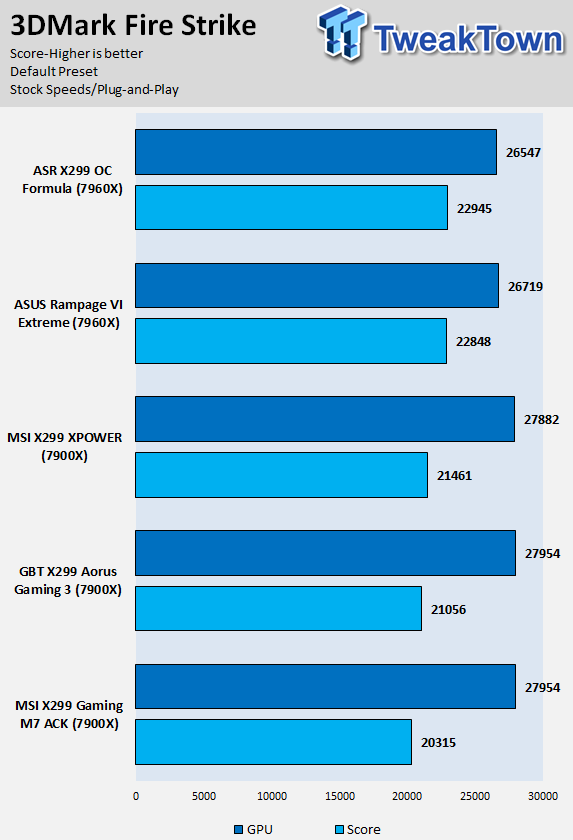 3DMark: Cloud Gate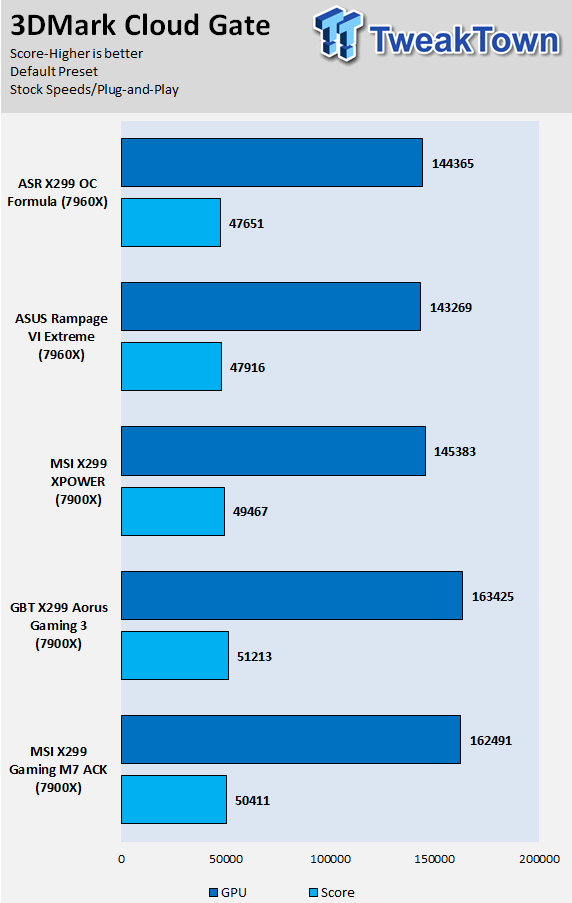 ResidentEvil 6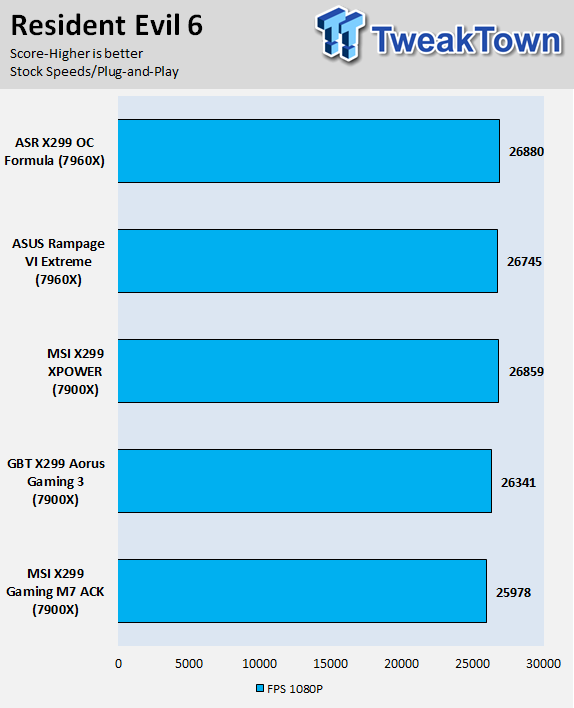 The ASRock X299 OC Formula and the Rampage VI Extreme are both using the 7960X CPU instead of the 7900X, so that is the reason their scores are significantly different than those of the other motherboards. Overall the two motherboards go head to head, with excellent performance and no mess.
I don't too much too much credence into benchmarking the CPU or GPU to see how well the motherboard does, as the difference is almost always within the margin of error. These tests are to make sure performance isn't below that margin, or to see what's going on if it's above.
System IO Benchmarks
CrystalDiskMark SATA6G: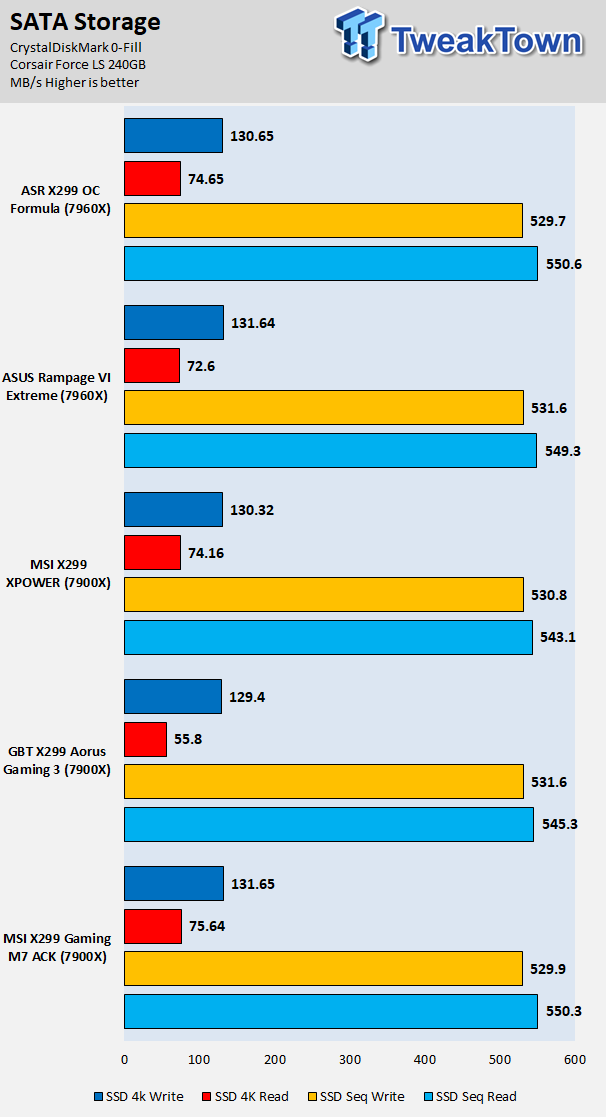 CrystalDiskMark M.2: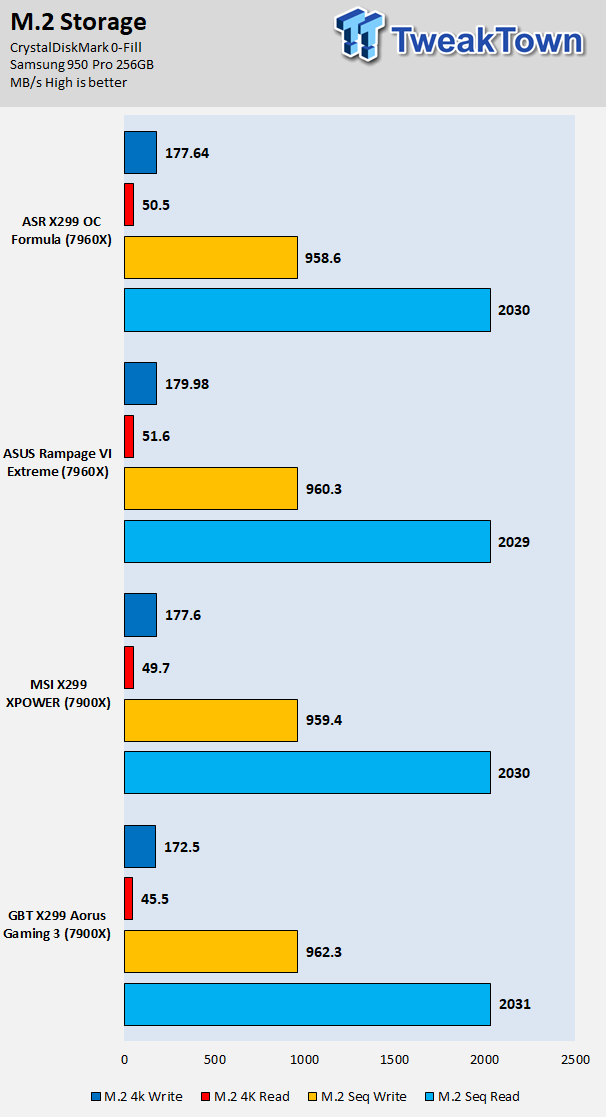 ixChariot Network Throughput: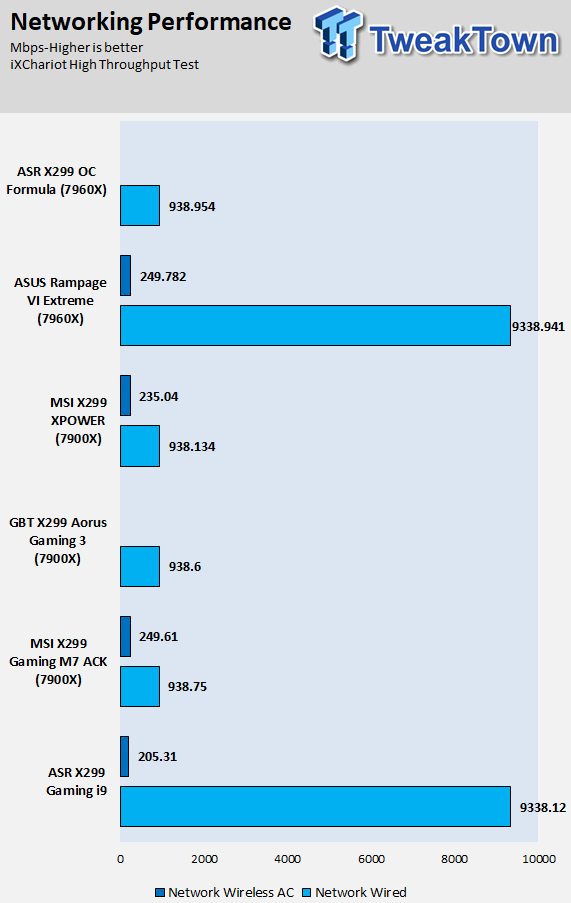 ASRock's X299 OC Formula has excellent IO and networking performance.
Audio RMAA 5.5:
I disable all audio features, set the correct bitrates, and then test the audio with a loopback test.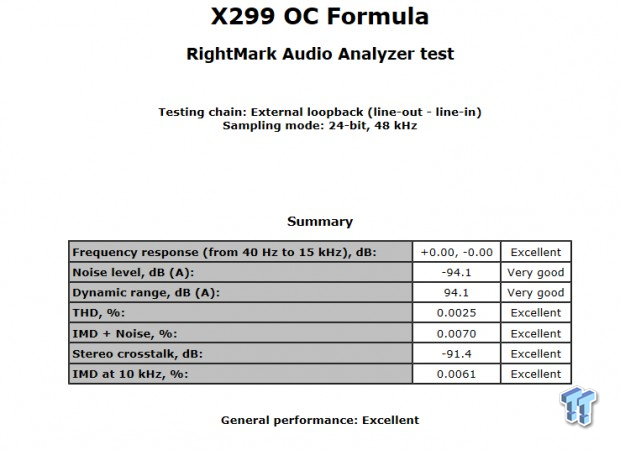 Sound Judgment by Ear: Excellent, the motherboard has a standard ALC1220 implementation with an added amplifier for the front headphone header. There are five ratings for audio: 1. Problems, 2. Okay, 3. Acceptable, 4. Very good, 5. Excellent
VRM and System Thermal Imaging and Power Consumption
Thermal Imaging and Power Consumption
System power is measured at the wall with an AC power meter.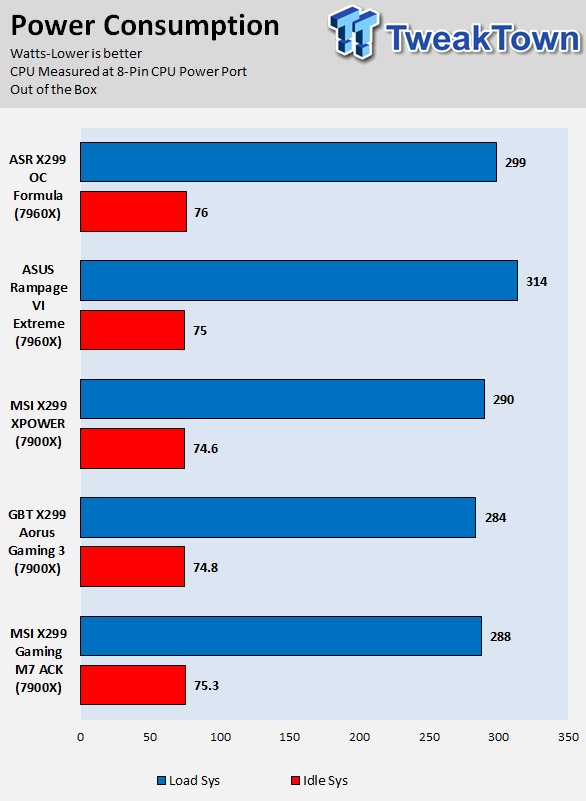 Note on Thermal Images: In the temperature section, we use our Seek thermal imaging camera to capture the surface temperatures of major components on the board. I look at the VRM and then all other things that light up the screen. If there is something to worry about, then I will state it. Otherwise, I will just show the hotter running parts of the board for fun. Unless some component is over 80-90C, then there isn't anything to worry about.
All systems will act differently, so I will look for commonalities, such as how far from the VRM the heat spreads through the PCB and the difference in temperature between the front side and backside of the PCB. Keep in mind, the majority of the heat from the VRM goes into the PCB as it is a giant soldered on copper heat sink. A larger difference in temperature between the back and front of the PCB points towards a more effective heat sink.
Thermal Testing at Stock Speeds:
The image on the left is always at idle, and the image on the right is at load. During ALL TESTS, fans above the VRM that cool the CPU cooler's (Corsair H110i) radiator are turned on to high (12v).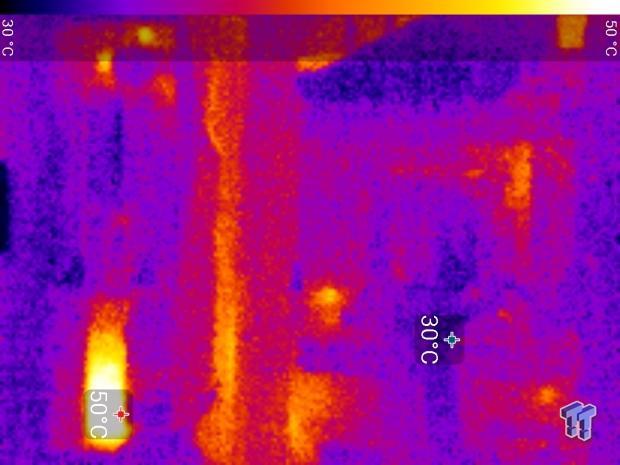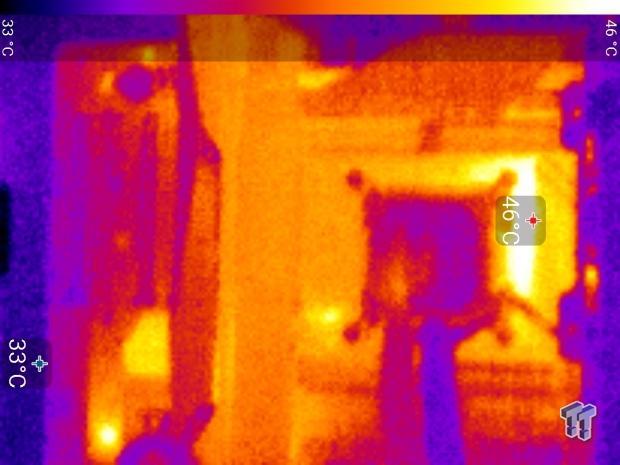 Full frontal.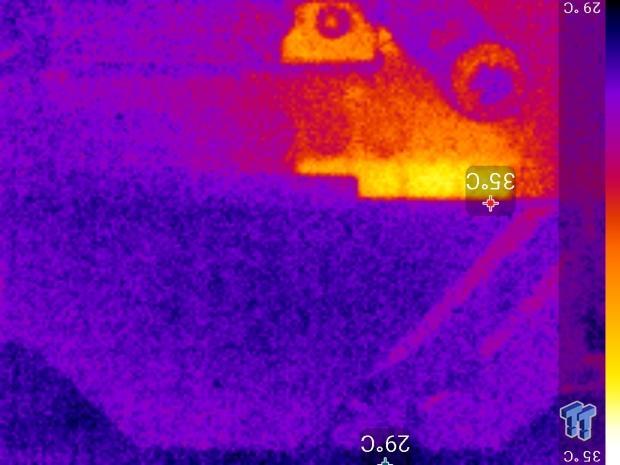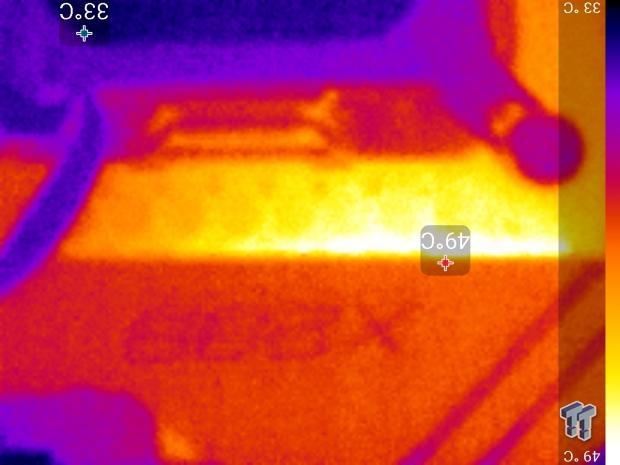 Up-close of the front of the VRM.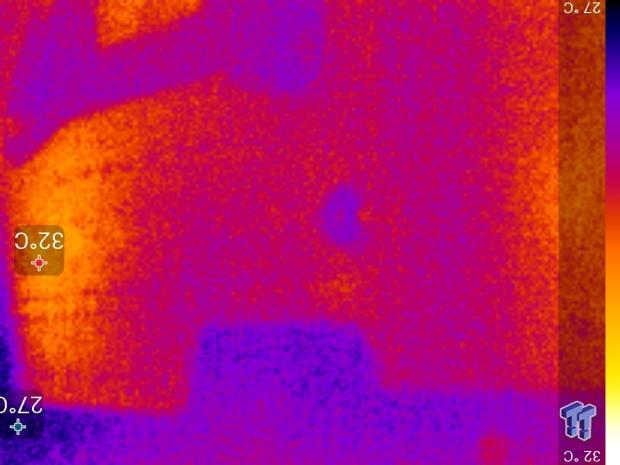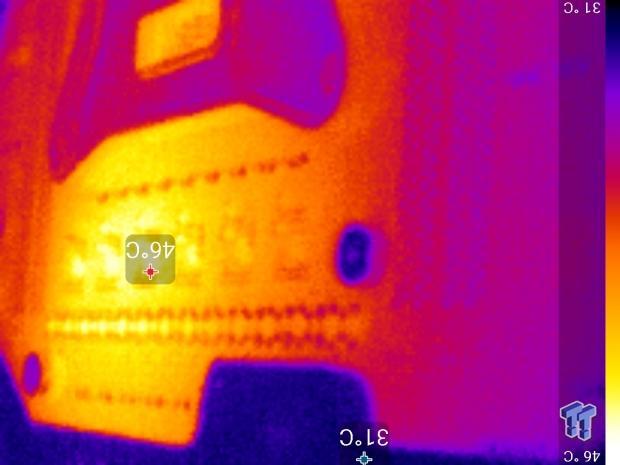 The VRM thermal imaging shows off Intersil's new power stages, and PWM controller is a great way. Intersil's new smart power stages integrate temperature and current sensing inside each power stage and work in concert with the PWM controller to shift load to phases that are cooler or are handling less current. Overall, thermal performance is excellent at stock, especially with the larger heat sink.
Up-close of the back of the VRM.
4.4GHz 2.1V VCCIN OCed VRM Thermal Imaging:
Airflow from the radiator that cools the CPU is directed in the direction of the VRMs from the right side of the motherboard to the left, and a dedicated 120mm fan is mounting above the VRM and blows directly at it. We get our results at loop 25 of Intel Burn Test, they are lower than the temperatures you see above (the stock results), as they don't have the fan over them.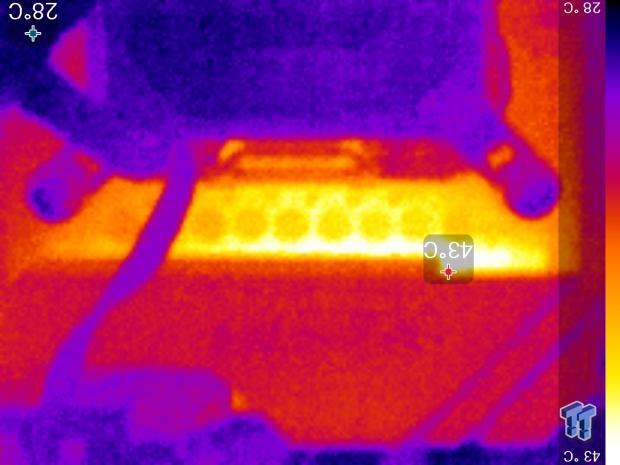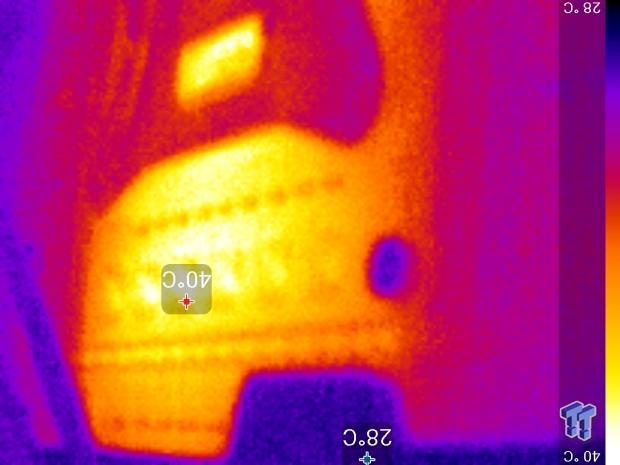 The results are excellent, and the VRM heat sink is doing an excellent job. I was shocked that the temperature under the VRM area is cooler than that at the top of the inductors because it shows that the VRM is being cooled properly. ASRock has done a nice job with the bigger heat sink, and it shows.
What's Hot, What's Not & Final Thoughts
Here are key points about the ASRock X299 OC Formula.
What's Hot
Designed with Special Circuits: After looking at the chips on the motherboard, I scratched my head, wondering why there were two Winbond chips that were routed to the socket and why there was a second SuperIO chip. There was no extra fan control compared to their other X299 motherboards, so I figured it had to do with either the voltage control header or the overclocking features. After talking with ASRock, it became apparent that the two Winbond chips directly monitor low-key CPU voltages and the extra SuperIO is there to translate what the Winbond chips report. I am told that this extra hardware is a bit of the secret sauce that allows the X299 OC Formula to overclock extremely well. They wouldn't tell me exactly what is being done behind the scenes, but I assume it relates to auto rules in the BIOS. The voltage control header doesn't even interact with these chips, and is actually a separate system, and should help those who do the DMI modification for extreme KabyLake-X overclocking.
VRM Quality and Cooling: As we saw on other ASRock X299 motherboards, the brand new digital PWM controller from Intersil matched with their high-quality Smart Power Stages really competes with International Rectifier's offerings. Their light load phase balancing and full load operation prove very good in a high current setup, like that needed on an X299 motherboard. The VRM heat sink has also been improved, and it shows under the thermal camera.
Excellent Overclocker: Overclocking on the X299 OC Formula was a breeze, the motherboard was super easy to work with, and during some other testing I was doing, I was able to clock the mesh to 3.2GHz with 500mv less set on the mesh voltage rail compared to another top-tier X299 motherboard. The new overclocking features are nice too, the hard reset button/retry button and the safe boot button are welcomed additions, and they add a little extra to this overclocking motherboard. The motherboard's use of four memory DIMMs should also aid in high-frequency memory overclocking.
PCI-E Layout: The X299 OC Formula is the only motherboard I know of that supports five PCI-E lanes all running at x8 from the CPU, and it also supports 4-way SLI. It also allows decent operating modes for the 28 lane and 16 lane CPUs, allowing you to run 3-way on the 28-lane CPU and 2-way on the 16-lane CPU.
What's Not
Overclocking Specific: With this motherboard, you lose four DIMMs when compared to most X299 motherboards with a Skylake-X CPU. While you can still run quad channel memory, you cannot upgrade by adding in memory sticks down the line. The motherboard also features only two M.2 slots compared to the three you find on most other X299 motherboards, and you only find six native SATA6Gb/s ports rather than the eight found elsewhere. The motherboard has been optimized for overclocking, with some features stripped back to enhance it.
Final Thoughts
ASRock has done a fine job with the X299 OC Formula, producing a truly overclocking centric motherboard, with the ability to fully support both Skylake-X and Kaby Lake-X to their maximums. The motherboard is clearly designed for extreme overclocking. One DIMM per channel, a large gap between the OC buttons and memory slots (so the buttons don't freeze during LN2), a hole behind the CPU socket, extra OC circuitry, voltage control headers, ASMedia SATA for Windows 7 compatibility, and even a PCI-E layout designed to take 4-way records come together in the X299 OC Formula.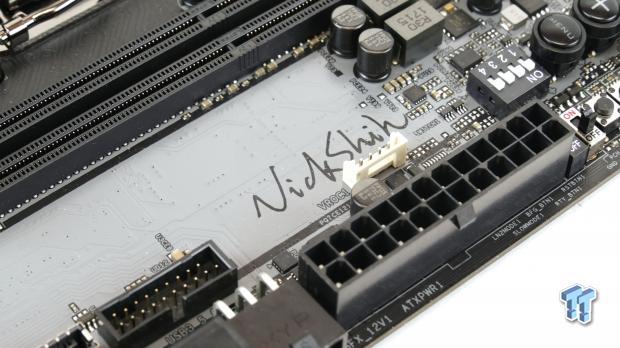 However, you are going to be paying for a lot of these overclocking features when you buy this motherboard, as opposed to paying for more platform features such as a 10Gbit NIC. The true target users for the X299 OC Formula are extreme overclockers and those with delidded CPUs.
Overall, I found the motherboard to be of excellent quality, loaded with overclocking features, and ready to take on world records. If you want a motherboard that's all about overclocking, the X299 OC Formula is a great fit.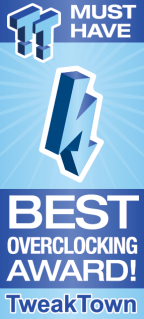 | | |
| --- | --- |
| Performance | 97% |
| Quality | 95% |
| Features | 91% |
| Value | 90% |
The Bottom Line: ASRock's X299 OC Formula is all about the megahertz. It was designed with only two things in mind; taking world records and keeping them, and it has done both.
PRICING: You can find products similar to this one for sale below.

United States: Find other tech and computer products like this over at Amazon.com

United Kingdom: Find other tech and computer products like this over at Amazon.co.uk

Australia: Find other tech and computer products like this over at Amazon.com.au

Canada: Find other tech and computer products like this over at Amazon.ca

Deutschland: Finde andere Technik- und Computerprodukte wie dieses auf Amazon.de
We openly invite the companies who provide us with review samples / who are mentioned or discussed to express their opinion. If any company representative wishes to respond, we will publish the response here. Please contact us if you wish to respond.