Corsair Gaming VOID RGB Wireless Dolby 7.1 Headset Review
RGB ALL THE THINGS! This seems to be the motto for most in 2015, but can Corsair's wireless VOID RGB headset deliver quality to match its impressive looks?
Published Mon, Sep 14 2015 8:10 PM CDT
|
Updated Tue, Nov 3 2020 6:59 PM CST
Introduction
With RGB being the big drawcard for most peripheral marketing in 2015, Corsair has gone one step further with its wireless VOID gaming headset. Utilizing a 2.4 GHz signal transmitted through the included base station extender, this product helps show Corsair means business in the wireless audio market, not holding back in the features department.
Including Dolby virtual 7.1 channel surround sound, can this feature laden and colourful headset deliver the goods in the audio department in order to back up what's on offer? Read on to find out.
Specifications
Boasting a 40ft range thanks to a USB-connected base station which sends a 2.4GHz wireless signal, the Corsair Gaming VOID RGB headset also offers up a Dolby virtual 7.1 channel experience.
The 50mm drivers feature a standard frequency response of 20Hz - 20Khz with an impedance of 32 Ohms and a sensitivity of 107dB +/- 3dB. The microphone itself offers a unidirectional pickup which has an impedance of 2.2k Ohms, a frequency response of 100Hz - 10kHz and a sensitivity of -38dB +/- 3dB. The microphone packs some further features including it being noise cancelling and being on a rotating rubber boom with infoMic LED lighting on the tip. infoMic helps the user quickly spot different headset settings such as mic mute and more.
The headset battery claims to last you a solid 16 hours of gaming, which is a very respectable time, however, it will mean that you have to charge it every few days depending on use. This particular model also comes with the limited edition wireless extender station, offering you a little more reach than just a standard USB plugged into the back of your PC tower. The good news is, you can certainly use this headset while it is charging, meaning there should be no real issue of power cutting out as long as you keep an eye on the battery levels.
Further features include RGB 16.8 million color LED lighting and what Corsair calls 'CUE Control', which is basically its version of a control wheel. Last up is the earcups. Straying away from the popular leather option, Corsair has opted for a microfiber cover with memory foam.
Pricing & Availability
Coming in at $129.99 with free shipping from Amazon, the Corsair VOID headset is certainly reasonably priced. It's sitting at a similar price point to the wired 7.1 channel Kingston HyperX Cloud II and the analog ROCCAT Kave XTD 5.1 (also wired). With the added 16.8 million color support and base station extender, this headset is priced quite well; we'll have to see if the sound quality suffers as a result. Although this headset will set you back around $30 more than the Cloud II, I would put them in the same field due to the VOID further offering wireless support and fancy RGB lighting.
What's in the box?
Corsair has done a great job completely tying the theme together with this product, offering each cable, connection, and accessory as a complete mimic of the headset with cool yellow accents and a chunky feel.
In saying this, the accessories are unfortunately lacking in number. We're once again devoid of an ever-handy carry pouch, it's a little frustrating that Corsair has overlooked this addition. A carry pouch is something that I generally rant and rave about due to it being able to neatly and easily transport your peripheral around whilst keeping it free of scuffs and marks. It becomes even more useful here with the VOID RGB as a there is not only the headset itself, but a charging cable, wireless dongle, and extender to worry about. Keeping this all-in-one place could certainly be a pain when travelling to gaming events or a friends place for a LAN.
The charging cable and base station are both built very well and contain plenty of length, which is a massive positive over most other wireless products I have reviewed recently. There's nothing worse than the wash of pure disappointment when you take out a headset and realize you have a small length cable to charge it with. Lastly, the Corsair VOID RGB wireless headset comes with a very thick quick start guide, a 'safety leaflet', and two warranty guides.
Let's dig deeper
As mentioned previously, this headset does away with the ever-popular leather (real or fake) earcup option on higher-priced headsets, opting instead for microfiber cloth as the material base. The earcups feel much softer than other cloth earcups for sure, however, still nothing quite matches leather on your ears, in my opinion.
The frame as a whole feels extremely sturdy and well constructed. The way it adjusts is different to most other headsets too, allowing the lower part of the frame slide up and down the headband itself, exposing a metal frame on the underside when pulled out completely. This design coupled with the metal frame means your headset should last for years to come, of course as long as the abuse isn't too severe.
The headset does feel a little heavy, and this is due to the wireless internals and battery located within. Adding to this, it's also quite chunky; my partner made mention straight away that it looked quite big and my head is not on the smaller side either. This said, it doesn't feel too big or cumbersome on your head. The RGB lighting isn't distracting or annoying either, it's also worth noting that it actually looks quite good even though it's surrounded by yellow. My initial concerns with the lighting were that many colors would look 'off' surrounded by yellow plastic earcups.
The headset controls are confusing and hard to reach at first. Unless you're used to on-ear controls, fiddling around and guessing where the buttons are can be quite frustrating for some time, until your muscle memory is trained. Connecting to your computer is quite simple, working almost instantly when the dongle is plugged in with Windows downloading drivers automatically. Adding to this, there was no connection or pairing process needed between the headset and wireless receiver; it worked instantly when activated in my sound menu. The drivers are easy to find and download, I would also strongly suggest letting your computer restart when asked, as not restarting my PC made my Spotify constantly switch songs with amazing pace, whilst simultaneously playing the same 0.5 seconds of a song on loop repeatedly.
Corsair's 'Utility System' is very easy to navigate. As for color options, I settled on a breathing lighting effect and pink color, just because I like to mess around for fun. One issue I do have with the drivers is the inability to switch microphone settings. It would be cool if there was a small section dedicated to microphone-specific options.
Tinkering with the sound, I found turning on the 7.1 Dolby surround sound to not be the best way to enjoy this headset. I was listening to music and talking to friends in Mumble at the time when it was tested, and when turned on, it resulted in my friends sounding like they were shouting across a large hall at each other. As for the simple equalizer settings, I'm a big fan of 'set and forget', along with plug and play peripherals, as I've never been a big fan of tinkering with such settings. I certainly don't think doing so is a bad thing, it's just not what I enjoy. I tried out some of the other simple equalizer settings for a while, but ended up settling on the basic 'Pure Direct' option.
There is a myriad of other driver options available in the 'Corsair Utility Engine' software, including disabling the lights, firmware updates, and more. In all, this software is the best I have used so far for any gaming product, hands down.
How does it compare?
Being one of the very few wireless headsets I have tried recently, I'm going to compare this mostly to the Kingston HyperX Cloud II. This is for a few reasons, but mostly due to the sound quality apparently being rather good for both models, as seen across the marketing focus and reviews, and the pricing being close (see pricing section).
Comparing it to the Cloud II was apparently a rather good choice as the sound quality is extremely similar between these two products. The main difference comes in the earcups and the passive noise cancellation offered. Personally, I'm a fan of leather and closed-ear headsets, however, they have been quoted by analysts to confuse your brain and hurt your ears after extremely long periods of use, due to your ears not being designed to listen to closed-type sound. Despite this, I prefer the closed off feeling that closed ear gives me, along with the fact that I don't like hearing my own voice or my partner's voice next to me loud and clear when I'm playing games.
Jumping in to Dota 2 and hitting the random button, I was presented with Ancient Apparition as my hero. This is a good test for sound range as there are high and mid-filled abilities like his chilling touch, linked with a big boom when his ultimate explodes on unknowing foes. The VOID performed extremely well throughout my drawn-out 75 minute game, showing no weaknesses, bar the open ear design annoying me a little.
I listen to a massive range of songs on a daily basis, making a good starting base for testing out all-rounder products. As much as a headset may be marketed towards 'gaming', there's no use buying one for home if it doesn't work well in Skype and Spotify too. Quiet tracks fare almost on par with the HyperX Cloud II, seeing the mid and high range of Twenty One Pilots' 'Ode To Sleep' report back great overall sound. The clarity is certainly noticeable and a quick play with the equalizer ensures that you're able to get the best fit possible. If I was really nit-picking, I think at times the bass will slightly outweigh and drown out the clarity, especially if you're running the 'Bass Boost' equalizer. It's certainly not an audiophile headset and you shouldn't purchase this product thinking it is.
Some chilled out rap music from Nas helps introduce a little punchy bass into the mix. Once again, this headset performed well as it did with my Dota 2 gaming.
Switching on the bass boost and moving onto Warcry by Audiofreq is where the bass was able to shine. The massive drop of reverse bass (heaven) at the beginning sounded brilliant, no driver rattle was experienced either, but we'll talk about that a little later with the technical tests.
I've begun doing a little more analytical testing in these reviews with all audio. Hitting up Audio Check's 'Ultimate Headphones Test', I'm able to further analyse many aspects of this product.
First up is the frequency response test, checking the highs and the lows to see if they match what the box has to say. The low frequency comes in at 20Hz which is expected and is shown on the box. Moving on to the higher range, I can begin to hear the sound from 17 KHz, which is 3KHz lower than written in the description. This small variances doesn't make or break the product, however, sticking to the higher-end as displayed on the box is to be expected and it may cut off some high-pitched ringing noises in music, games and movies as a result.
Moving on to the 'spectral flatness and earbud insert test', this will ensure I can check whether all frequencies play accurately and are actually audible from the tested 20Hz - 17KHz range which I talked about previously. This reported back a 100% result, with all sounds from bottom to top coming through clearly. Next up is the dynamic range test, checking the ratio between the loudest signal I can hear and the quietest. This is said to help test the isolation offered by this product in a noisy atmosphere. Putting it to the test, I was able to hear the sounds up to 66dB below full scale.
The bass shaker test will ensure low quality earphones will perform terribly, aiming to vibrate poor headphone drivers and make them rattle through the use of rumbling bass. This headset performed perfectly during this test.
Further testing brings me to driver matching, which checks if both drivers are matched together perfectly in audio output. Putting this part to the test, I was able to determine that both earphones play audio at exactly the same levels.
The last two technical trials are fairly simple yet effective, being the wiring and Binaural tests. The wiring test came back at 100%, ensuring that each ear cup plays the side of sound that it should, along with 'centre' and 'Twisted' working as they should. The binaural test involves a completely immersive audio recording of someone knocking on wood. It will play in your left and right ear and if the headphones are working properly, it will sound 100% realistic, and it did! Creepy for sure.
Last up is a generic music test, covering the full sound spectrum in a short period of time. This piece performed as reported above, the mids and highs were clean and the bass was good. The bass didn't overpower other sounds in this test which is another positive, I would presume that it is because this test provided much cleaner bass sound, rather than being like a booming nightclub track.
What's Hot
Strong and sturdy: The exterior construction and the frame within are both built quite well and should last you for a long time.
Accessories provided are well made: The provided charging cable, wireless dongle, and extension platform all suit the color scheme perfectly, offering great chunky yellow highlights.
Clarity keeping up with the wired bunch: Everything treble is fairly clear and the bass rumbles nicely. This wireless option closely mirrors any wired gaming headset of sub-$140, which is a bonus given this one has no wires.
The software: Certainly the best I have used to date. It's easy to use, laid out well, and comes laden with almost as many options as you could ever want or need.
What's Not
Overpowering bass in nightclub-style tracks: If you like your music pumping, heavy, sweaty and dirty, the bass can sometimes outweigh everything else and the sound will become muddled.
Accessories: A carry pouch would work brilliantly with this headset. Priced at $130 with not a single goodie in sight is a little disappointing.
Final Thoughts
The Corsair Gaming VOID RGB wireless headset keeps up with wired products at a similar price point, it's comfortable, comes with brilliant software, and is constructed quite well.
Personally, it doesn't take the cake as my favorite headset due to the cloth earcups. Unfortunately, my love of leather earcups knows no bounds (due to passive noise cancellation and comfort), but it is pretty damn close. At this price, with these options and functioning at such a high level, I can highly recommend the VOID to any gamer looking at a wireless headset.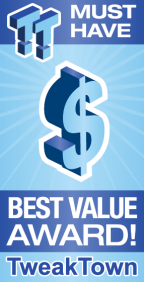 | | |
| --- | --- |
| Performance | 90% |
| Quality including Design and Build | 95% |
| General Features | 90% |
| Bundle and Packaging | 80% |
| Value for Money | 95% |
The Bottom Line: At this price range with its great software-based options and sound quality to match similarly-priced wired headsets, the only reason not to buy this is because you dislike cloth earcups, which includes people like me.
PRICING: You can find products similar to this one for sale below.

United States: Find other tech and computer products like this over at Amazon.com

United Kingdom: Find other tech and computer products like this over at Amazon.co.uk

Australia: Find other tech and computer products like this over at Amazon.com.au

Canada: Find other tech and computer products like this over at Amazon.ca

Deutschland: Finde andere Technik- und Computerprodukte wie dieses auf Amazon.de