TweakTown's Rating: 93%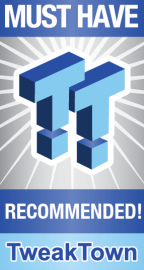 The Bottom Line
If you are looking for a X299 motherboard with a solid VRM and a decent feature set, give the X299 Aorus Master a look.
Introduction, Specifications, and Pricing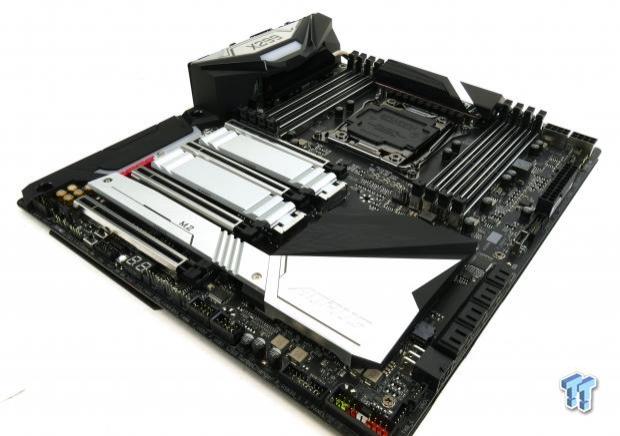 Today we take a look at GIGABYTE's new Aorus branded X299 motherboard, which was introduced to tackle the new 9th generation of Intel X-series CPUs. The new motherboard features a slightly revamped VRM, and some other newer technologies. Keep in mind, this is the Aorus Master, which is more of a replacement for the X299 Aorus Gaming 7 and not the high-end X299 Aorus Gaming 9. Let's take a look at what the motherboard has to offer.
Specifications

The X299 Aorus Master offers an Intel NIC, a 2.5Gbit NIC, Wireless AC, USB 3.1, USB 3.0, and SATA6Gb/s.
Pricing
The X299 Aorus Master costs $339.99
Packaging and X299 Aorus Master Overview
Packaging and Overview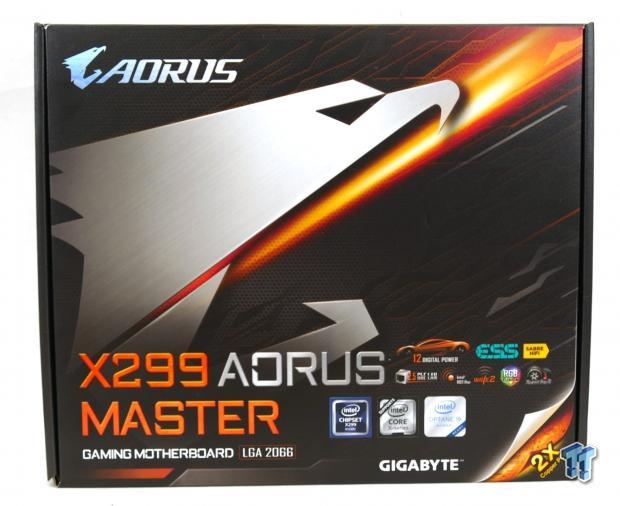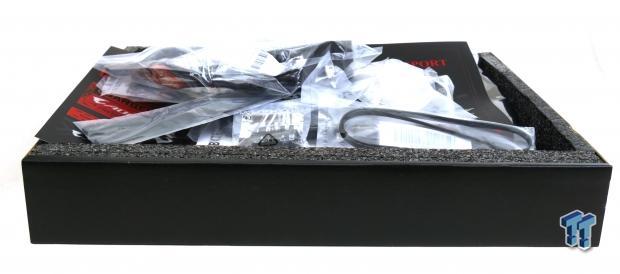 GIGABYTE's box and packaging are decent and get the job done.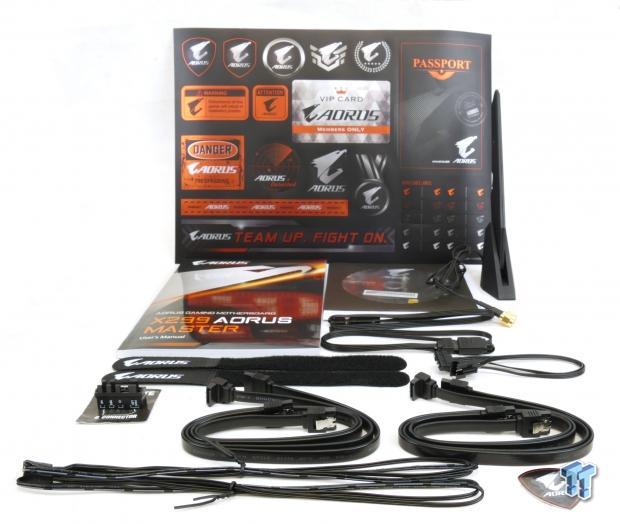 The accessory package includes four SATA6Gb/s cables, two thermistor cables, RGB extension cable, addressable RGB LED extension cable, Aorus logo stickers, WIFI antenna, G-Connector, M.2 screws, Velcro cable ties, DVD with drivers, and manuals.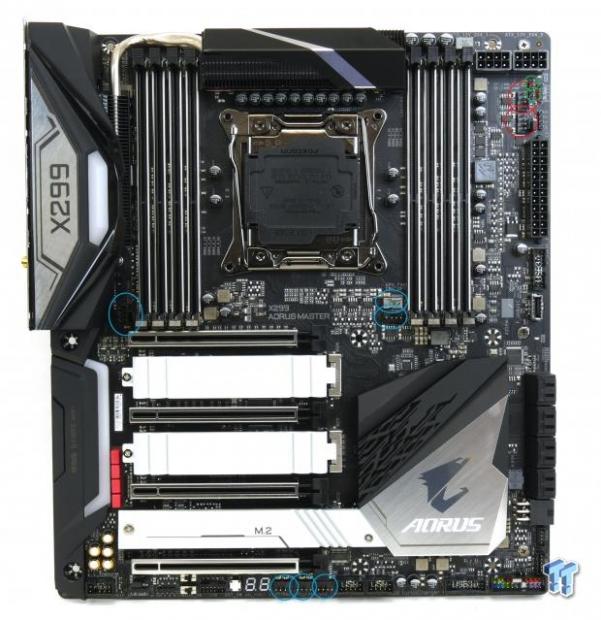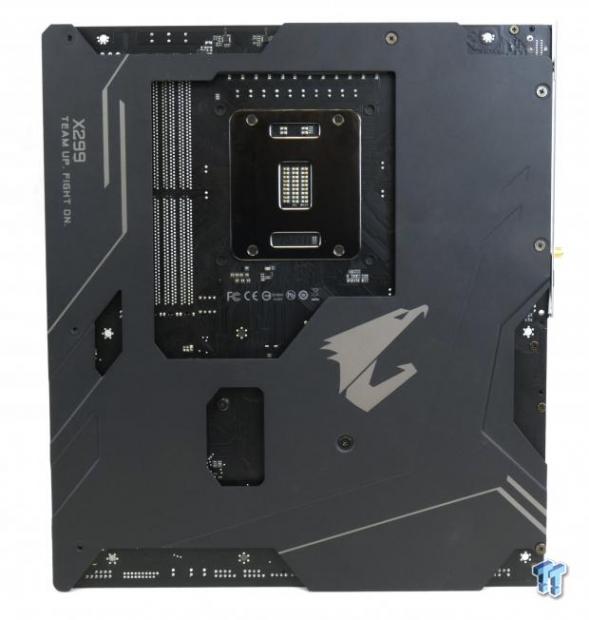 GIGABYTE put eight fan headers on this motherboard. The two in red seem capable of 2A of power while the rest might be 1A. One of the right fan headers is occupied by the hidden VRM cooling fan. All fan headers are hybrid headers that support PWM and DC operation modes. The two headers circled in green are for two external temperature probes that are included in the package. Overall the motherboard has a white and silver color theme, and the back of the motherboard has a metal back plate that will stabilize the PCB and cool the back of the VRM.

The IO shield offers a clear CMOS button, a power button, WIFI antenna, six USB 3.0 ports (white is for QFlash Plus), 2.5G LAN, 1G LAN, USB 3.1 typeA, USB 3.1 type-C, and gold plated audio with S/PDIF out.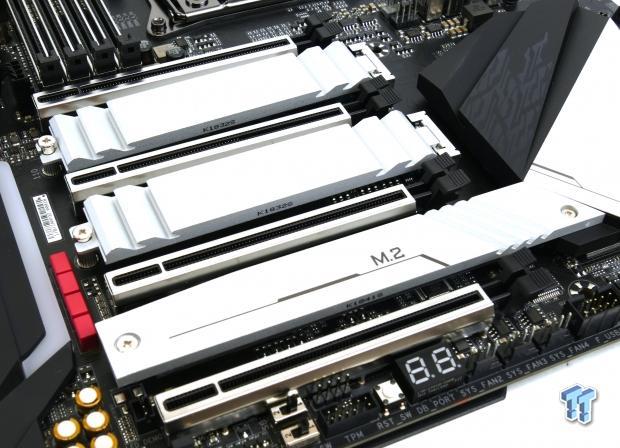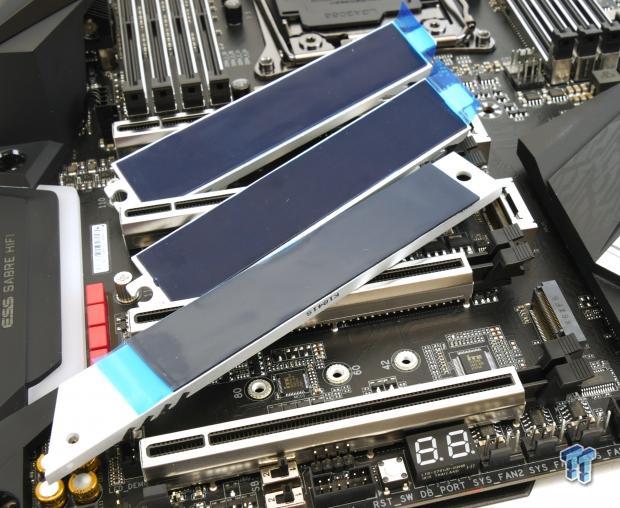 With a 44-lane CPU the PCI-E will be x16/x0/x16/x8 or x16/x8/x8/x8, and with a 28-lane CPU they operate at x16/x0/x8/x0. The M.2 slots all have heat sinks, and the top one is connected to the CPU and always is at x4 PCI-E 3.0, SATA M.2 drives are not supported and VROC key is required for RAID. The other two M.2 slots support both x4 PCI-E 3.0 and SATA M.2 drives, with the middle one disabling SATA3_0 if a SATA M.2 drive is used and the bottom one disabling four SATA ports if any drive is installed (SATA3 ports 4-7).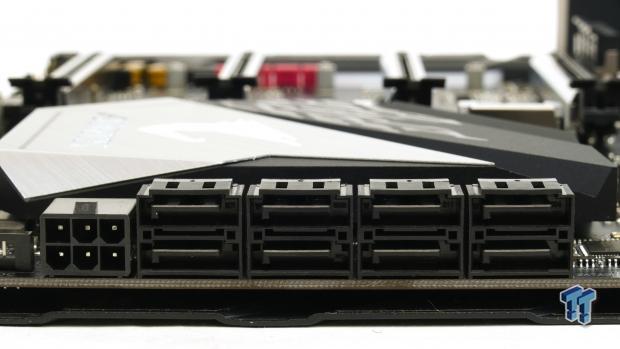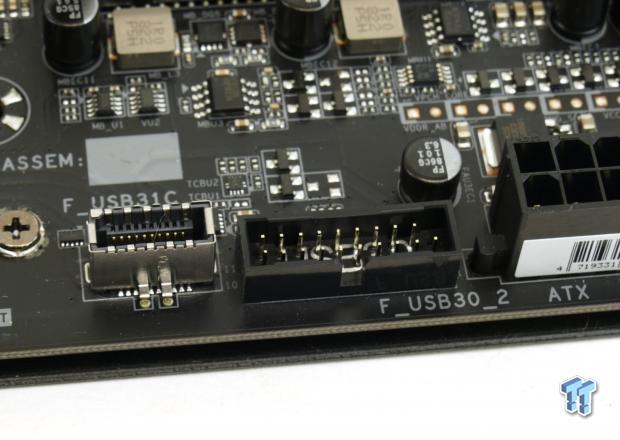 There are eight SATA6Gb/s ports on this motherboard, all from the PCH, some of which share lanes with the bottom two M.2 drives. There is also a PCI-E power connector for extra PCI-E power. There is a USB 3.1 type-C header and a USB 3.0 header right under the 24-pin power connector.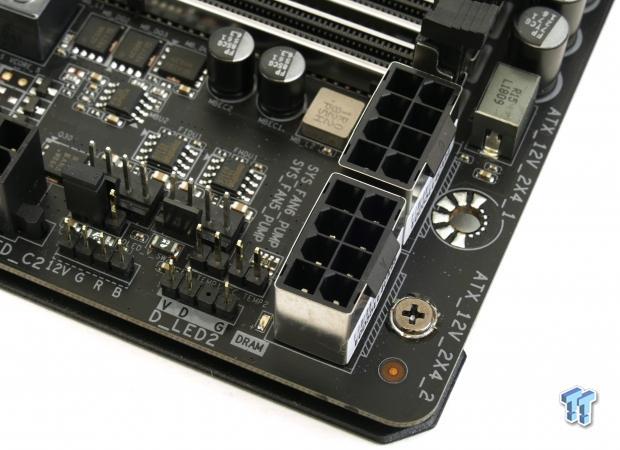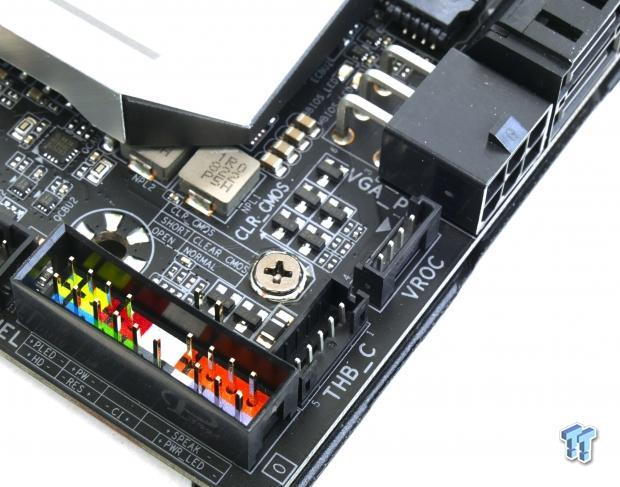 At the top right corner of the motherboard we have two CPU power connectors, an addressable RGB LED header with jumper for voltage selection, and an RGB LED header. There is a Thunderbolt 3 GPIO header and a VROC header just above the front panel headers.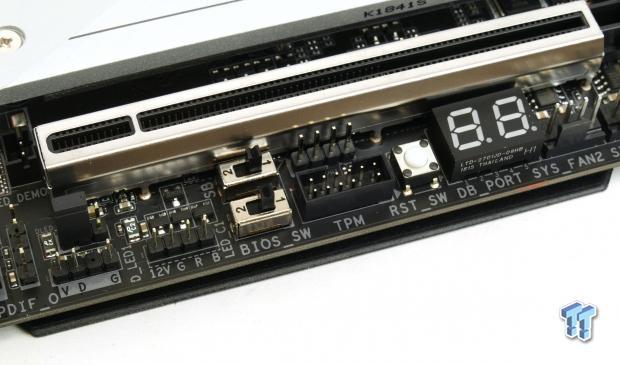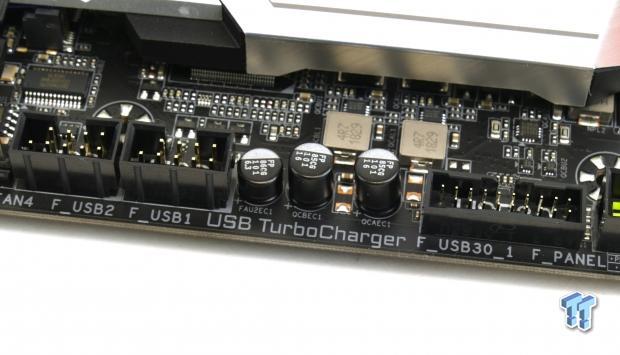 In the bottom middle of the motherboard we find another addressable RGB LED header with voltage selection jumper, an RGB LED header, a BIOS selector switch, a dual BIOS disable switch, a reset switch, and a POST code display. The USB 3.0 internal header at the bottom of the motherboard supports USB TurboCharge, which supports QuickCharge. There are two USB 2.0 internal headers at the bottom of the motherboard.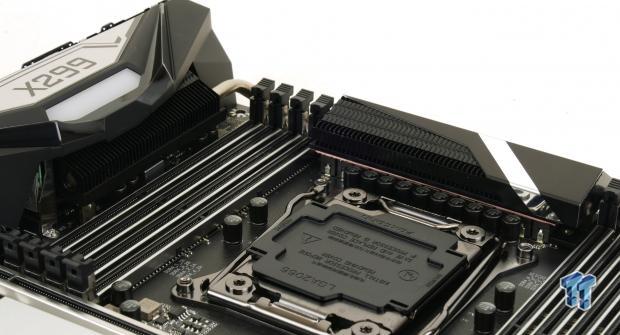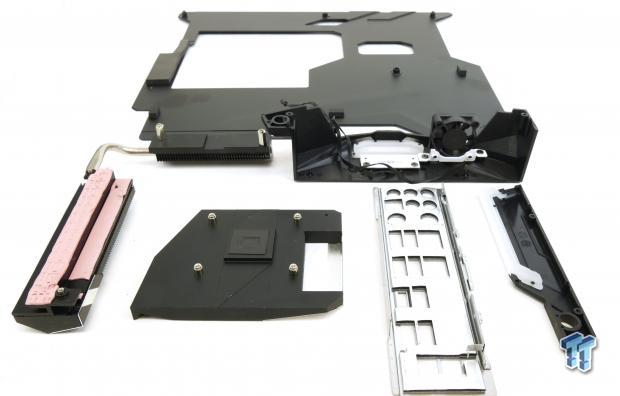 The VRM heat sink has one fan that cools down the actual copper fin heat sink, which is a big improvement over previous X299 motherboards. All the heat sinks are screwed into the motherboard.
GIGABYTE X299 Aorus Master Circuit Analysis
Circuit Analysis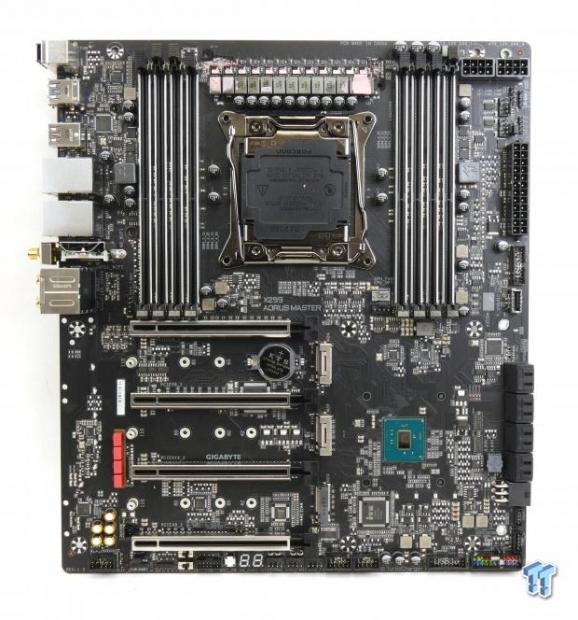 The motherboard looks great without heat sinks.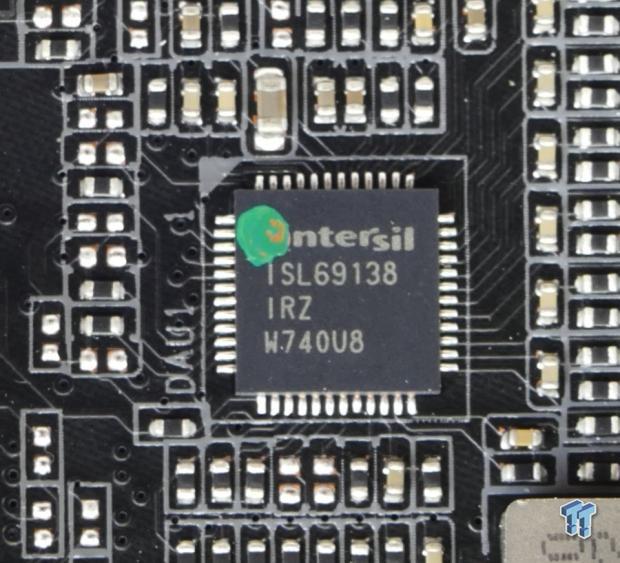 The VRM here is using the high quality Intersil Smart Power Stage ISL99227 60A integrated power stages with exposed top for better cooling. GIGABYTE also increased copper to 2oz on this motherboard to help with cooling. The power stages are in a 12 phase configuration and controlled by the new Intersil digital PWM, the ISL69138.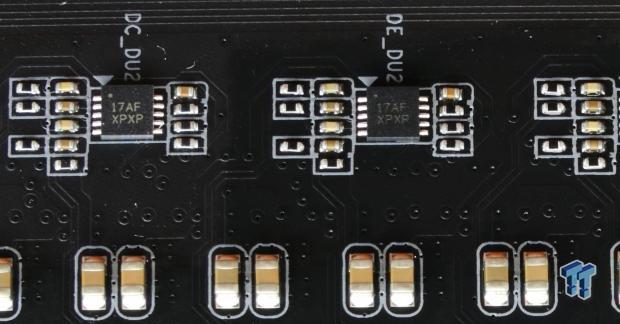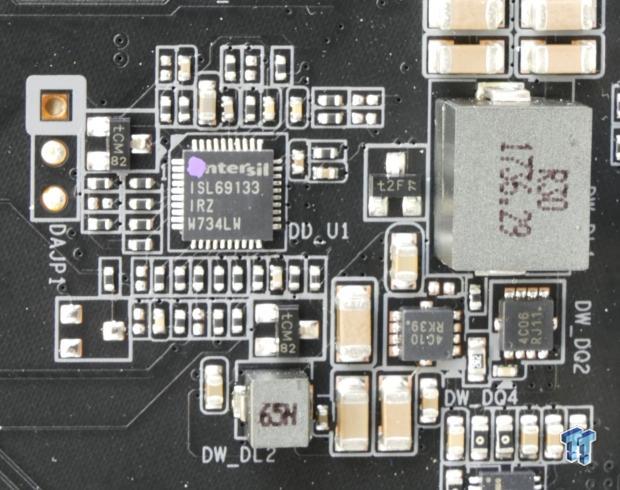 Six ISL6617 phase doublers are used to increase phase count to 12. Both the VCCSA and VCCIO get their power from small PowerPAKs from On Semiconductor, and they should be able to get the job done, and the VCCIO is controlled by the ISL69133.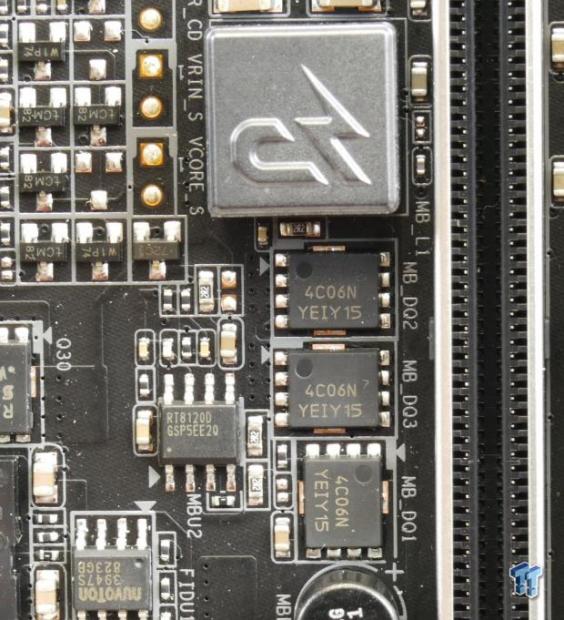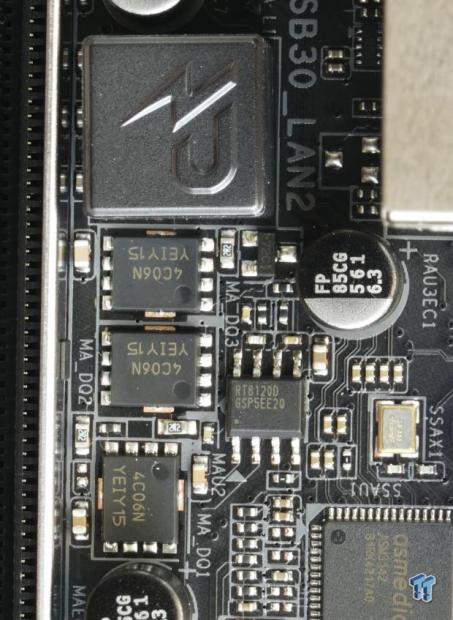 Each memory VRM uses the same On Semiconductor NTMFS4C06N for the two low-side MOSFETs and single high-side MOSFET, and they are each controlled by a Ricktek RT8120 PWM controller.
GIGABYTE X299 Aorus Master Circuit Analysis Continued
X299-Aorus Gaming 9 Circuit Analysis Continued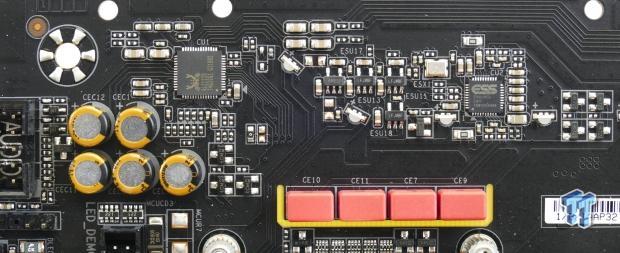 A Realtek ALC1220 audio codec is used in conjunction with an ESS Sabre 9218PQ, and WIMA film capacitors and Gold Series electrolytic audio capacitors.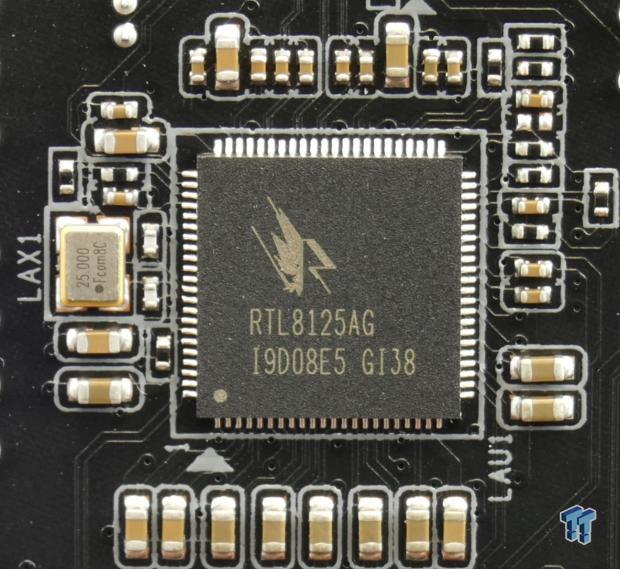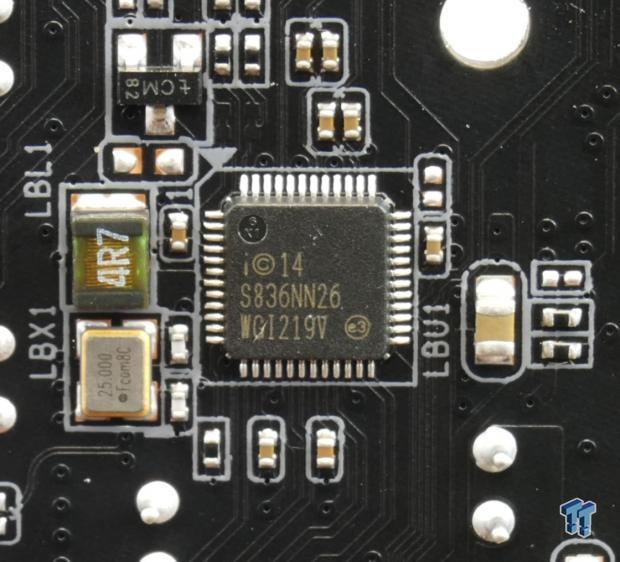 A 2.5Gbit NBase-T Realtek RTL8125 which offers up to 2.5Gbit, 1Gbit, and 100Mbit speeds, and they added an Intel i219v for Gbit LAN. An Intel Wireless AC 8265 rated up to 867Gbps with BT 4.2.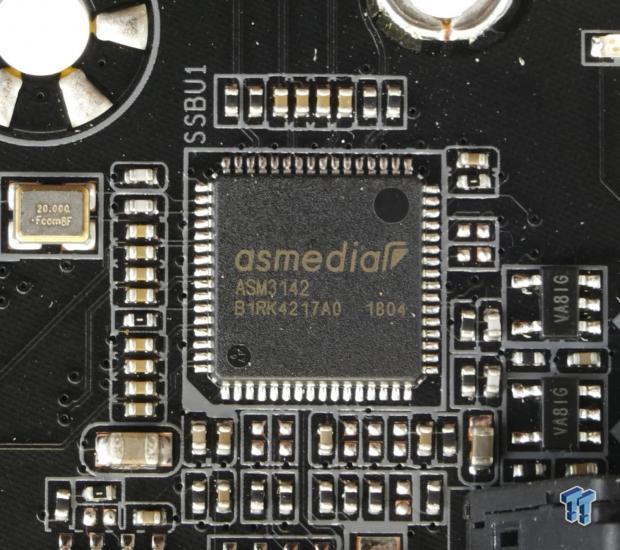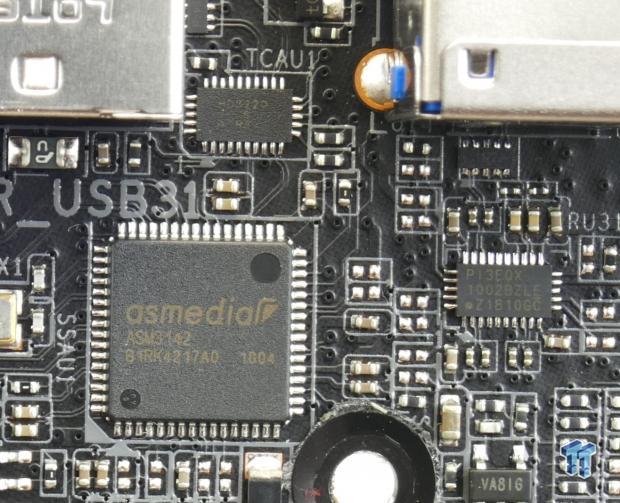 Rear USB 3.1 comes from an ASMedia ASM3142 along with a HD3220 switch that controls the type-C port and there is a single port re-driver, but we are unsure if it's used for the type-A or type-C rear USB 3.1 port. There is another ASM3142 used for the internal USB 3.1 header.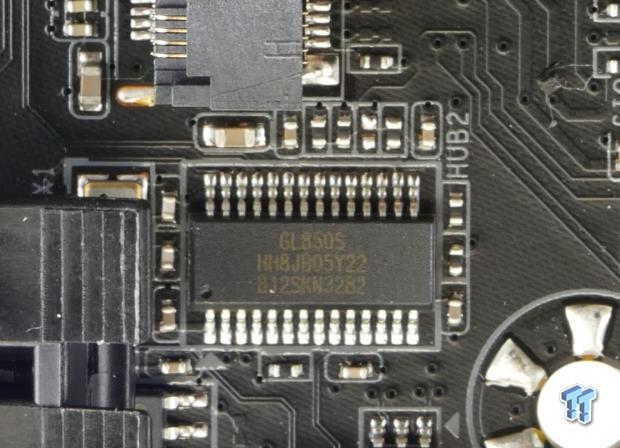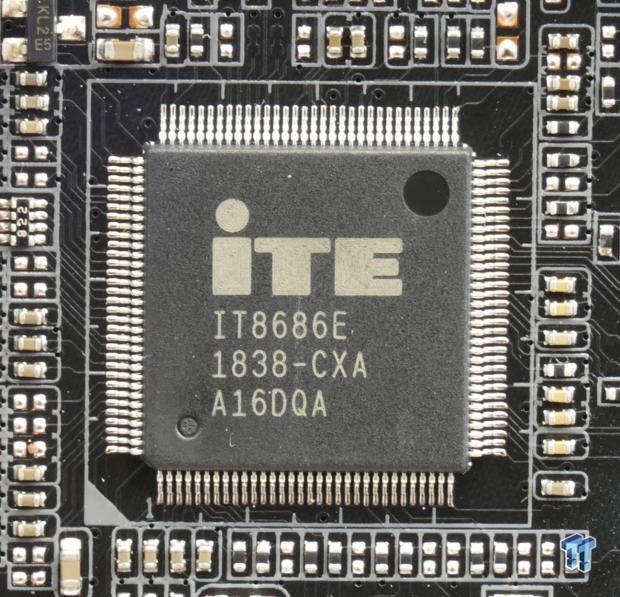 A GL850 USB 2.0 hub is used to increase internal USB 2.0 header count. The main SuperIO is the IT8686E.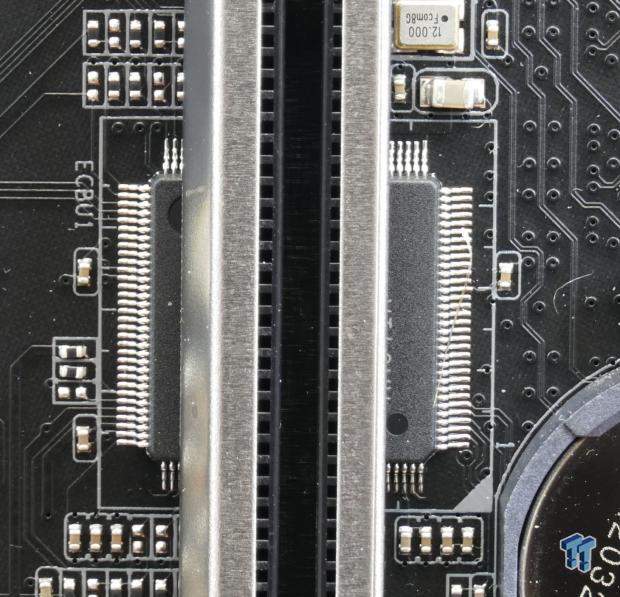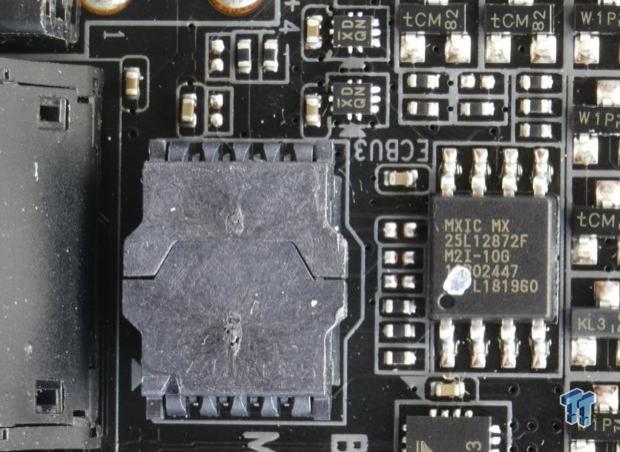 There is an IT8951 is hidden under a PCI-E slot, and it is responsible for QFlash Plus USB BIOS recovery. There are two BIOS ROMs on this motherboard, one of them is replaceable and sits in a DIP socket.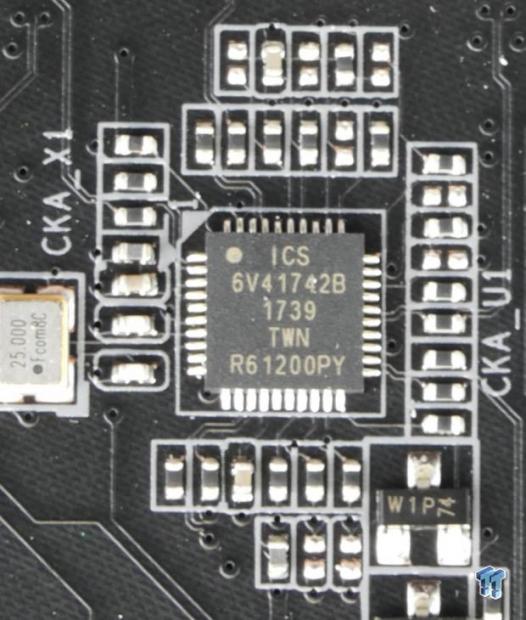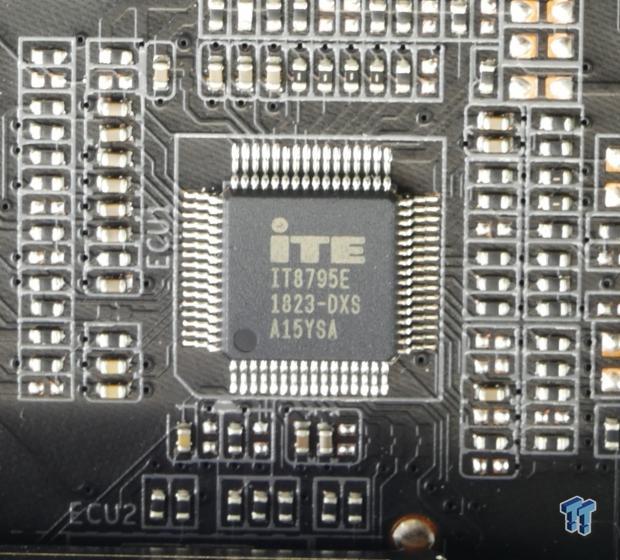 An ISC6V41742B is used as a clock generator to allow for BCLK overclocking. An IT8795E is used to expand fan control.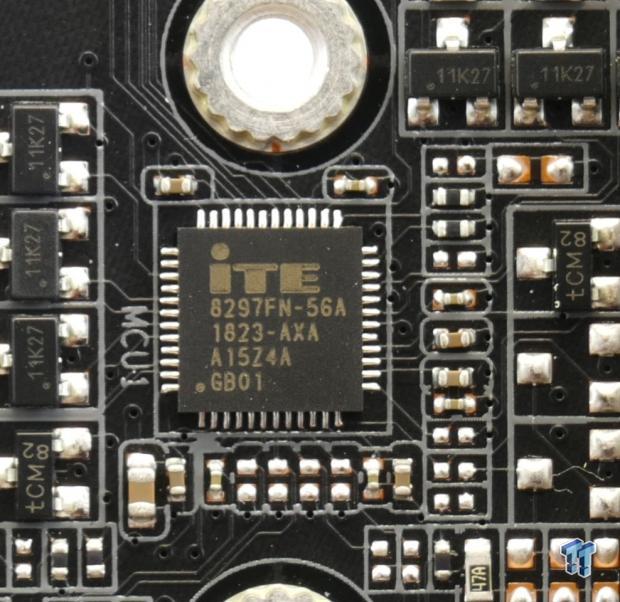 An IT8297FN is used for RGB LED control.
BIOS and Software
BIOS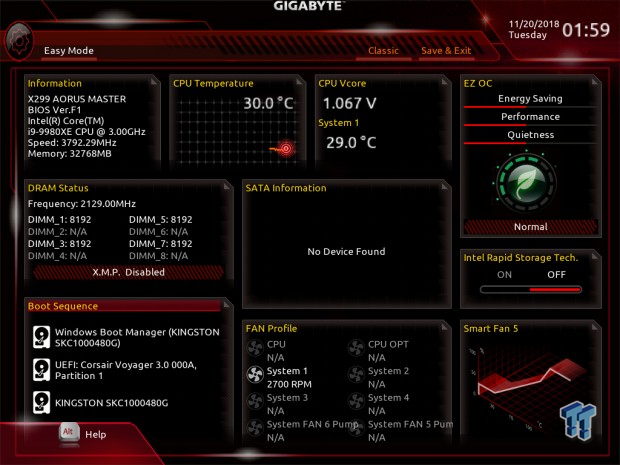 GIGABYTE's X299 UEFI on their X299 Aorus Master is much like that of GIGABYTE's other X299 motherboards. It has all the settings you need to configure your system for overclocking, and we spotted a new one for GIGABYTE. GIGABYTE had added in a PCI-E bifurication setting for all four slots, so you can have a x16 slot with x16 of PCI-E split into x4/x4/x4/x4 for four M.2 drives and RAID them with VROC. Fan control is also present in the form of a GUI.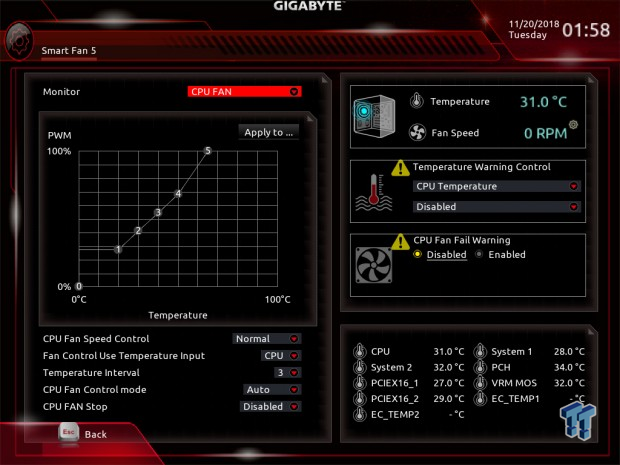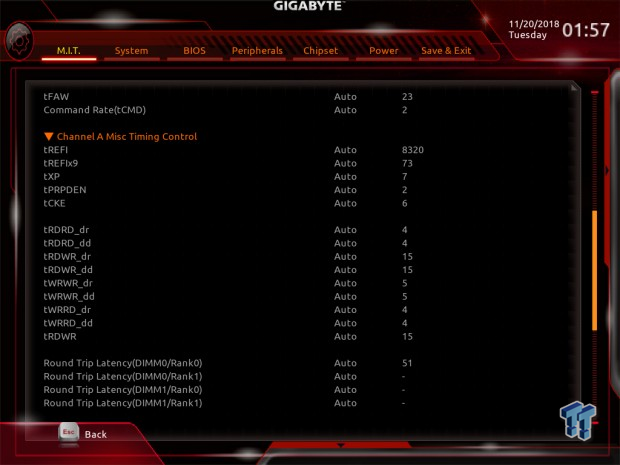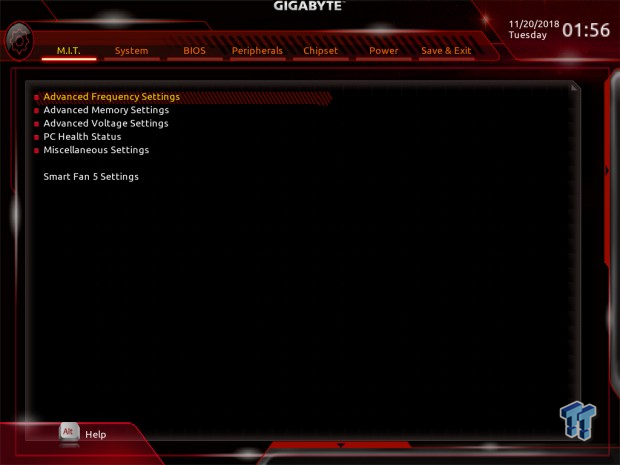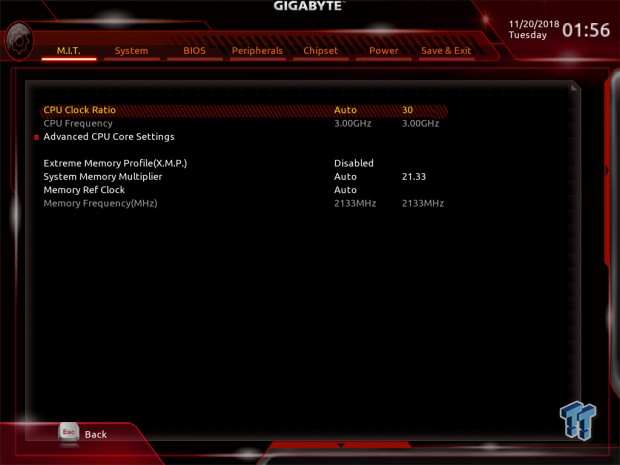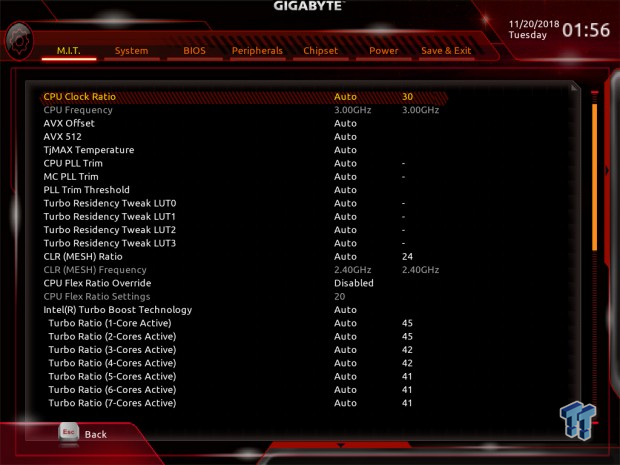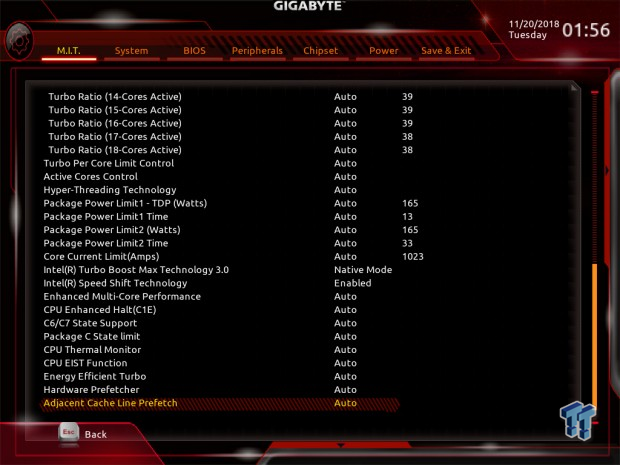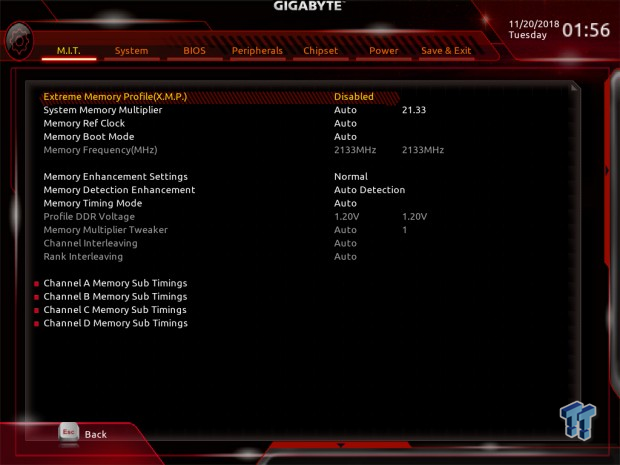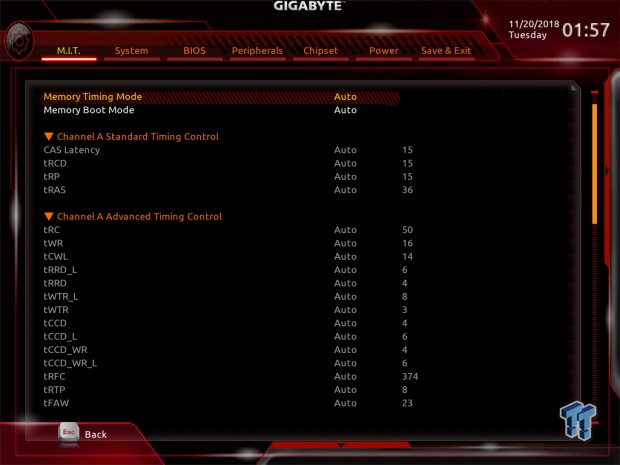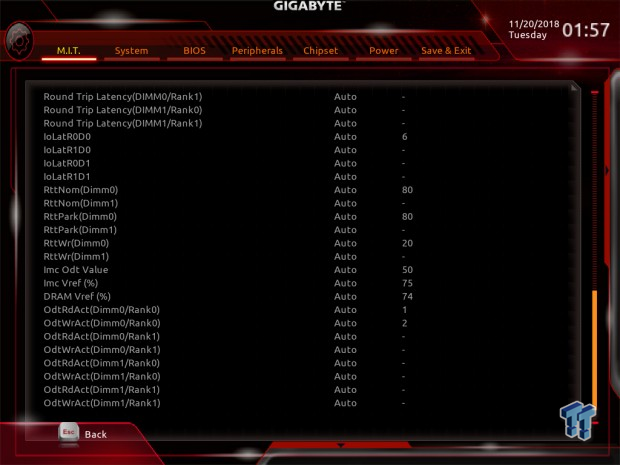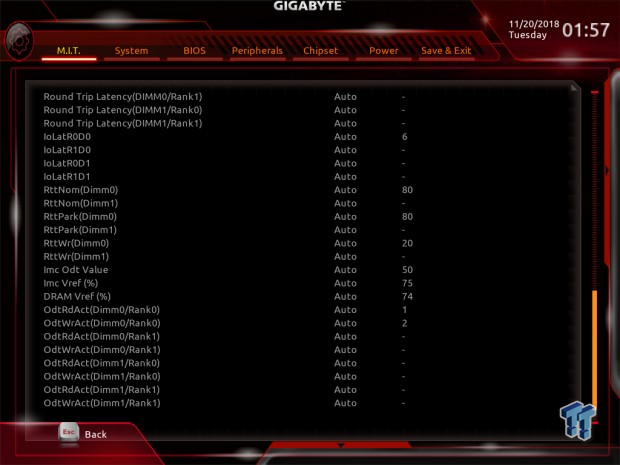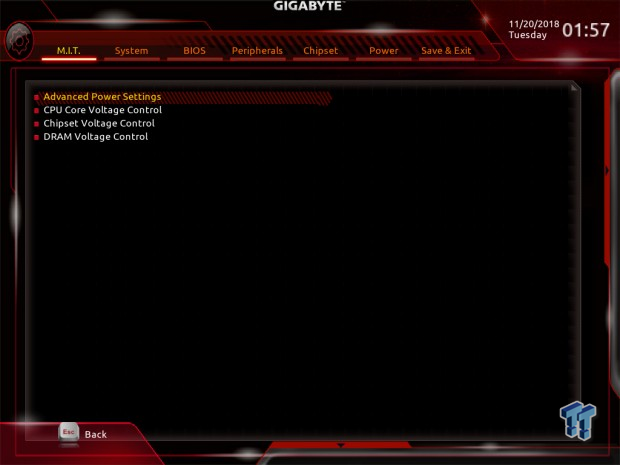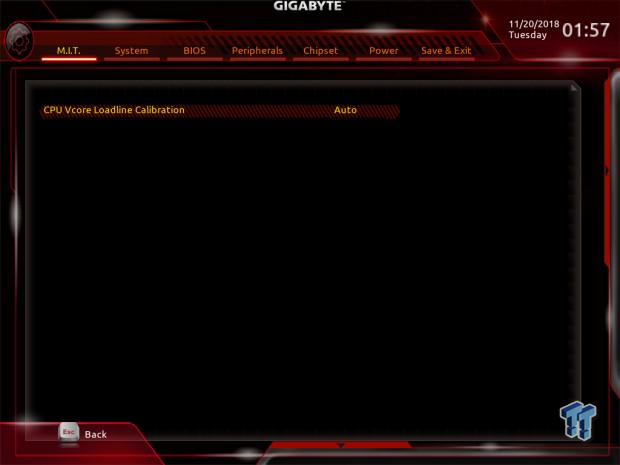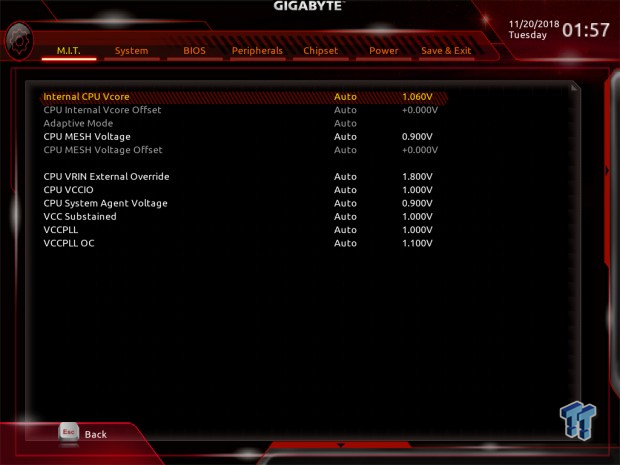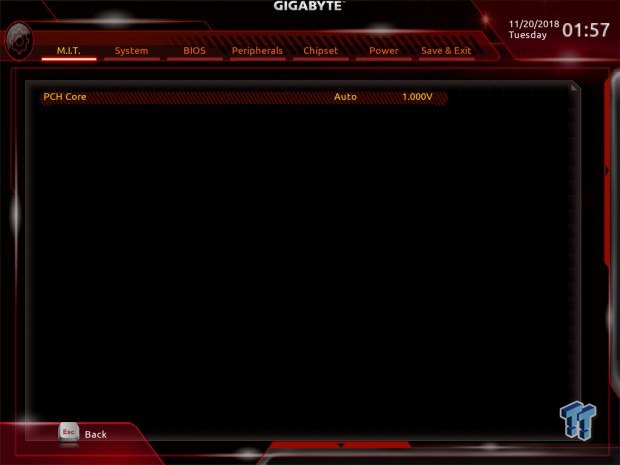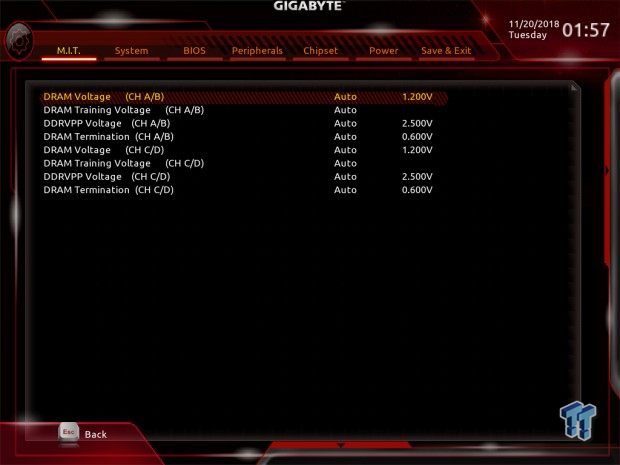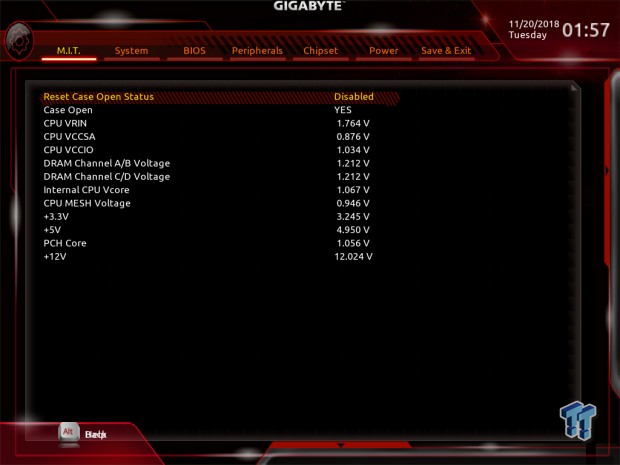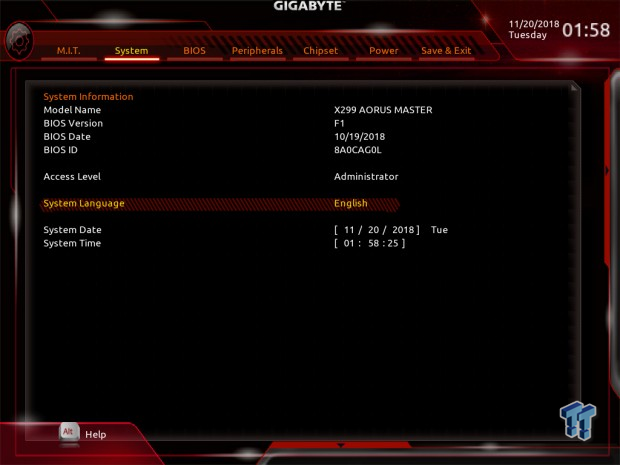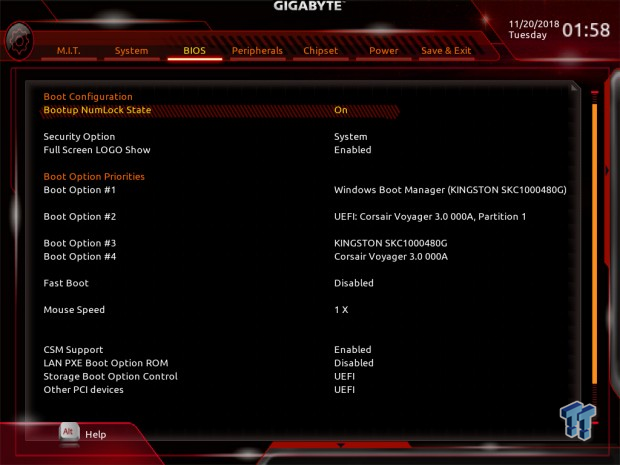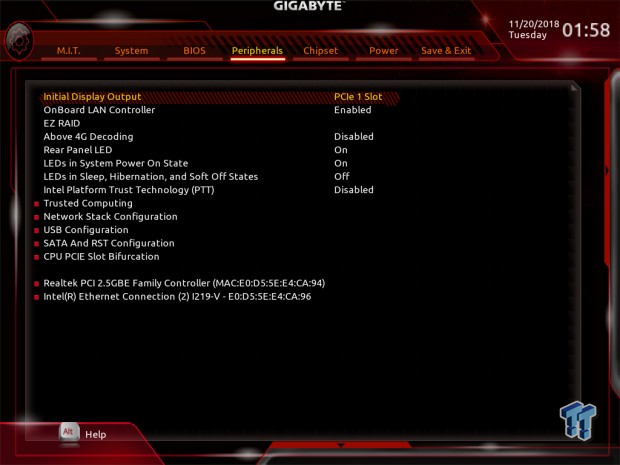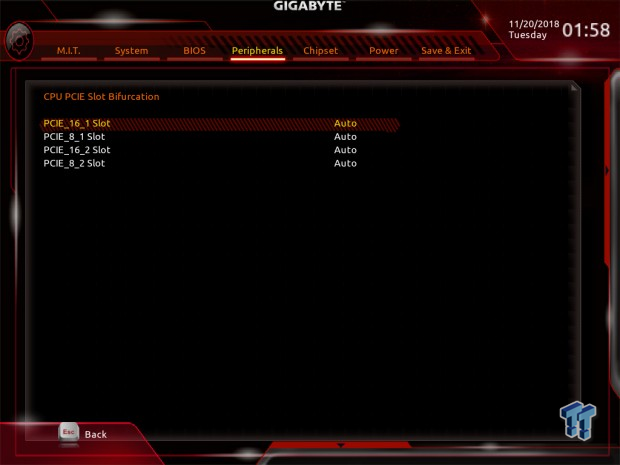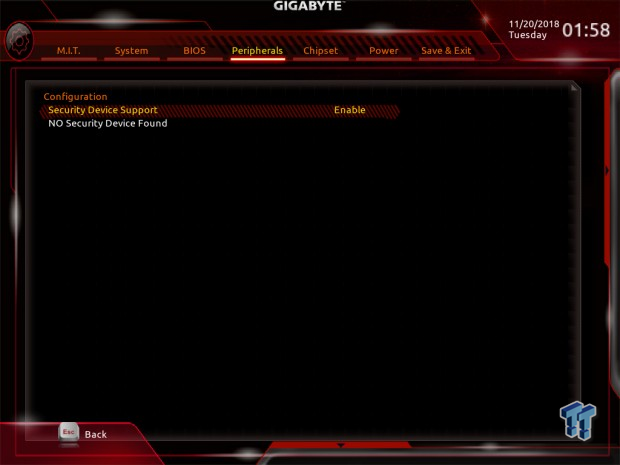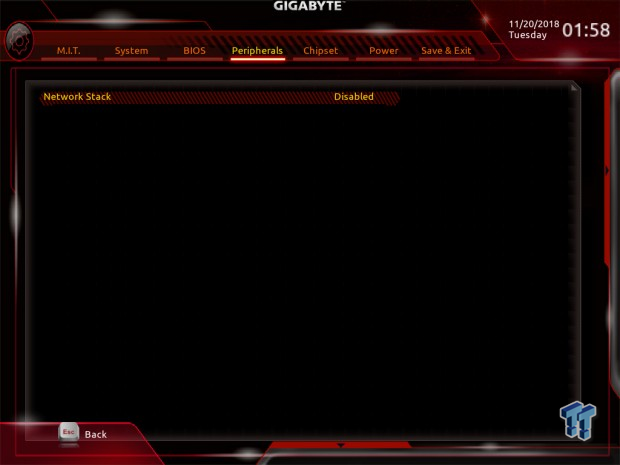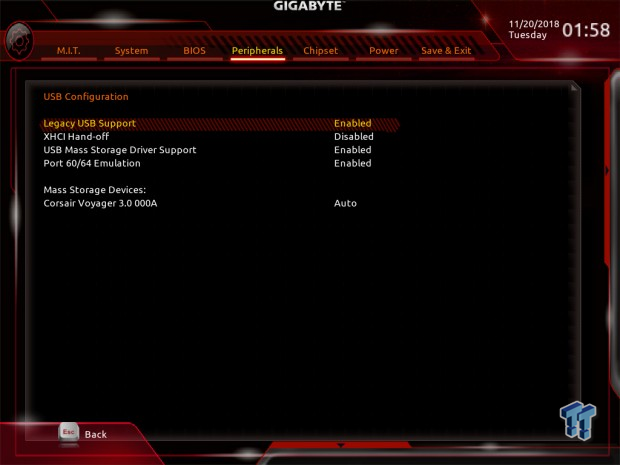 Software
Software includes GIGABYTE APP Center, 3D OSD, @BIOS, AutoGreen, Cloud Station, EasyTune, Easy RAID, Fast Boot, Game Boost, Platform Power Management, RGB Fusion, Smart Backup, Smart Keyboard, Smart TimeLock, Smart HUD, Smart Survey, System Information Viewer, USB Blocker, and USB TurboCharger.
Test System Setup
Steven's Motherboard Test System Specifications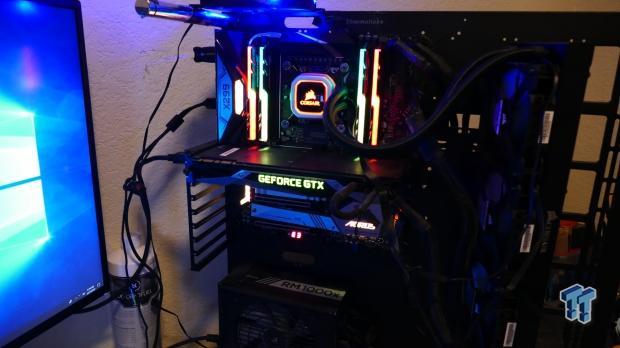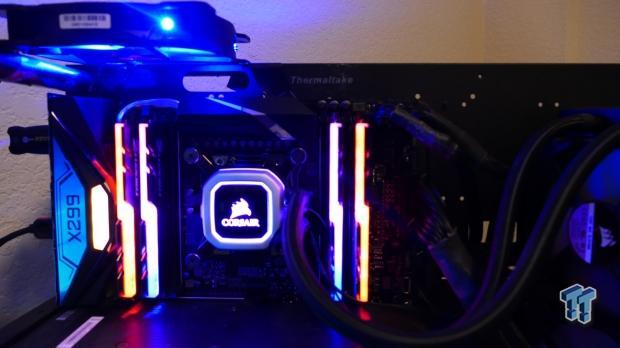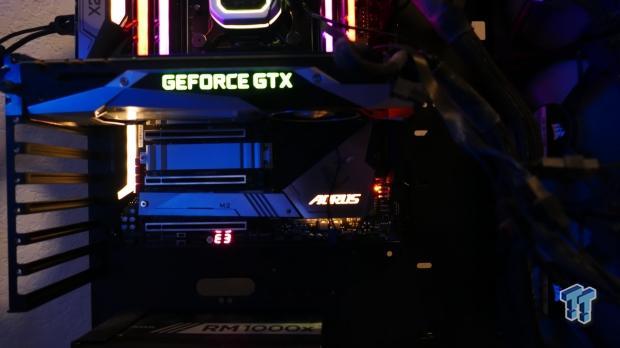 Here we can see the RGB LEDs built into the motherboard are a bit basic, but they do provide some accent lighting.
Overclocking
Overclocking Results
CPU Overclocking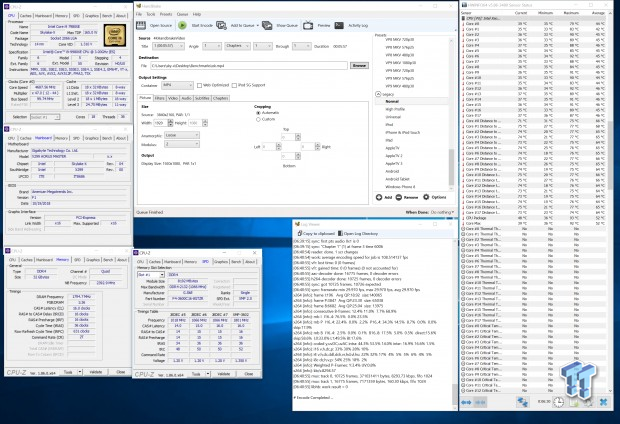 Right now we were able to hit 4.7GHz on our motherboard with 1.31v VCore and 2.1v input voltage with LLC set to Turbo. XMP was enabled and we got our kit up to 3600MHz with ease. We did not use an offset for AVX, and we can see that Handbrake was AVX stable for this run.
CPU, Memory, and System Benchmarks
CINEBENCH R15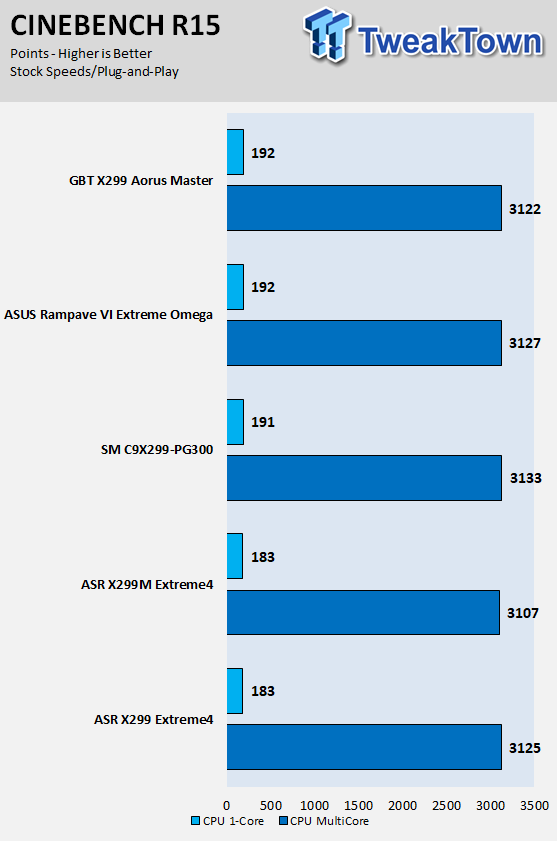 wPrime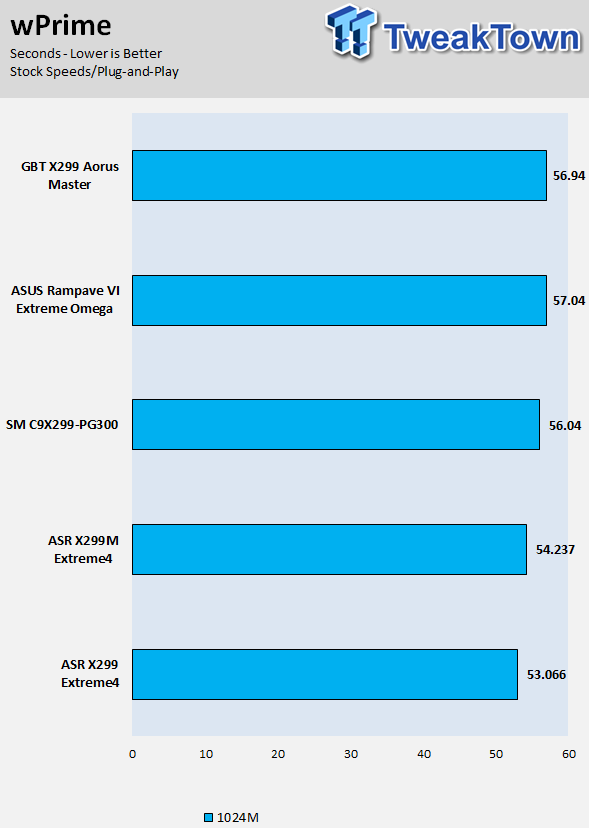 AIDA64 FPU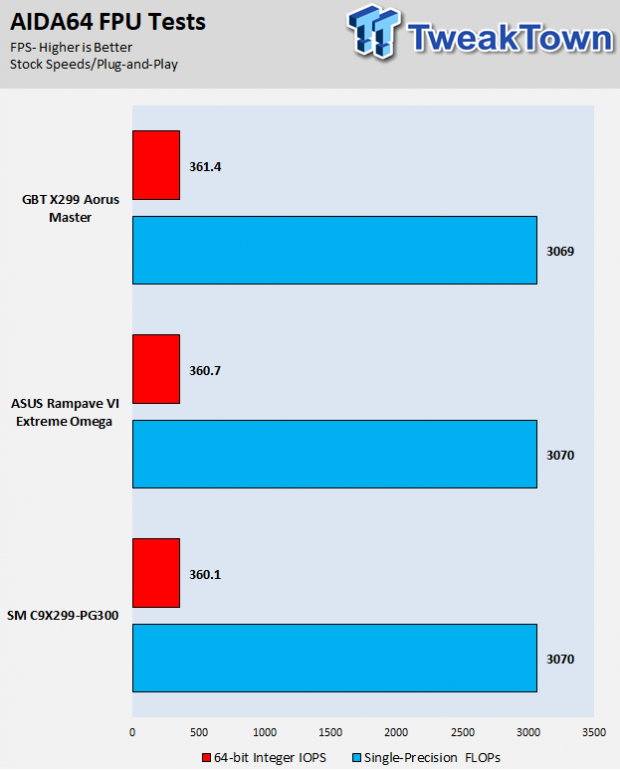 AIDA64 Memory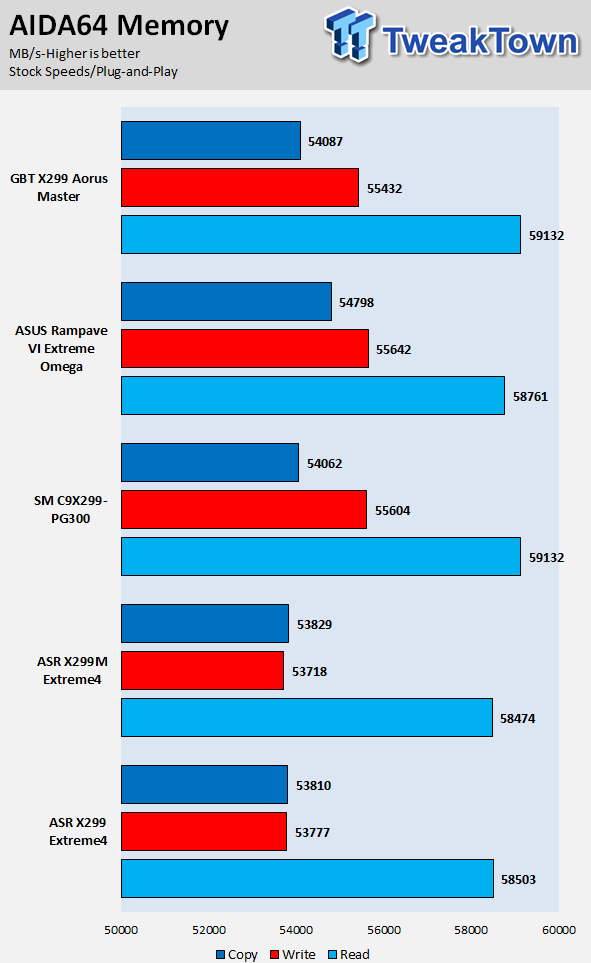 ScienceMark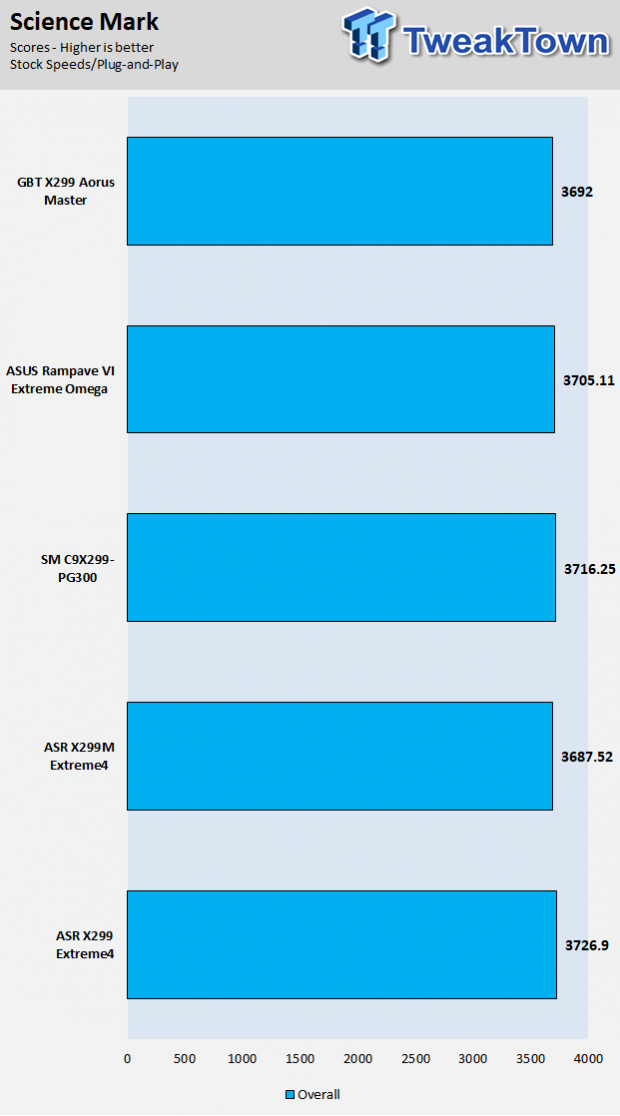 SuperPi 32M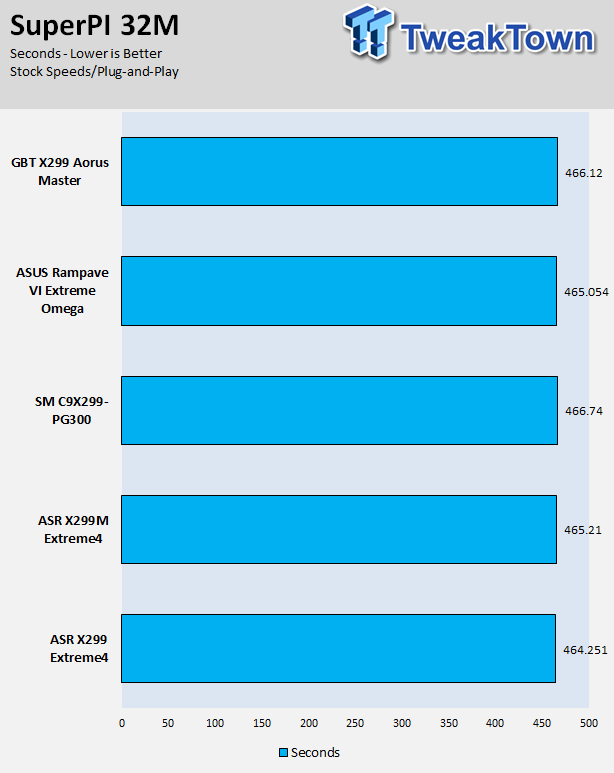 3DMark: Fire Strike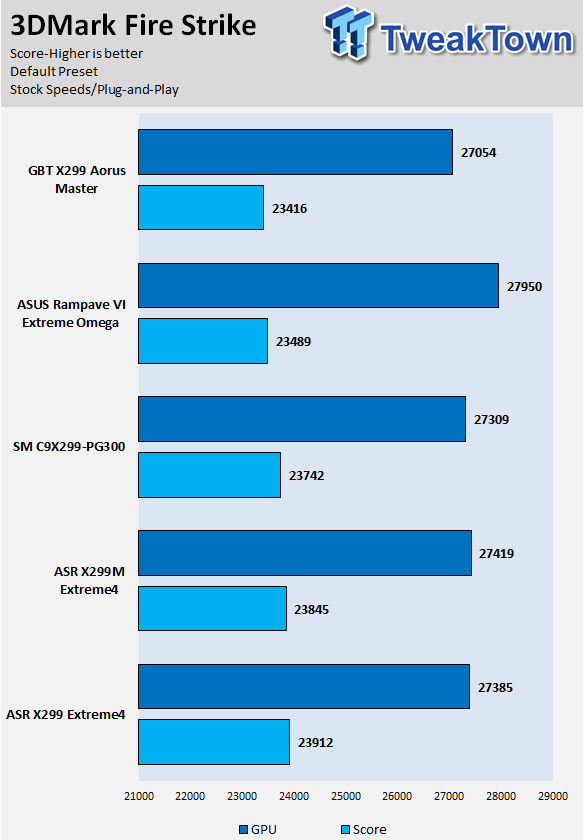 3DMark: Cloud Gate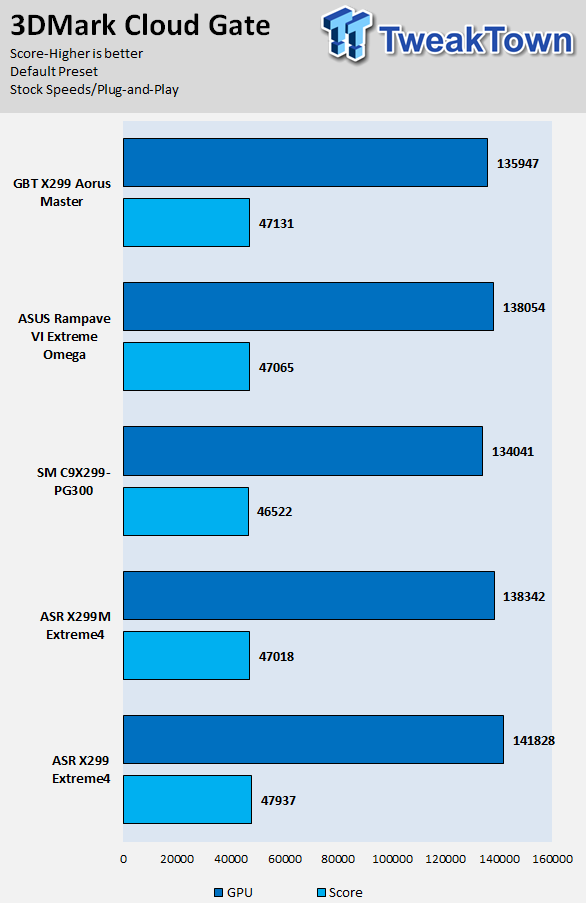 The GIGABYTE X299 Aorus Master offers some decent performance numbers, there isn't much performance difference between the motherboards in our charts.
System IO Benchmarks
CrystalDiskMark SATA6G: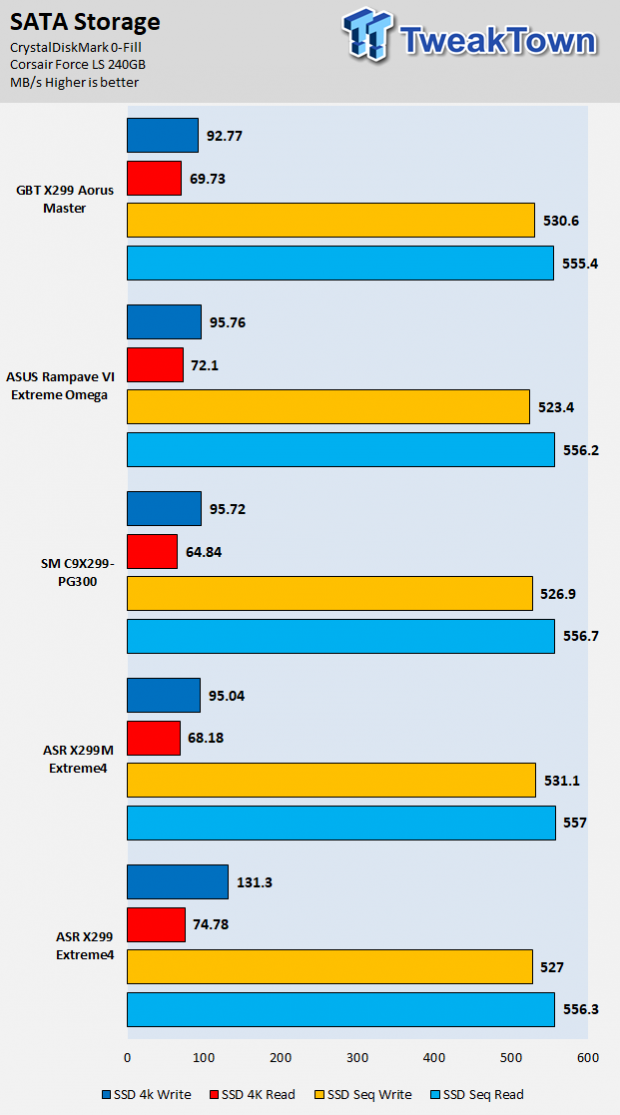 CrystalDiskMark M.2: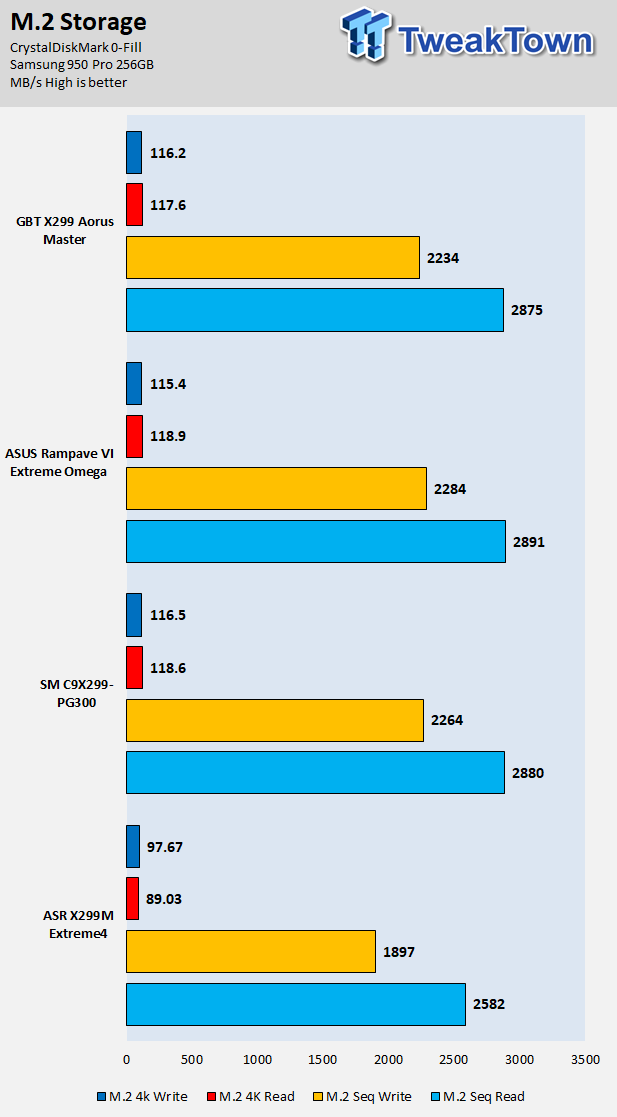 ixChariot Network Throughput: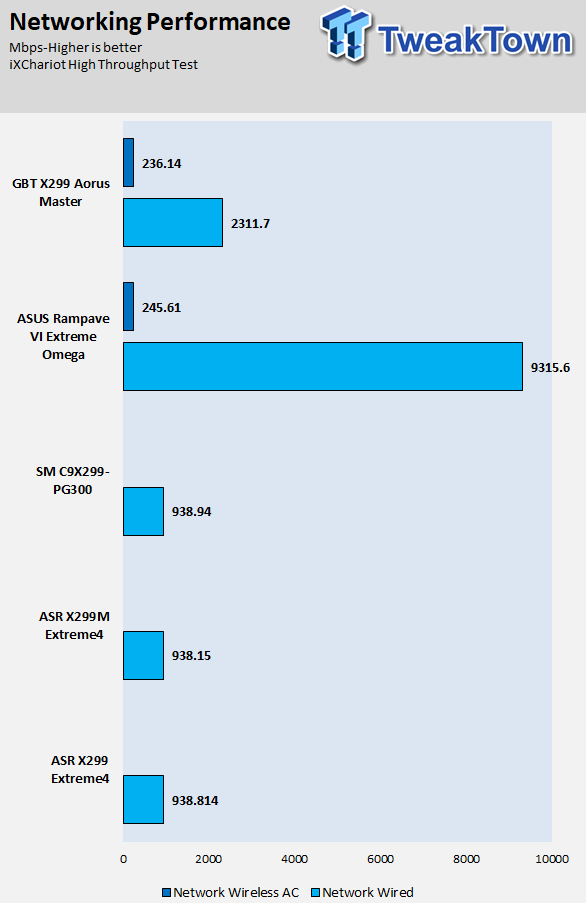 The X299 Aorus Master offers solid networking and storage performance.
Audio
Sound Judgment by Ear: Excellent, very clean implementation of the ALC1220. There are five ratings for audio: 1. Problems, 2. Okay, 3. Acceptable, 4. Very good, 5. Excellent
VRM and System Thermal Imaging and Power Consumption
System power is measured at the wall with an AC power meter.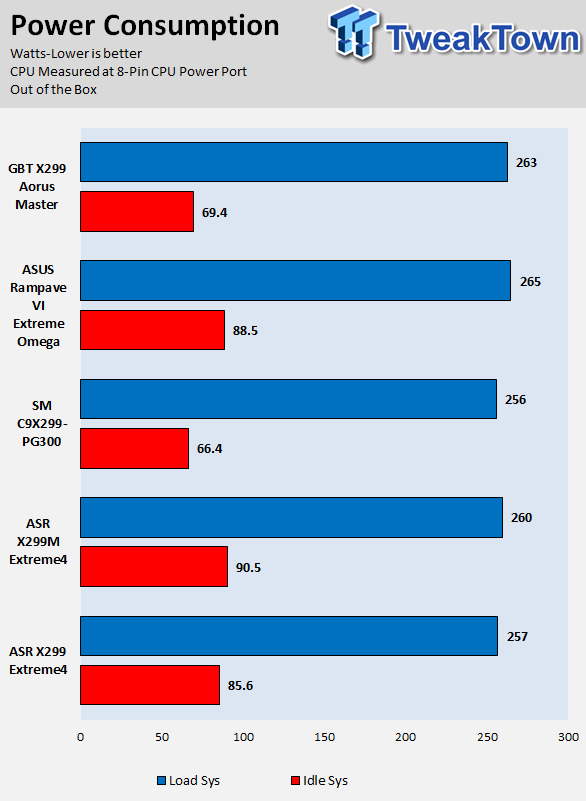 Note on Thermal Images: In the temperature section, we use our Seek thermal imaging camera to capture the surface temperatures of major components on the board. I look at the VRM and then all other things that light up the screen. If there is something to worry about, then I will state it. Otherwise, I will just show the hotter running parts of the board for fun. Unless some component is over 80-90C, then there isn't anything to worry about.
All systems will act differently, so I will look for commonalities, such as how far from the VRM the heat spreads through the PCB and the difference in temperature between the front side and backside of the PCB. Keep in mind, the majority of the heat from the VRM goes into the PCB as it is a giant soldered on copper heat sink. A larger difference in temperature between the back and front of the PCB points towards a more effective heat sink.
Thermal Testing at Stock Speeds:
The image on the left is always at idle, and the image on the right is at load. During ALL TESTS, fans above the VRM that cool the CPU cooler's (Corsair H110i) radiator are turned on to high (12v).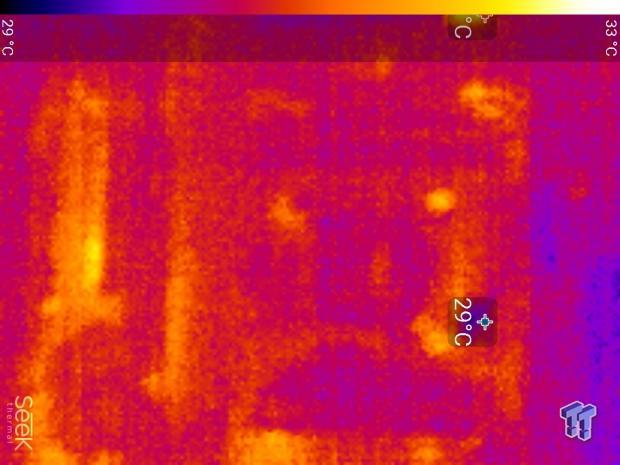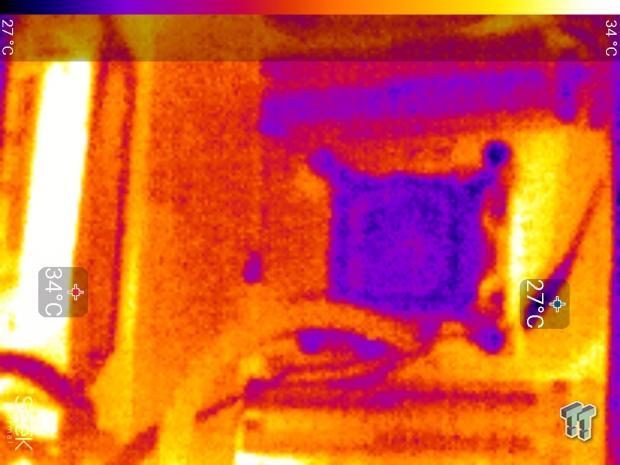 Full frontal.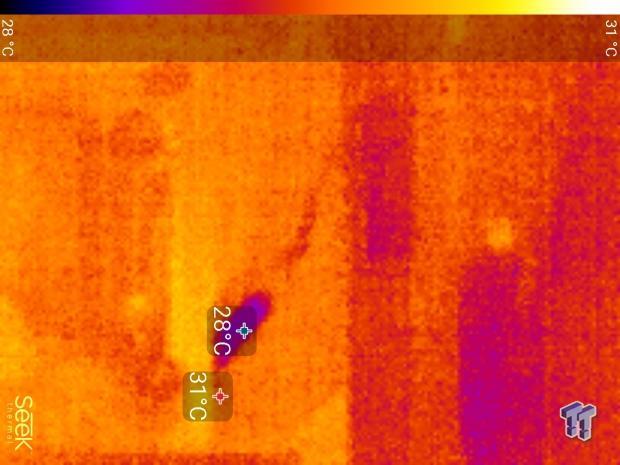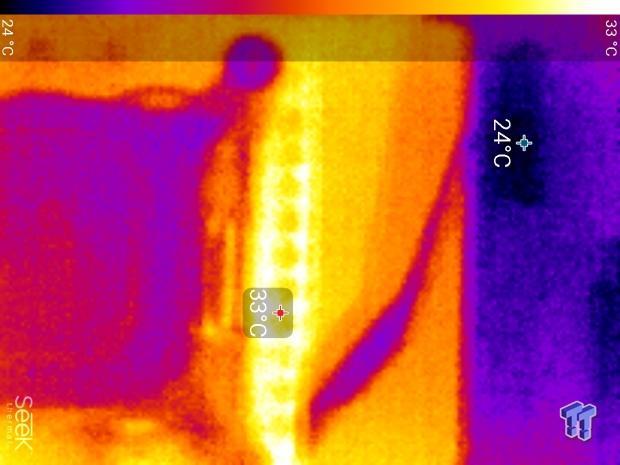 Up-close of the front of the VRM.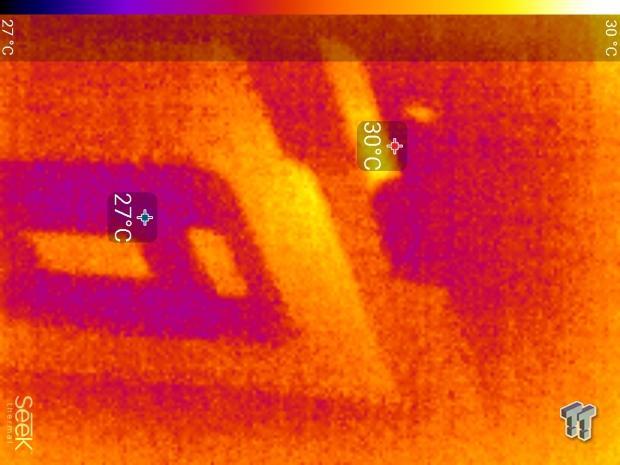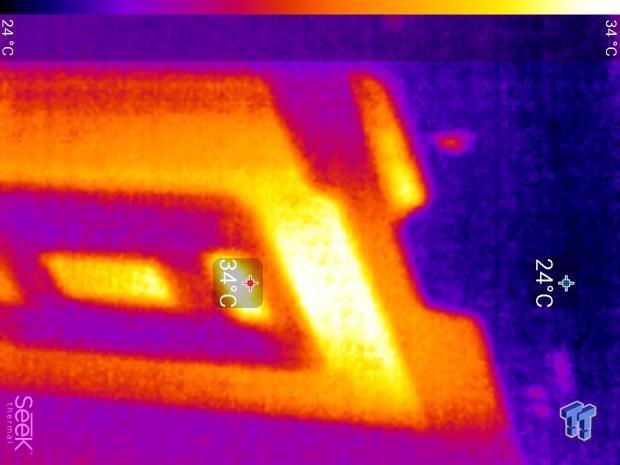 Up-close of the back of the VRM.
Overall VRM thermal performance is excellent, but remember these are results at stock settings, not a 4.7GHz 9980XE. We see solid thermal distribution, and the active fan and heat sinks do seem to help cool the VRM and PCB. We see a 2C increase on the front and a 4C increase on the rear of the PCB. Overall excellent, but do keep air flow over the VRM area in your mind if heavily overclocking the 9980XE.
What's Hot, What's Not & Final Thoughts
What's Hot
Intersil Smart Power Stages: Interstil's new Smart Power Stages are rated up to 60A each and offer an exposed top, so cooling is much more efficient. We are seeing motherboard vendors do two types of things on their latest X299 and X399 motherboards; their they have moved down the socket and RAM DIMMs and as a result move the PCI-E layout down or they have upgraded parts. In some cases they have done both. In this case we get a combonation that works quite well because it's not only 12x60A power stages, it's also got a very good cooling solution for this price point.
Upgraded Audio and LAN: We find our typically 1Gbit Intel NIC, but we also find a 2.5Gbit Realtek controller, which is a nice add-on. While this price point isn't the most expensive for the X299 chipset, GIGABYTE did add in an additional DAC, the ES9218PQ, which also has an integrated headphone amplifier.
Value: As the second most expensive GIGABYTE X299 motherboard, the Master aims to offer a balance between price and performance, and we like the price ofthis motherboard. It has the same VRM as the Designare EX from GIGABYTE, and that motherboard is $150 more expensive. It has all the latest features like USB 3.1 (1Gbps) and USB BIOS recovery as well as RGB LED strip support.
What's Not
Depends on what you are looking at: Do you want a bunch of integrated RGB LEDs in your motherboard? Well, this one is a bit more basic in that regard, with just a few in discrete places. Do you want the latest Wireless AC and BT 5.0 technology? Well this one does offer the previous generation controller rated up to 867Mbps and BT 4.2. Do you need more than 7 fan headers? Well, you might need to get a fan controller to support more.
Final Thoughts
GIGABYTE's X299 Aorus Master has replaced the Gaming 7 series of motherboards for the X299 chipset from GIGABYTE, and comes in with a better VRM and roughly the same feature set but a few less RGB LEDs for around the same price.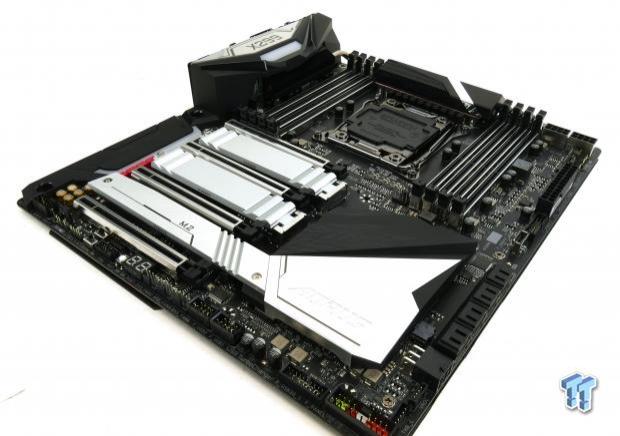 It's aimed to provide enough OC headroom to handle an 18 core CPU, while not breaking the bank leaving room for more RAM and storage.
| | |
| --- | --- |
| Performance | 90% |
| Quality | 96% |
| Features | 91% |
| Value | 93% |
| Overall | 93% |
The Bottom Line
If you are looking for a X299 motherboard with a solid VRM and a decent feature set, give the X299 Aorus Master a look.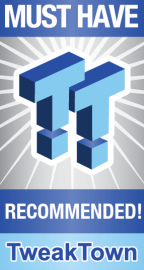 We openly invite the companies who provide us with review samples / who are mentioned or discussed to express their opinion. If any company representative wishes to respond, we will publish the response here. Please contact us if you wish to respond.