TweakTown's Rating: 94%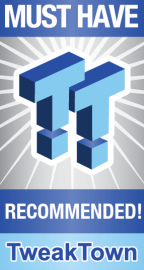 The Bottom Line
Supermicro's C9X299-PG300 is a robust motherboard with an extremely high-quality VRM, a 10Gbit NIC, and sleek hardcore durable aesthetics to match.
Introduction, Specifications, and Pricing
Supermicro has tossed its hat into the X299 ring with the introduction of their C9X299-PG300, a motherboard designed to utilize a VRM that could easily handle a 300W TDP.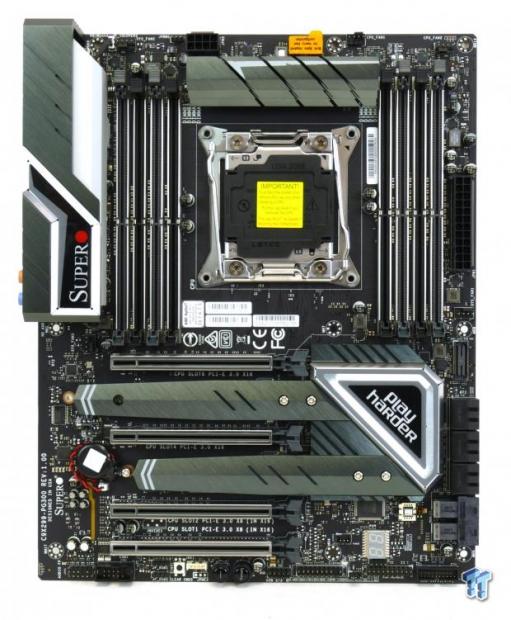 Now, whether or not you take that to mean Intel is going to release a 300W CPU, or if they are saying it is designed to handle an overclocked Skylake-X CPU, the VRM could handle 300W if you theoretically needed it to. Now, the motherboard also carries some more unique features such as a 10Gbit NIC, and it has a few interesting features. Let's take a look at this Supermicro X299 motherboard.
Specifications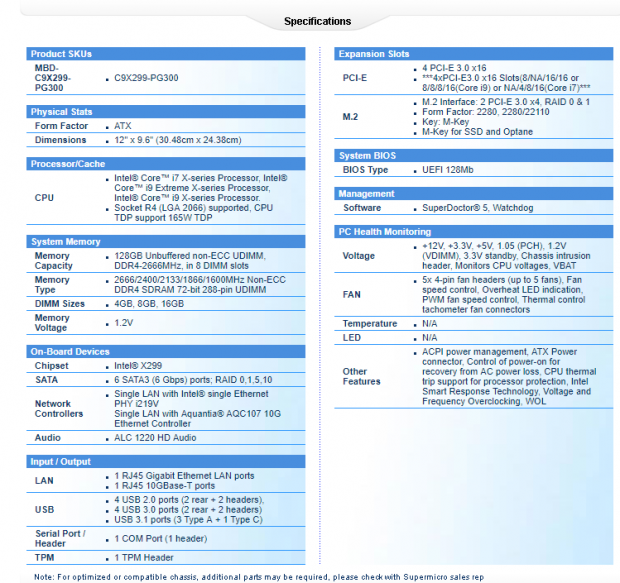 The C9X299-PG300 offers a lot of features including 10Gbit NIC, dual M.2, dual U.2, SATA6Gb/s, USB 3.1, USB 3.0, and even RGB support.
Pricing
The C9X299-PG300 costs $379.99.
Packaging and C9X299-PG300 Overview
Packaging and Overview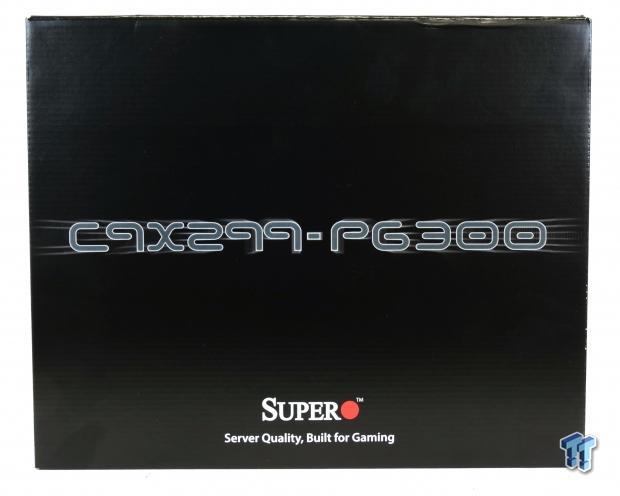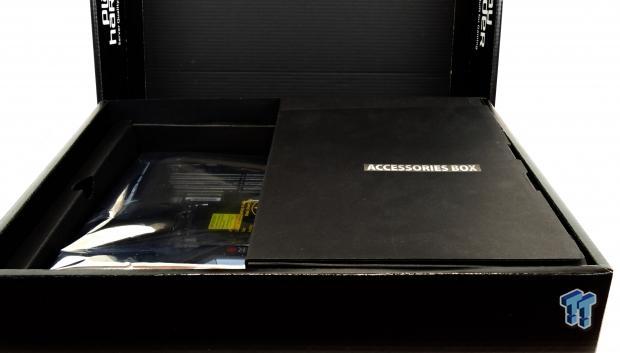 The box is pretty normal, but the packaging is a bit different from what SuperO has done in the past, you get all accessories neatly packaged in an accessory box.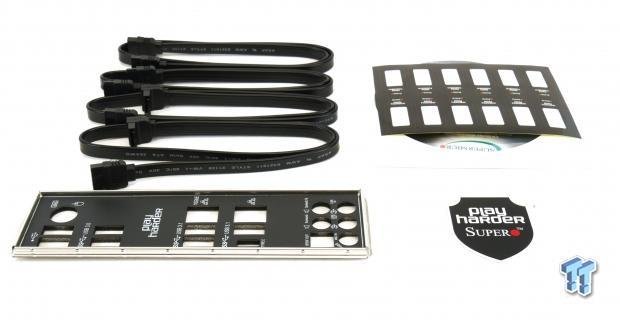 The accessory package includes four SATA6Gb/s cables, cable stickers, quick start guide, IO shield, driver DVD, and a SuperO case badge.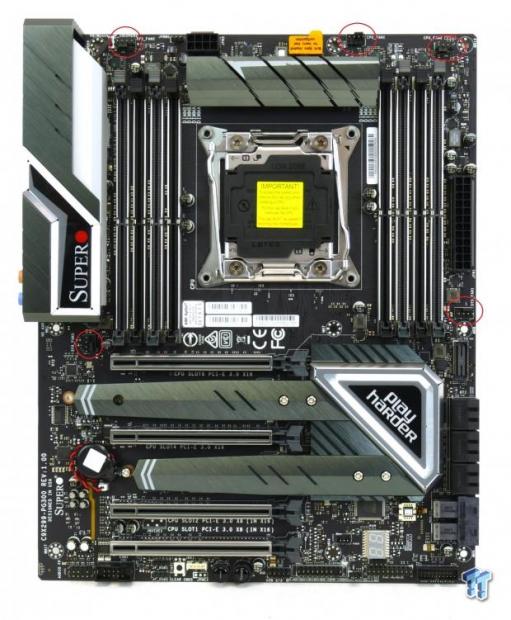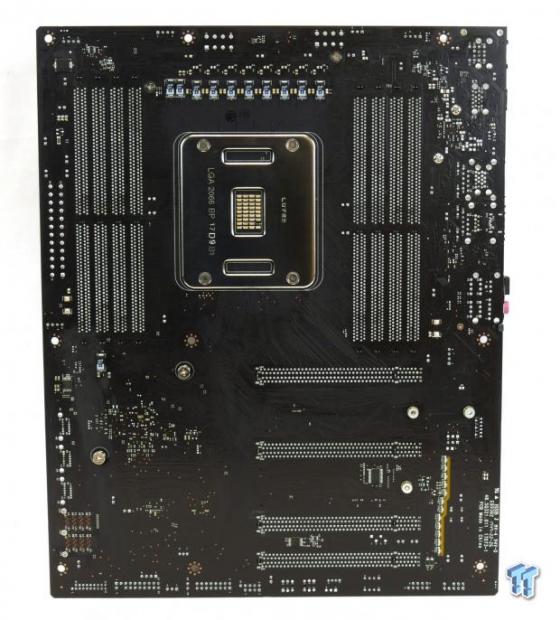 Supermicro put five fan headers on the C9X299-PG300, all of them are PWM headers that support up to 2.5A of current. You can control these headers through the BIOS or through SuperO Booster. We see that the motherboard has a unique heavy-duty aesthetic. For starters, everything is metal; there is no plastic on this motherboard. SuperO didn't cheap out when it comes to the shroud over the rear IO; it's solid metal. Under it is a silver heat sink that cools the 10Gbit NIC. The CPU has a single metal heat sink, and the PCH heat sink attaches to two M.2 heat sinks. The back of the motherboard features some POSCAP tantalum capacitors for the CPU VRM and some minor other ICs.

The rear IO panel features PS/2 keyboard/mouse, two USB 3.0 ports, three type-A USB 3.1 ports, a USB 3.1 type-C port, 1 Gbit NIC, 10 Gbit NIC, and 7.1 audio outputs with S/PDIF out.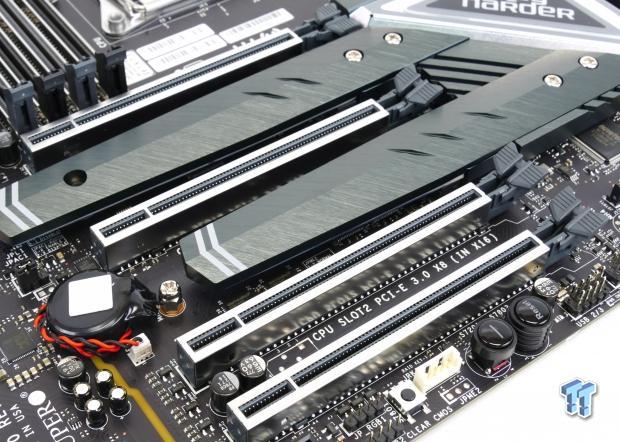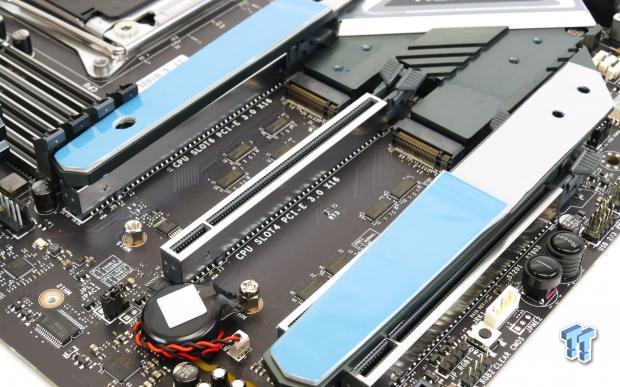 The PCI-E allotment is as such; with a 44-lane CPU it's x16/x16/x0/x8 or x16/x8/x8/x8, and with a 28-lane CPU it will be x16/x8/x4/x0. Both M.2 slots have heat sinks that are screwed into the PCH heat sink; they are substantial. Both M.2 slots are x4 PCI-E 3.0, and according to the website, they support RAID0 and 1. We aren't sure on what switches with what, but we will update this article when we find out. Right now, the motherboard has six quick switches that shouldn't exist, and the bottom two slots shouldn't have any switches attached to them, but both have them, so we assume PCI-E from the CPU is switched between one of the M.2 slots and the slots and one of the U.2 ports and the slots.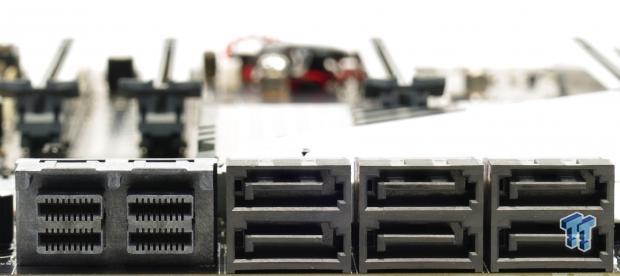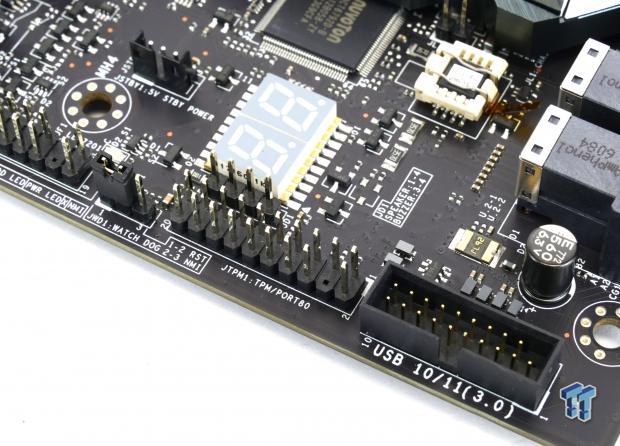 The motherboard offers up six SATA6Gb/s ports and two U.2 connectors. At the bottom-right of the motherboard, we find a USB 3.0 internal header, TPM header, and a POST code display.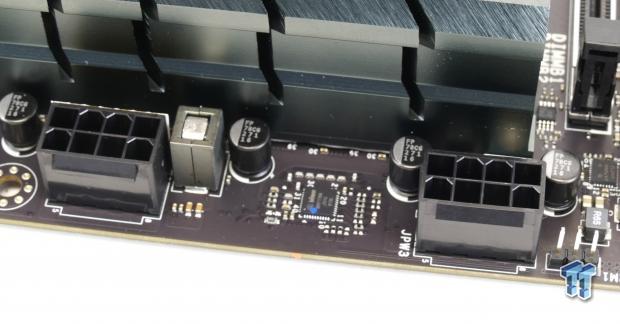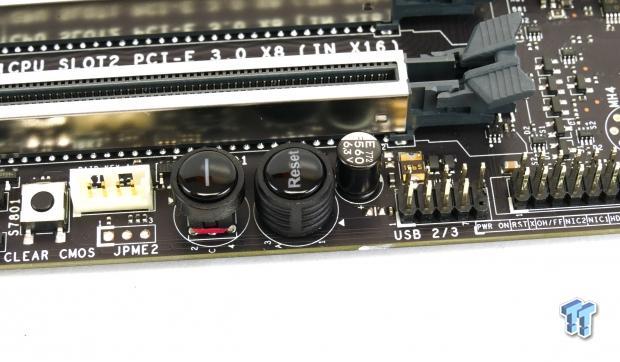 The VRM also gets two 8-pin power connectors. At the bottom of the motherboard, we find a USB 2.0 internal header, power and reset buttons and a clear CMOS button near the VROC key port.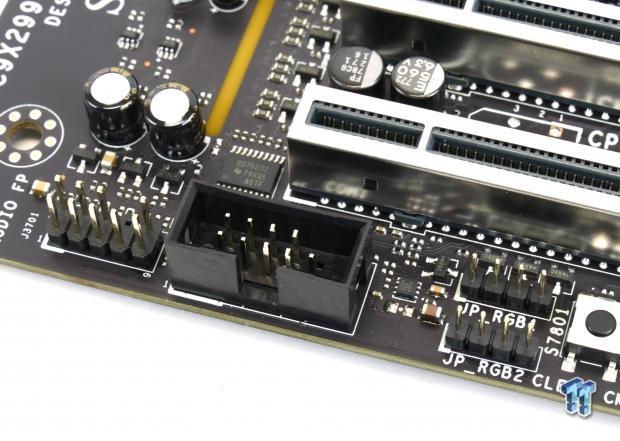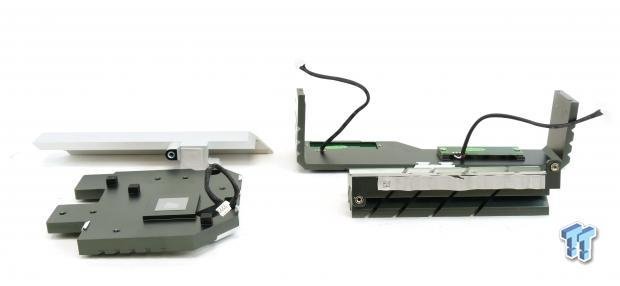 SuperO has added two RGB LED headers on the motherboard located right next to the COM header. The heat sinks all make solid contact, and it turns out the rear IO cover has RGBs integrated inside.
Supermicro C9X299-PG300 Circuit Analysis
Circuit Analysis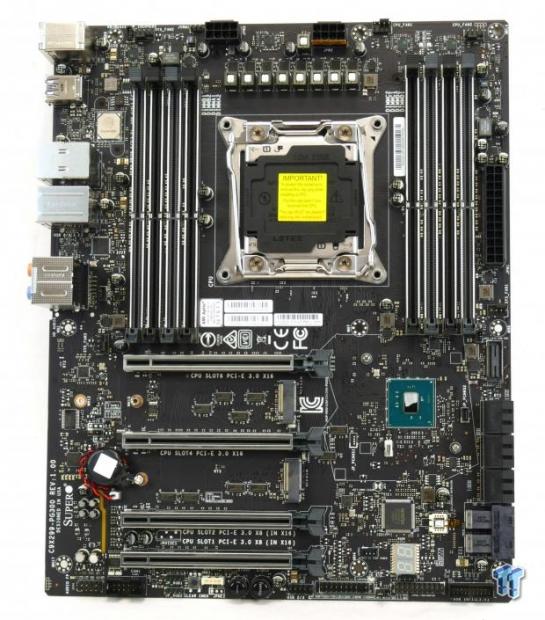 Let's see what the motherboard is hiding under its heat sinks.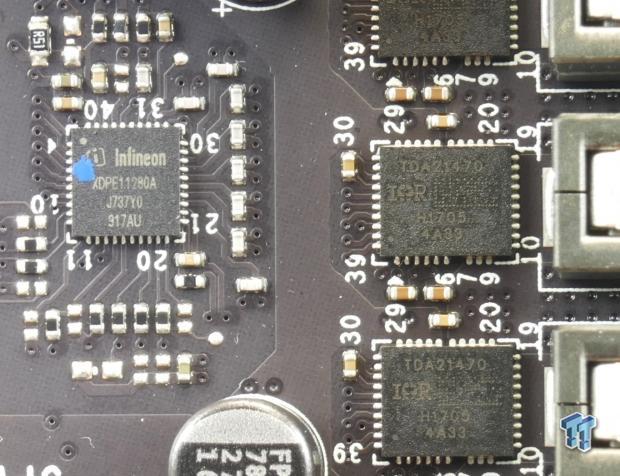 Check out this eight phase VRM, and look at that Infineon PWM controller. Infineon is the company that owns Primarion and International Rectifier (who bought CHiL's portfolio). We rarely see Infineon brand PWMs because of their price. It has to be an 8-phase PWM controller, and it's most likely digital at least as good as comparable IR or Primarion parts. The eight phases output to TDA21470 integrated power stages that have IR markings but use Infineon's naming scheme.
Infineon says that a five-phase VRM will maintain over 94% efficiency even outputting 225A at 1.83v (with a 12v VIN) at a 500kHz switching frequency. That's 411W (very rough estimate) with only five phases. So if we figure each phase can do 80W, then that's almost 640W here at over 94% efficiency. Although we are just scaling, and our estimates are not on track to be even close to 100%, that's still very impressive.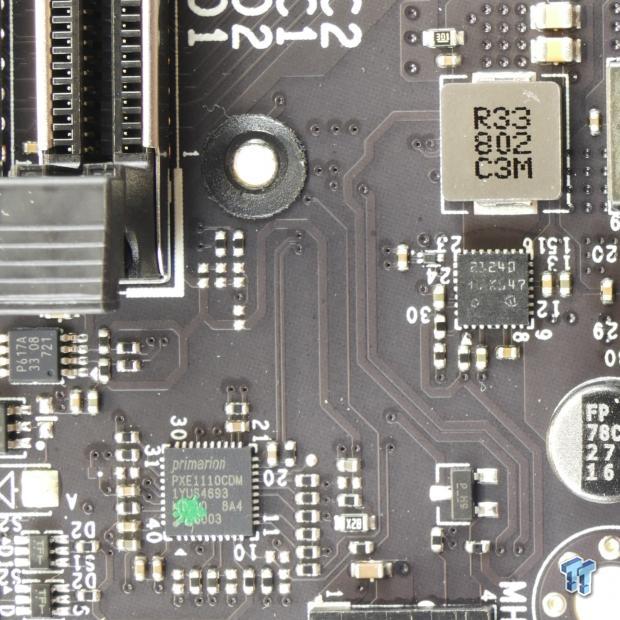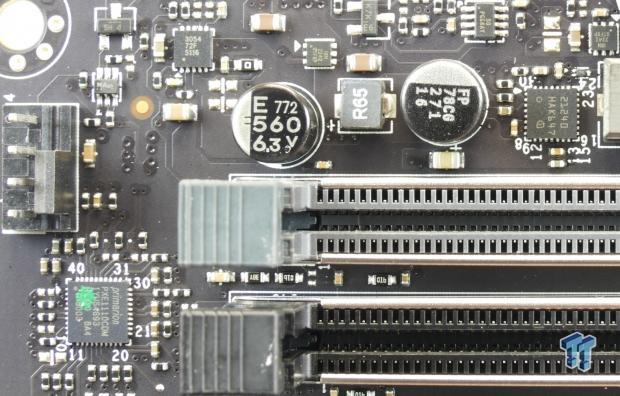 Looking around for VCCSA and VCCIO phases, we stumble upon a familiar sight; one PWM and one power stage. The VCCSA, VCCSA, and even both memory VRMs utilize 40A Infineon TDA21240 power stages, and Primarion PXE11110 digital PWM controllers. Although we don't know much about the Primarion PXE1110, we know there are four of them on the motherboard, and that they probably output to two separate rails.
Supermicro C9X299-PG300 Circuit Analysis Continued

The motherboard utilizes the Realtek ALC1220 audio chip, as well as multiple audio capacitors and a physical divide to improve audio quality.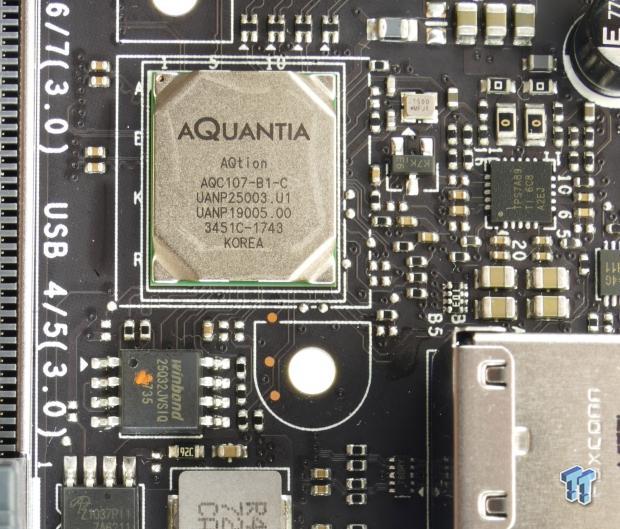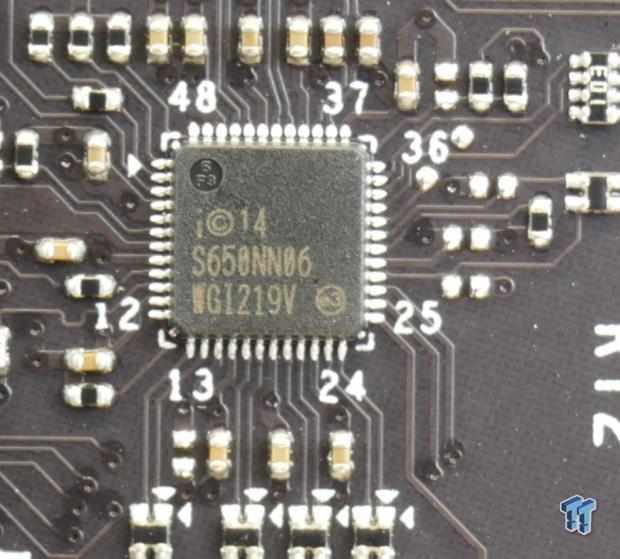 The Aquantia AQC107 is a new NBase-T controller capable of supporting 10G, 5G, 2.5G, 1G, and 100Mbit speeds. It is what provides the 10Gbitport. A 1Gbit NIC is located on the motherboard as well; it uses an Intel i219v PHY and the integrated MAC in the PCH.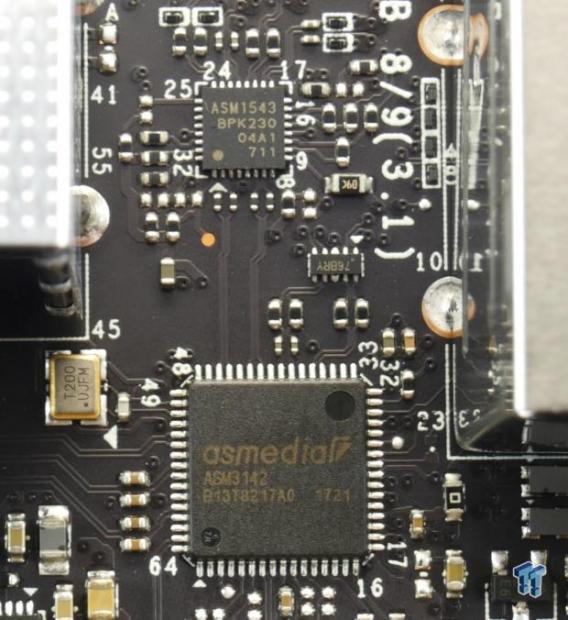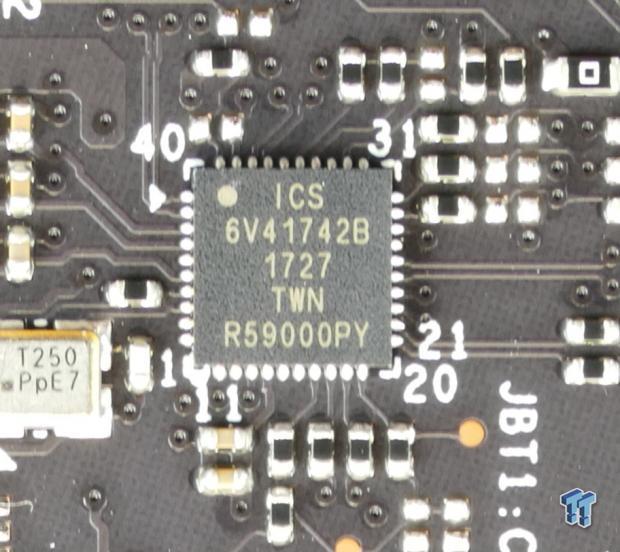 An ASMedia ASM3142 is used as the USB 3.1 controller, and the ASMedia ASM1543 is used as the type-C switch and CC logic chip. The ICS 6V41742B clock generator is used for overclocking the BCLKF.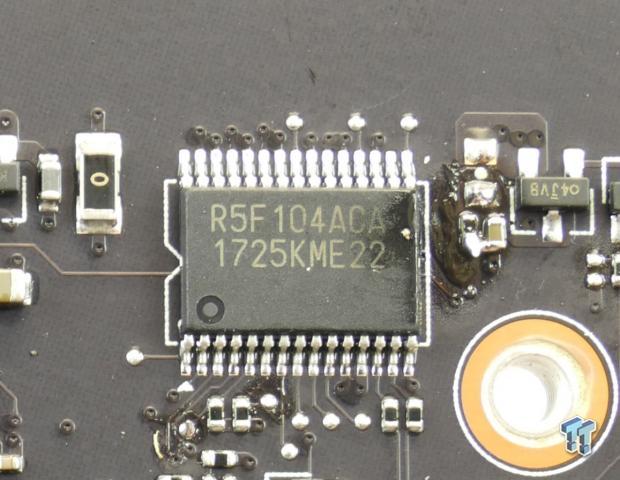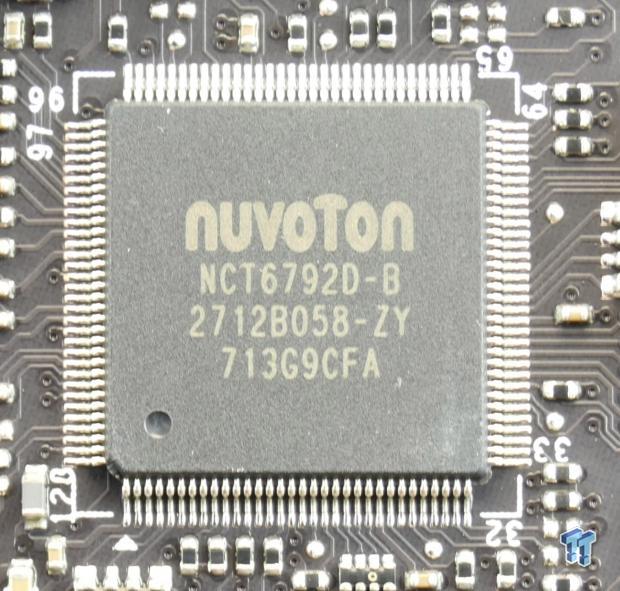 A 16-bit microcontroller from Renesas is used, probably for RGB LED control. A Nuvoton NCT6792D SuperIO chip is used as the system management controller, fan controller, and monitor.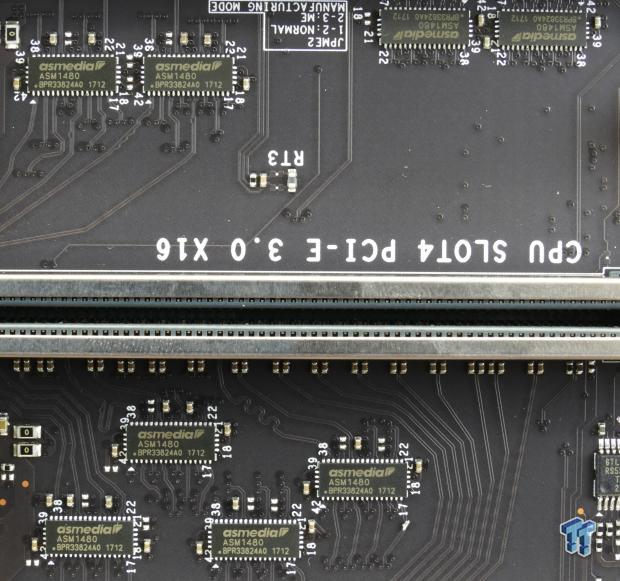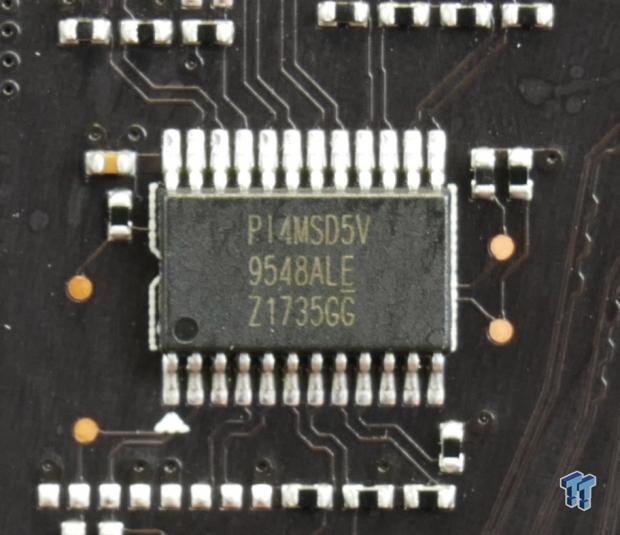 There are twelve ASMedia ASM1480 quick switches, that move around PCI-E bandwidth between slots and ports. Many IC2 bus switches and translators are around the motherboard to facilitate all the CPU's features.
BIOS and Software
BIOS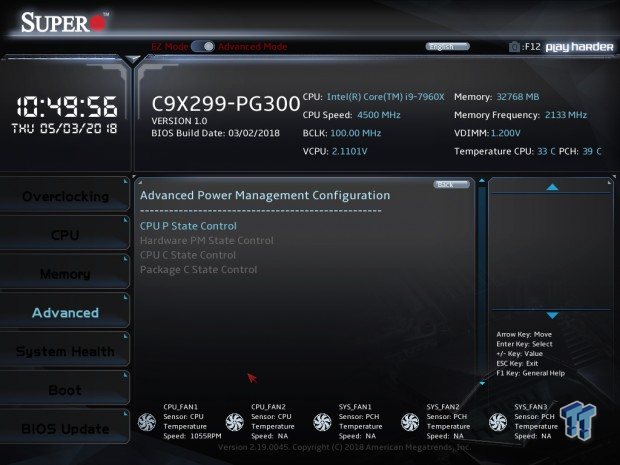 The UEFI has a ton of features , and some of them are spread out between many menus. However, the good news is that everything you need to overclock the CPU dynamically or statically is present. Hardware PM state control is how you can attain a static OC (disable HW P state control if you want that). Voltages are present in multiple menus, and there are many levels of LLC. Fan control is present, and customization options are decent. There are two operation modes in the UEFI, you can toggle between then with the toggle at the top. You can also set the advanced mode as default through the boot features menu under the Advanced menu.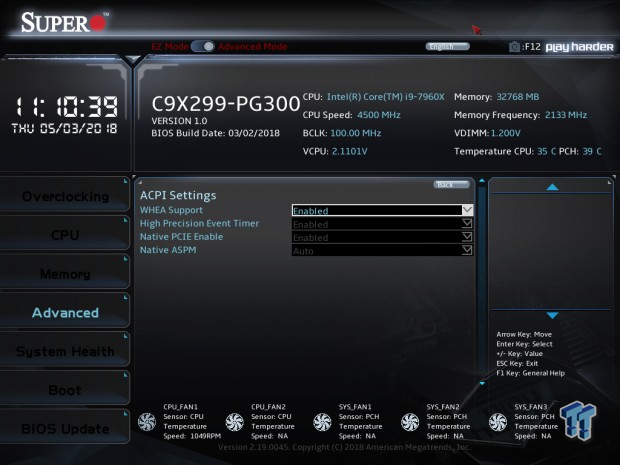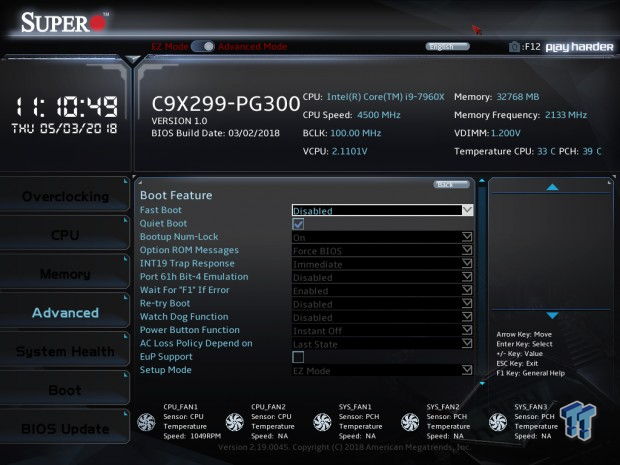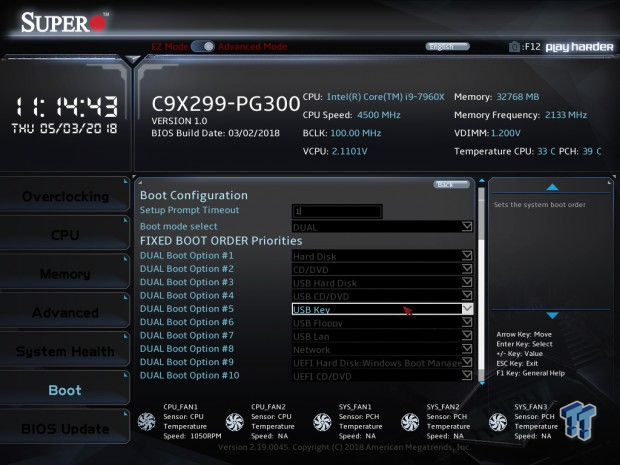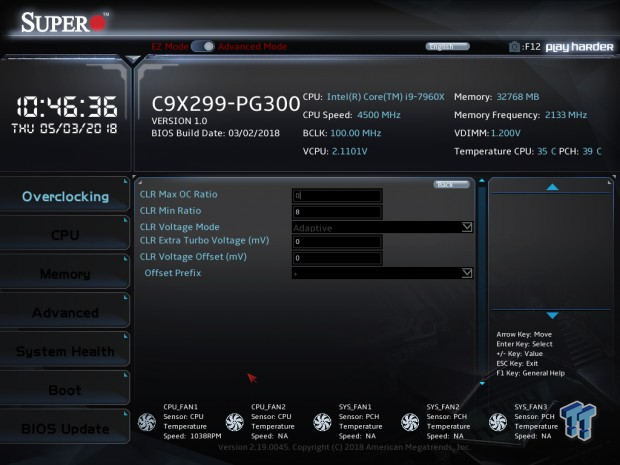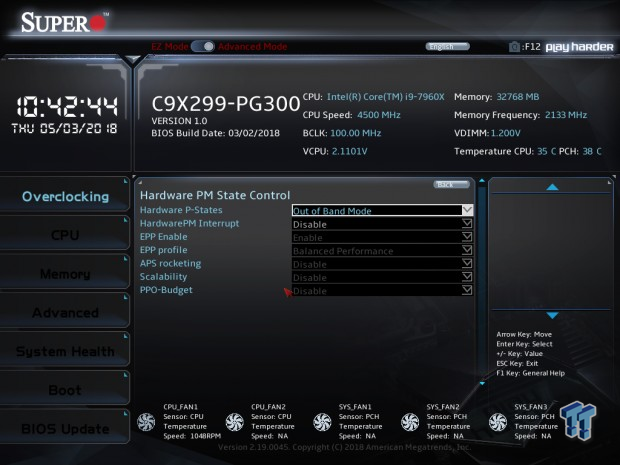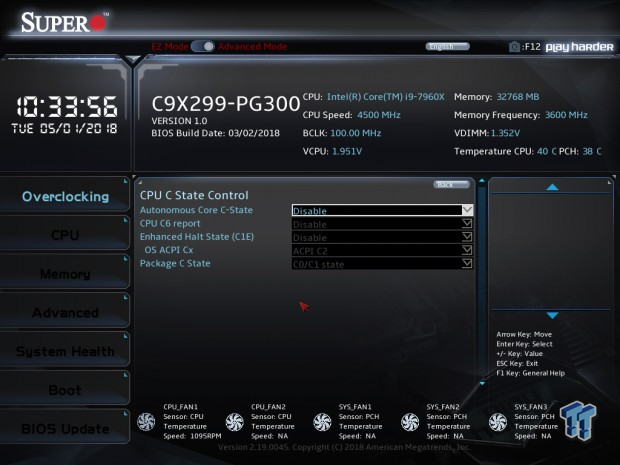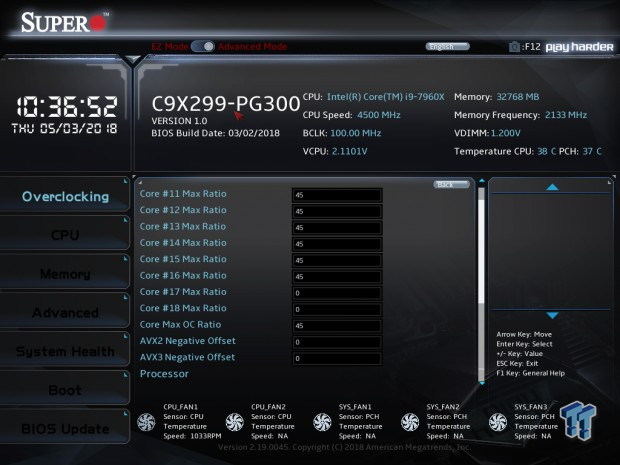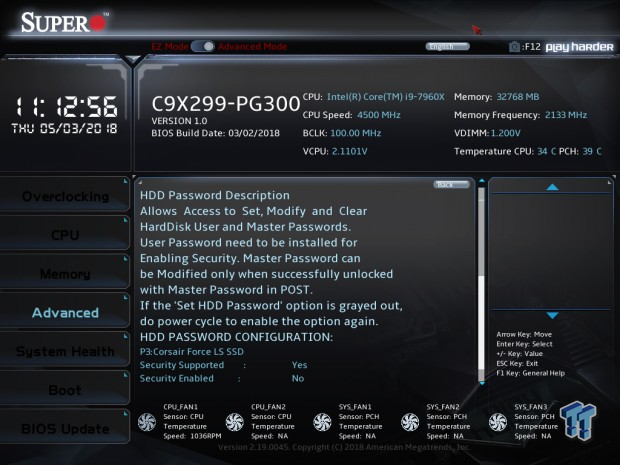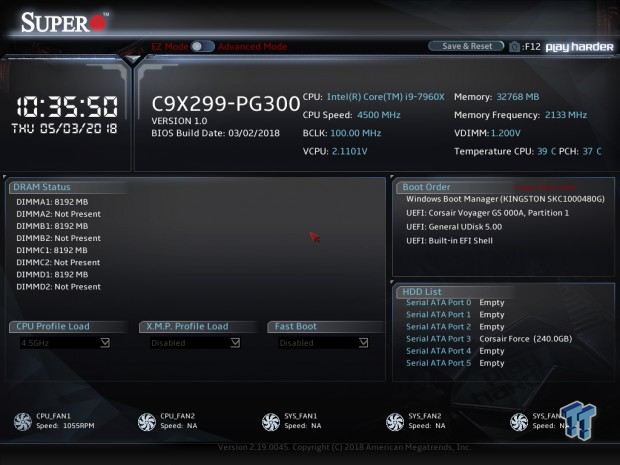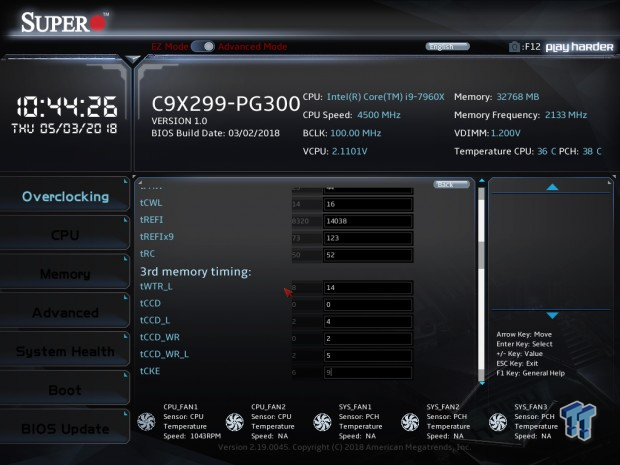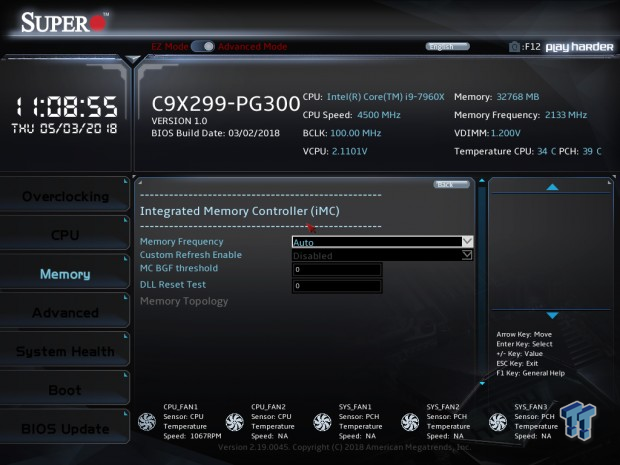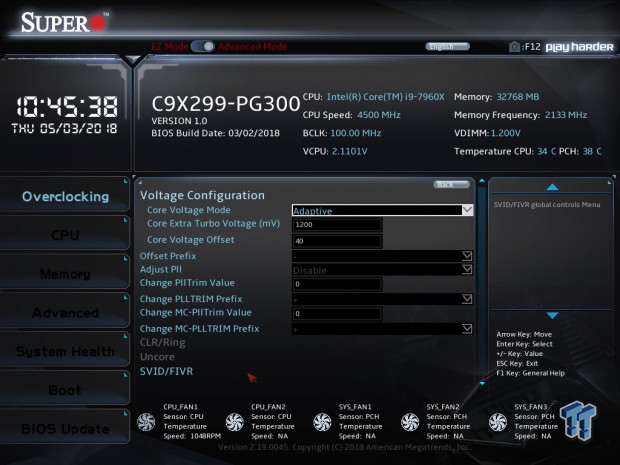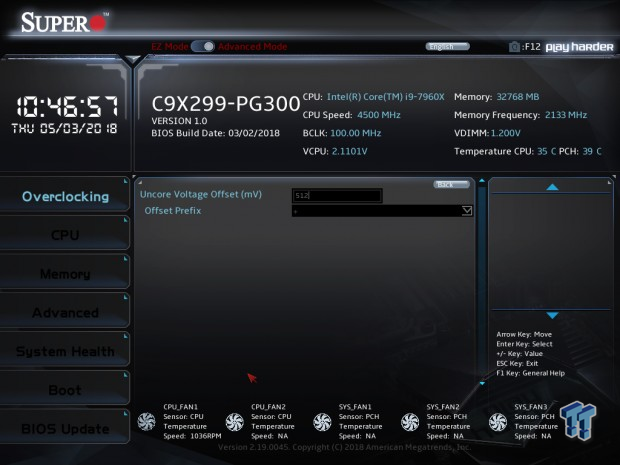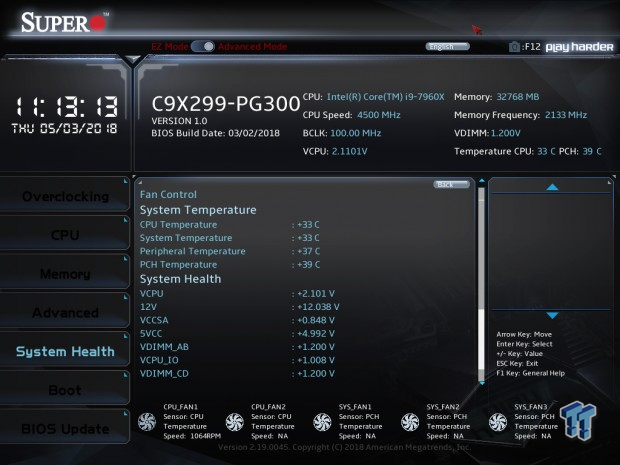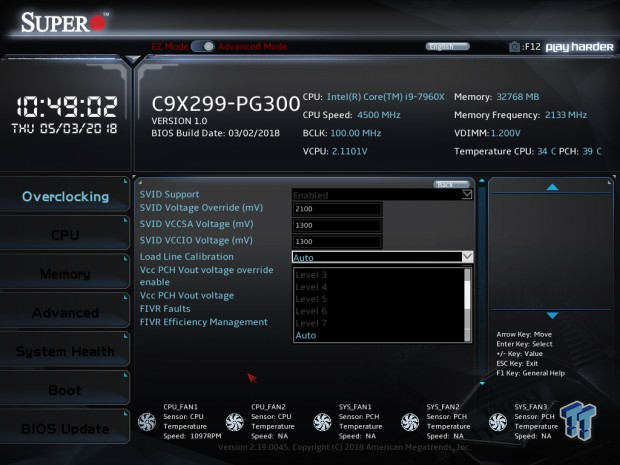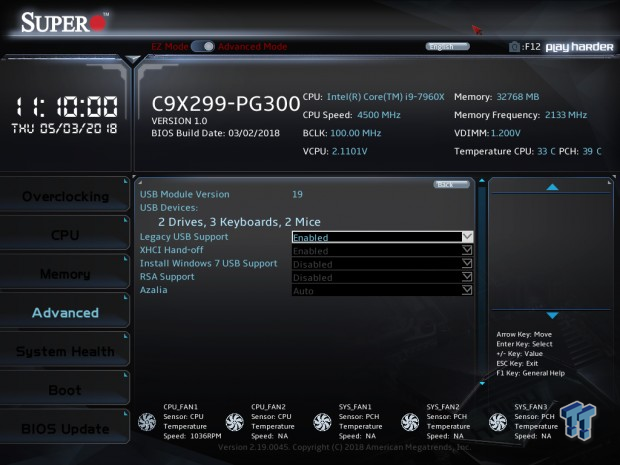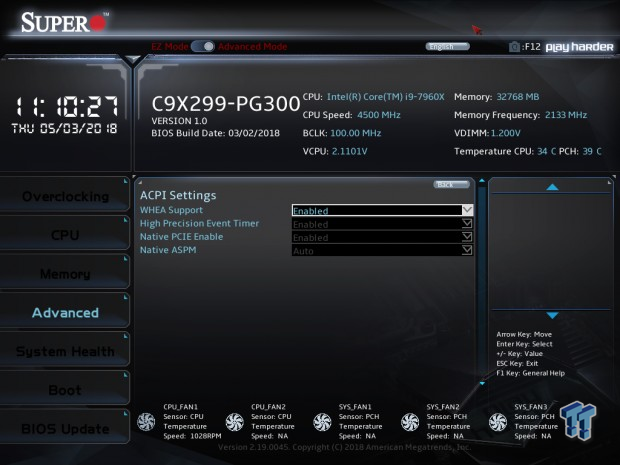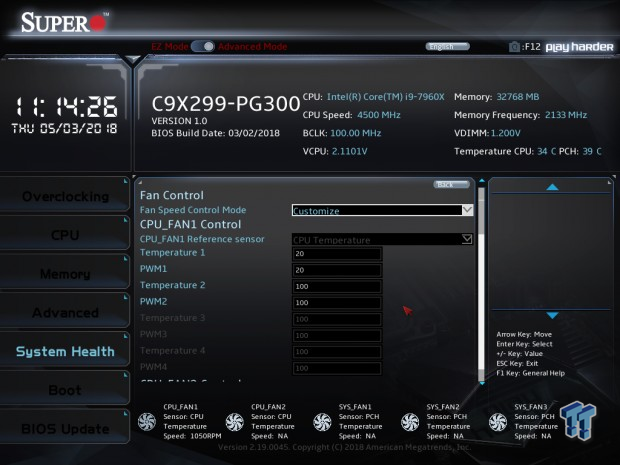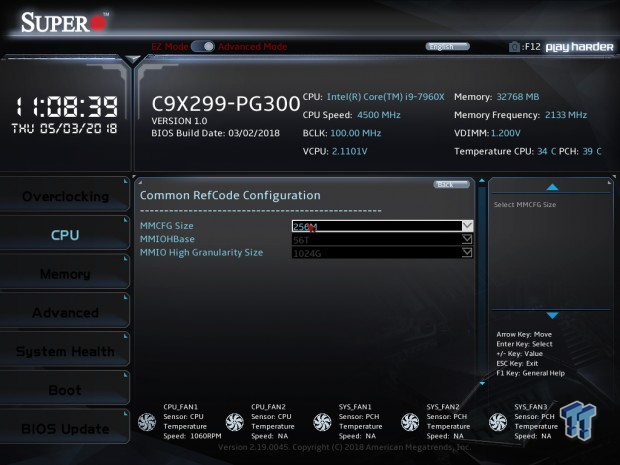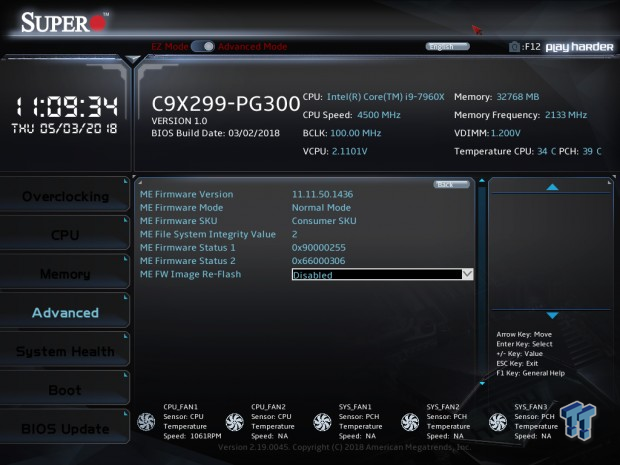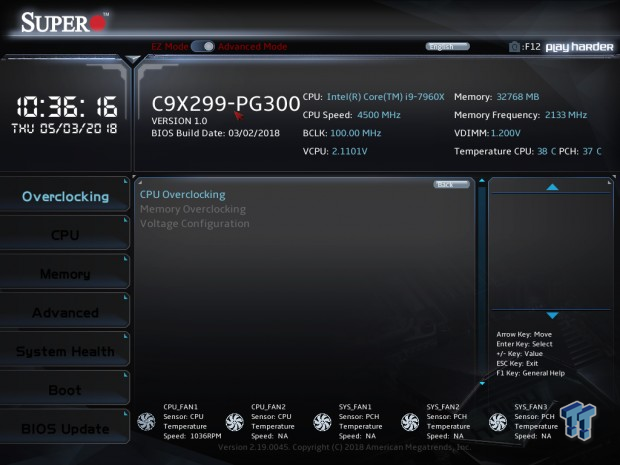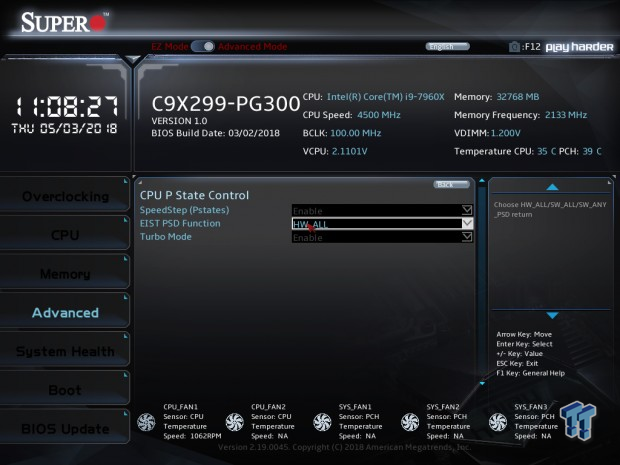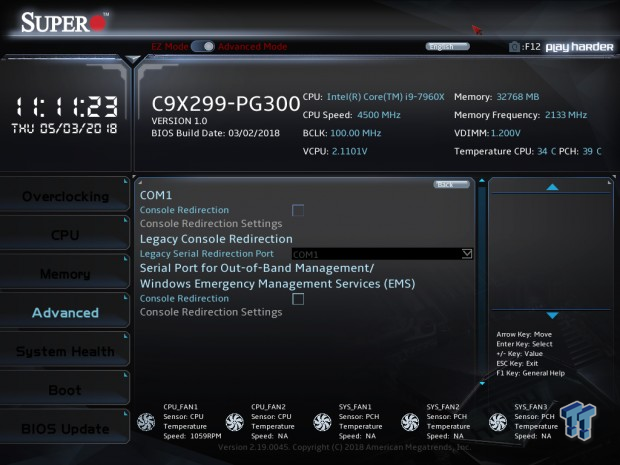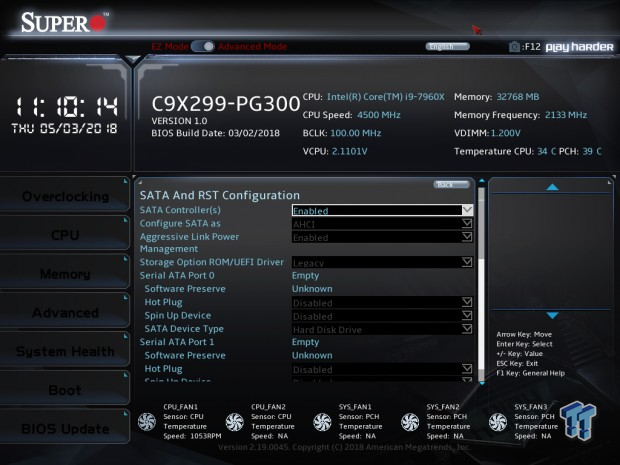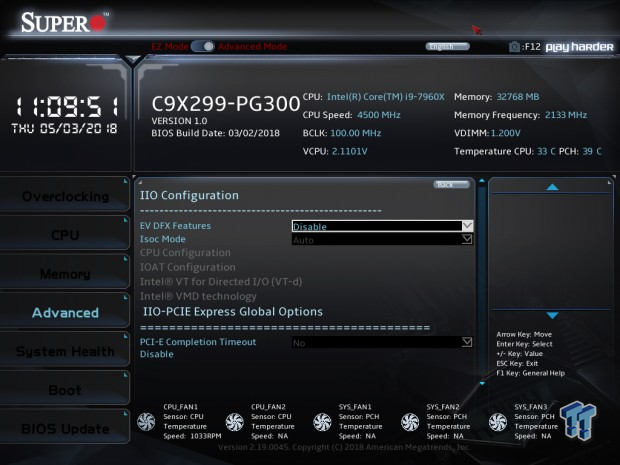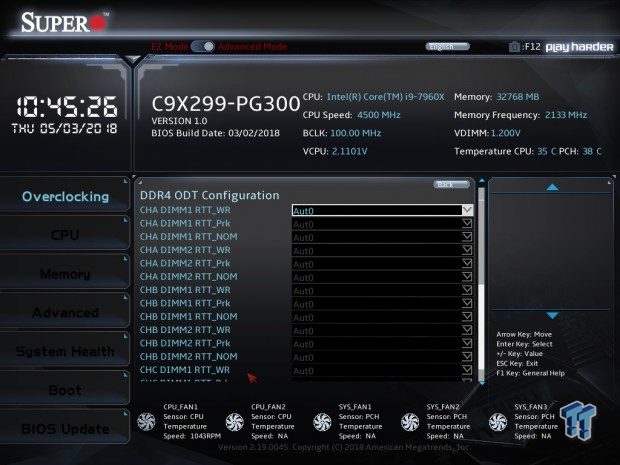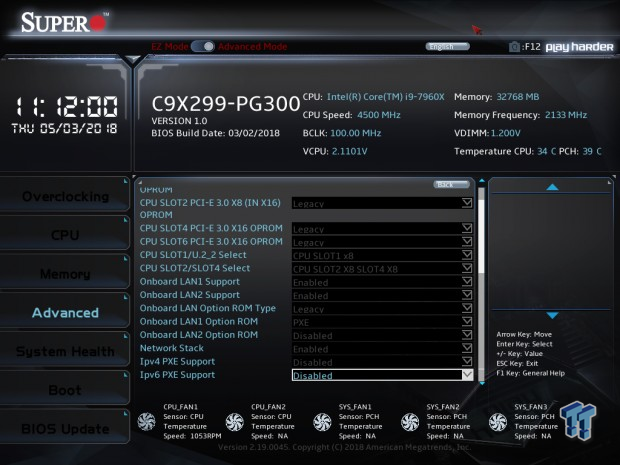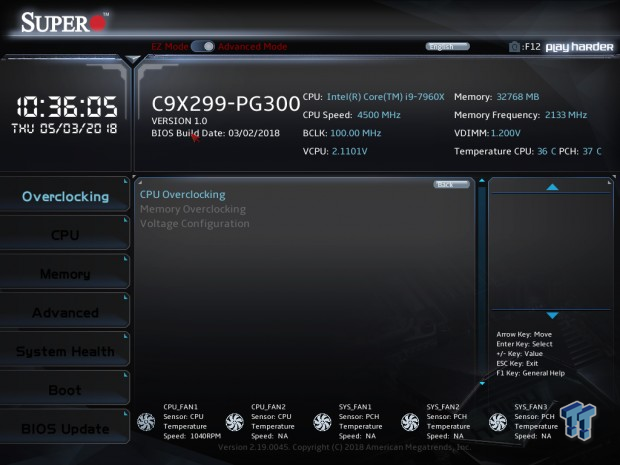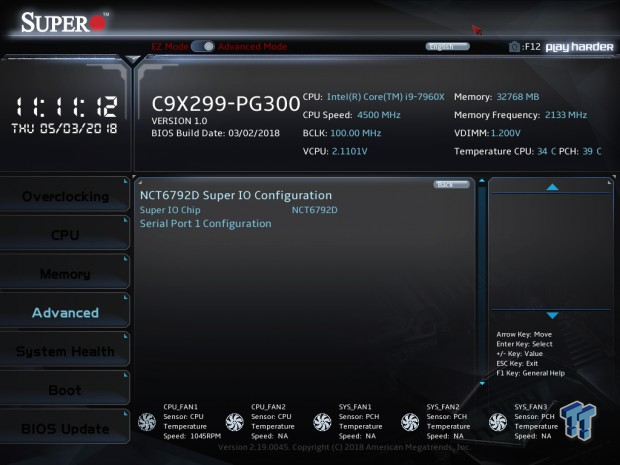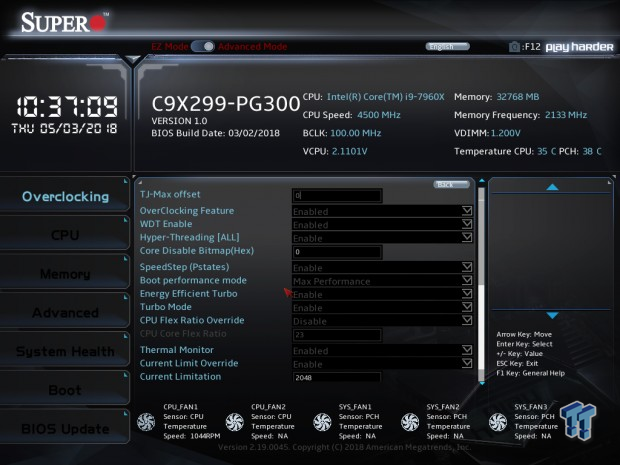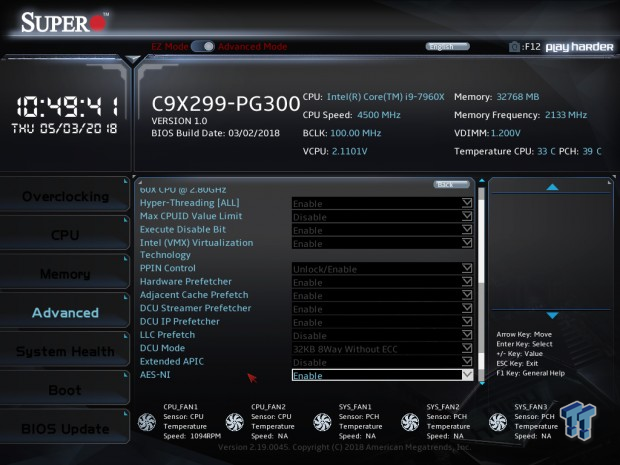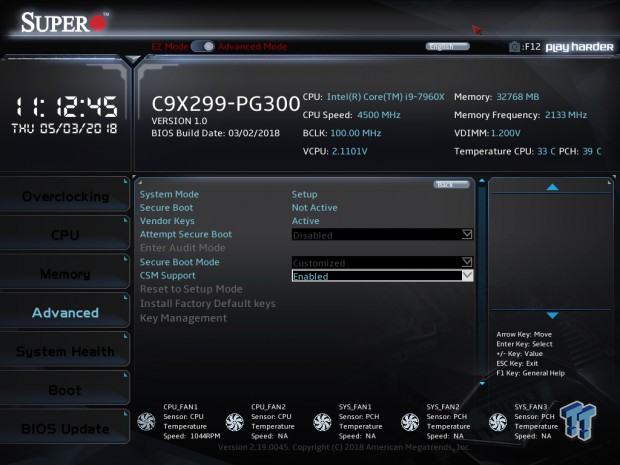 Software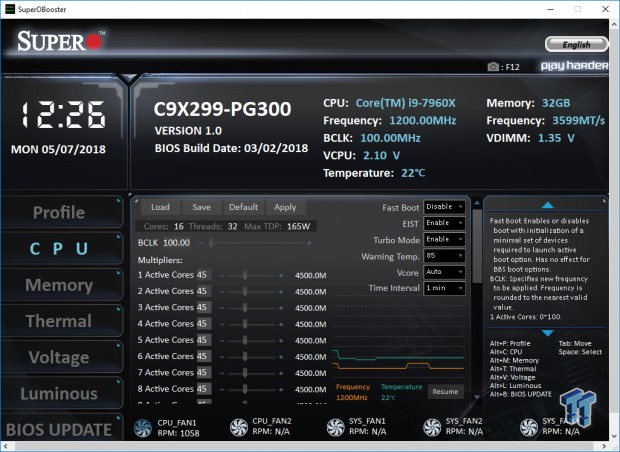 Software includes Supermicro's SuperO Booster, and you can do in-Windows overclocking, control the RGB LEDs built into the motherboard, and set your fan control curves with the software.
Test System Setup
Steven's Motherboard Test System Specifications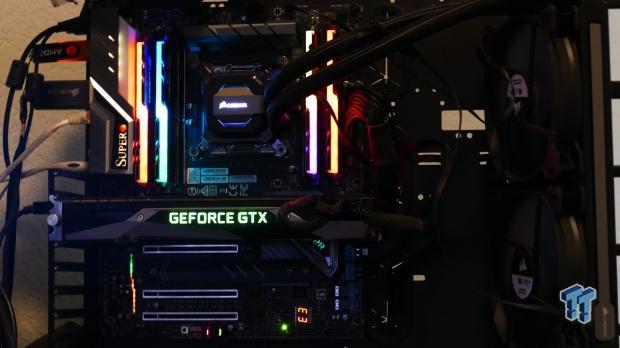 The RGB LEDs under the audio section of the PCB are individually addressable, while the ones in the PCH heat sink and rear-IO cover are normal RGB LEDs. The motherboard has a serious look without the lights on, but the lights add a bit of flavor.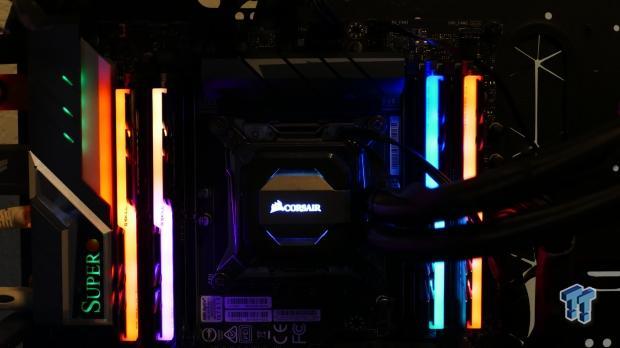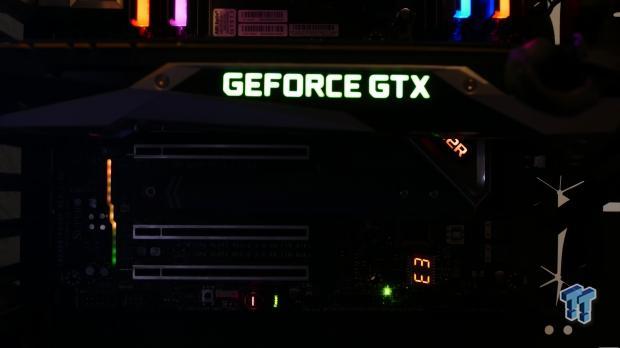 Overclocking
Overclocking Results
CPU Overclocking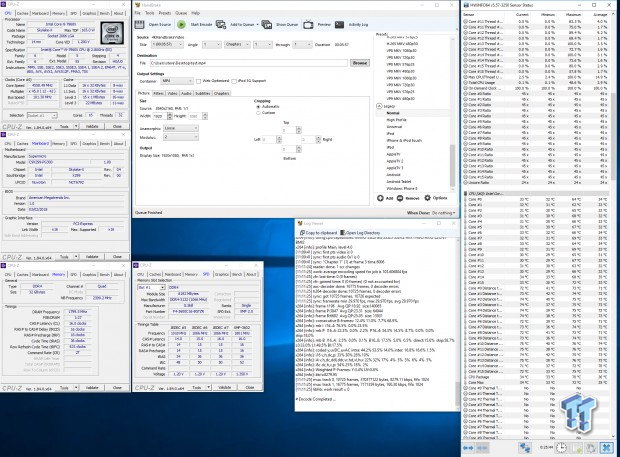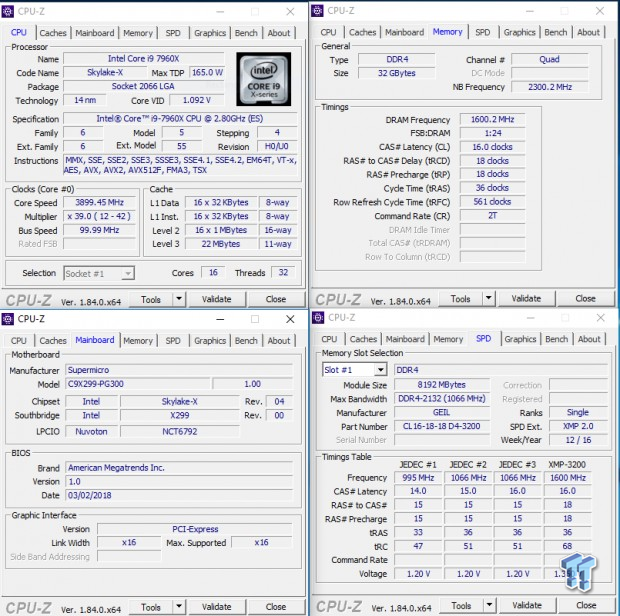 While you typically set the CPu to 4.4GHz, with this motherboard we were able to hit 4.5GHz and pass our benchmarks without raising temperatures too high. We believe this is because of the new power delivery system. Manually setting VCCIN at 2.1v with LLC on auto yielded a final stressed voltage between 2.0-2.1v, which is good enough. Input voltage was able to go from 1.185v to 1.20v without raising temperatures too much.
Memory overclocking was a bit surprising, we did not expect the 3600Mhz kit to work, but it did. We disabled HW P-State control, and that allowed Windows power plans to control whether we had a dynamic or static frequency. We were also able to crank mesh to x32. Now, the auto rules are a bit tight, so you will want to manually reduce System Agent offset to +0.25 from +0.5, system agent to 1.15v from 1.25v, and VCCIO to 1.05 from 1.25v, as most of those are a bit too high. You get adaptive and manual override modes for VCore, and both work well. Both our 3600MHz G.Skill kit and our 3200MHz GEIL kit worked well.
CPU, Memory, and System Benchmarks
CINEBENCH R15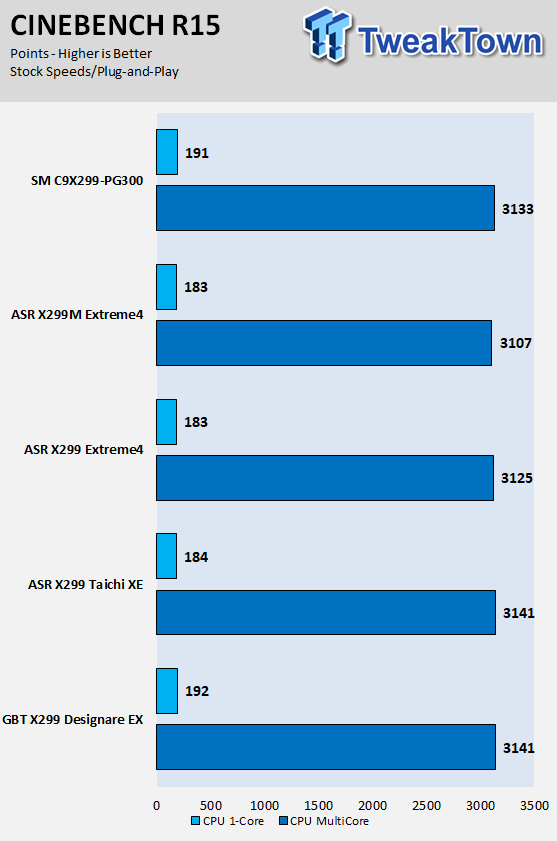 wPrime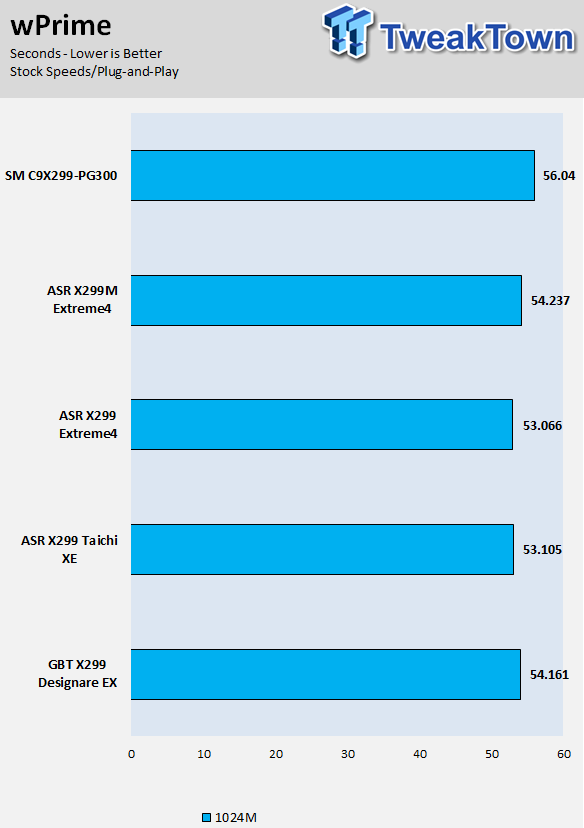 AIDA64 FPU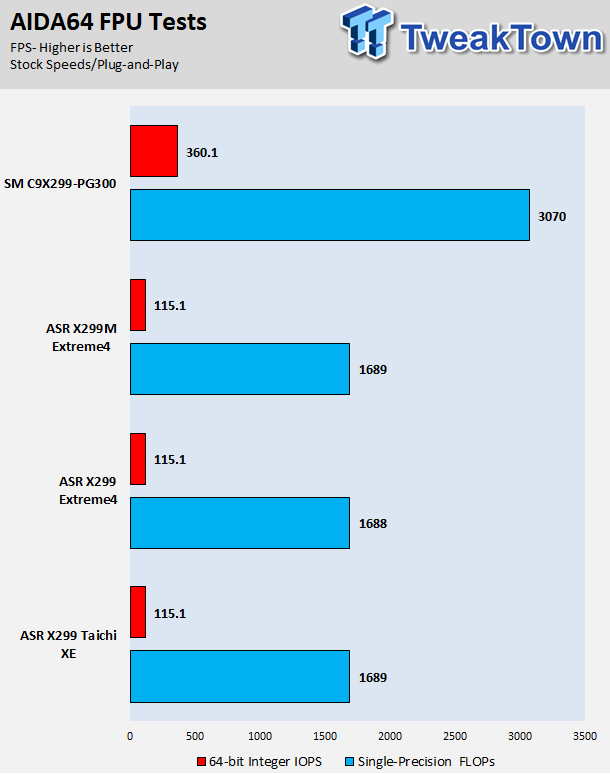 AIDA64 Memory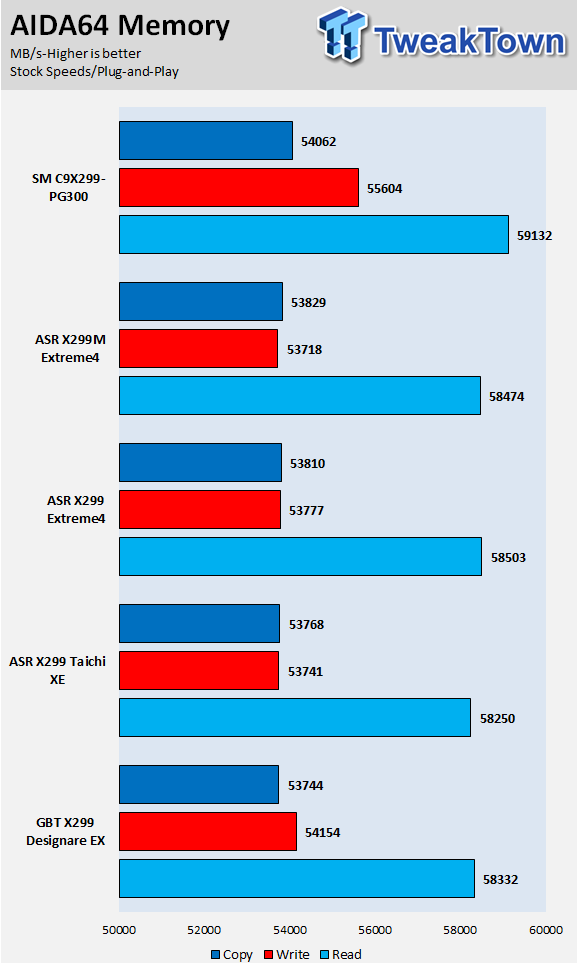 ScienceMark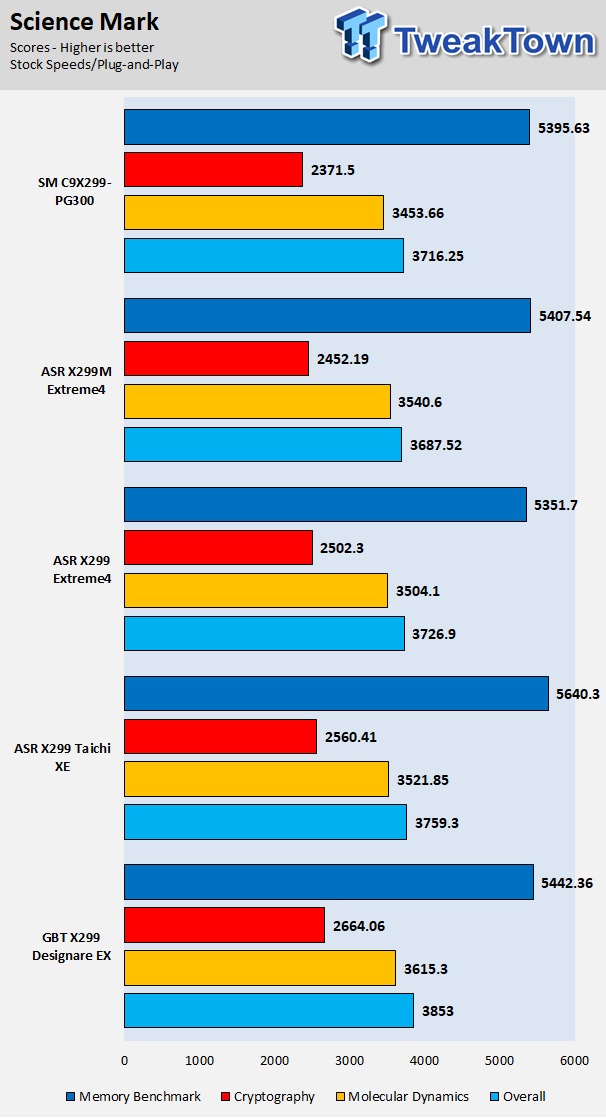 HandBrake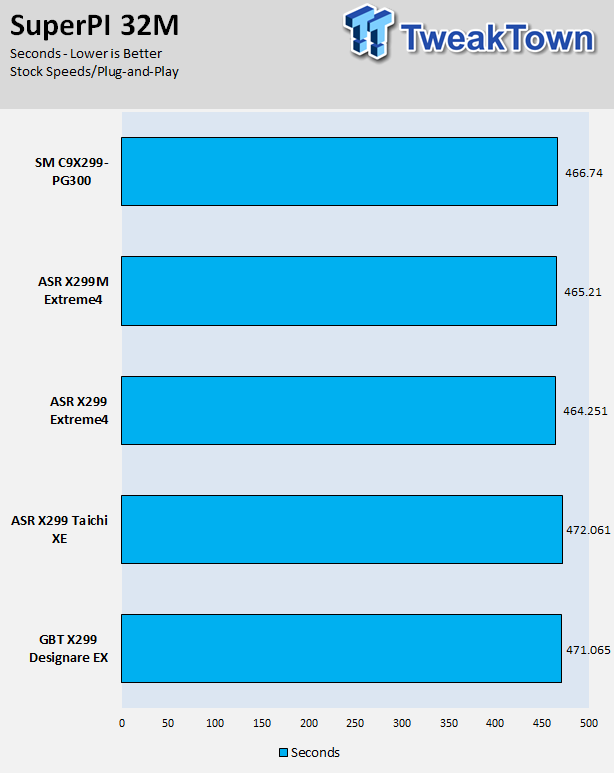 SuperPi 32M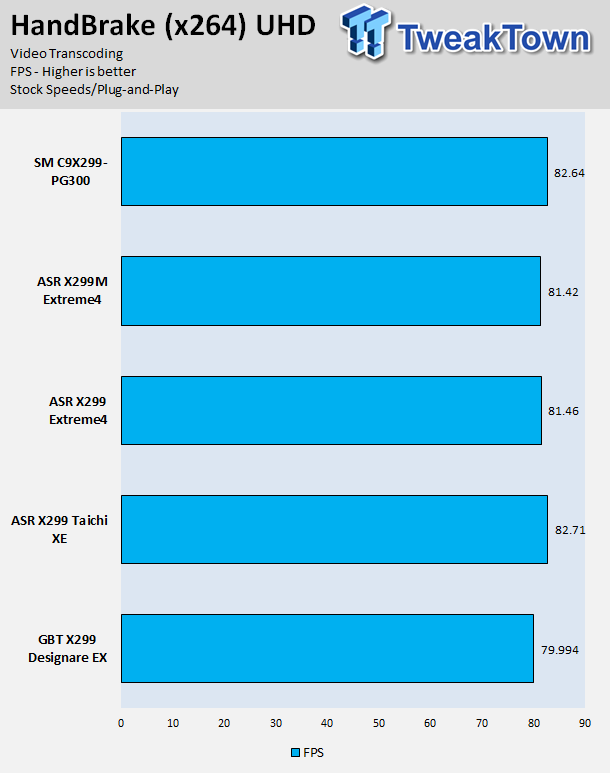 3DMark: Fire Strike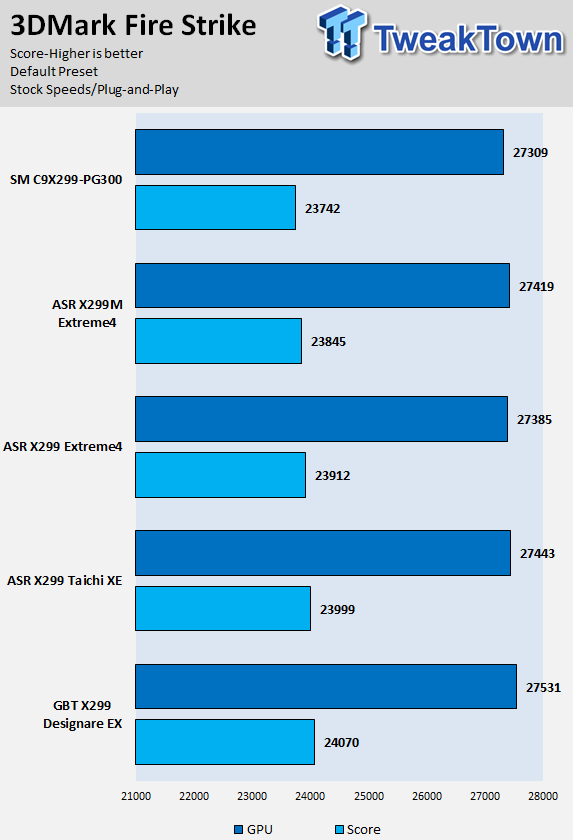 3DMark: Cloud Gate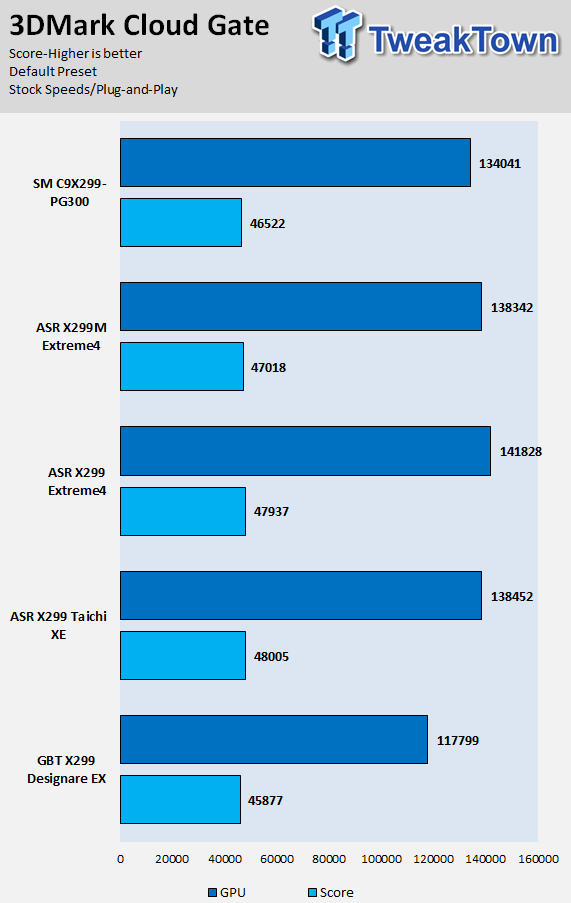 ResidentEvil 6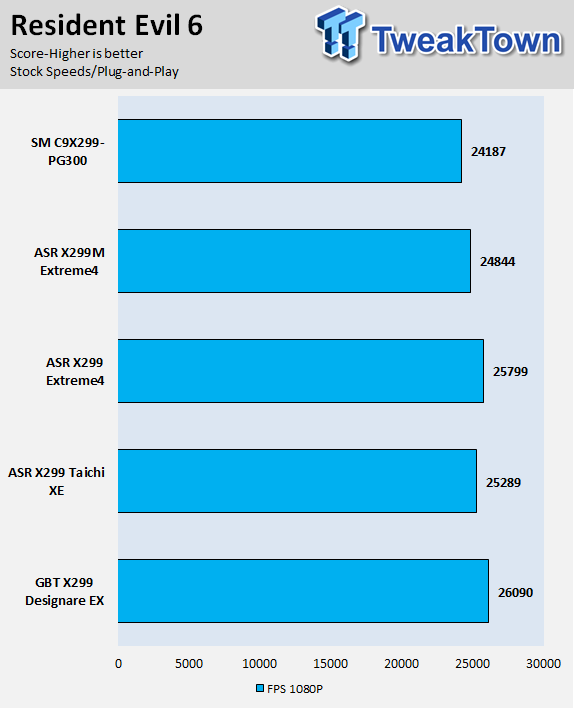 The Supermicro C9X299-PG300 is a solid motherboard. Now, we do see that our AIDA64 FPU tests are off the charts, and in this case it's because of the difference in AIDA64 versions, which greatly changes how systems will score. We expect future X299 motherboards to offer the same increased numbers.
System IO Benchmarks
CrystalDiskMark SATA6G: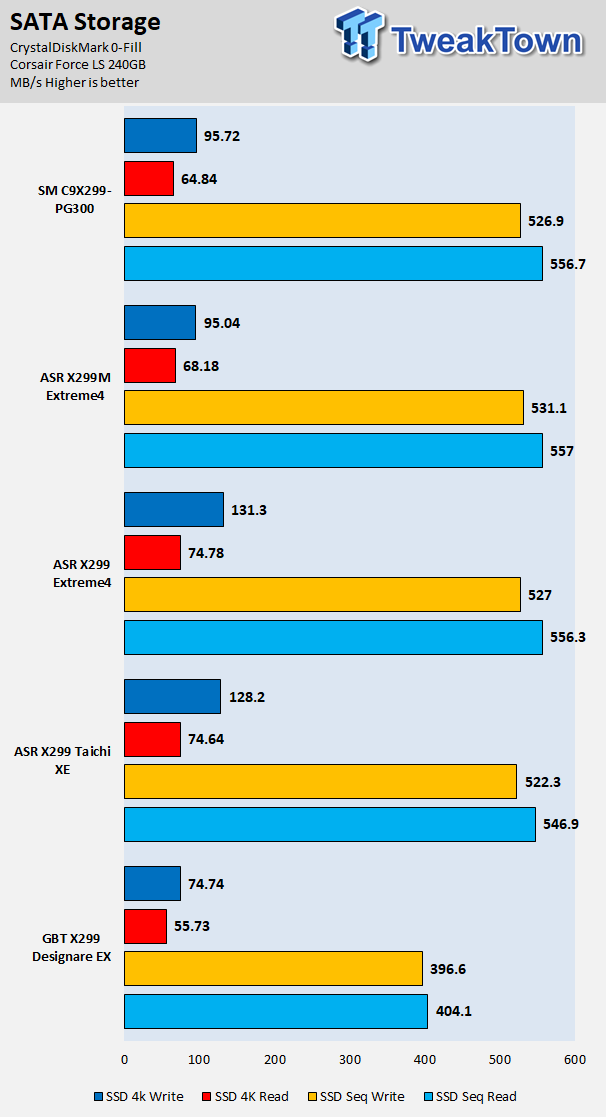 CrystalDiskMark M.2: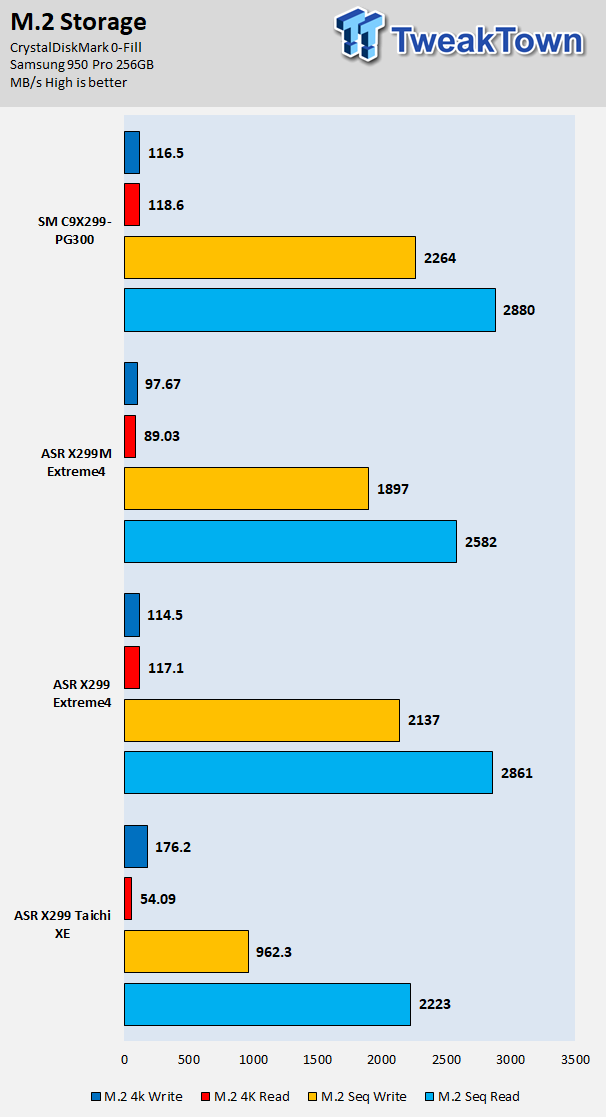 ixChariot Network Throughput: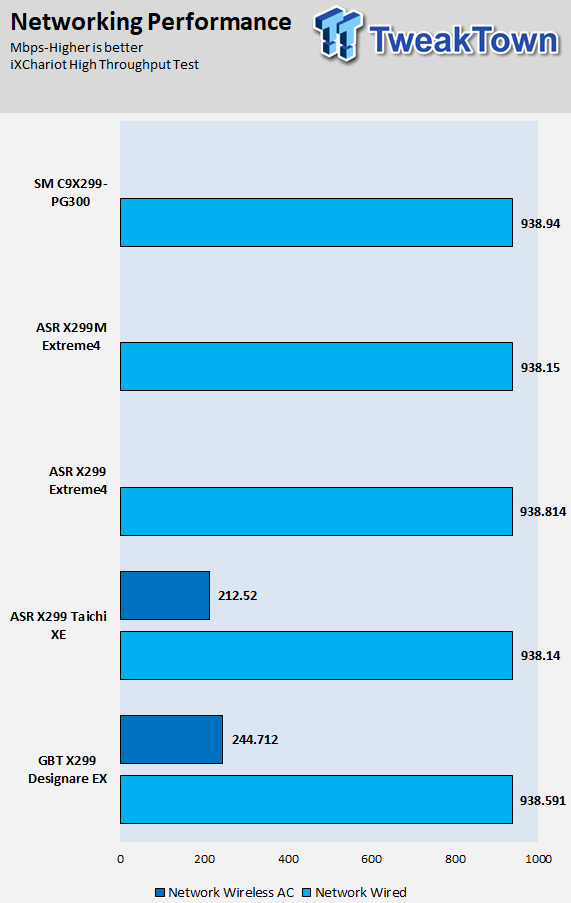 The Supermicro's C9X299-PG300's SATA and M.2 performance is excellent all around. Networking performance is also great.
Audio RMAA 5.5:
I disable all audio features, set the correct bitrates, and then test the audio with a loopback test.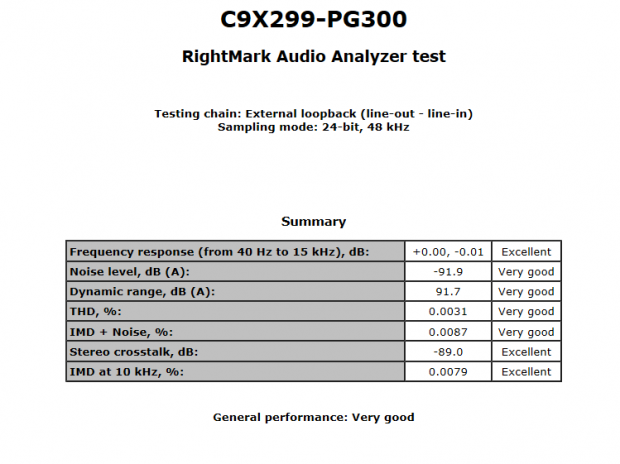 Sound Judgment by Ear: Very good, overall solid internal audio. There are five ratings for audio: 1. Problems, 2. Okay, 3. Acceptable, 4. Very good, 5. Excellent
VRM and System Thermal Imaging and Power Consumption
System power is measured at the wall with an AC power meter.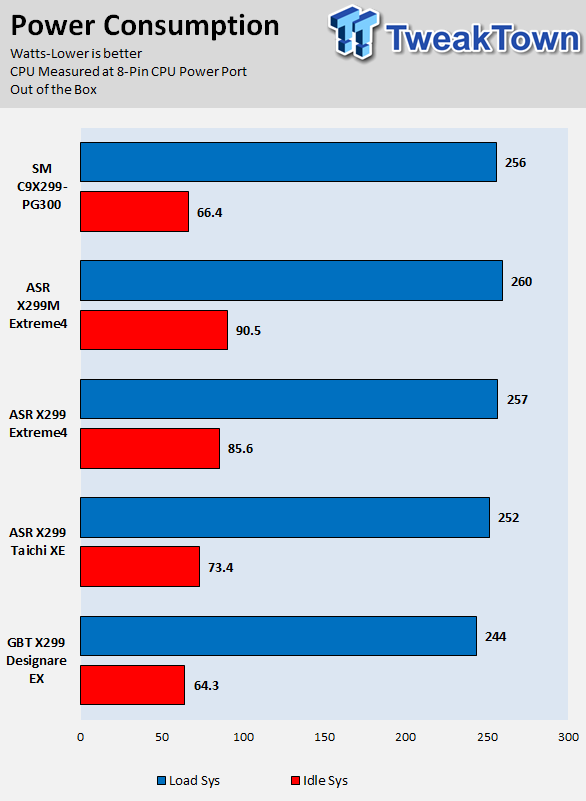 Note on Thermal Images: In the temperature section, we use our Seek thermal imaging camera to capture the surface temperatures of major components on the board. I look at the VRM and then all other things that light up the screen. If there is something to worry about, then I will state it. Otherwise, I will just show the hotter running parts of the board for fun. Unless some component is over 80-90C, then there isn't anything to worry about.
All systems will act differently, so I will look for commonalities, such as how far from the VRM the heat spreads through the PCB and the difference in temperature between the front side and backside of the PCB. Keep in mind, the majority of the heat from the VRM goes into the PCB as it is a giant soldered on copper heat sink. A larger difference in temperature between the back and front of the PCB points towards a more effective heat sink.
Thermal Testing at Stock Speeds:
The image on the left is always at idle, and the image on the right is at load. During ALL TESTS, fans above the VRM that cool the CPU cooler's (Corsair H110i) radiator are turned on to high (12v).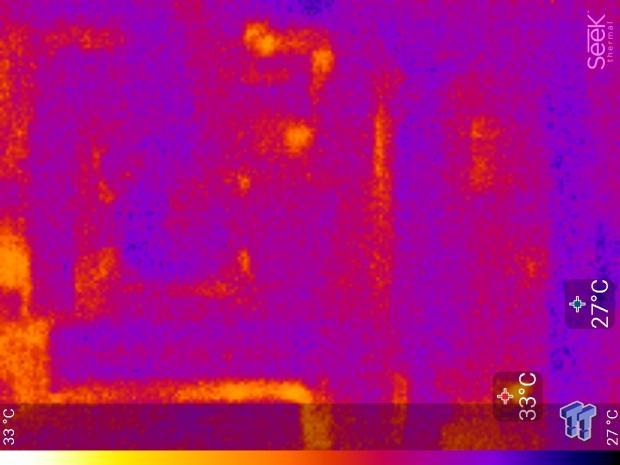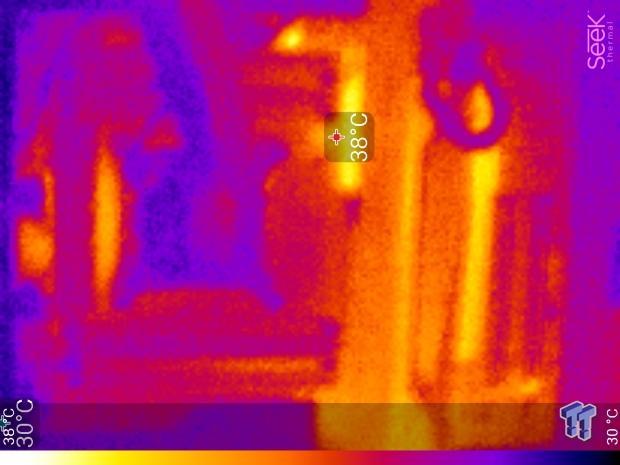 Full frontal.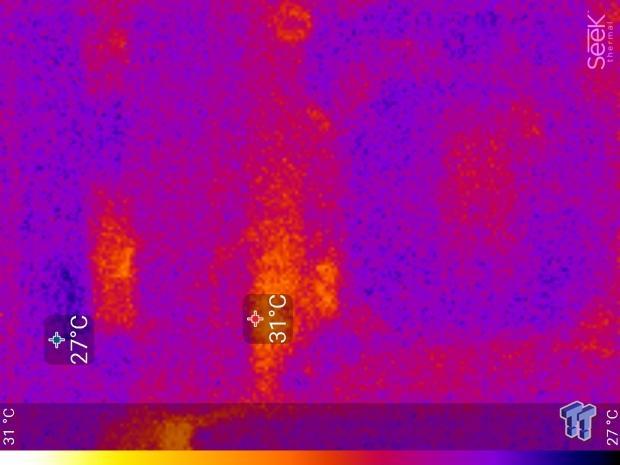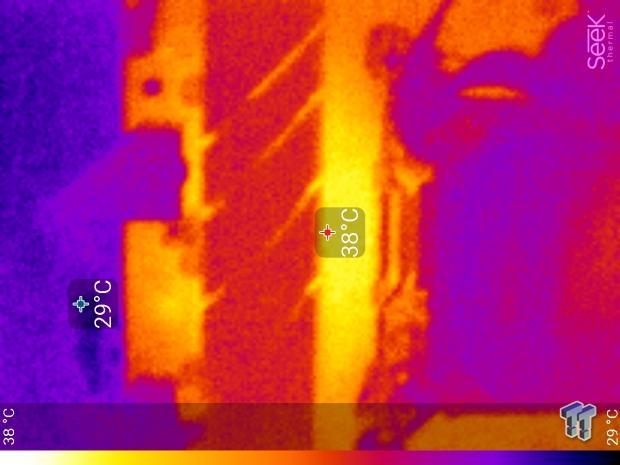 Up-close of the front of the VRM.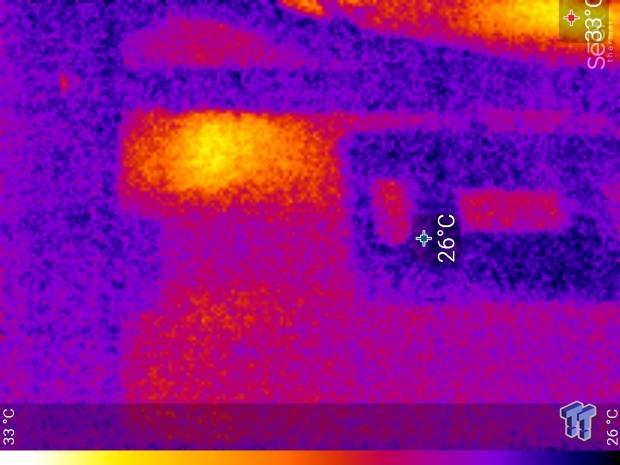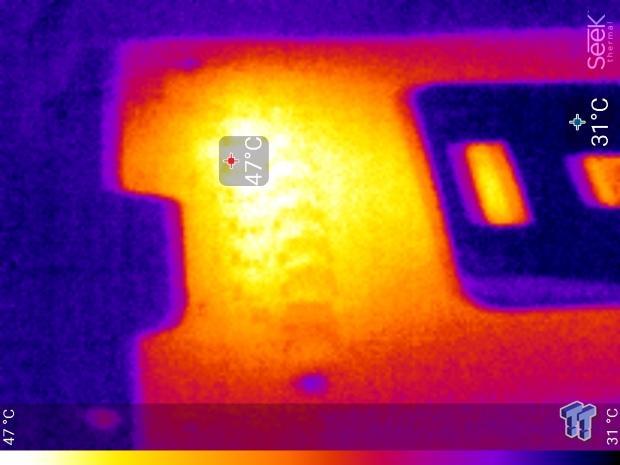 Up-close of the back of the VRM.
4.4GHz 2.1V VCCIN OCed VRM Thermal Imaging:
We standardize this test with a 4.4GHz on all cores with 1.185V real under load and take pictures at the 80% mark of HandBrake rendering a 4K video.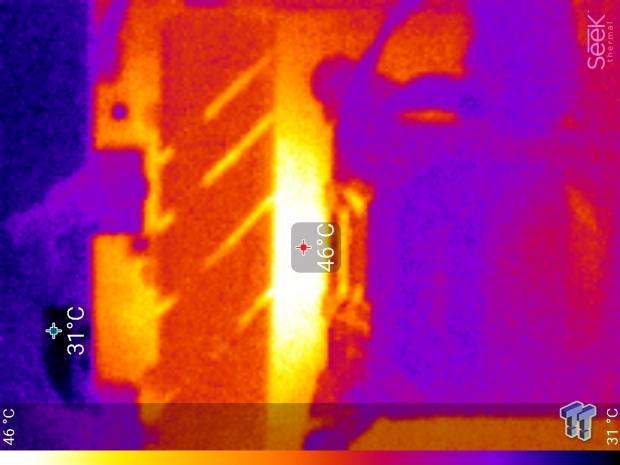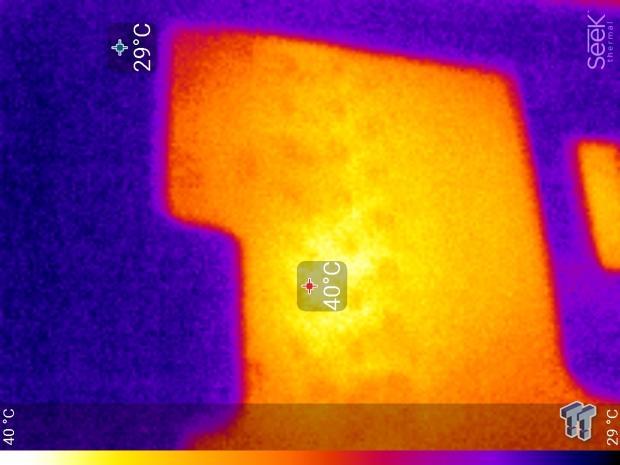 The motherboard has a very unique VRM, and no other X299 motherboard carries these Infineon power stages or PWM controller. The IR/Infineon systems offers excellent performance, so much so that the motherboard's VRM heat sink doesn't require a heat pipe or any fans, and it performs extremely well.
What's Hot, What's Not & Final Thoughts
What's Hot
300W VRM: The VRM used here is very high quality and utilizes a new Infineon design to achieve ridiculously high power output requirements. When you overclock an 18-core Intel CPU, you are pulling anywhere from 500-550W, and this VRM is rated for 300W at default, but can easily go up to double of that while maintaining over 94% efficiency.
Dual U.2 and M.2: Options and more options are what you find on the C9X299-PG300 motherboard when it comes to the latest in NVMe storage options.
10Gbit LAN: Utilizing a 10Gbit Aquantia NIC that supports 5G and 2.5G modes as well as 1G and 100M, you are pretty much future proof when it comes to wired networking on this motherboard.
Simple and Sleek: The motherboard doesn't use plastic for its shields. Instead it goes all metal, and not only does this reinforce the motherboard, but it also makes it very heavy and it feels very solid.
What's Not
Five Fan Headers : The motherboard has five fan headers that are PWM only, which kind of limits your options. Many other motherboards in this price range have more headers.
Final Thoughts
Supermicro's C9X299-PG300 is the epitome of basic high-end. It's simple, sleek, and strong where it counts. One of the biggest issues plaguing X299 motherboards was the fact that many of their VRMs couldn't handle the new CPU when overclocked, and that's where this motherboard succeeds.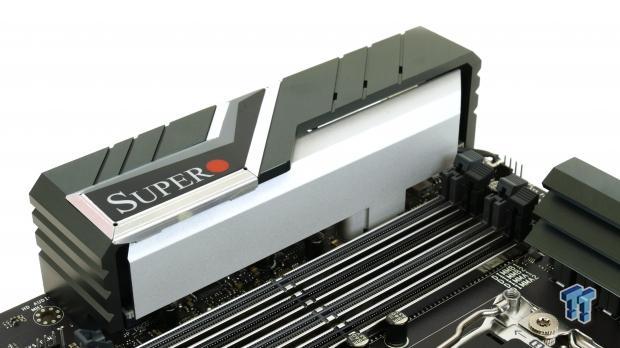 It's using parts that no other consumer motherboard use, and that's because of Supermicro's ability to source very high-end server hardware and use that hardware on their consumer motherboards. If you are looking for a quality motherboard with a ton of bells and whistles, give the C9X299-PG300 a shot.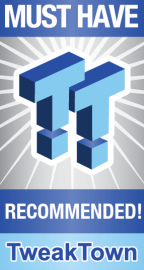 | | |
| --- | --- |
| Performance | 92% |
| Quality | 97% |
| Features | 95% |
| Value | 90% |
The Bottom Line: Supermicro's C9X299-PG300 is a robust motherboard with an extremely high-quality VRM, a 10Gbit NIC, and sleek hardcore durable aesthetics to match.
PRICING: You can find products similar to this one for sale below.

United States: Find other tech and computer products like this over at Amazon.com

United Kingdom: Find other tech and computer products like this over at Amazon.co.uk

Australia: Find other tech and computer products like this over at Amazon.com.au

Canada: Find other tech and computer products like this over at Amazon.ca

Deutschland: Finde andere Technik- und Computerprodukte wie dieses auf Amazon.de
We openly invite the companies who provide us with review samples / who are mentioned or discussed to express their opinion. If any company representative wishes to respond, we will publish the response here. Please contact us if you wish to respond.