EVGA X299 Dark (Intel X299) Motherboard Review
EVGA's X299 Dark is one of our favorite motherboards, the build quality is tough and reliable, do you know why?
Published Jul 11, 2018 10:00 AM CDT
|
Updated Tue, Nov 3 2020 6:57 PM CST
11 minute read time
TweakTown's Rating: 95%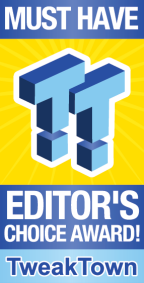 The Bottom Line
Want a motherboard with the best quality components, gold plating, and solid documentation and support; the X299 Dark might be the perfect motherboard for you.
Introduction, Specifications, and Pricing
EVGA launched their X299 Dark a little while ago and even based on first impressions, the motherboard is a beast. It's extremely over-engineered in regards to circuits and injects features and quality when they aren't really required. Both the right and left edges of the PCB are plated with gold as are some exposed pathways on the PCB, and it's very hard to bend the PCB because of it.

There are two fans on the VRM heat sink, the motherboard comes with a PCB used to create a test bench, and it has a pretty intricate monitoring and diagnostic system built into it. We have seen some crazy X299 motherboards, such as the X299 OC Formula and Rampage VI Extreme, let's see what happens when you mix them together, which is what I initially thought the X299 Dark was.
Specifications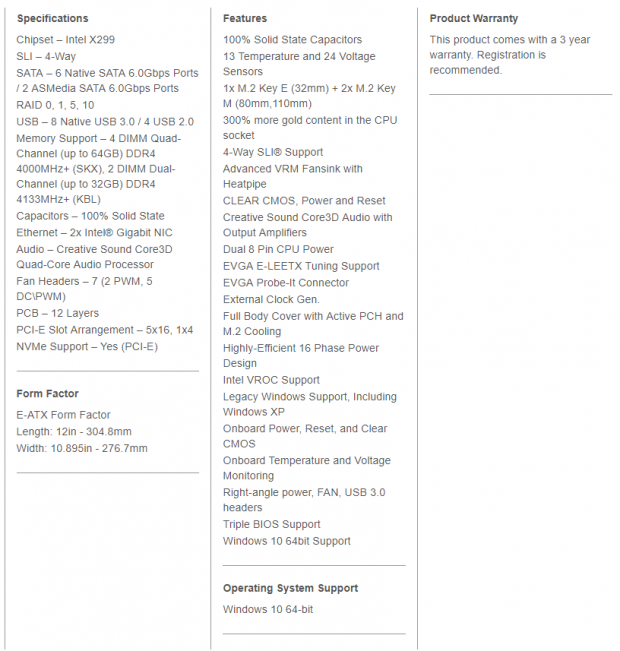 The X299 Dark offers a lot of features dual M.2, dual U.2, SATA6Gb/s, USB 3.0, USB 3.1, and dual Intel Gbit NICs.
Pricing
The X299 Dark costs $467.88
Packaging and X299 Dark Overview
Packaging and Overview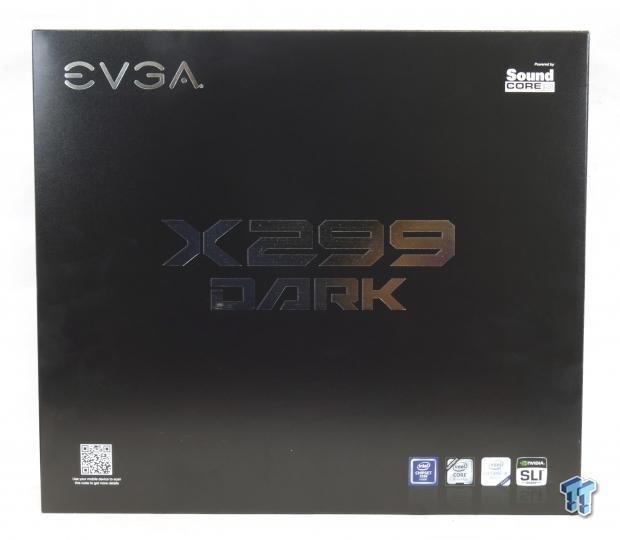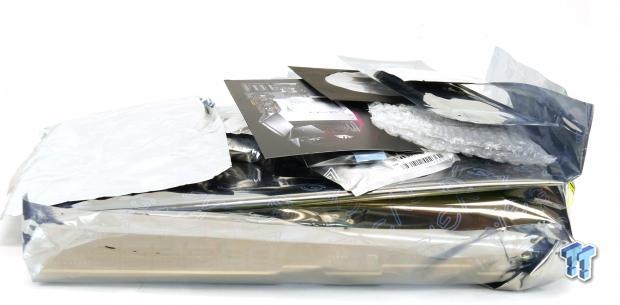 The back of the box (not shown) has pretty much nothing on it; I guess you could say it's dark. Everything is individually packaged, most things are in their own sealed anti-static bag, including SATA cables...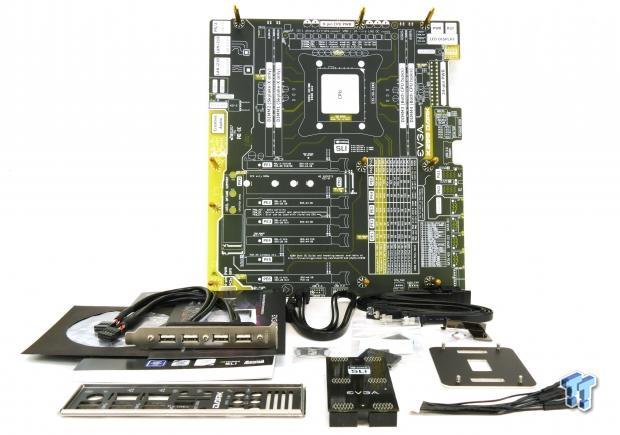 The accessory package includes something really cool, a replica PCB (no copper) that details different features and configurations of the motherboard. It will tell you what slots to use with different CPUs, and it can double as a stand for the motherboard, and tall standoffs are included. Other accessories include ProbeIt breakout, IO shield, six SATA6Gb/s cables, optional socket bracket (for LN2), M.2 adapter (for WIFI), two thermal pads, 3-way SLI bridge, USB 2.0 rear breakout, case badge, nice manual, and driver DVD.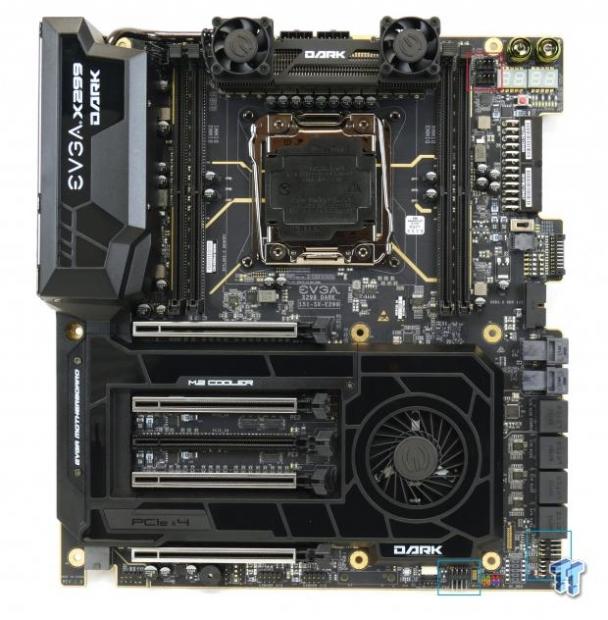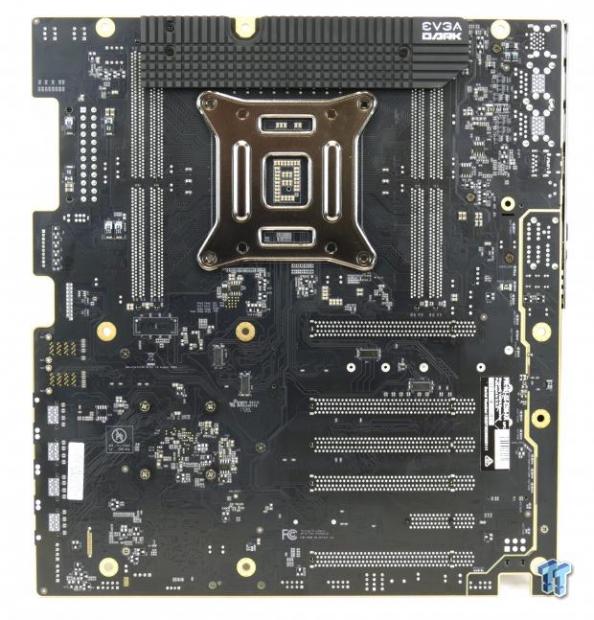 EVGA put just five fan headers on the motherboard, there is a sixth, but it's occupied by the VRM's fans. The two headers boxed in red are PWM mode headers, while the three boxed in blue offer DC/PWM operation so that you can choose between them. The motherboard has one of the most unique aesthetics I have seen, and I really like how they have added in gold plating in certain areas just to make it look cooler. The shroud over the fan on the PCH should help more air over the M.2 slots. The back of the motherboard reveals a huge backside heat sink for the VRM, as well as the audio area gold plated PCB divide and a bunch of the other components on the motherboard. The back of the PCB also features a hole under the CPU so you could stick in a thermal probe or some type of wire to monitor certain voltages.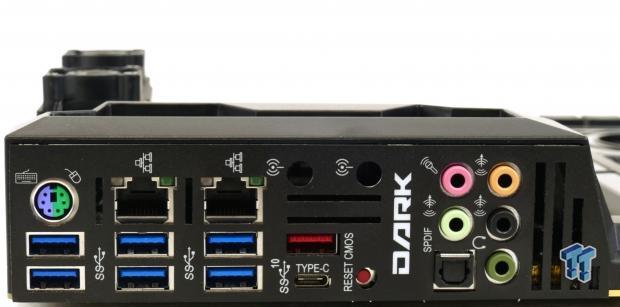 The rear IO panel features PS/2 keyboard/mouse, six USB 3.0 ports, two Intel Gbit LAN ports, USB 3.1 type-A, USB 3.1 type-C, clear CMOS button, holes for WIFI antenna, and 7.1 audio with S/PDIF out. The IO shield is integrated, but you can also remove the integrated one and use the normal one provided in the accessory package.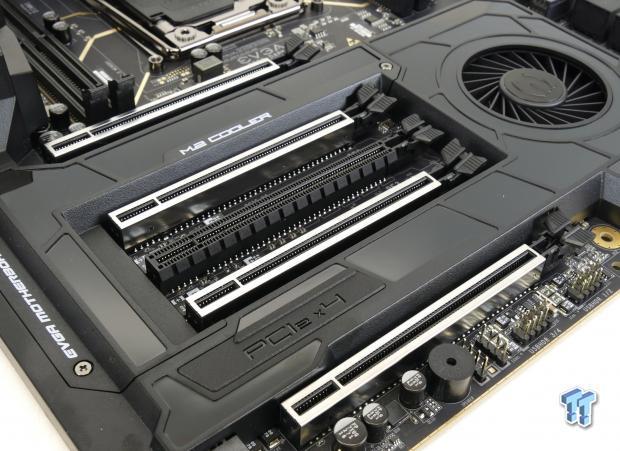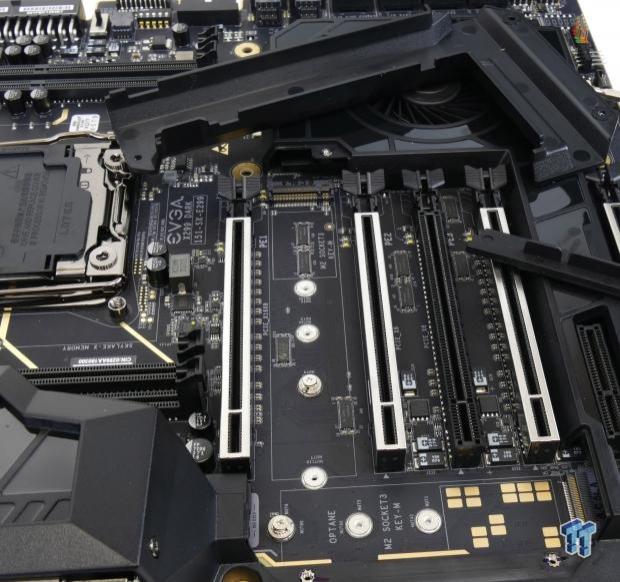 The motherboard supports both Kabylake-X and Skylake-X CPUs, and as such has a pretty crazy slot bandwidth allotment setup. They actually provide a chart on the blank PCB that is included within the package. Also, one of the M.2 connectors might or might not be connected to the CPU; it depends on the slot configuration, and that M.2 slot shares lanes with the PE6 PCI-E slot. Both M.2 slots are x4 PCI-E 3.0. One of the U.2 connectors is routed to the CPU, and that same connector shares lanes with the M.2 slot that doesn't connect to the CPU/PCH. The motherboard comes with thermal pads for M.2 drives, so when you install the M.2 drives, put the pad down near the connector and then install the drive, that way the pad will direct heat from the drive's controller into the PCB.

Here is a chart detailing recommended configurations for all slots and M.2/U.2 connectors depending on CPU used.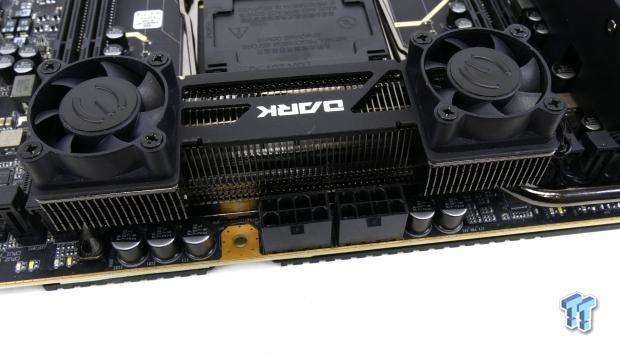 We find eight right angled SATA6Gb/s connectors near two U.2 ports. The two SATA6Gb/s ports closest to the U.2 ports come from an ASMedia controller and not from the PCH. We also find out right angled USB 3.0 header, Probe It header, and 24-pin header. The right-angled connectors might be a bit harder to utilize in a smaller case, but they offer superior aesthetics in many cases. The motherboard also features two 8-pin power connectors at the top of the motherboard, and the heat sink for the VRM is a real heat sink. It features two small fans, but they can be a bit annoying since smaller fans tend to make more noise.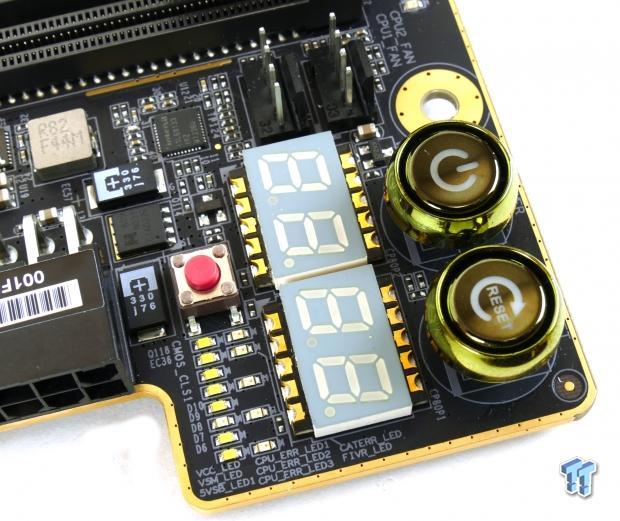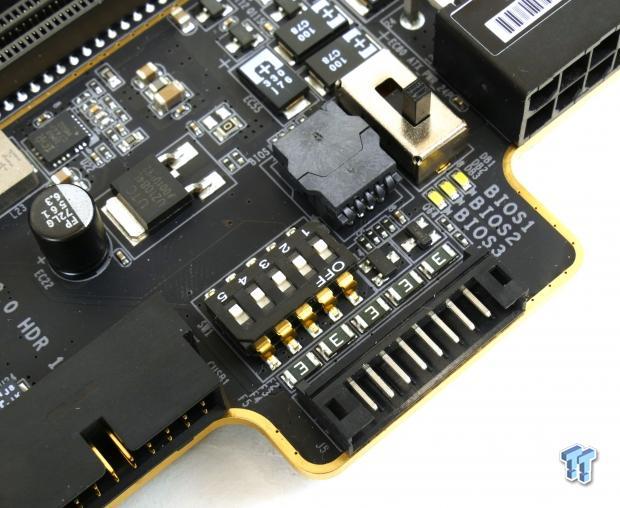 At the top of the motherboard, we find out power and reset buttons right above our quad POST code display. There is also a clear CMOS button here and a detailed CPU status boot LEDs that can help you debug boot issues. The motherboard features three BIOS ROMs, and one is removable. A physical switch is located above the BIOS socket. To the edge of the motherboard, we find our Probe It connector as well as the DIP switch used to disable PCI-E x16 slots.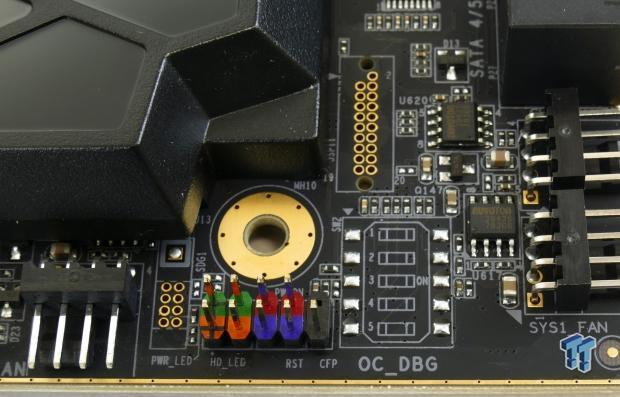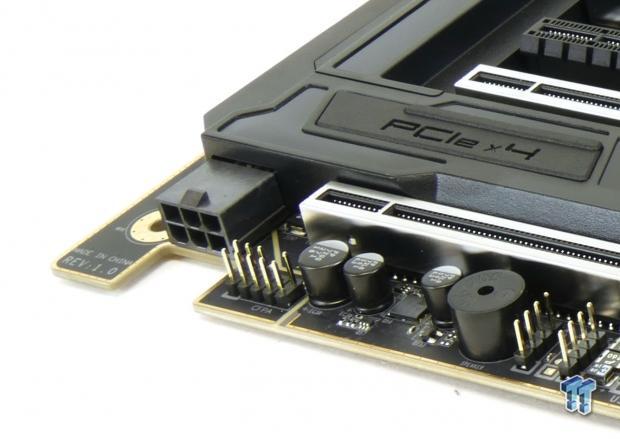 At the bottom of the motherboard, we find our front panel headers, but we also see empty solder pads, one of them is labeled OC-DBG, so perhaps modders will find a way to make use of these extra features that were removed from the retail version of the motherboard. At the bottom of the motherboard, we find a speaker and a 6-pin PCI-E input power plug. There are some four-pin headers that are not labeled clearly or mentioned, and there are empty LED pads on the backside of the motherboard PCB that line the audio section, so perhaps the board has some leftover RGB LED features that were nixed at the last minute.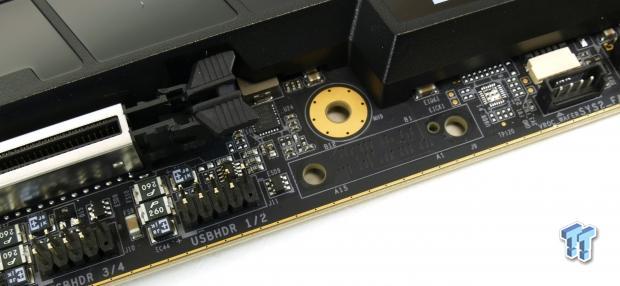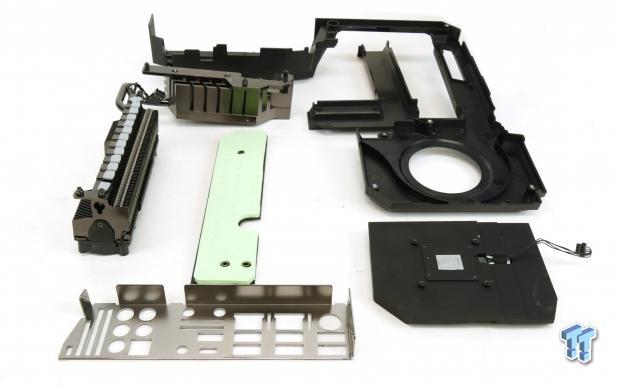 We also get two USB 2.0 internal headers to the left of the VROC header. Check out the heat sinks on this motherboard. That is a huge thermal pad for the backside of the VRM, and we can also see the individual power stages get their own thermal pads.
EVGA X299 Dark Circuit Analysis
Circuit Analysis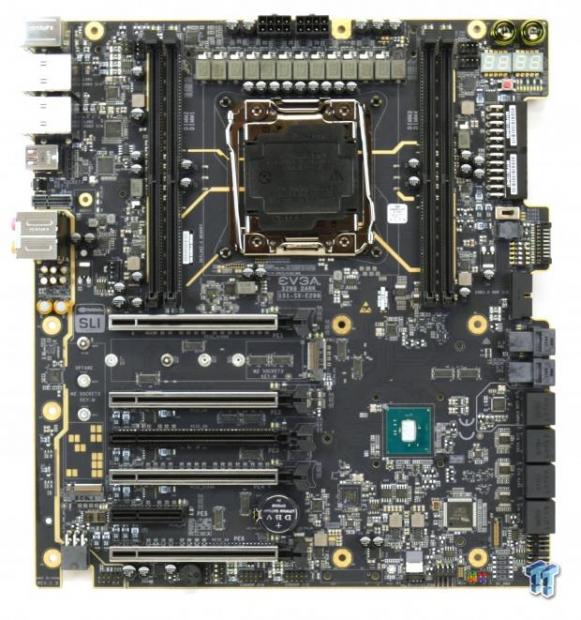 The motherboard is hiding a lot under its heat sinks.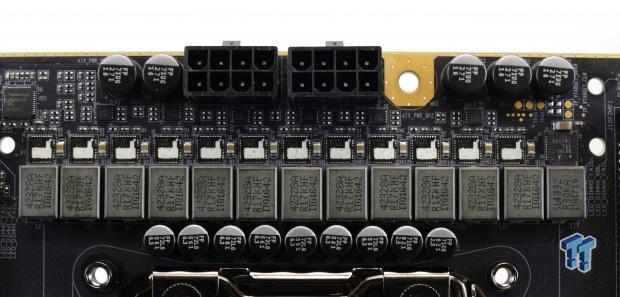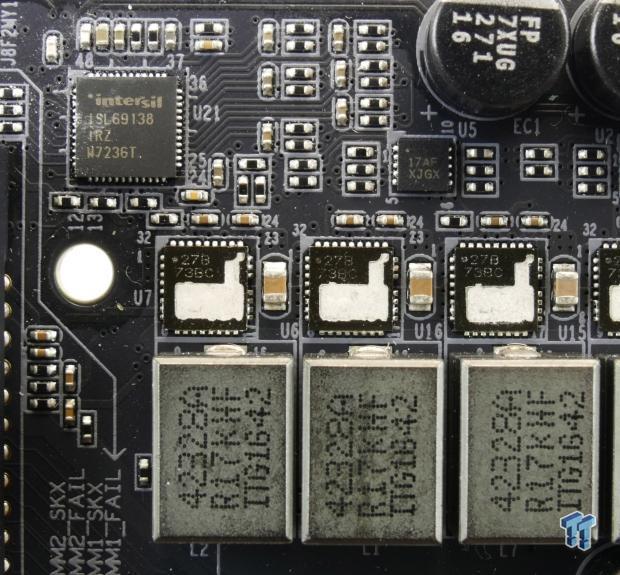 On more recent high-end X299 motherboards most everyone is using Intersil's brand new ISL99227, as they seem to be better for this platform than traditional IR alternatives. The 60A Smart Power Stages offer an exposed metal top that greatly improves their cooling. Here we find them in a 12 phase configuration. These new power stages are brand new and offer per phase temperature and current monitoring, which helps both monitoring and internal protection. The new PWM controller, the Intersil ISL69138 is used in a 6+1 phase configuration here. The first six phases are doubled to 12 by six ISL6617 phase doublers. Each phase here uses a 71A inductor, which is solid for the 60A power stages.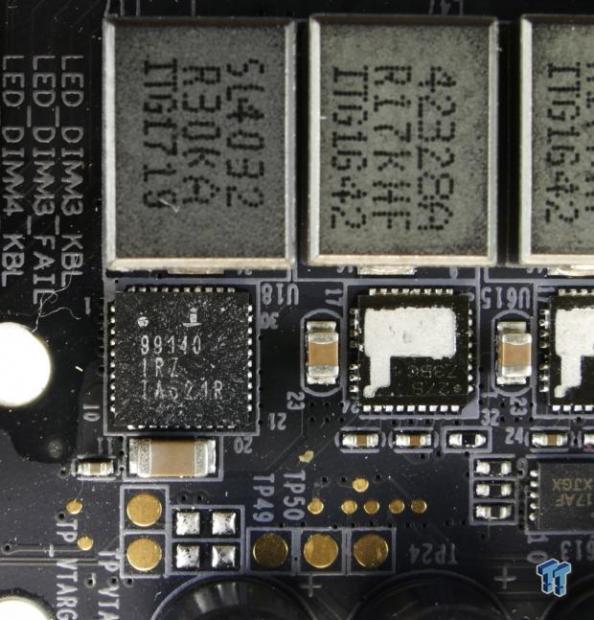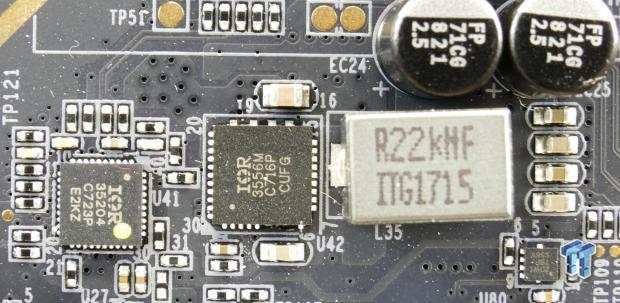 An Intersil ISL99140 takes the last phase from the main PWM controller and is used for the VCCSA voltage; it's a DrMOS rated for 40A. The VCCIO uses an IR35204 PWM controller with a 60A IR3556 PowIRstage integrated power stage.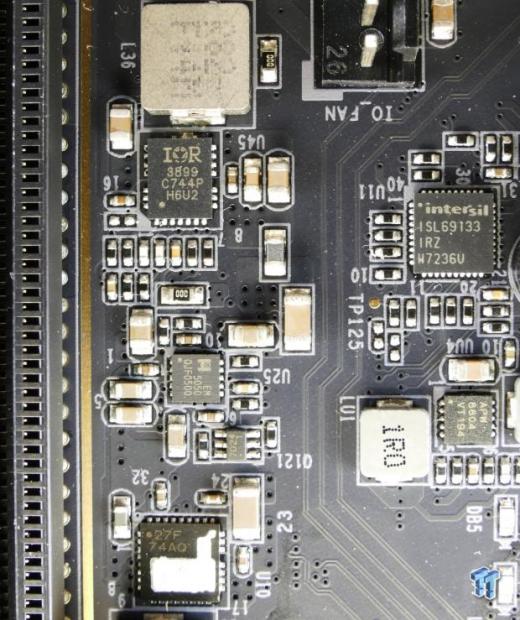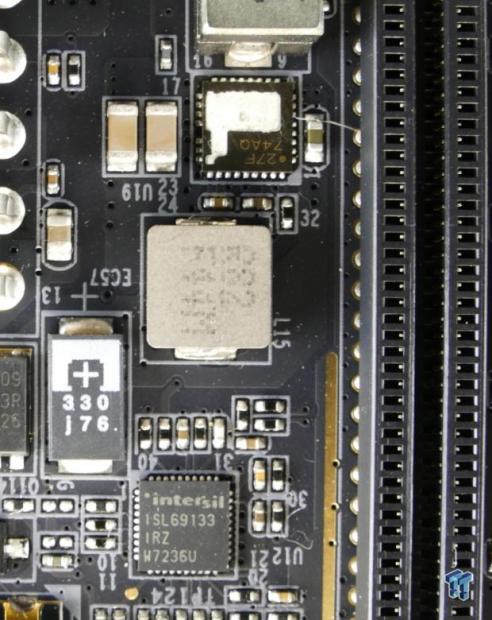 Each set of two DIMMs gets their own 60A Intersil ISL99227 60A Smart Power Stage and ISL69133 PWM controller. The DDR4 VPP come from a 9A IR3899, which is a single phase PWM and power stage integrated into a small package.
EVGA X299 Dark Circuit Analysis Continued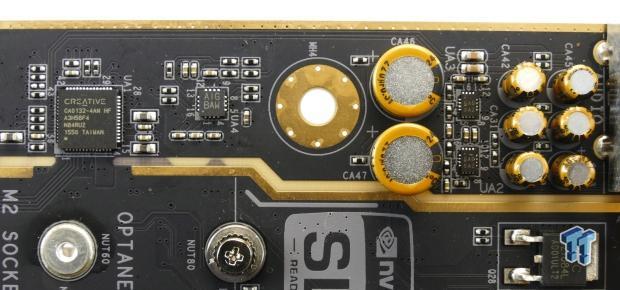 Creative's CA0132 Core3Di audio controller is found on the motherboard along with what we believe are some amplifiers and electrolytic audio capacitors. The audio section is well separated from the rest of the system.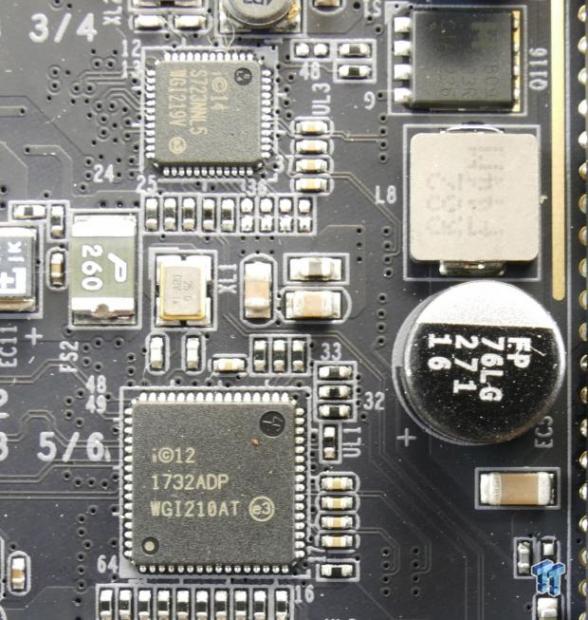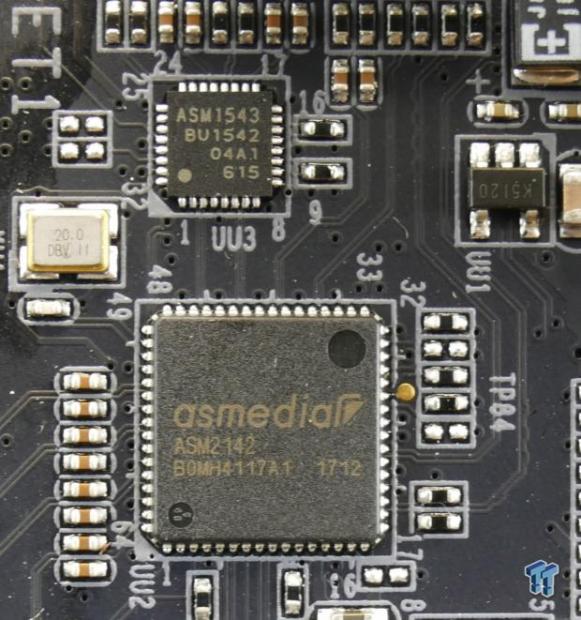 Two Intel NICs are on the motherboard, the first uses an i219v PHY and works with the PCH's integrated MAC to produce one of the NICs. The second is a standalone i210AT Gbit NIC. USB 3.1 is provided by an ASMedia ASM2142 controller with an ASM1543 type-C switch and CC logic chip.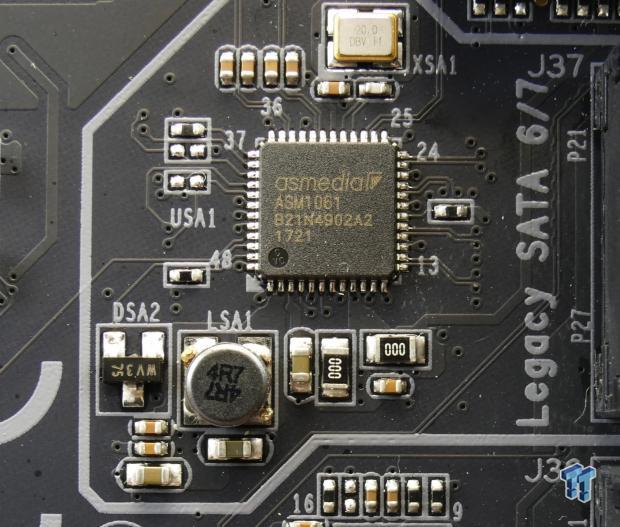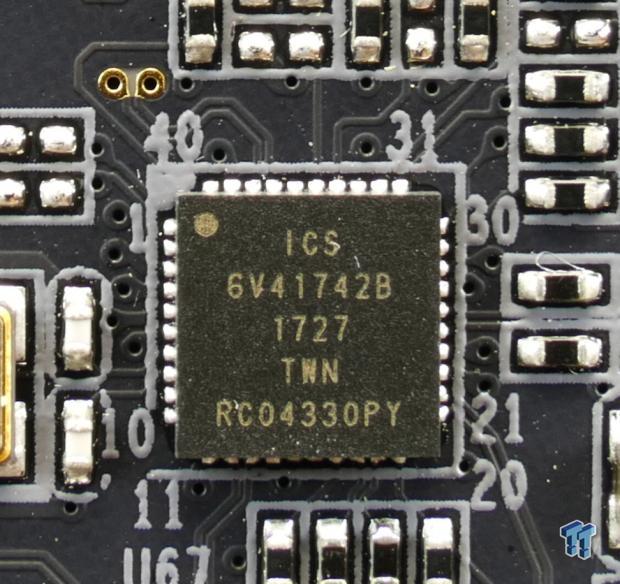 An ASMedia ASM1061 is used to provide two SATA6Gb/s ports; they are even marked as legacy so I would only use them if I run out of Intel ports. The ICS 6V41742B clock generator is used for overclocking the BCLK; it's very common on X299 overclocking motherboards.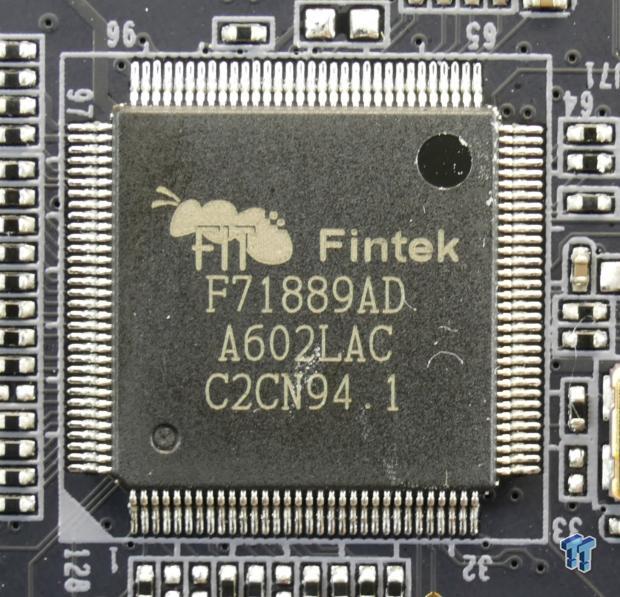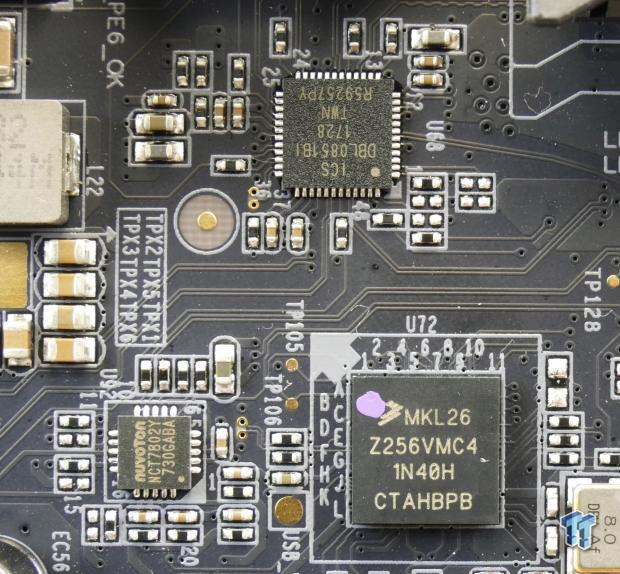 We find a Fintek F71889AD SuperIO controller on the motherboard, but we also find an NXP Kinetis 48MHz microcontroller, as well as multiple Nuvoton NCT7802Y hardware monitoring/fan control ICs. We think the Fintek controller takes care of main SIO responsibilities such as temperature monitoring, voltage monitoring, and things such as the PS/2 port on the rear IO.
However, we believe this monitoring is expanded through the use of the NXP microcontroller, and we think the microcontroller provides the ability for the system to monitor the crazy amount of voltage it does. We also believe that the microcontroller is part of the diagnostic system of the motherboard (helps with LEDs and the multi-use POST code display), and perhaps is responsible for ensuring fully monitoring support for both Kabylake-X and Skylake-X CPUs. Oh, there is a second clock generator on the motherboard, an ICSDBL0851, we think it's there to ensure stable PCI-E frequency.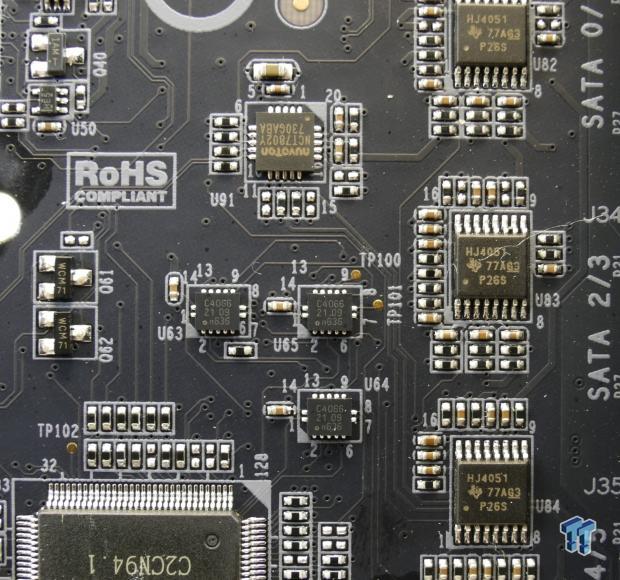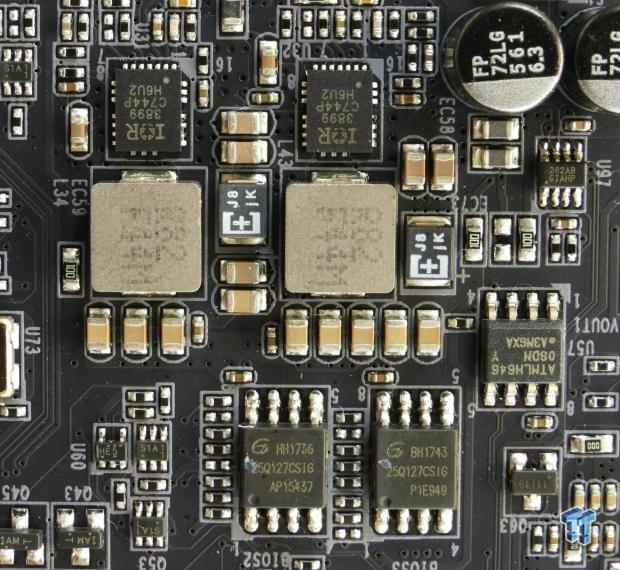 We find multiple high-speed TI CDx405x switches, and they seem to be used for the hardware voltage monitoring system on the motherboard or to ensure the board works well with both Kaby and Skylake CPUs. We found similar hardware on one other X299 OC focused motherboard to expand upon normal hardware monitoring. We the motherboard's PCH gets power from similar single chip VRMs we found for the DDR4 VPP. Our 2nd and 3rd BIOS ROMs are located near the PCH.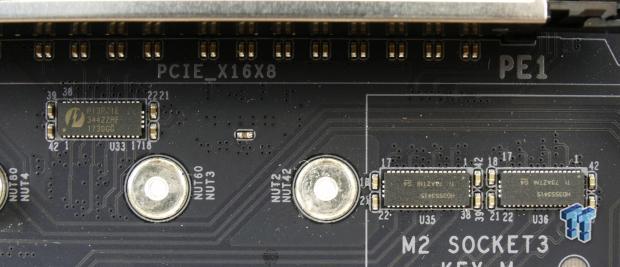 Oddly enough we find two different brands of quick switches, well not really. The Texas Instrument ones are typical quick switches, while the Perciom ones are more complex 2-lane exchanges switches. There are many more Texas Instruments switches.
BIOS and Software
BIOS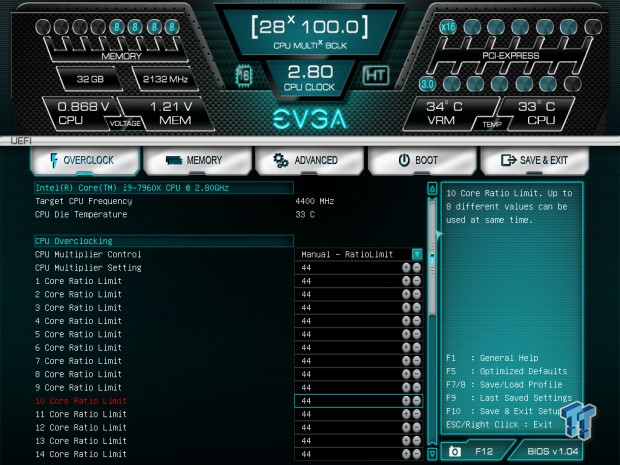 The UEFI BIOS looks just like EVGA's previous attempts at a UEFI, but in this case, EVGA provides a highly detailed OC guide to help you navigate the UEFI. Fan control is present in the UEFI in the form of manual input, and since there are no RGB LEDs, there is no RGB LED control.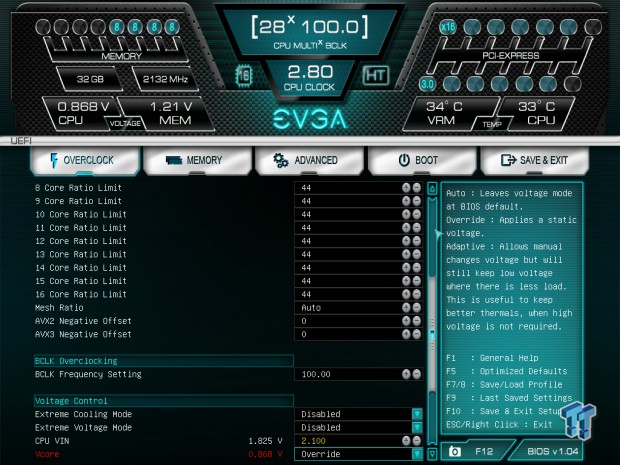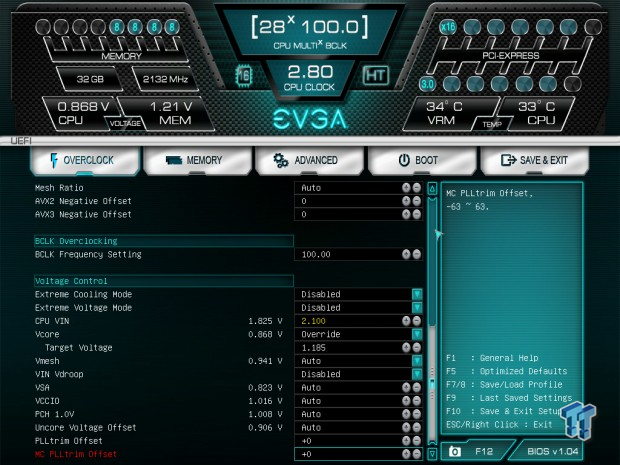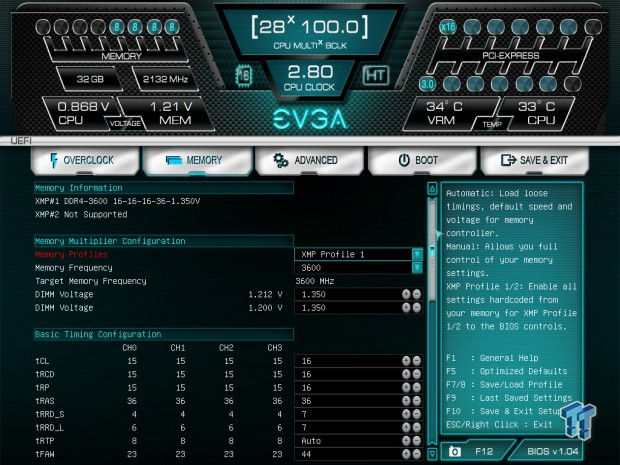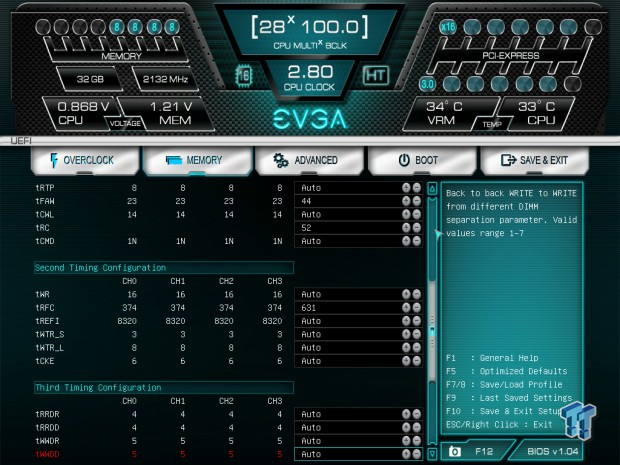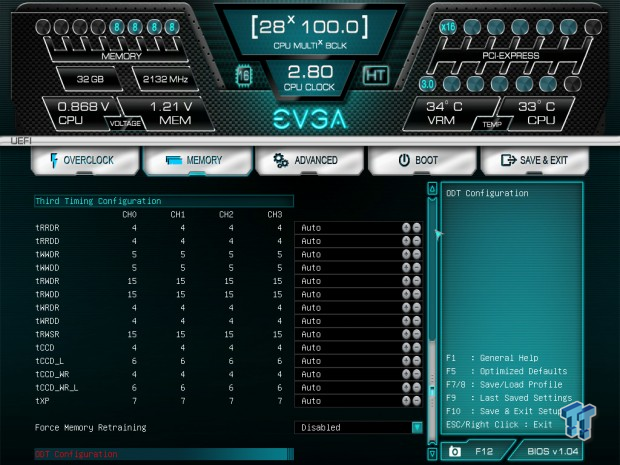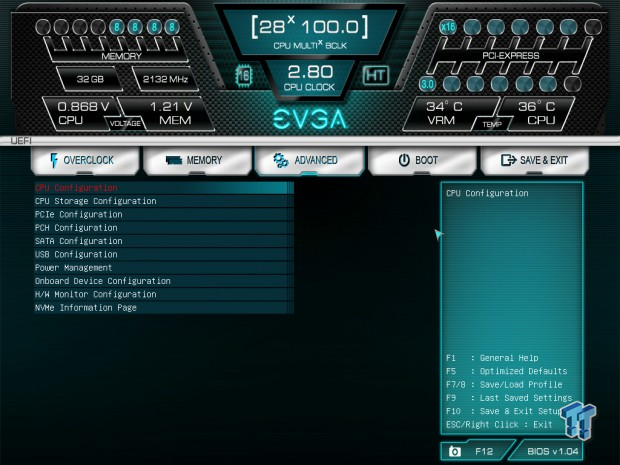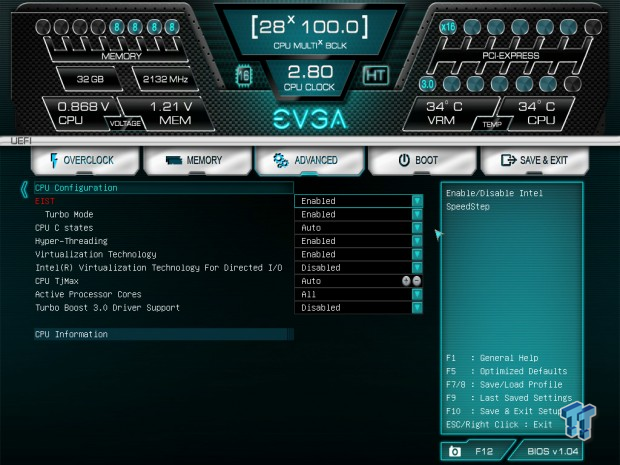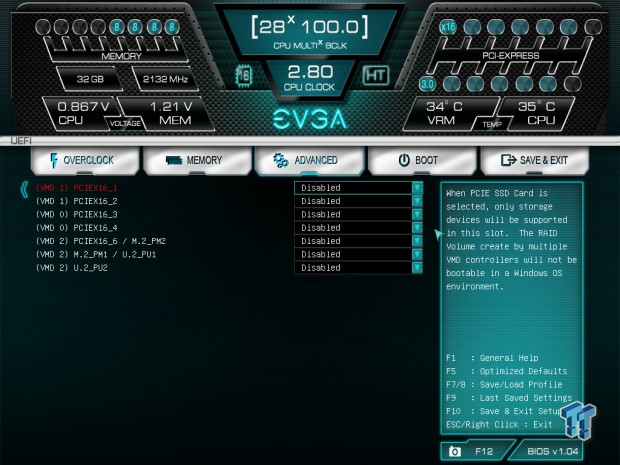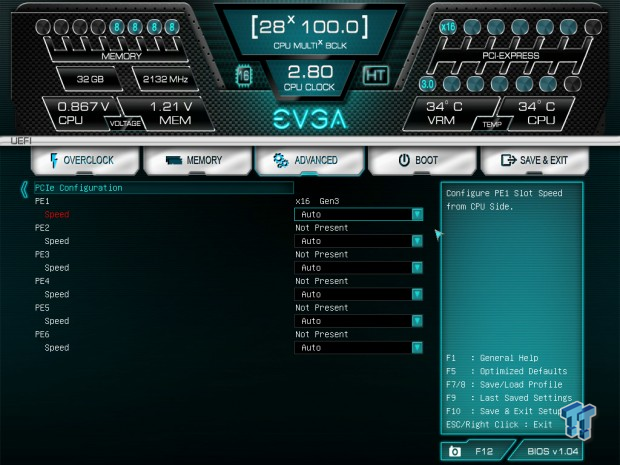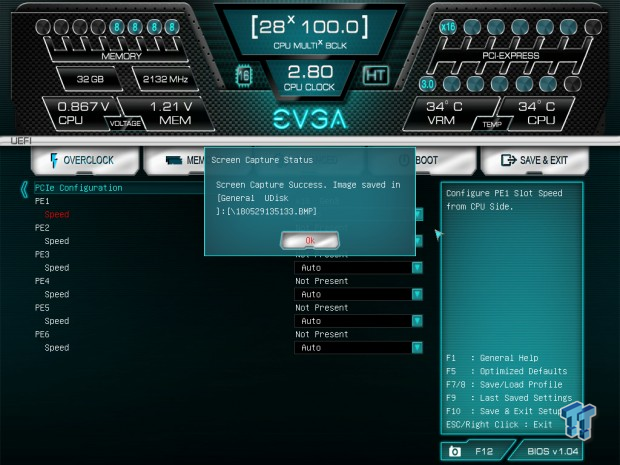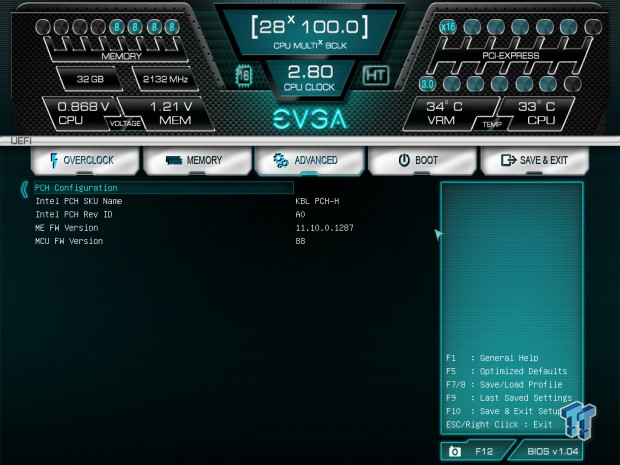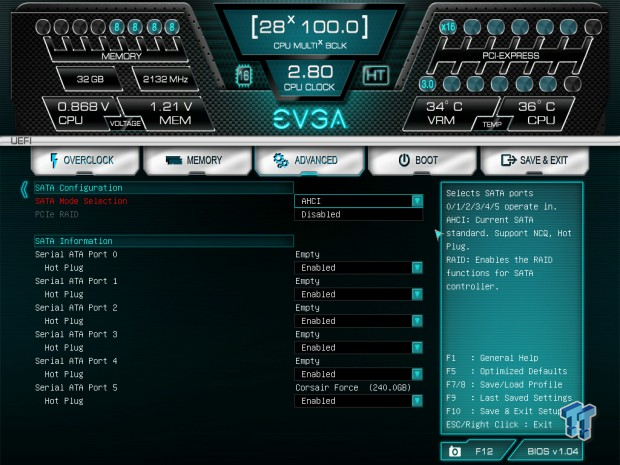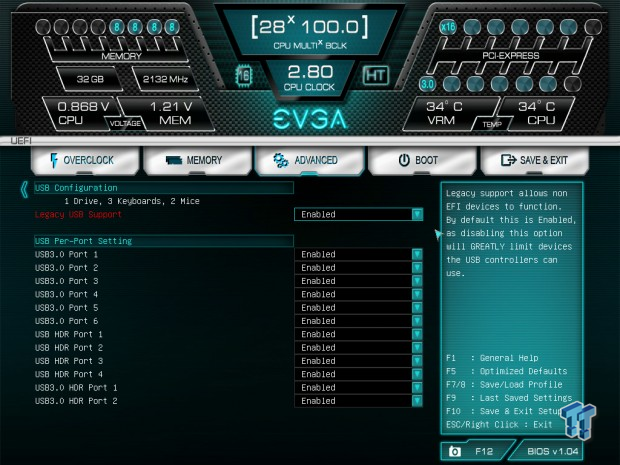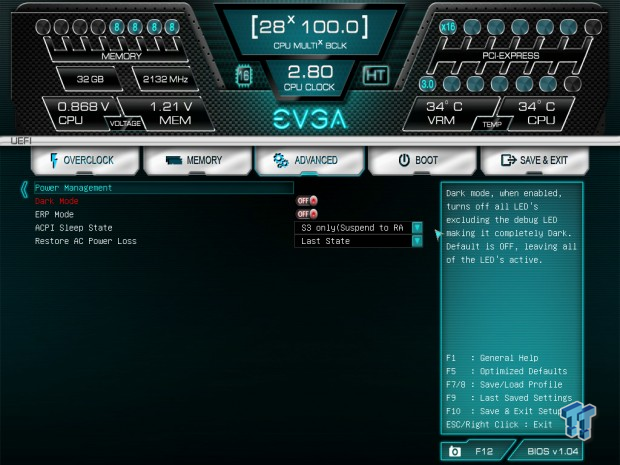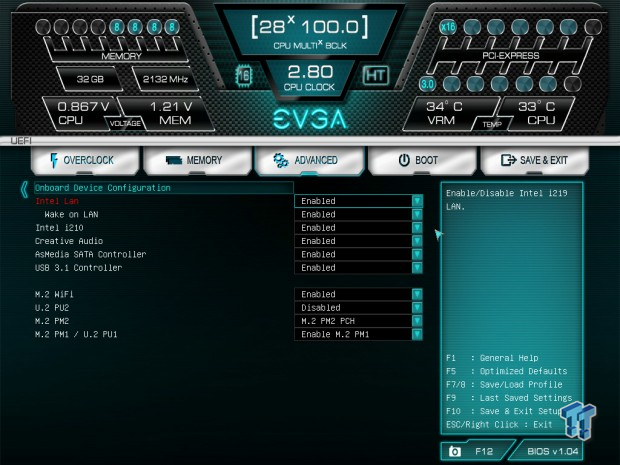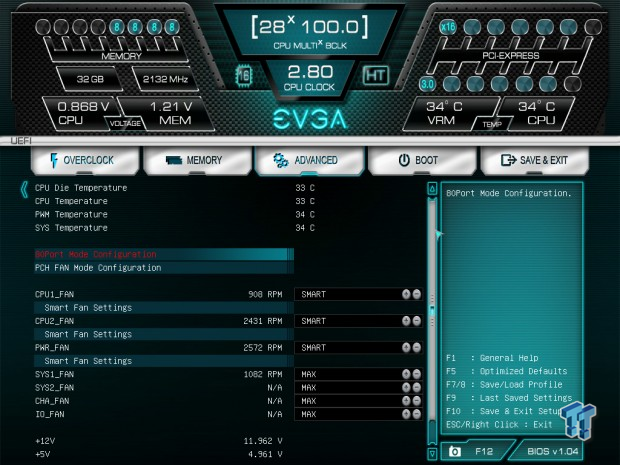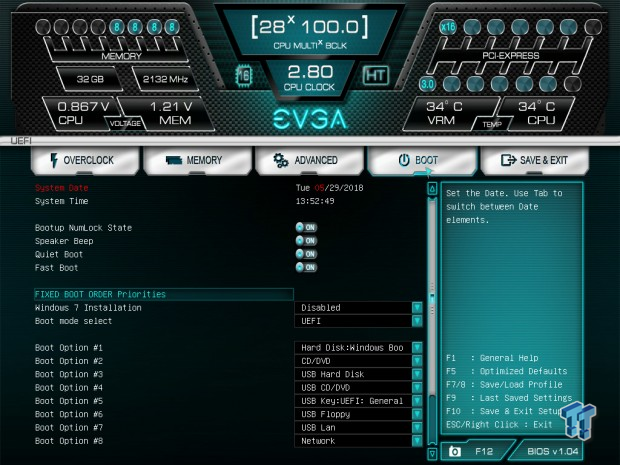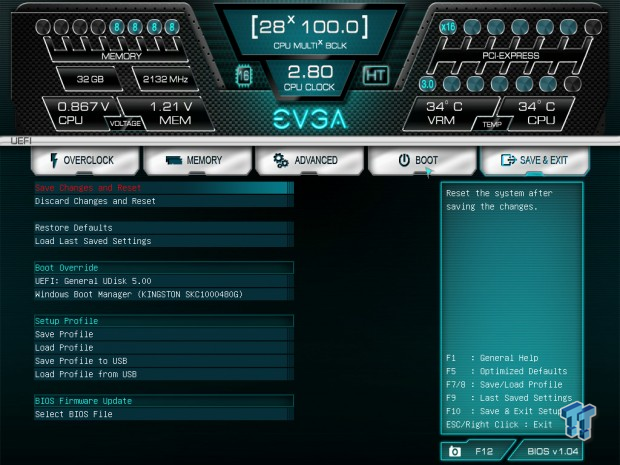 Software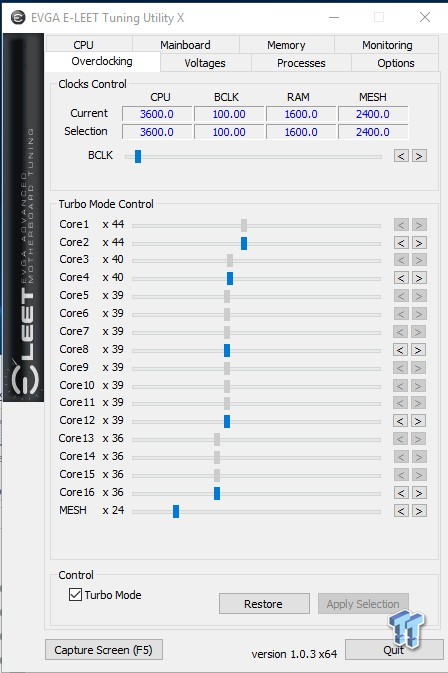 Software includes E-LEET, which allows for in-Windows overclocking.
Test System Setup
Steven's Motherboard Test System Specifications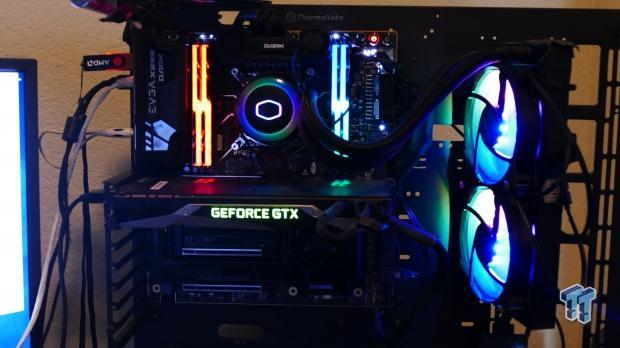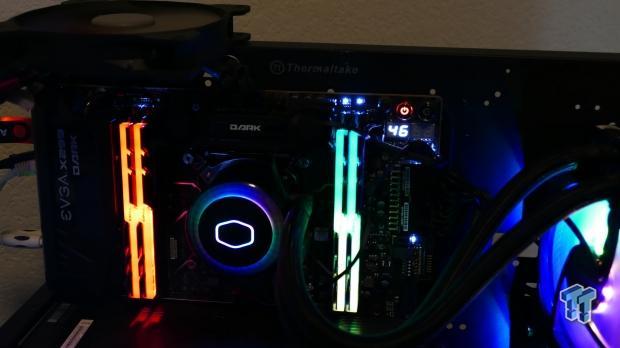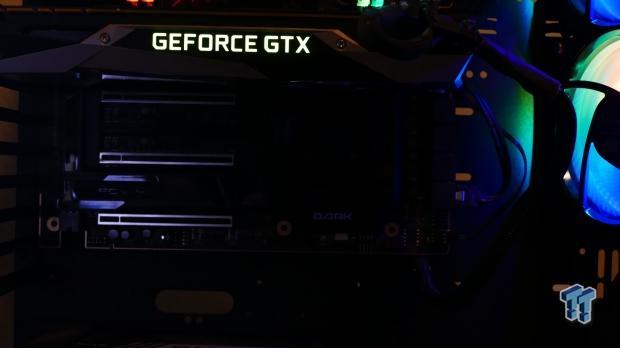 Nothing to see here folks, there are no RGB LEDs.
Overclocking
Overclocking Results
CPU Overclocking and GEIL memory OC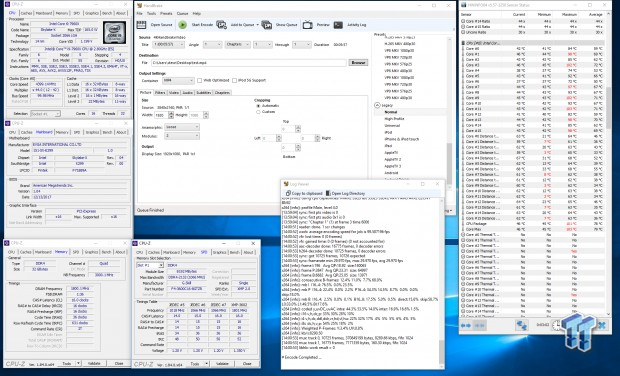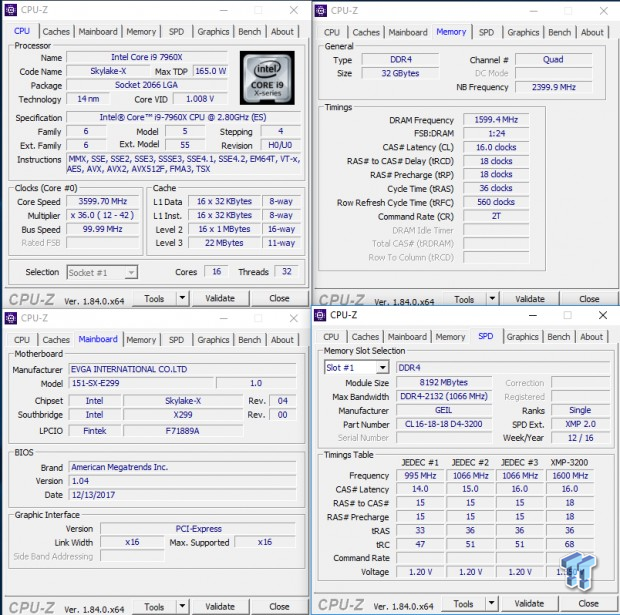 We set the CPU to 4.4GHz, the input voltage to 2.1v with LLC enabled, VCore to 1.185v, and then XMP to enable. The motherboard handled the overclock like a champ. We do test with one G.Skill TridentZ kit, but we also have a 3200Mhz GEIL kit that worked like a charm as well.
CPU, Memory, and System Benchmarks
CINEBENCH R15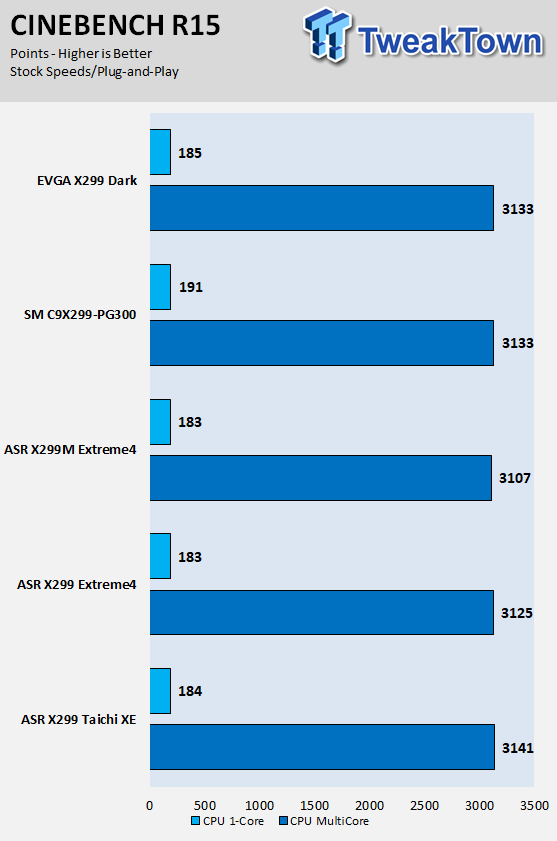 wPrime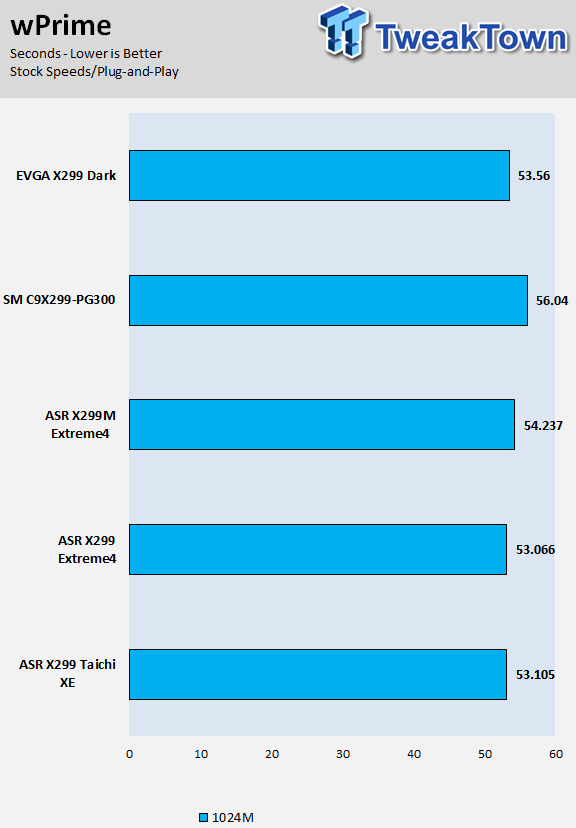 AIDA64 FPU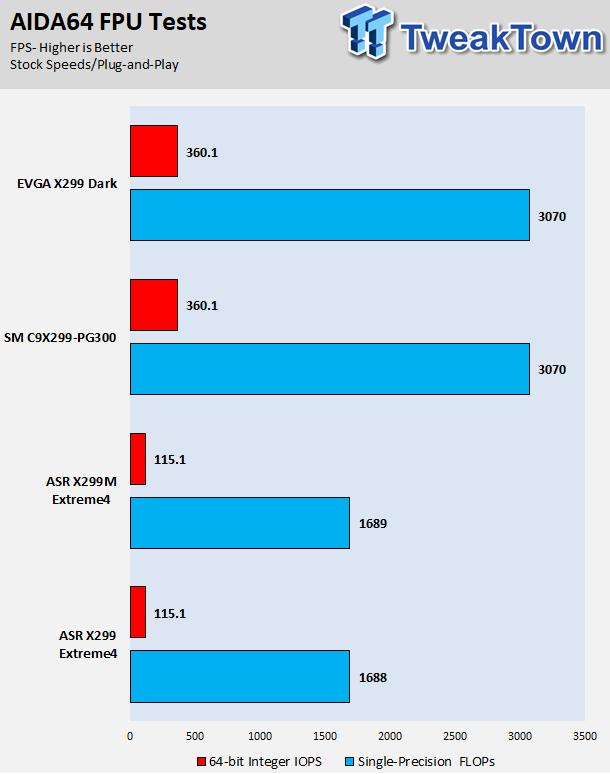 AIDA64 Memory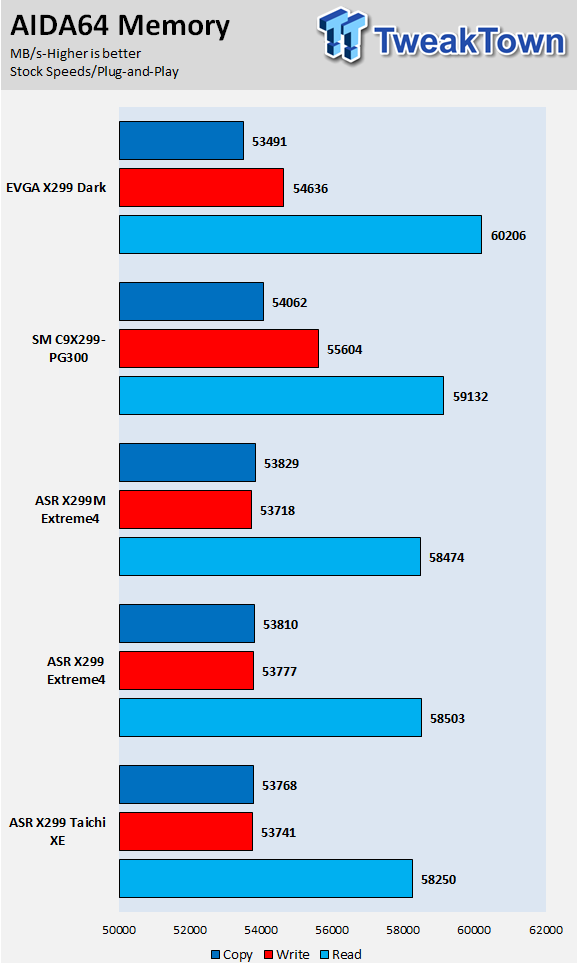 ScienceMark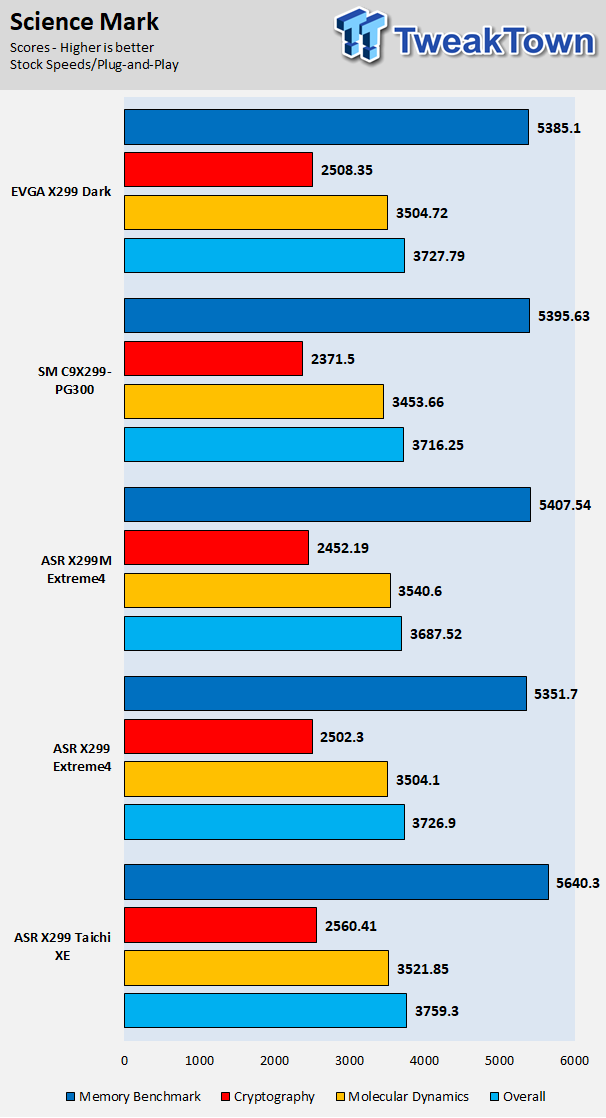 HandBrake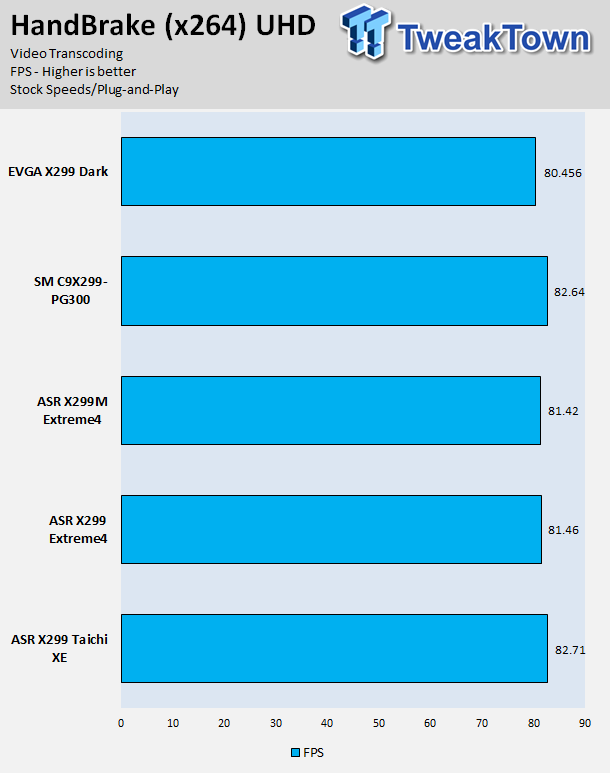 SuperPi 32M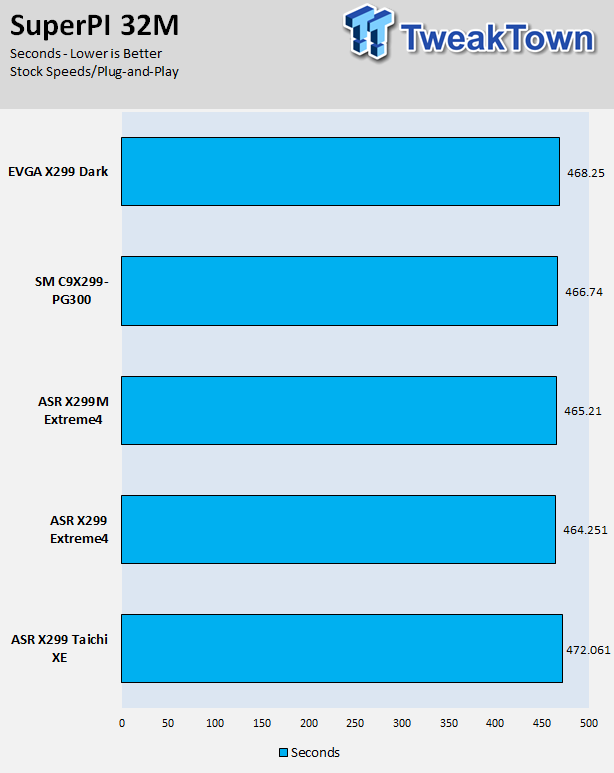 3DMark: Fire Strike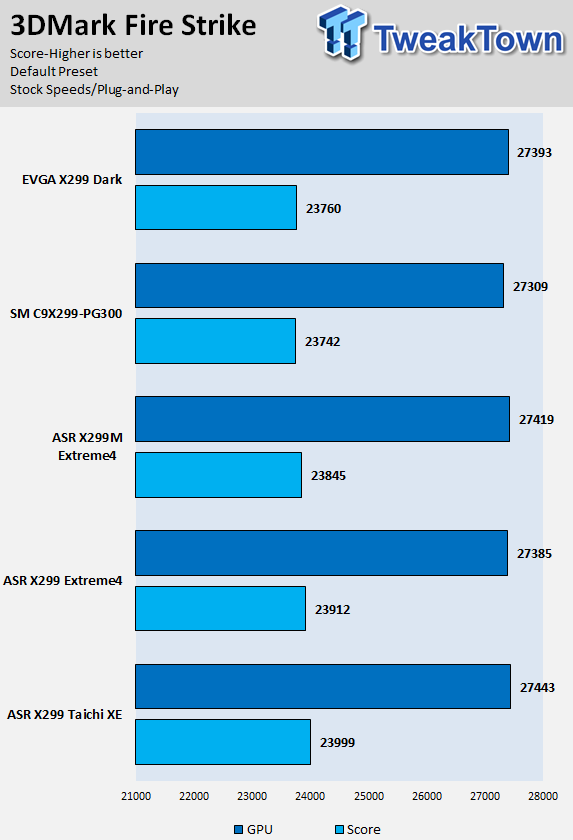 3DMark: Cloud Gate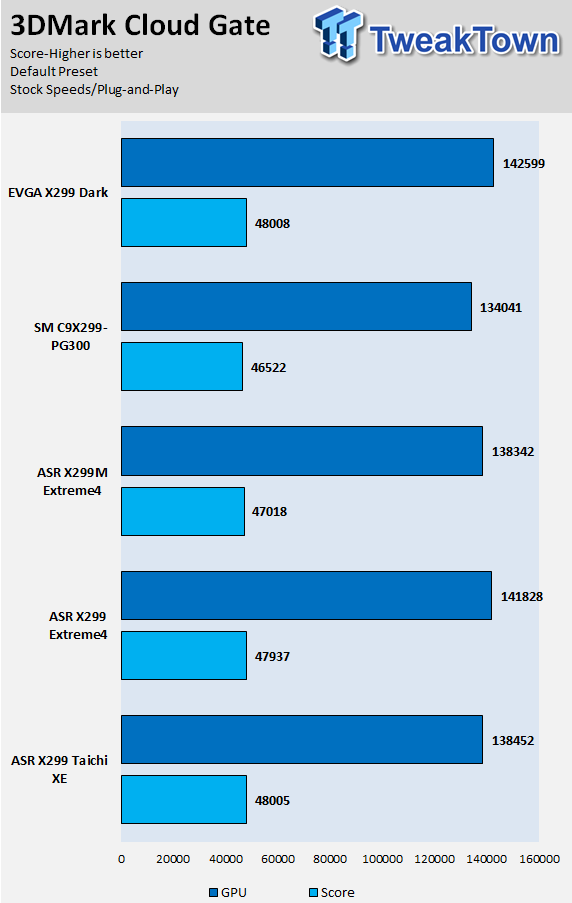 ResidentEvil 6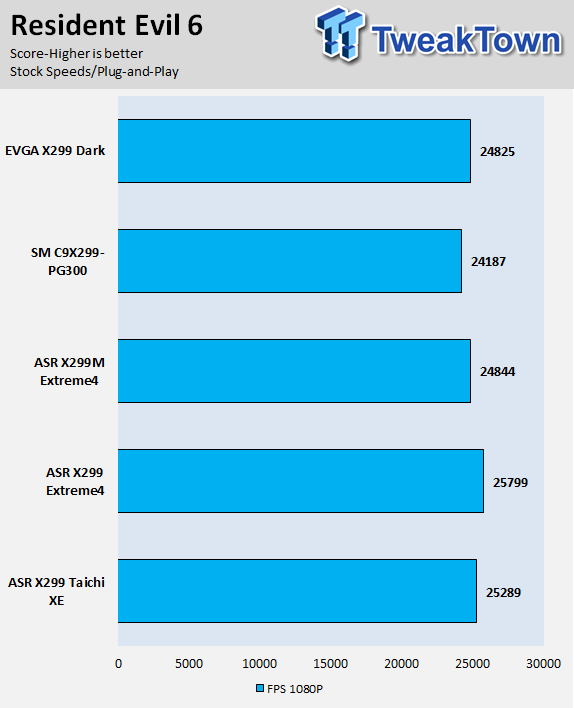 The EVGA X299 Dark is doing really well in these tests, and we found zero performance issues. I personally don't too much too much credence into benchmarking the CPU or GPU to see how well the motherboard does, as the difference is almost always within the margin of error. These tests are to make sure performance isn't below that margin, or to see what's going on if it's above.
System IO Benchmarks
CrystalDiskMark SATA6G: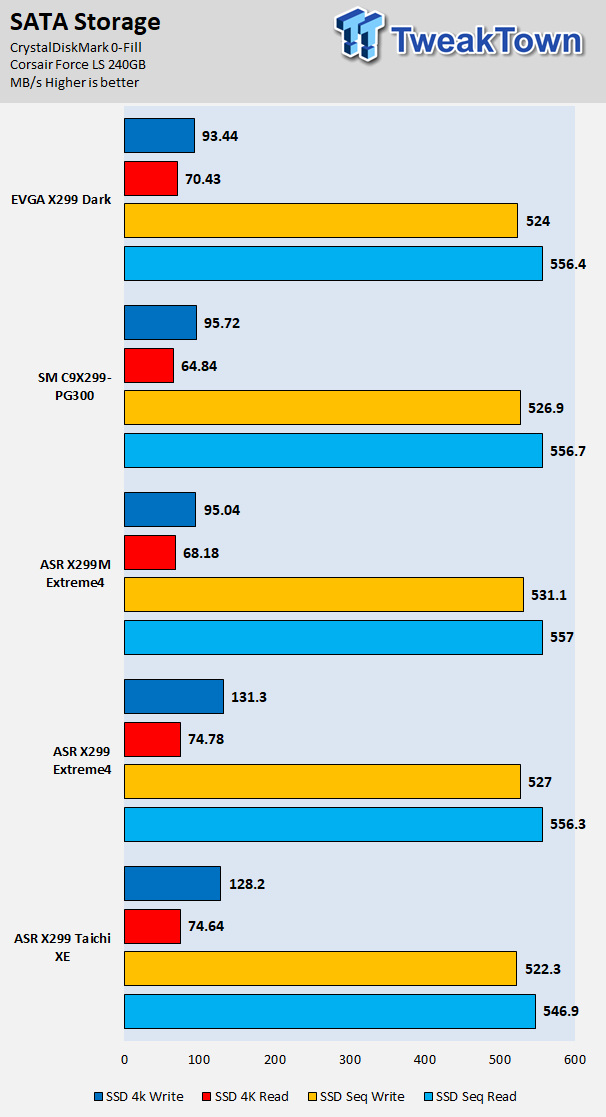 CrystalDiskMark M.2: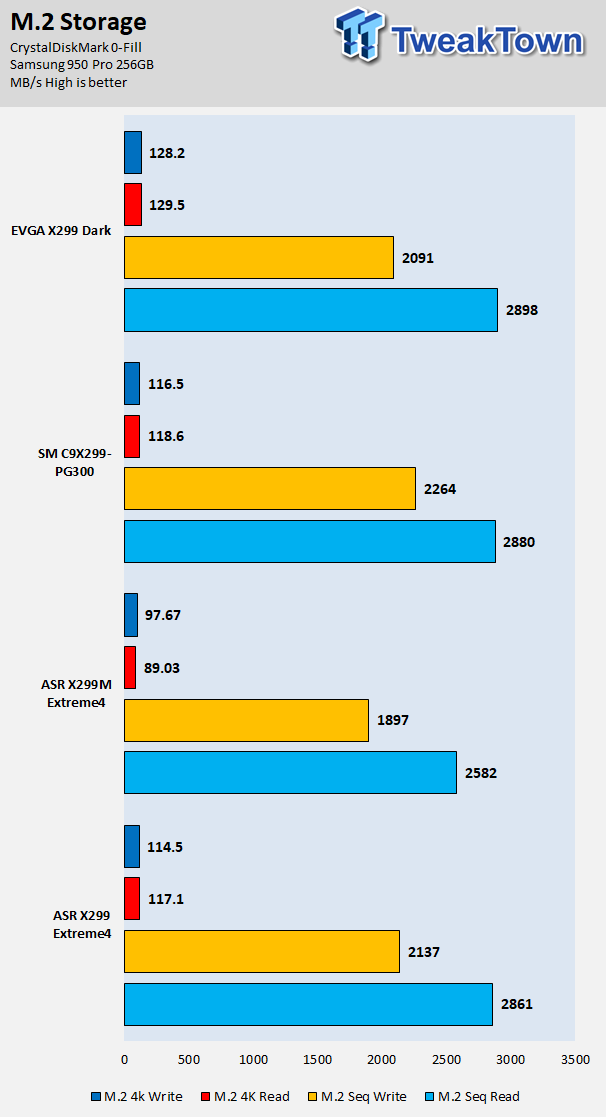 ixChariot Network Throughput: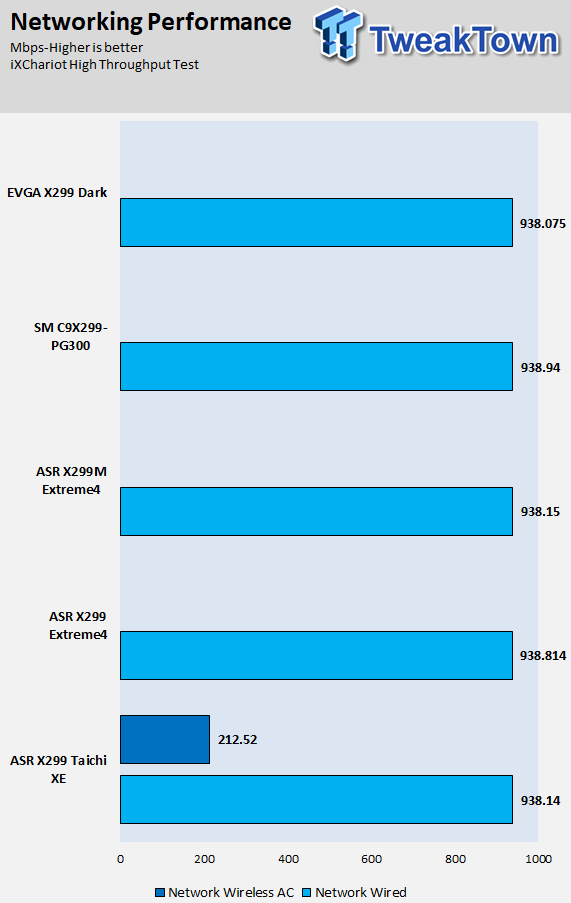 The EVGA's X299 Dark's SATA and M.2 performance were excellent, as was network performance.
Audio RMAA 5.5:
I disable all audio features, set the correct bitrates, and then test the audio with a loopback test.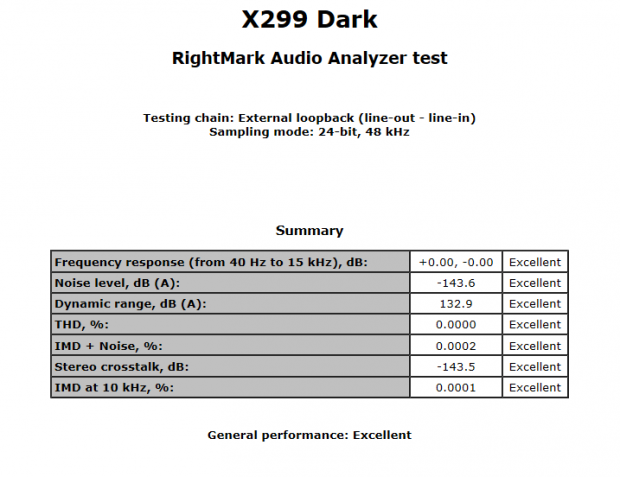 Sound Judgment by Ear: Excellent, although RMAA isn't very good with Creative chipsets. There are five ratings for audio: 1. Problems, 2. Okay, 3. Acceptable, 4. Very good, 5. Excellent
VRM and System Thermal Imaging and Power Consumption
Thermal Imaging and Power Consumption
System power is measured at the wall with an AC power meter.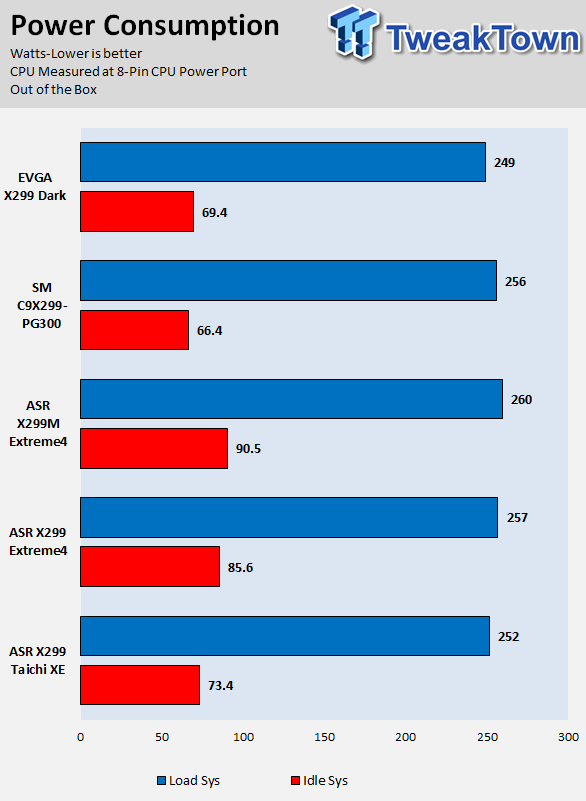 Note on Thermal Images: In the temperature section, we use our Seek thermal imaging camera to capture the surface temperatures of major components on the board. I look at the VRM and then all other things that light up the screen. If there is something to worry about, then I will state it. Otherwise, I will just show the hotter running parts of the board for fun. Unless some component is over 80-90C, then there isn't anything to worry about.
All systems will act differently, so I will look for commonalities, such as how far from the VRM the heat spreads through the PCB and the difference in temperature between the front side and backside of the PCB. Keep in mind, the majority of the heat from the VRM goes into the PCB as it is a giant soldered on copper heat sink. A larger difference in temperature between the back and front of the PCB points towards a more effective heat sink.
Thermal Testing at Stock Speeds:
The image on the left is always at idle, and the image on the right is at load. During ALL TESTS, fans above the VRM that cool the CPU cooler's (Corsair H110i) radiator are turned on to high (12v).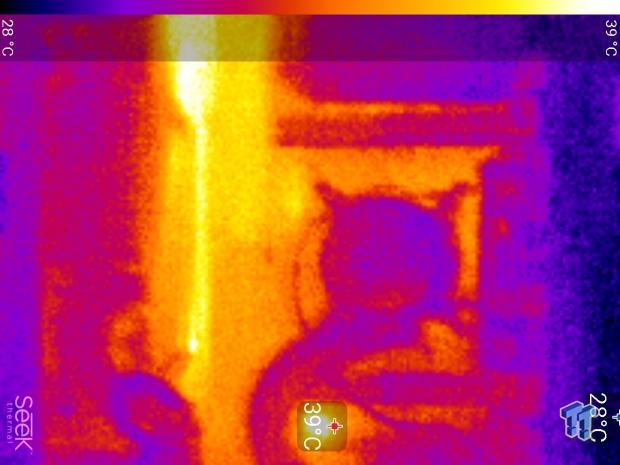 Full frontal.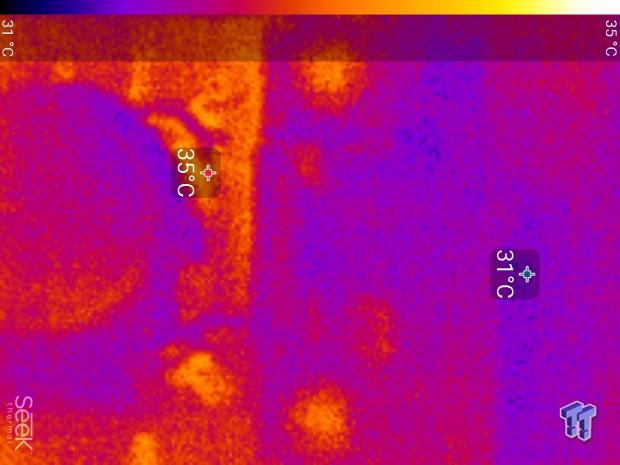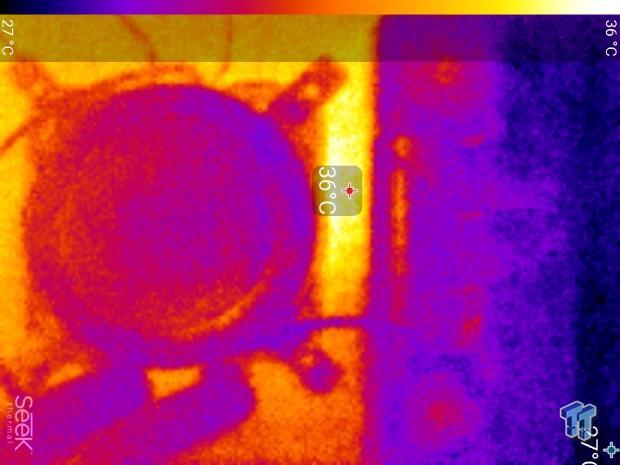 Up-close of the front of the VRM.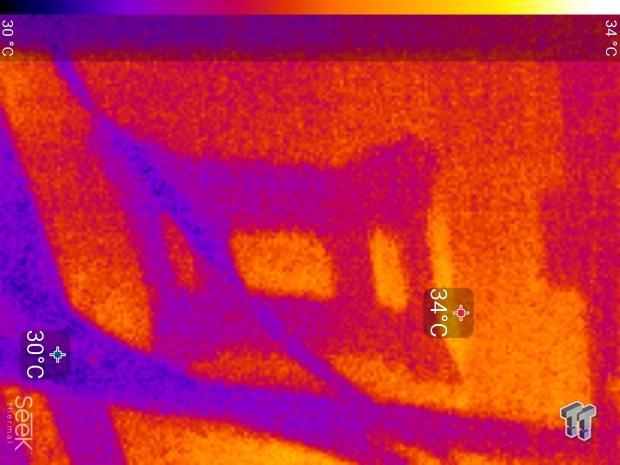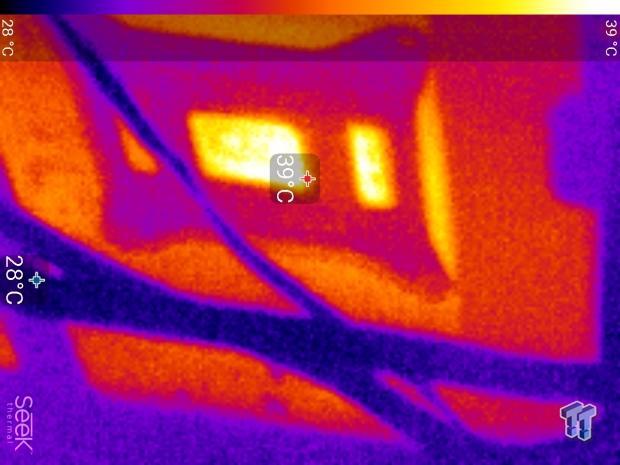 Up-close of the back of the VRM.
4.4GHz 2.1V VCCIN OCed VRM Thermal Imaging:
We standardize this test with a 4.9GHz on all cores with 1.2V real under load and take pictures at the 80% mark of HandBrake rendering a 4K video.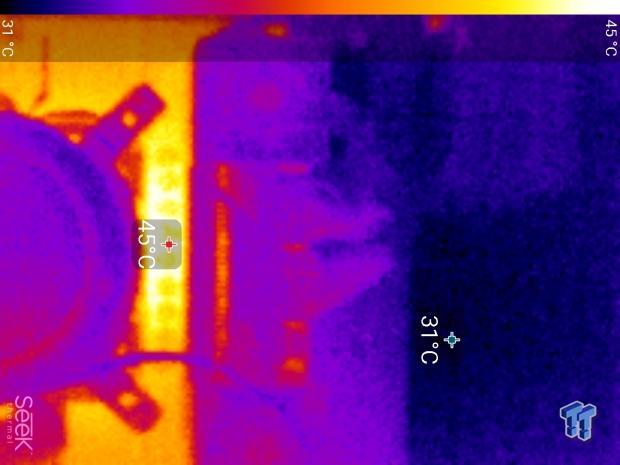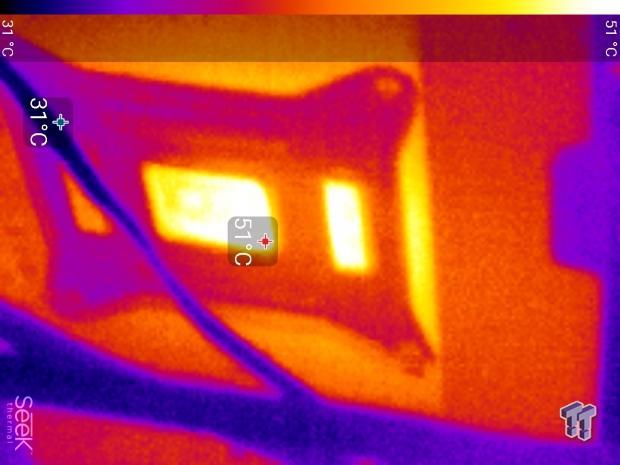 The motherboard utilizes the best Intersil parts on the market and has a very lovely active cooling system. These are some of the best results we have seen from any X299 motherboard. At full load, things seem balanced as well. These results are actually very good for this VRM, and that is because of the huge VRM heat sink with active airflow.
What's Hot, What's Not & Final Thoughts
What's Hot
Serious VRM: Here we have one heck of a VRM. EVGA deploys the best Intersil has to offer with their new line of digital PWMs and 60A power stages in a 12-phase configuration. They took things a step further with a large VRM heat sink that uses real fins instead of more fancy solid blocks. The rear of the PCB also has a huge thermal pad to help control some of the heat coming off the backside o the motherboard. To top things off, we find two small fans to cool down the fins.
Coolest Motherboard: The X299 Dark has to be THE COOLEST motherboard we have seen, at least on the hardware side of things, on the X299 platform. While many find RGB LEDs cool, we like the gold plated edges of the PCB, unique selective gold plating of certain PCB areas, and the next level of CPU booting diagnostics. The motherboard was built to be unique, beautiful, and handy. EVGA even includes a PCB without any copper that you can use to create a test bench for the motherboard.
OC Features: A four-digit post code display, optimized memory routing, triple BIOS, PCI-E disable switches and an underlying diagnostic system top the charts as some of the most important OC features.
Features: The X299 Dark is one of the last motherboards to utilize Creative's Core3Di audio processor. We also find dual Intel LAN on the rear IO, two U.2 ports, and USB 3.1, which top of the list of the motherboard's features.
What's Not
Four DIMMs : While having only four DIMMs increases overclocking capabilities of DRAM on the motherboard, it's only half the number we find on most X299 motherboards.
Final Thoughts
EVGA's X299 Dark is one of our favorite motherboards; not only because its build quality is so impressive you might have to register it as a weapon in some countries, but also because it's soundly engineered down to the last circuit. EVGA's engineers took things to the next level with this motherboard, and through our visual inspection, we saw over-engineering all over the place, including the VRMs.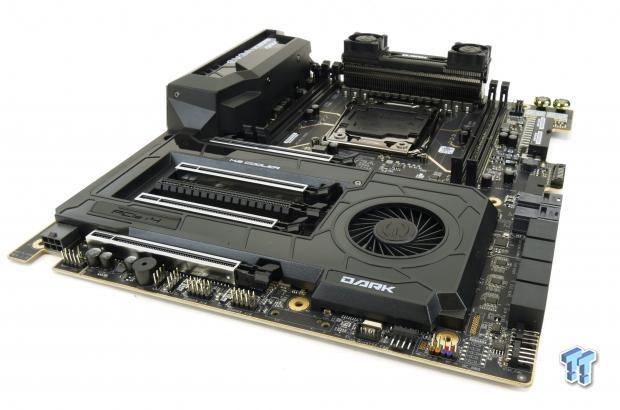 Now, some people are a bit wary about UEFIs from smaller vendors since they do not have the same resources as the larger ones, but following the detailed overclocking guide written by EVGA's "TiN" made overclocking significantly easier. To be honest, we went into this expecting a lot because of EVGA's "K|NGP|N " promise that would it be a really good motherboard, and all of our expectations were met or exceeded in many ways.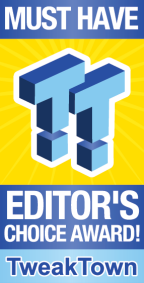 | | |
| --- | --- |
| Performance | 95% |
| Quality | 99% |
| Features | 95% |
| Value | 90% |
The Bottom Line: Want a motherboard with the best quality components, gold plating, and solid documentation and support; the X299 Dark might be the perfect motherboard for you.
PRICING: You can find products similar to this one for sale below.

United States: Find other tech and computer products like this over at Amazon.com

United Kingdom: Find other tech and computer products like this over at Amazon.co.uk

Australia: Find other tech and computer products like this over at Amazon.com.au

Canada: Find other tech and computer products like this over at Amazon.ca

Deutschland: Finde andere Technik- und Computerprodukte wie dieses auf Amazon.de
We openly invite the companies who provide us with review samples / who are mentioned or discussed to express their opinion. If any company representative wishes to respond, we will publish the response here. Please contact us if you wish to respond.