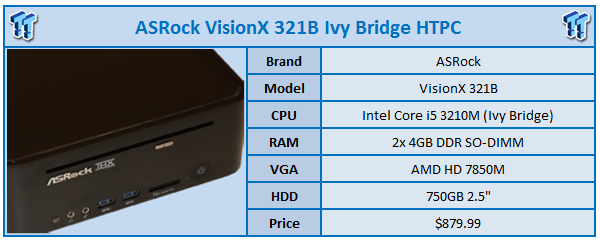 I've always been a fan of the ASRock HTPC line, but they've been something that I've admired from a distance and never really had the opportunity to have a look at closely. That was until last year when I got a chance to have a look at the CoreHT 252B Sandy Bridge HTPC at my editor Cameron's house and use it a bit.
ASRock had clearly done a good job of bringing a sharp looking mini PC to the market that looked good and offered some strong performance. So when we got word of the new Ivy Bridge based models being released, I knew that it must be mine. Having been using the VisionX for a while now you can't deny the joys of having a proper PC against your typical "Media Player".
Let's take a quick moment to cover what's going on with the box today before we move inside the box itself and take a look at the bundle. Having a look at the front of the box you can see it's fairly simple with a really clean look. We've got a picture of the device, a bit about the VisionX series on the right and along the bottom we've got a number of logos along with mention of some of the main features.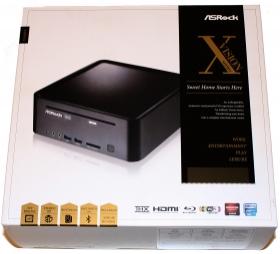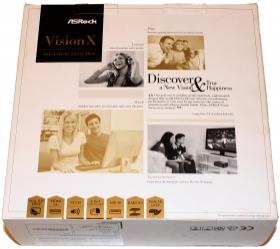 Turning the box over we've got some pictures and a quote from the V.P of ASRock B & D Division. Across the bottom of the box we also again see some of the main features that are included.
Moving away from the box itself and into the bundle you can see there's actually not a whole lot going on. When you think about it, though, you don't need a lot outside the actual unit itself. Looking below you can see the normal line up of paperwork as you'd expect along with a driver CD.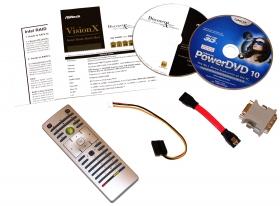 Along with the driver CD you can see we've also got a copy of PowerDVD 10 included in the bundle. We've also got a DVI to GVA connector, a short SATA cable and a SATA power cable convertor. To round off the bundle no HTPC is complete without a remote.
With the box and bundle looked at it's time to get into the VisionX itself which you can see below. For the most part it looks fairly similar to other HTPC devices from ASRock. On the dimension front we're looking at 200mm(W) x 70mm(H) x 200mm(L) with a total weight of 3.11kg.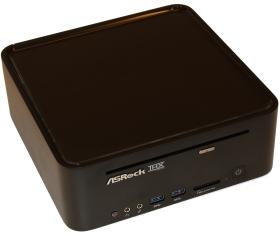 While available in two colors you can see we've got the black one today which we prefer over the silver version. Of course this is going to come down to pure personal preference and more than likely the color combination of your TV area will influence your decision.
Moving in closer to the VisionX we start at the front which has the ASRock and THX logo below a slot based Blu-ray combo drive which helps make for a really clean look. Moving to the bottom of the device we can see a number of ports. Starting from the left we've got a headphone and microphone jack.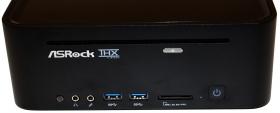 As we continue to move across we've got two USB 3.0 ports along with a 4-in-1 card reader that can read MMC, SD, MS and MS Pro. Finally on the far right we have the power button which has a blue LED behind it that lights up when the machine is up and running.
Around the back of the VisionX you can see we've got a whole lot going on. Starting with the top you can see a clip that helps remove the top of the casing and next to that we have a Kensington lock area. Moving to the bottom of the unit on the left we have our DC in port which is used with the included power adapter. Next to that you can see five auxiliary ports along with an optical out port. There is support for 7.1 channel THX audio which is perfect for watching Blu-rays.

Continuing to move across we've got a Gigabit networking port along with two more USB 3.0 ports. Video connectivity comes in the form of a Dual Link DVI-I port and a HDMI 1.4a one with an eSATA III port sitting between them. Finally we finish up with four more USB ports, but these are USB 2.0 in this instance.
As we clip open the top and undo some screws on the inside we get an idea of what's going on inside the VisionX. Opening it up I really found myself surprised at just how good looking the unit was with the copper heatsink and heatpipes being the major stand out. Looking at the insides you can see we've got a really clean setup going on. Considering the tight space you of course need as much room as you can get so the air can move throughout the system.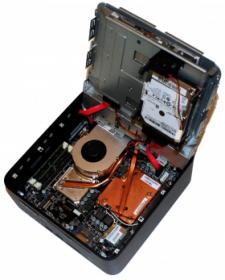 From a specification point of view the VisionX 321B really is quite the heavy weight considering its size. On the CPU front we've got an Intel Core i5 3210M Ivy Bridge based chip. 8GB of DDR3 is included in the form of two 4GB sticks. Graphics is provided by the AMD HD 7850M and storage comes in the form of a 750GB 2.5" hard disk drive. We would have preferred to see an SSD here, but we can't have everything our way.
Moving in a bit closer we get a better look at what's going on and the big surprise was the inclusion of the mSATA port towards the bottom of the case. Removing the standard 2.5" 750GB hard drive and replacing it with an mSATA SSD you'd find yourself with a system that would run even faster, weigh slightly less and also generate less heat.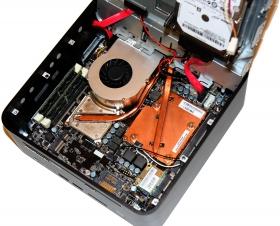 To the right you can see the 802.11 a/b/g/n WiFi and Bluetooth 4.0 connector. You can see on the left side we've got our two 4GB SO-DIMM memory modules. If you look a bit closer you can see towards the top right we also have a spare SATA port in the event you want to throw a second drive into the mix.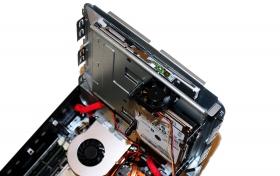 If we look at the top half of the inside you can see there's not a whole lot going on. You can see the Blu-ray slot drive and 750 GB hard drive that we've already mentioned along with a small fan which helps move some air around the case.
Firing up the VisionX the first time we had to take the time to install Windows 7 as the system didn't come with an operating system installed in our case. We installed off a USB 2.0 pen drive, but the install was painfully slow since I couldn't remember the last time I installed Windows onto a non-SSD drive.
Of course this is no fault of ASRock and the addition of an SSD drive would add a decent chunk to the overall cost. Considering the nature of the system as well, you probably don't need an SSD. With that said, though, if you wanted to increase the overall snappiness of the system, a small sized SSD would go down extremely well - especially if you're going to be watching content via the streaming of a server, NAS or your main PC. The need for a massive amount of storage may be unnecessary.
With Windows installed, all the drivers along with our important codec packs, the system ran like an absolute dream. As we mentioned earlier, from a specification stand point of view, the VisionX is actually quite stacked. 1080P playback via Blu-rays or just MKV files was fantastic. From a playback perspective the VisionX really can handle anything you throw at it thanks to the specifications and power it possesses.
Once all that was installed it was time to install VNC. Instead of a wireless keyboard or mouse I've always taken a slightly different approach to my HTPC setup and this time is no different. With the help of my Apple iPad mini tablet and VNC, I use remote desktop to control what's going on with the screen in front of me.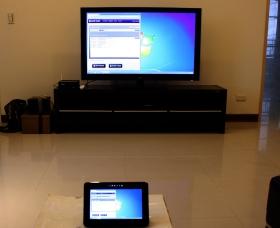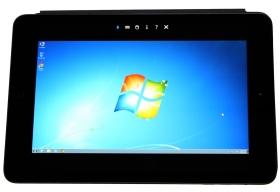 This is especially helpful if you sit further away from your TV and have trouble reading the text. Instead of having to move forward to see what's going on or just randomly click stuff, you can with accuracy control everything that's going.
Prior to the VisionX I had been doing most of my movie and TV watching via a WD TV Live Hub which is a truly awesome device. The lack of wireless on it was something that always annoyed me, but the biggest issue with this device and just about any media player is that you don't have the same flexibility as you do with a device such as this ASRock machine which is a PC.
I have an NFL Gamepass subscription that allows me to stream a whole bunch of NFL goodness here in Taiwan. I also like to follow the Global StarCraft II League which is streamed through the internet. Watching both these on a typical media player isn't possible, and this is where a proper HTPC really begins to shine. Outside of this, thanks to the HD 7850 M that's included, there's a fair bit of grunt to this system on a whole. With Valve introducing Steam Big Picture Mode, you could even bring yourself to doing some gaming on that TV of yours. Not serious high resolution gaming with all the graphics quality settings turned up, but at least some is possible.
At $879.99 the ASRock VisionX 321B HTPC is not a cheap piece of kit and there's no denying that you could build a HTPC for less. Could you build something as small and as sexy as this, though, is the real question. If you're happy spending a bit of money for something that's going to last a long time, this is a really nice option that will no doubt look great next to your TV and perform well indeed.