NVIDIA Shield 4K Android TV Review - The BFF for your 4K TV
NVIDIA leverages its impressive Tegra X1 processor to own the living room with its 4K-capable Shield. It truly is the BFF of your 4K TV.

Published Tue, Feb 16 2016 12:38 AM CST
|
Updated Tue, Nov 3 2020 6:58 PM CST
Rating:

97%
Manufacturer: NVIDIA
Introduction, Availability & Price
NVIDIA has been sticking to its guns when it comes to expanding its Shield line of devices, and while the naming can get confusing - Shield Portable, Shield Tablet, Shield, and so on - NVIDIA's latest Shield is a 4K-capable set-top box, that truly transforms your living room.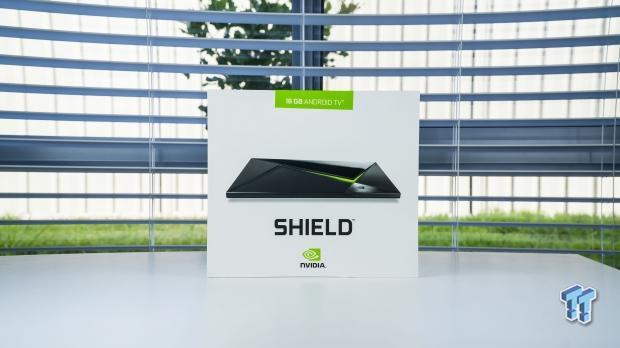 NVIDIA leverages Android TV to power Shield, which opens you up to an entire world of content thanks to the Google Play Store while doubling as a kick-ass way of playing Android and PC games through the Shield and on your TV.
While NVIDIA is pointing out that the new Shield is 4K capable, that doesn't mean you can't run it on your 1080p TV - so don't worry, the new Shield will rule any living room. The cherry on top is that it's 4K-capable, allowing you to watch 4K content on your shiny new 4K TV, as well as experience delicious Dolby 7.1 surround sound, thanks to its surround pass-through audio capabilities.
At the Consumer Electronics Show in 2015, NVIDIA announced its new Tegra X1 processor, which is capable of 4K goodness. The Tegra X1 has a 256-core Maxwell GPU inside, which features enough graphical prowess for 4K playback, and some.
NVIDIA has two different variants of Shield, with one featuring 16GB of flash storage, while another model sports a 500GB HDD. If you are like me and streaming everything from Netflix, YouTube and other digital methods (Hulu, Google Play Store, etc.), then the 16GB model would be enough.
But, if you wanted to download a bunch of games and store things locally, the 500GB version of Shield would be a much better buy. Keep in mind that you can always plug an external USB HDD up to the Shield, expanding your storage into infinity.
Availability & Price
NVIDIA sells the Shield directly through their website for $199.99 for the 16GB version, which right now includes the awesome Shield Remote for free - a value of $49.99. We definitely recommend the Shield Remote, so it's great that NVIDIA is actually bundling it.
Specifications & Configurations Available
NVIDIA's Tegra X1 is Oh-So-Powerful
NVIDIA has made good use of its impressive Tegra X1 processor inside of the Shield, which packs a 256-core Maxwell GPU, 3GB of RAM, and 16GB of flash storage (which is upgradable through the microSD card slot, and the included USB ports).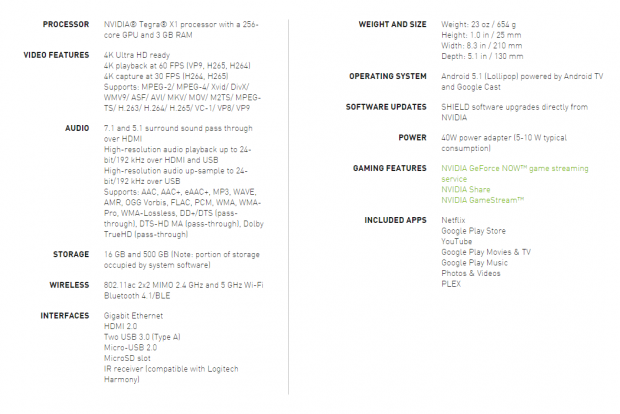 Thanks to the Tegra X1 powering the Shield, it makes the 4K-capable set-top box the fastest STB on the market. But what does the faster chip inside of the Shield offer you? Well, it allows you to load everything on the Shield nearly instantly, especially when it comes to 4K content.
The NVIDIA Shield is capable of 10-bit color for gorgeous pixels hitting your screen, and Dolby 7.1 surround sound if you've got the audio gear in your living room that supports it. On top of that, it supports headphones being plugged into either the Shield controller or the Shield Remote for private listening.
Software wise, we have Android 5.1 Lollipop (with an Android 6.0 update on the way) - with Android TV support, and Google Cast support, so it's very similar to the way a Chromecast works, except 100x better - oh and 4K capable.
Configurations Available
NVIDIA has a couple of different model Shields in the wild, with the model we're using featuring 16GB of NAND flash. There is another model with a 500GB HDD, which would come in handy for those storing content locally, instead of streaming it.
Detailed Look: Outputs & Connectivity
NVIDIA Does A Lot in a Small Space
Even for a tech junkie like myself, I'm surprised NVIDIA was able to cram this much technology prowess into a tiny, slick-looking box. Microsoft and Sony still have huge consoles with the Xbox One and PS4 and are barely able to keep up at 720p @ 30FPS let alone 4K like Shield.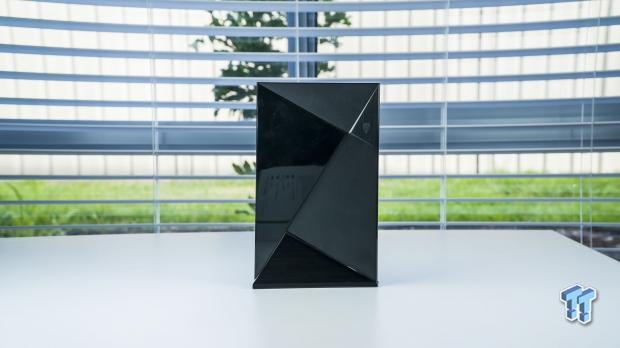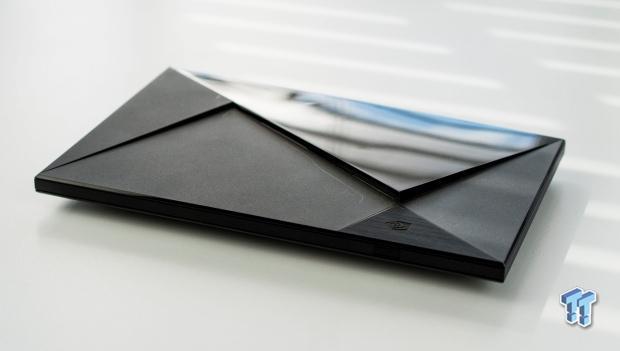 In saying that, the Shield is positively small at first glance - and from every side, too.


NVIDIA has provided plenty of outputs on the Shield, with a microSD card slot, micro USB port, two full-sized USB 2.0 ports, GbE for network connectivity, an HDMI 2.0 output for 4K goodness, and the super-small proprietary power connector.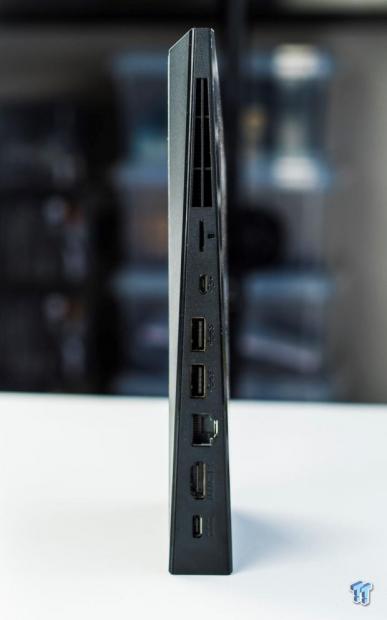 In the box, you'll receive the Shield itself, a Shield controller, micro USB cable, 4K-capable HDMI 2.0 cable, and the power cable to get it all up and running. Not only that, but you'll get the super-awesome NVIDIA Shield remote, which has quite a few tricks up its sleeve.
As for the detailed weight and size, the Shield measures in at 25mm x 210mm x 130mm (1.0 x 8.3 x 5.1 inches) - HWD. When it comes to weight, it's light at just 654g (or 23oz).
Android TV & Content/Streaming
Navigating Through Android TV
Up until now, I hadn't used an Android TV-powered STB, but NVIDIA has now converted me. I'm using the LG 65-inch 4K OLED TV (which is just so, so beautiful) and navigating through the NVIDIA Shield on Android TV is simply awesome.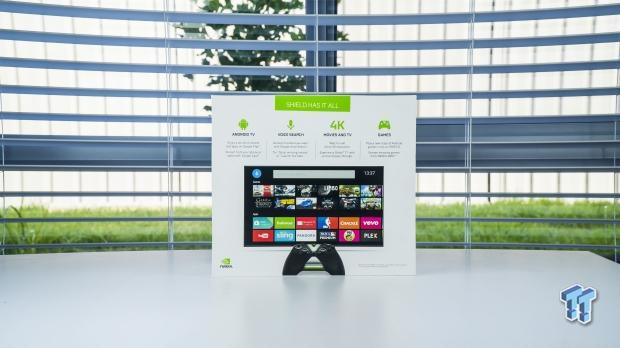 NVIDIA doesn't push any bloat onto the Shield, apart from including some of its own apps. Some of the apps you can install will include Hulu, NBA, Crackle, and more.
I spent most of my time with the Shield using Netflix and YouTube, which were perfect. Navigation through the Shield was super smooth thanks to the Tegra X1 processor, without a single performance-related issue at all.
Streaming Through YouTube & Netflix
I live on streaming content, as I've been moving away from my NAS-based content for the last 6-12 months thanks to my much better 100/40Mbps connection. I streamed countless hours of content through the NVIDIA Shield, with 4K video being a large concentration of that.
Shows like Masters of None starring Aziz Ansari on Netflix, through to Marvel's Jessica Jones looked positively beautiful at 4K - and they buffered and streamed quicker than I expected, with no quality loss at all. I was able to stream 4K content through the Shield thanks to my 4K OLED TV from LG, which has support for HDCP 2.2, which is required to stream Ultra HD content.
Just because the NVIDIA Shield supports 4K, it doesn't mean that 1080p content suffers - if anything, it excels. All of the 1080p content that I watched looked gorgeous, even the movies that I purchased from the Google Play Store for this review.
I bought Man of Steel, X-Men: Days of Future Past, and Django Unchained and they all looked insanely good. Again, the buffering was only a few seconds, and then we were off and kicking.
Everyday/Gaming Use & Network Connectivity
Everyday Use
I spent most of my time on the Shield using Netflix and YouTube, but I did test out some other content. My wife and I stayed in a hotel overnight a few weeks ago, so I took the NVIDIA Shield with me and used it as a media player.
I plugged the Shield into the HDTV in the hotel room, plugged in my Corsair USB flash drive with some video files on it, and used the Shield without a problem. I was watching some 1080p MKV files, with the Shield handling it like a boss. There were zero playback issues, with the Shield detecting the USB flash drive instantly, and then playing back hours of video flawlessly.
Get Your Gaming on with the Shield Controller
NVIDIA includes a Shield controller in the box, as well as the Shield remote. The Shield controller is one of the better gaming controllers on the market, and something that I think finds a great home with the Android TV-powered Shield.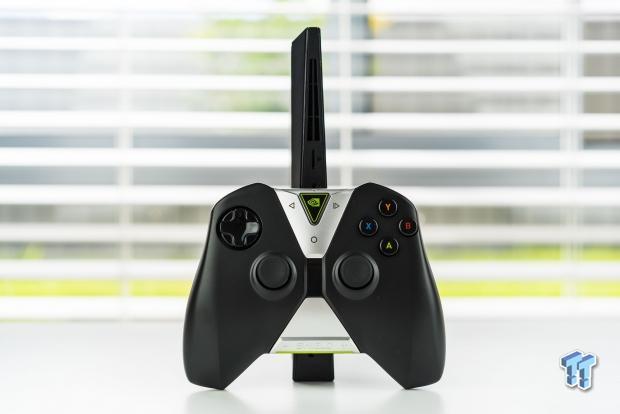 The Shield would've been even cheaper without it, so I do question why NVIDIA had to provide one in the box when it could've simply dropped the price (below its already great price) and made it an optional accessory. But hey, I'm not going to complain about a great peripheral being included at this price!
One of the cornerstones of gaming on the Shield is GeForce NOW, which is NVIDIA's game-streaming service. NVIDIA GRID was the name of it when it was in beta, but now it's a full-fledged game-streaming service that costs $8 per month, but it offers over 60 games for you to stream.
NVIDIA's GeForce NOW service streams games to you at 1080p 60FPS (depending on your connection), with some big games like Homefront, the Batman Arkham trilogy, Dead Island, and more. You can also "Buy & Play Instantly" with some games, with varying price levels depending on the title. Your Internet connection is also going to need to be up to scratch, where if you want to game at 720p 30FPS, you'll need 20 Mbps available. If you want the full 1080p 60FPS experience, you'll need a decent 50 Mbps connection.
We played some games from the Google Play Store as well, with some of them being my favorite games on Android. There are games like Final Fantasy IV that you can kick back and enjoy in the living room, thanks to the Shield there to #ruleyourlivingroom. Thanks to the included SD card slot, you can download however many games you want and install them on an SD card - so you're not using the 16GB (or 10GB or so available space) on the Shield.
Network Connectivity
I have my NVIDIA Shield connected to my 802.11ac Wi-Fi network, on the 5GHz band for the best bandwidth I can provide to it, over wireless. There's a GbE port on the back, but I don't have a GbE port in my living room just yet - but the Wi-Fi on the Shield was still perfect.
I have a 100 Mbps Fiber connection at home, which was more than capable of buffering and streaming 4K content over YouTube and Netflix without any issues at all. The image quality was breathtaking - thanks to the use of my 4K OLED TV from LG.
NVIDIA Shield Remote - Completely Awesome
The Magic is in the Remote
Note: NVIDIA is including the Shield remote with the Shield, which is freaking awesome. This could be for a limited time, so watch out!
It's just a remote, right? As Kevin Spacey said playing Lex Luthor in Superman Returns said: "WRONG". NVIDIA doesn't do things half-arsed, with the Shield remote having a few things going for it.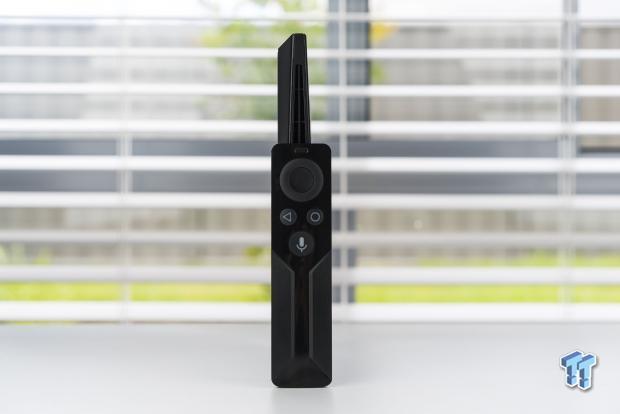 First, you can charge it through microUSB which is just awesome. During my time with the Shield, my Shield remote ran out of battery, and I just happened to be charging my smartphone with a portable battery bank. I unplugged my smartphone and plugged the microUSB cable into the Shield remote, and voila - it was charging.
Second, the volume up/down toggle is something new - where you slide your thumb up and down the remote, adjusting the volume to your liking.
Then we have the great navigation buttons on the Shield remote, which make navigating around Android TV super easy. The back button comes in handy more than you'll know, and so does the Home button.
Lastly, the Shield remote also features a microphone - so you can talk to it and ask it to "play the Batman v Superman trailer on YouTube" or "find TweakTown on YouTube". This ease of use gives me a very Google Now/Apple Siri vibe, and I love it.
What's Hot & What's Not
This is where you can fast forward to the final section of the review, and get a quick recap and points on the NVIDIA Shield.
What's Hot
Unrivaled Performance: The performance from the NVIDIA Shield is courtesy of the Tegra X1 processor which offers unrivaled performance. We have a 256-core Maxwell-based GPU that provides some insane gaming power from something so small.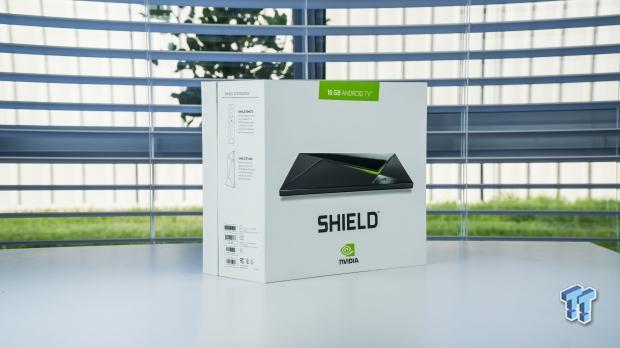 Capable of 4K Playback: 4K playback is a big deal these days, and even if you've got a 1080p TV, buying the NVIDIA Shield allows you to be 'future-proof' in a way. If you're like me and rock a 4K TV already, buying the NVIDIA Shield is a no-brainer.
Super Easy to Use: Even my Mom can use it, and she doesn't own a smartphone - so she's not used to all of this technology. She uses Netflix and YouTube with the NVIDIA Shield, rocking the awesome remote without a problem. Shout out to you, Mom! Keep being awesome with the NVIDIA Shield!
Slick Design: I'm a huge fan of the design that NVIDIA has used on the Shield, which is the best-looking STB I've laid my eyes on.
Connectivity: It has super-fast 802.11ac Wi-Fi which rocks at 5GHz on a fast connection, allowing fast buffering and 4K streaming. Not only is the Wi-Fi awesome, but there's wired GbE connectivity if you want the absolute best in networking connectivity.
Great Price @ $199: Sure, the Amazon Fire TV is only $99, but it doesn't hold a torch to what the NVIDIA Shield can do. For $199, you're getting an insanely powerful, 4K-capable STB that also doubles as a gaming beast.
What's Not
Power Off Issues: My NVIDIA Shield wouldn't shut down some of the times, which was weird. I would navigate to the "Sleep Now" part, click it, with my TV going black and the Shield turning off for a few seconds. It would then instantly wake up with the green light on the Shield indicating so, and push me back to the Shield home screen.
The only way around this was to pull the power plug from the back of the Shield, which is something I shouldn't have to do - and don't like to do. I guess this will be fixed in a future firmware release, which shouldn't be too far away.
Final Thoughts
When NVIDIA launched the Shield last year, I didn't think that I'd need one in my life... and wow, was I wrong. Up until the Shield entered my house I was using the first-generation Google Chromecast and thought it was awesome. Being able to use my smartphone as a remote and quickly get content from YouTube or Netflix connected to the TV was just great.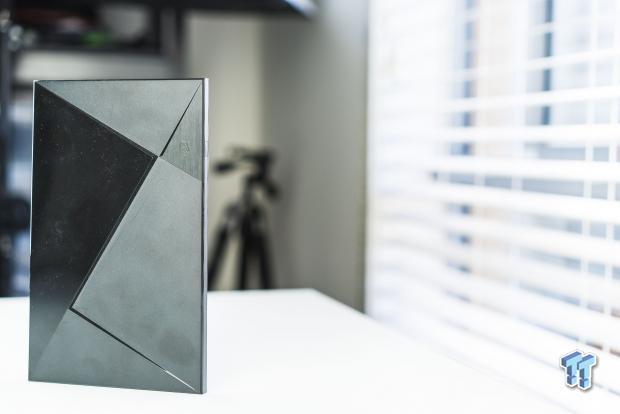 That was until the NVIDIA Shield arrived and blew it out of the water. The Shield has become my new BFF, sitting with my LG 65-inch 4K OLED TV, and used for all of my streaming and media enjoyment. I'm a huge 4K fan, so the 4K-capable goodness from Shield is perfect to rule my living room.
The design of the Shield is something I love, with a unique aesthetic and super-slim size that allows it to be portable. Being able to slide it into my backpack and take it away with me wins it some points, as it becomes just as versatile as my Chromecast.
The optional remote is something I highly recommend, as it really makes the Shield an even better experience. The voice commands that you can shout into the remote are easy to use, with my 4-year-old daughter being able to use it without a problem - a tick in the 'simplicity' box for NVIDIA.
NVIDIA's Tegra X1 processor helps the Shield carve through absolutely everything you throw at it - from Netflix and YouTube @ 4K to awesome PC gaming in the living room, and everything in between. The performance side of the Shield is exactly what I expected from NVIDIA, and nothing less.
All in all, the NVIDIA Shield features awesome specifications and horsepower, unique abilities (4K playback and the awesome remote), and more. Android TV isn't perfect, but it's great to use. The included Shield apps aren't the best, but again - you don't need to and aren't forced to use them.
NVIDIA's Shield is an amazing piece of technology for $199, and worthy of a chance of ruling your living room.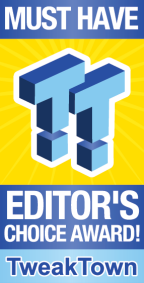 | | |
| --- | --- |
| Performance (general use, power) | 95% |
| Quality (build, design, cooling) | 95% |
| General Features (display outputs, etc) | 95% |
| Bundle, Packaging & Software | 100% |
| Value for Money | 100% |
The Bottom Line: NVIDIA hits a total homerun with Shield. We have 4K capabilities, a sleek design, and a great Remote. NVIDIA really does #rulethelivingroom with the Shield at $199.
PRICING: You can find products similar to this one for sale below.

United States: Find other tech and computer products like this over at Amazon.com

United Kingdom: Find other tech and computer products like this over at Amazon.co.uk

Australia: Find other tech and computer products like this over at Amazon.com.au

Canada: Find other tech and computer products like this over at Amazon.ca

Deutschland: Finde andere Technik- und Computerprodukte wie dieses auf Amazon.de
We openly invite the companies who provide us with review samples / who are mentioned or discussed to express their opinion. If any company representative wishes to respond, we will publish the response here. Please contact us if you wish to respond.