ZOTAC ZBOXHD-ID34BR-U Blu-ray Mini-HTPC
Today we take a look at ZOTAC's new Blu-ray equipped mini-HTPC, the ZBOXHD-ID34BR.
Published Mon, Nov 8 2010 10:06 PM CST
|
Updated Tue, Nov 3 2020 7:02 PM CST
Rating:

88%
Manufacturer: ZOTAC
Introduction, Specifications, Pricing and Availability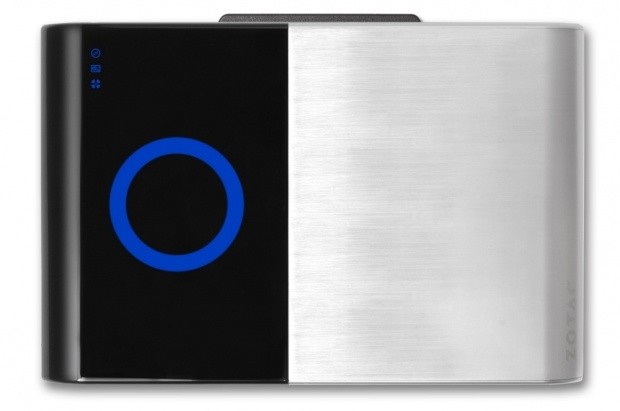 Introduction
Known mostly for the company's line of NVIDIA-based graphics cards and motherboards, ZOTAC maintains robust manufacturing and R&D operations overseas, including 40 surface-mount technology lines and over 9 million square feet of production space.
ZOTAC provided us with a ZBOXHD-ID34BR for this review. This small form-factor, energy efficient machine bears much similarity to the
ZBOXHD-ID11
we reviewed a couple months ago, save for the Blu-ray drive on this unit. Our main gripe with the previous unit was its low benchmark scores, so let's see how the ID34BR stacks up.
Specifications, Pricing and Availability
Here's the ZBOXHD-ID11 spec sheet from ZOTAC's website: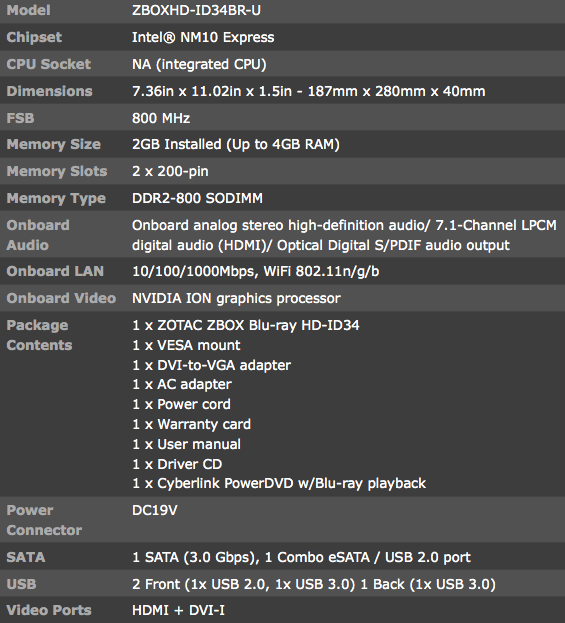 Another difference between this unit and the ZBOX we previously reviewed is that this one already comes with a hard drive and RAM. All you need to do is install the OS of your choice.
An Intel Atom D525 1.8 GHz Dual Core chip provides processing duties, and this unit uses a standard 2.5" SATA notebook drive (250GB).
The ZBOXHD-ID34BR is available from a variety of online retailers including Amazon, Fry's, and
NewEgg which has it listed for $499.99
at the time of writing.
Packaging and Closer Look at the ZBOXHD-ID34BR-U
Packaging
The ZBOX comes in a modestly sized box with a convenient carrying handle. The front sports an angled shot of the machine, and the back lists detailed system specs and images of the ports and other features.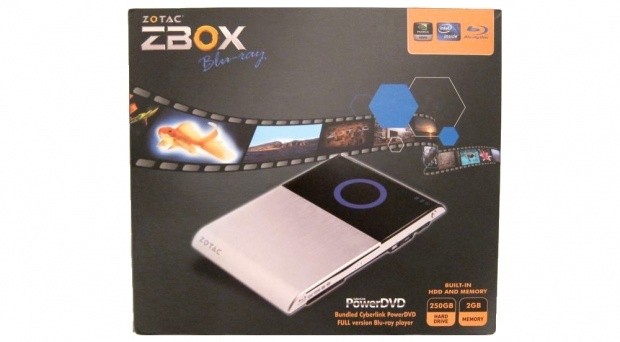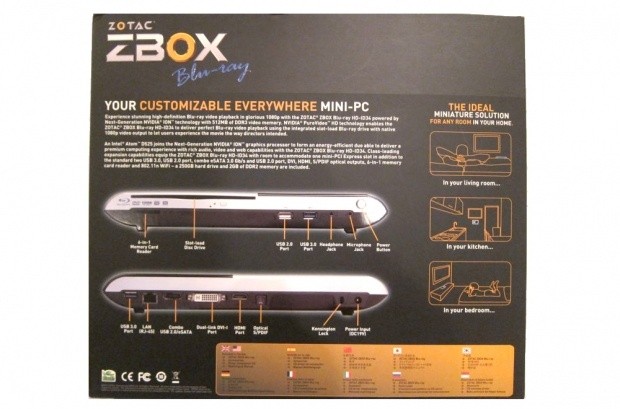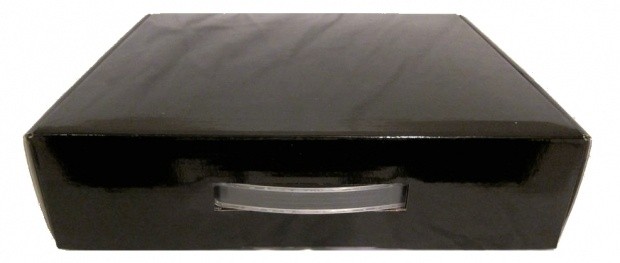 Inside, we find the following contents; the unit itself, a laptop-style power supply, stand, DVI-to-VGA adapter, mounting screws, the Cyberlink PowerDVD disc, a quick-start guide, and thin manual.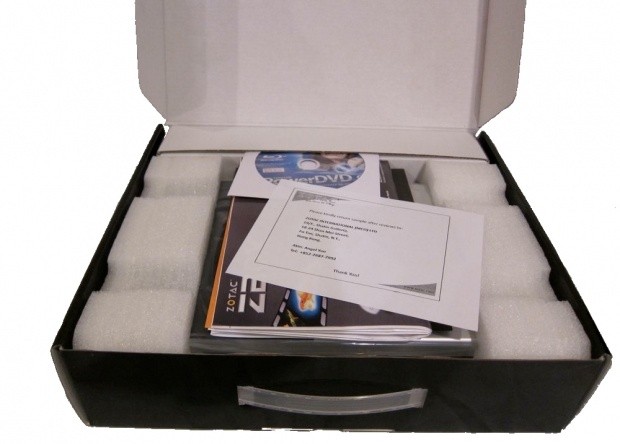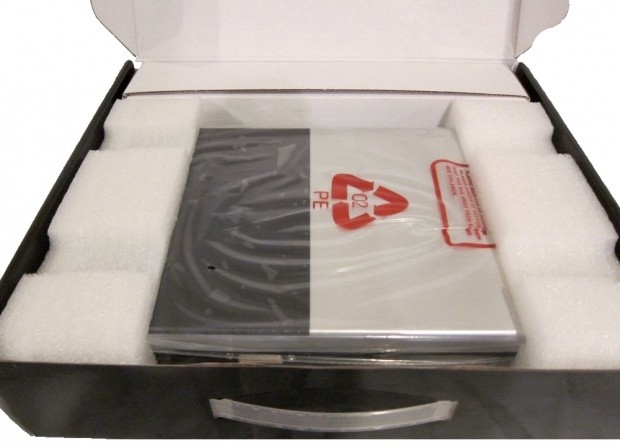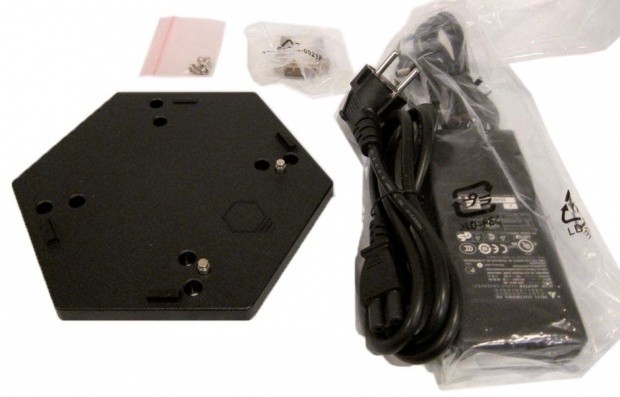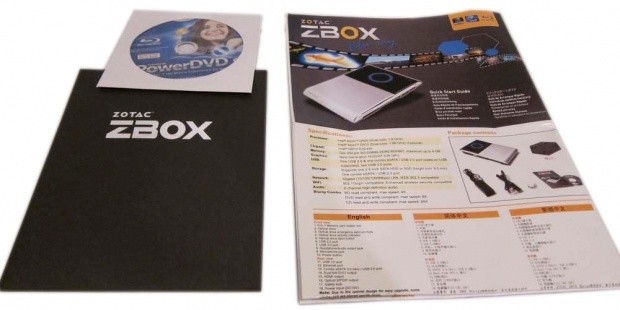 ZBOXHD-ID34BR-U
The front panel houses two USB ports (one of which is USB 3.0), 6-in-1 memory card reader, headphone jack, mic jack, the slot-loading optical drive, and the power button.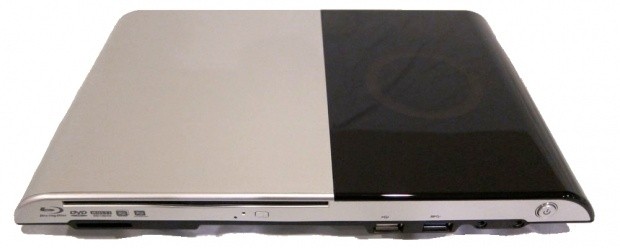 The rear of the machine offers 1xUSB 3.0, Ethernet, a combo USB 2.0/eSATA port, DVI out, HDMI out, optical S/PDIF out, and a slot for a Kensington lock.

Vents on the bottom of the chassis.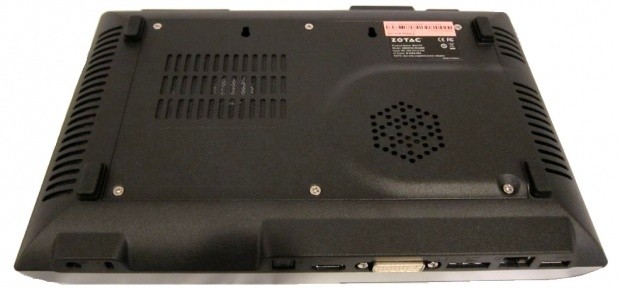 As you can see, the HD-ID34BR is a very nice-looking machine and would probably look right at home next to most flat-screen TVs.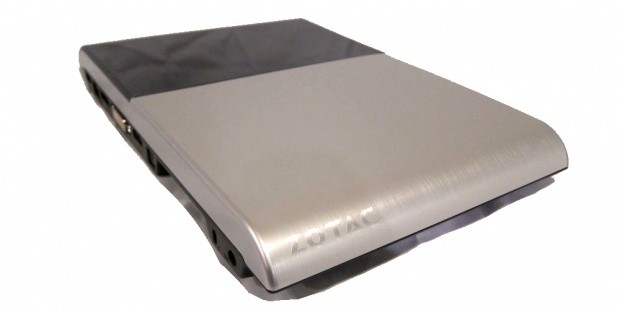 Installing the OS was as simple as inserting a Windows 7 Enterprise installation disc and following the onscreen prompts.
The USB 3.0 ports didn't work immediately, but after finding and installing the USB 3.0 driver from ZOTAC's website, they worked just fine. We also installed NVIDIA's v.260.99 graphics driver.
General Hands-On Usage and Performance
General Hands-On Usage
Here's a CPU-Z screenshot showing some detailed specs of what's running under the ZBOX's hood: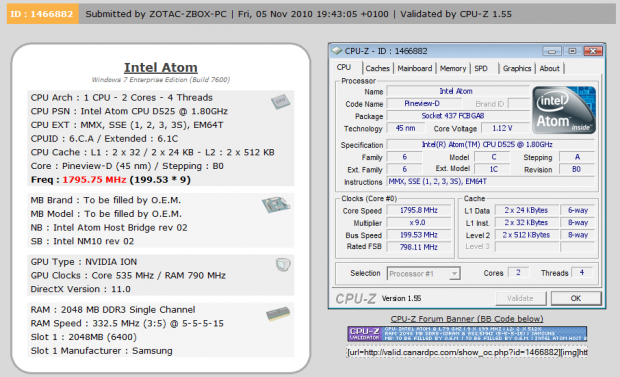 And a GPU-Z screenshot as well: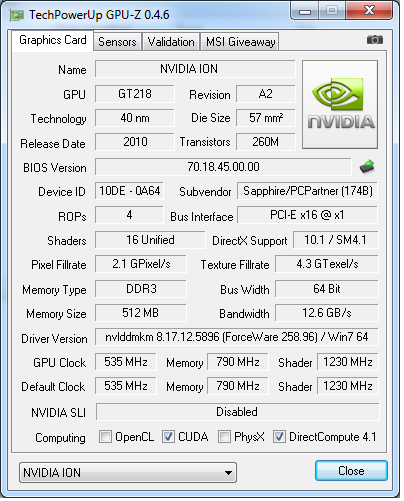 Boot Time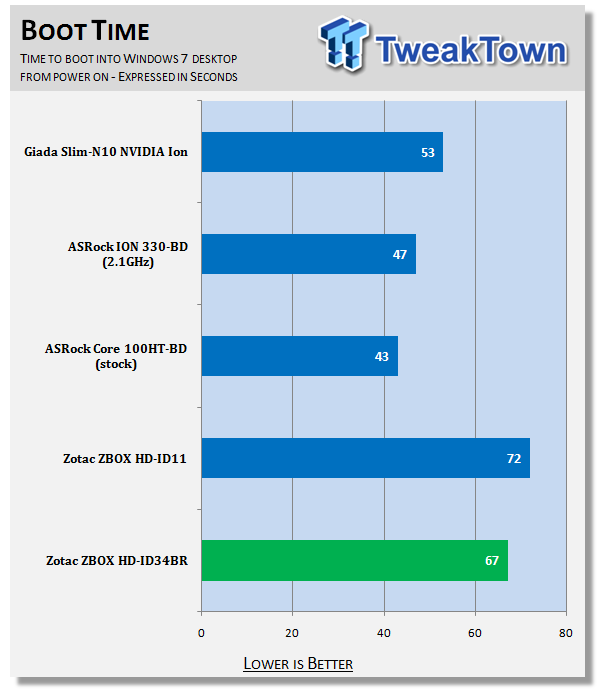 Once the basic software install had completed, we restarted the machine to get a boot time. The ZBOX reached the Windows 7 desktop in 67 seconds, a few seconds faster than the previous ZBOX we reviewed.
Obviously, since we did the OS install ourselves, the desktop contained only the standard Windows 7 icons.
Overall, the HD-ID34BR performs quite admirably with everyday computing tasks. Though we certainly didn't experience (nor expect) the blazing fast responsiveness we've seen on solid-state drive-equipped desktops lately, the general computing experience was on par with what one might expect from a modern laptop. We experienced no crashes or hangs of any kind during the review of the ZBOX.
Like many machines and components we've seen that are housed in black plastic, the ZBOX is a magnet for fingerprints. Fortunately, there's plenty of aluminum real estate by which to grasp the machine, should you need to do so.
Power Consumption
The ZBOX draws a quite low 28.5 watts at idle, bumping up to only 32.9 watts under load.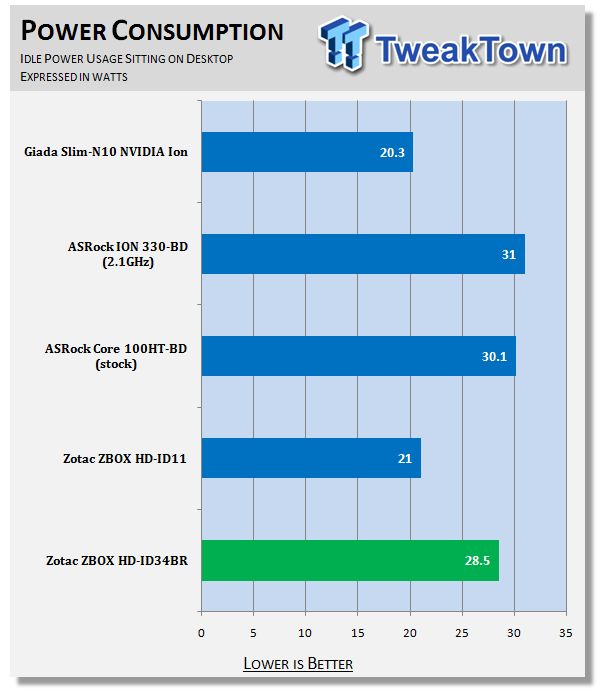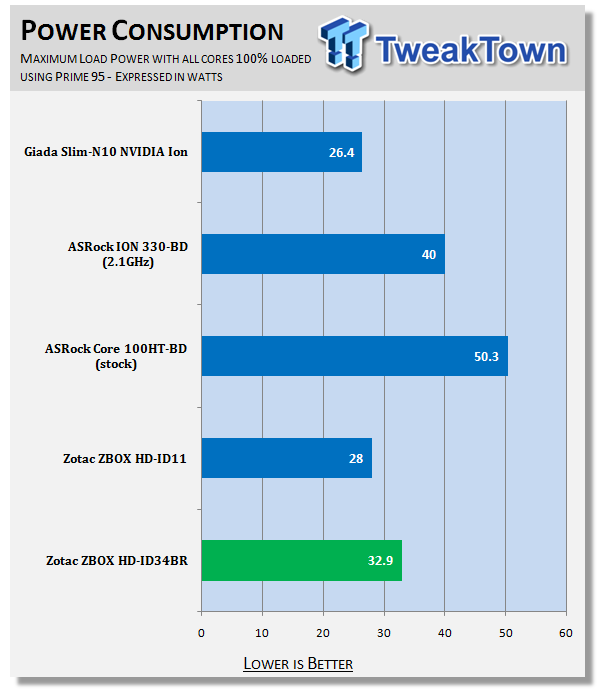 Audio Performance
We ran the HD-ID34BR through the standard media encoding test regime here at TweakTown, which includes music and video transcoding.
All systems are tested "as is", which means operating systems and drivers can and do vary and some come pre-installed with applications that may or may not affect performance.
Any anti-virus or security applications are disabled and uninstalled before any testing is started, as they can affect test numbers.
For the iTunes encoding test we took the White Stripes -
Under Great White Northern Lights
album in MP3 format and encode it to AAC format using iTunes and time the results with a stopwatch.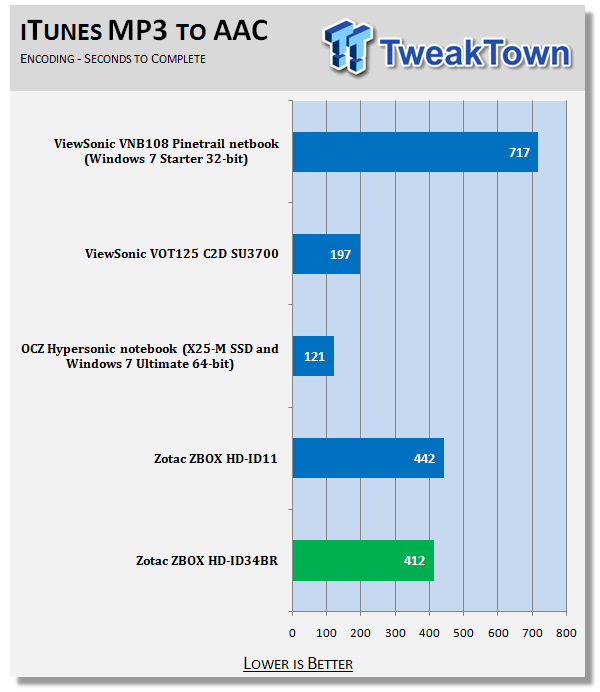 The ZBOX performed this task in 412 seconds, which is slightly faster than the HD-ID11 took.
Video Performance
For the movie-encoding test, we took the
Microsoft Magic of Flight
VC-1 WMV (1080p HD) video with six-channel audio and transcode it to XviD (1080p HD) with LAME MP3 two-channel audio and an MP4 container using MediaCoder 0.7.3.4616 32-bit edition.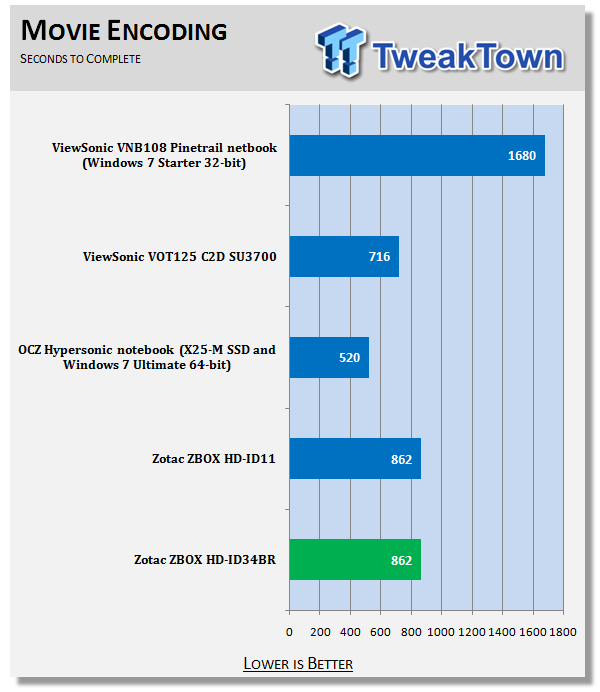 The ZBOX took 862 seconds to complete this task, which is exactly how long the HD-ID11 took.
The types of chips that operate well in low-voltage applications tend to perform rather poorly in CPU-intensive tasks such as media encoding and transcoding. This is just a tradeoff one must keep in mind when considering a low-voltage machine.
That being said, the HD-ID34BR is intended as a mini-HTPC, and users might find themselves quite frustrated with the unit's slow performance in this regard while ripping CDs and DVDs.
We installed the included CyberLink PowerDVD 9 software and watched a few scenes from Blu-ray discs. Titles loaded in a very reasonable amount of time, and navigation between menus and scenes didn't feel at all sluggish.
Video playback quality looked quite good on both a 22" LCD monitor, as well as a 50" plasma TV. Watching movies in the living room, however, made us wish this computer came with a remote control. With the relatively limited number of USB ports available, most users probably wouldn't want to commit one to a remote control's receiver dongle.
Benchmarks - CINEBENCH R10 64-bit
CINEBENCH R10 64-bitVersion and / or Patch Used:
Release 10
Developer Homepage:
http://www.maxon.net/
Product Homepage:
http://www.maxon.net

CINEBENCH is a real-world test suite that assesses your computer's performance capabilities. MAXON CINEBENCH is based on MAXON's award-winning animation software, CINEMA 4D, which is used extensively by studios and production houses worldwide for 3D content creation. MAXON software has been used in blockbuster movies such as Spider-Man, Star Wars, The Chronicles of Narnia and many more.
MAXON CINEBENCH runs several tests on your computer to measure the performance of the main processor and the graphics card under real world circumstances. The benchmark application makes use of up to 16 CPUs or CPU cores and is available for Windows (32-bit and 64-Bit) and Macintosh (PPC and Intel-based).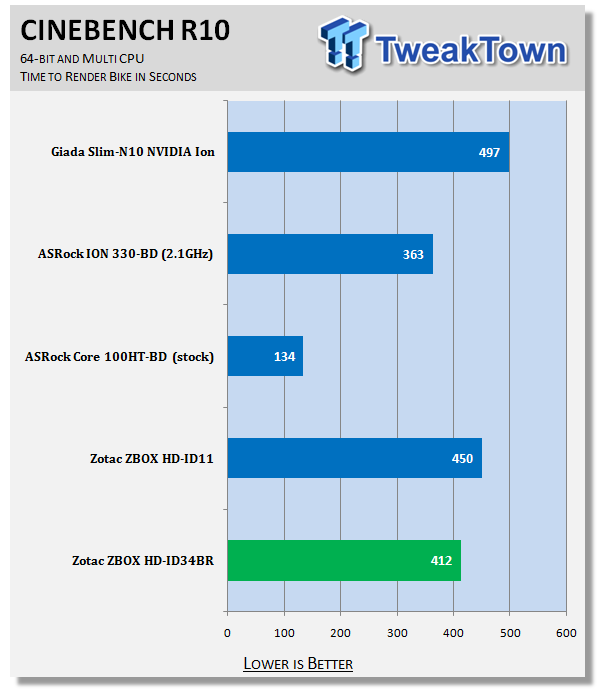 The HD-ID34BR took 415 seconds to render the bike in multi-core mode. Again, one can't expect quick rendering of complex 3D models on a machine with a low-voltage processor and an integrated graphics solution. That's just not what the ZOTAC was designed to do.
Benchmarks - Super Pi
Super PiVersion and / or Patch Used:
1.5 Mod XS
Developer Homepage:
http://pw1.netcom.com/~hjsmith/Pi/Super_Pi.html
Product Homepage:
http://pw1.netcom.com/~hjsmith/Pi/Super_Pi.html
Developed by some folks from the University of Tokyo, Super PI is a small utility that does just as the name implies. It figures PI to a set number of decimal places. Since PI is an infinite number to the right of the decimal point, the utility measures the time it takes to figure a set number of places. It runs the calculations a set number of times and gives a time for the completion of the task. This is a simple and effective way to measure the raw number crunching power of the processor being used to compile the results.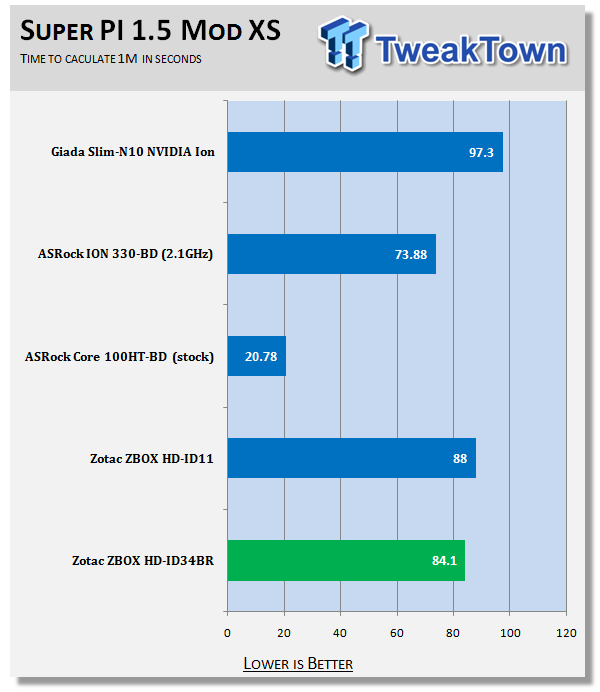 The ZBOX calculated pi out to the 1 millionth digit in 84.1 seconds-again, a slight improvement over the ZBOX we reviewed previously.
Benchmarks - PCMark Vantage 64-bit
PCMark Vantage 64-bitVersion and / or Patch Used:
Nov 2007 Hotfix
Developer Homepage:
http://www.futuremark.com
Product Homepage:
http://www.futuremark.com/benchmarks/pcmark-vantage//
Buy It Here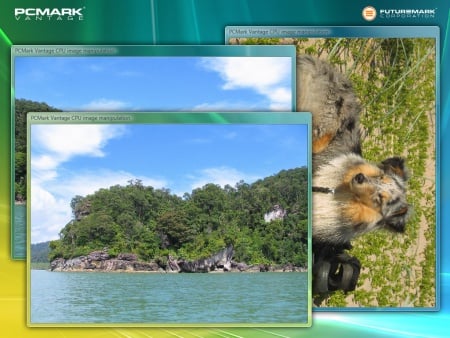 PCMark Vantage is the first objective hardware performance benchmark for PCs running 32 and 64 bit versions of Microsoft Windows Vista. PCMark Vantage is perfectly suited for benchmarking any type of Microsoft Windows Vista PC from multimedia home entertainment systems and laptops to dedicated workstations and high-end gaming rigs. Regardless of whether the benchmarker is an artist or an IT Professional, PCMark Vantage shows the user where their system soars or falls flat, and how to get the most performance possible out of their hardware. PCMark Vantage is easy enough for even the most casual enthusiast to use yet supports in-depth, professional industry grade testing.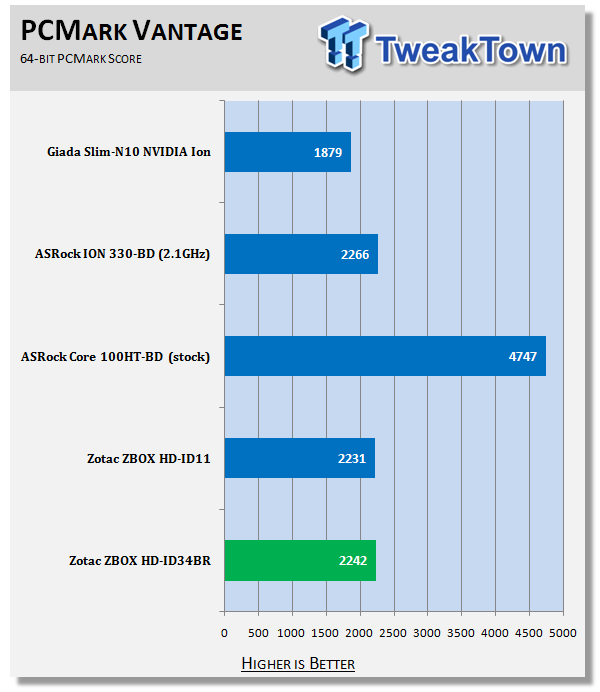 Again, we see the ZBOX scoring at or towards the bottom end of the scale in these tests, earning a score of 2242 in PCMark Vantage 64-bit, compared to the HD-ID11's score of 2231.
Final Thoughts
If you can cope with the ZOTAC ZBOXHD-ID34BR's rather underwhelming benchmarks, you're getting a very usable, very compact HTPC with integrated Blu-ray playback
for $500
. While you can get a PlayStation 3 for a bit cheaper, the ZBOX is much smaller and offers far more flexibility as far as running different media servers and support for Flash-based video. This actually would make an excellent choice as an HTPC for your bedroom or office TV.
Small and handsomely designed, it will fit in just about anywhere you decide to use it. USB 3.0 connectivity and an eSATA port offer plenty of options for expanded storage or playing media from a thumb drive or external platter drive. However, given the relative scarcity of ports, we think an integrated remote control would be an excellent thing for ZOTAC to add to this system.
Overall, the HD-ID34BR performed better than the
HD-ID11 we reviewed
back in September, but only just. With such a small size, relatively low cost and full feature set, you will have to give up something, and that something in this case is processing power.
But if you're looking for small HTPC and don't require much in the way of lightning fast encoding, the ZOTAC ZBOXHD-ID34BR is well worth a look.
PRICING: You can find products similar to this one for sale below.

United States: Find other tech and computer products like this over at Amazon.com

United Kingdom: Find other tech and computer products like this over at Amazon.co.uk

Australia: Find other tech and computer products like this over at Amazon.com.au

Canada: Find other tech and computer products like this over at Amazon.ca

Deutschland: Finde andere Technik- und Computerprodukte wie dieses auf Amazon.de
We openly invite the companies who provide us with review samples / who are mentioned or discussed to express their opinion. If any company representative wishes to respond, we will publish the response here. Please contact us if you wish to respond.