ASRock has been in the game of making home theatre computers for some years now. They just keep getting better and better. Admittedly there hasn't been that many innovation based changes, since even the first released models were pretty good, but the Taiwanese company known primarily for their motherboards are consistent with bringing out new models based on the latest and greatest hardware.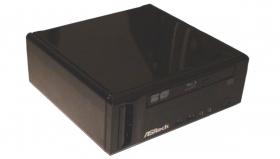 Today we spend some time checking out the latest HTPC from ASRock called the CoreHT 252B. This is an Intel Sandy Bridge based system that bundles in an impressive amount of performance into a small ideal lounge room style system. In solving any potential issues with heat, ASRock, as they have done sometimes in the past, use mobile parts that you usually find in laptops and other mobile devices. In this system we see the inclusion of an Intel Core i5 2520M Mobile Sandy Bridge processor that runs at 2.5GHz as well as a Mobile Intel HM65 Express chipset. The Core i5M still includes Hyper Threading and all the good stuff, so expect good performance.
[img]2[/img]
Rounding out the other features, the system comes installed with 4GB (2 x 2GB) of DDR3-1333 memory, Intel HD Graphics 3000 through the Core i5 CPU, a Western Digital 500GB 7200RPM hard disk drive and a Blu-ray combo drive. ASRock do have cheaper versions of this system available with a Core i3 + Blu-ray drive version and Core i3 + DVD burner version.
[img]3[/img]
As far as connectors goes, we were really impressed at the amount of connectivity you get from such a small little system that measures in at 195mm (W) x 70mm (H) x 186mm (L) with a volume capacity of just 2.5 litres. On the front of the system you get two speedy USB 3.0 ports and the standard microphone and headphone audio jacks. Moving around to the back of the system is where the fun really begins. You get 7.1 audio output, gigabit LAN, a HDMI 1.4a port (which is capable of displaying Stereoscopic 3D), one D-Sub connector, four USB 2.0 ports, two more tasty USB 3.0 ports, an S/PDIF optical connector for digital audio output and an eSATA3 connector for fast transfers to a compatible external hard drive. Additionally in this region you will also find the DC-in jack as well as the extraction point for the system cooling fan.
The system comes included with a 90-watt power adapter, but the system will rarely consume that much power - at idle, it is far less than that and even during watching a movie, it is rather impressive thanks to the adoption of mobile parts. Some other notable system features includes bitstreaming over HDMI to your amplifier which provides audio pass through of Dolby TrueHD and DTS-HD Master Audio from Blu-ray discs. This was a massive issue in the past, but now this feature is more and more common, yet still very good to see that ASRock tick the box in this area. As far as wireless goes, you get 802.11n support which provides up to 300Mbps speeds - you will rarely see speeds this high, if at all, but it's good to know if you want to use wireless, you have one of the fastest options at your mercy.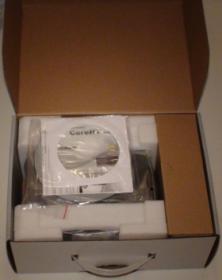 Moving onto what comes with the system, ASRock has a pretty good bundle included. Putting the system aside, you get a new style MCE remote control which is smaller than the ones in the past, looks better and is far lighter. There is also a handy quick start guide which gives you some good tips on how to get the system up and running for the first time. Something which ASRock has been including for some time now is the anti-slip pad (not to be confused with a mouse pad!) which stops the system from sliding around on your desk or table. This is rather good since the surface of the system is rather shiny and smooth.
There is an included CD with all the drivers and apps which work with the CoreHT - there are some good ones and even one called "ASRock Extreme Tuning Utility" which allows you to overclock your system within Windows and monitor temperatures and adjust fan speeds - I was impressed at this from a HTPC. Moving on, ASRock includes some other bits and pieces that might seem insignificant, but it's good to see they included them anyway in case the user ends up having a need for them. We are talking about the additional screws, additional SATA data and power cable, HDMI to DVI adapter and a stereo audio cable for audio input from MP3 players and the like.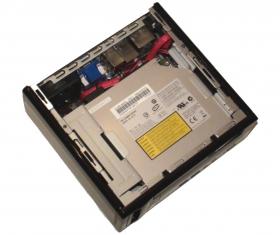 Inside the system is where the magic and engineering mastery is really shown. The CoreHT 252B uses the ASRock HM65-HT motherboard and as you can see, it is amazing how much can be packed into such a small space. The system features two cooling fans - one for the CPU/ IGP and another on the back of the system which extracts hot air from the system. We were a little concerned if heat would be a problem since this is ASRock's highest performing HTPC to date, but we did not experience any problems.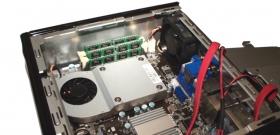 We saw the CPU running at around 45c, which is a little warmer than you might usually want in a full desktop system, but no problem at all for a system this size - in fact, rather good. One of the downsides of this product is that there is no room or potential for adding in extra devices such as PCI Express cards, but thinking over this, it's not really an issue since ASRock has you well covered with a large amount of connectivity options as default.
As far as performance goes, there are only good things to report. As we mentioned just before, this is ASRock's highest performing HTPC to date using the Intel Sandy Bridge platform and as you would expect, performance is good. We played an assortment of movie files from SD all the way up to 1080p and the system was completely flawless at playing them back - and the same with Blu-ray movies. The audio side of things is fantastic too with pass through of audio over HDMI to an amp - it worked flawlessly. Intel have never been strong when it comes to onboard graphics and the HD Graphics 3000 IGP while a little better than previous chips is not going to give you a great gaming experience. You shouldn't be looking at buying this system for gaming, though, since it is designed to sit nicely in your lounge room and act as a solid home theatre PC, maybe with some very light gaming here and there.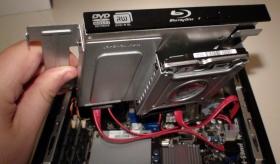 As I've discussed in previous ASRock HTPC reviews, I'm still a little saddened to see that ASRock does not have an SSD version on sale. While this provides adequate performance for the job, it can be vastly improved with the inclusion of an SSD. I've already hit up Corsair to send one of their Force Series 3 120GB drives over for this system and as soon as it arrives, it will be going in and the performance will be rapidly improved in terms of boot up, loading of applications and so on. On second thoughts, maybe I think this way because all of my systems in my office and house have SSDs and when I use a system with a "spinner", it feels slow. If you haven't entered the wonderful world of flash based storage yet, maybe it will be just fine for you.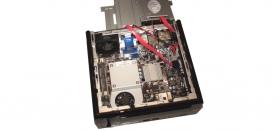 And finally, we need to discuss price - as it is clear that we are very impressed with the ASRock CoreHT 252B, but at what price does this goodness come? That is a good question really; it seems the 252B is hard to come by. After some Google searches, we managed to find that it is mostly only for sale in the UK and Europe at this moment and we found it listed for £589.66 (inc. VAT) from one online store which works out to be around $933 USD. As we thought, it's not a cheap system. If you've got the money and are looking for a fully functional Windows based HTPC, add this system to your shortlist without any worries at all.