The TridentX series is the latest out of the team at G.Skill and the first time we saw them was a couple of weeks ago with the launch of the new Ivy Bridge platform. Coming in at a strong price point, the new PC3-19200 8GB kit really impressed us.
Of course in typical G.Skill fashion, PC3-19200 was just a starting point; the next step up comes in the form of a PC-21300 kit that carries a massive stock speed that we'll take a look at in just a second. The first thing we need to do is take a closer look at the modules.
Taking a look at the kit you'll see it's pretty much identical to the original PC3-19200 kit we looked at the other week. We've got the new black and red TridentX heatsink design and that typical good looking black PCB that we expect out of G.Skill these days.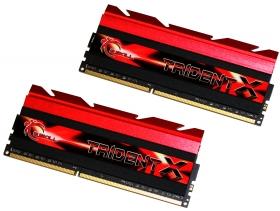 We can see that one side has the G.Skill and TridentX logo while the other has the G.Skill logo along with a sticker that gives us a more detail run down on what exactly we're dealing with when it comes to this PC3-21300 kit today.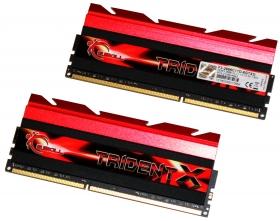 Moving in a little closer we get a better idea of what exactly we're dealing with thanks to the specifications sticker. The first thing we notice is that PC3-21300 translates to a massive stock speed of 2666MHz DDR. We're also dealing with a dual-channel kit that consists of two 4GB modules making for 8GB in total.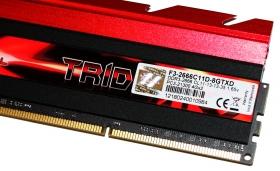 Of course the high 2666MHz DDR default clock does come at a cost and in this case it's the timings. You can see that we've got quite a relaxed 11-13-13-35 setup at 1.65v. This is pretty relaxed, but considering the default speed of the kit, it's exactly what we'd expect.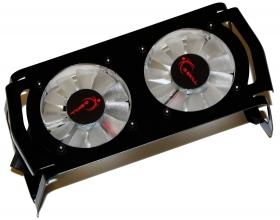 Before we get into the testing side of things there's one more piece to the puzzle. Being such a high speed kit G.Skill have included the Turbulence II RAM cooler to make sure the kit runs as cool as possible so the default speeds can be achieved.
With that all covered it was time to get into the testing side of things to see just how this latest kit from G.Skill performed. We headed into the BIOS and set our XMP to Profile 1 and then rebooted our machine. We booted up straight away and got into Windows with no problems.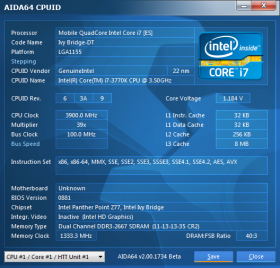 Under AIDA64 we ended up with Read / Write numbers of 22,726 MB/s / 20,956 MB/s, Copy speed of 24,270 MB/s and latency of 32.5ns.
Performance is strong and up compared to the PC3-19200 kit just as you'd expect. Even at these high MHz we want to see more, though, so it was time to head into the BIOS again and see just what we could get out of the kit. The first thing we tried was setting our memory divider to 2800MHz DDR.
Unfortunately we couldn't get our machine to boot so we headed back to the 2666MHz DDR divider and started working with the BCLK to see where we could end up at. We started at 2720MHz DDR and got into Windows no problem, we then moved up to 2745MHz DDR and again had no issue.
We moved up a little at a time till the point where we couldn't get into Windows in which case we moved back slightly. Having a look below you can see we eventually got up and running in Windows at a really impressive 2760MHz DDR, almost 100MHz DDR over the already very high 2666MHz DDR default.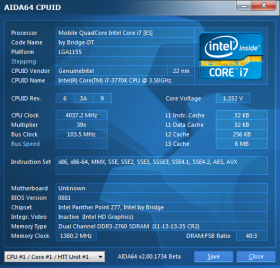 Under AIDA64 we ended up with Read / Write numbers of 21,175 MB/s / 21,685 MB/s, Copy speed of 22,118 MB/s and latency of 31.5ns.
Performance is really interesting; we can see that the read and copy numbers dropped slightly when overclocked while the write and latency both improved. These results were consistent throughout our testing. One of the key areas is probably latency and we can that the kit has improved in that area, but the read and copy numbers are interesting.
With that all done there's only one more thing to do and that is to push our CPU clock up with our RAM running at 2760MHz DDR. You can see below with the 103.5 BCLK and a 45x multiplier we ended up in Windows running our CPU at 4.66GHz.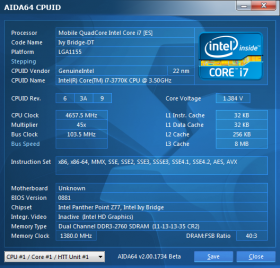 Under AIDA64 we ended up with Read / Write numbers of 21,773 MB/s / 24,130 MB/s, Copy speed of 22,525 MB/s and latency of 30.1ns.
Across the board we can see strong gains in performance with a strong boost to write performance and improved latency. Here we've got a kit of RAM that runs extremely fast on the new Intel Ivy Bridge platform.
Priced at $199.99 the price jump over the PC3-19200 kit is quite large, it's literally double. This is the price you pay, though, for high speed RAM kits. As the clocks go higher, the ability to get quantity that can guarantee those speeds become smaller and that inturn raises the price.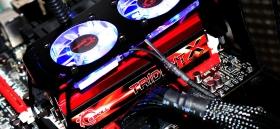 The addition of the Turbulence II cooler also slightly bumps up the price. If you're looking for a kit that can perform, though, this is one you should be looking at. G.Skill has been extremely aggressive with new Ivy Bridge RAM and is releasing more models than its competitors.
If you don't quite need this speed, but like the TridentX series, I'd recommend saving some money and picking up the PC3-19200 kit. If you're happy to spend the bigger bucks, though, and you want a kit that can do in excess of 2700MHz DDR when overclocking, then this PC3-21300 kit is probably just what you're after and won't disappoint.