ADATA XPG V2 PC3-19200 16GB Dual Channel Memory Kit Review
Today Shawn spends some time with ADATA's XPG V2 PC3-19200 16GB dual channel RAM kit. Should this be your next kit of memory? Let's find out now.
Published Tue, Apr 8 2014 1:03 AM CDT
|
Updated Tue, Nov 3 2020 7:00 PM CST
Rating:

95%
Manufacturer: ADATA

Having just looked at the G.Skill RipjawsX PC3-17000 8GB Dual Channel Memory Kit and finding ourselves quite impressed with what the kit has going on, it was time to check out another kit of RAM that has been sitting around for a while. The ADATA kit we're looking at today, like the G.Skill one, had been tested a while ago, but due to circumstances, I hadn't gotten around to writing it.
Fortunately on this miserable Wednesday afternoon in Taipei, I have gone on a writing bender and finally got around to doing what I've been meaning to do for weeks. When it comes to performance memory, ADATA isn't the first name that comes to mind, but previous experience has shown us that the company is extremely capable of producing some extremely strong performing memory.
If the G.Skill kit we looked at the other day wasn't for you because maybe the 2133MHz DDR clock wasn't enough or the fact it was an 8GB kit turned you off, the kit we're looking at today from ADATA improves both those areas. We'll get a bit more specific in just a moment, though.
When it comes to the performance line of memory from ADATA, the XPG series sits at the top. The XPG series from ADATA consists of three series at the moment. Alongside the original V1.0, we have the V2 and Gaming V2.0, with the V2 version being the one we're looking at today.
With the V2 available in two different colors, Tungsten Grey and Gold, you can see clearly below that we're dealing with the latter color. The heat sink looks good, and overall quality is strong. Like most companies who offer performance memory, you can see that ADATA has opted for a black PCB, which looks great. While there's not a whole lot of PCB to be seen due to the heat sink, the aesthetic benefit that the black PCB brings is always nice.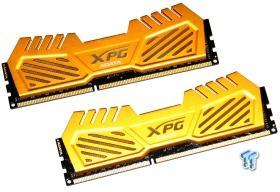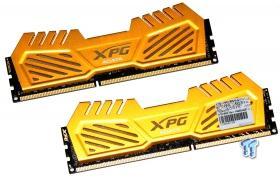 On both sides, you can see the XPG and ADATA logo clearly in the middle of the memory kit. Both sides are identical except for the fact that one does offer us a sticker that gives us some of the main information regarding the kit we're dealing with today.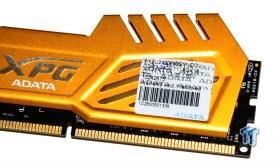 Moving in closer, you can see the AX3U2400W8G11-DGV model number that gives us a little bit of information. Below that, though, you can see exactly what we're dealing with here today. You can see the kit comes in at 2400MHz DDR, or PC3-19200, out of the package. You can also see that this is an 8GB module that is part of a 16GB kit.
Since we're dealing with a higher speed out of the box, it comes as no surprise that the timings are slightly looser than what we saw out of the G.Skill kit we looked at. This particular kit comes in at 11-13-13-35 @ 1.65v. While not seen here, it does offer a 1T Command Rate instead of the more relaxed 2T seen on a lot of modules. Heading into the BIOS, it comes as no surprise that after selecting the XMP profile the system booted straight away. Below, you can see just how everything looked on our GIGABYTE Z87X-OC Force motherboard.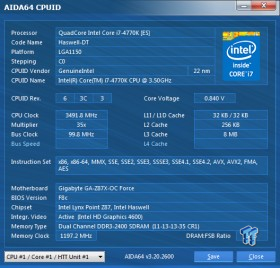 Under AIDA64, we ended up with Read / Write numbers of 34,786 MB/s / 37,581 MB/s, a copy speed of 33,598 MB/s, and latency of 44.9ns. Compared to the G.Skill kit we looked at recently, you can see the extra MHz helps push our overall MB/s a decent chunk north. At 2133MHz DDR, the G.Skill kit was offering between 28,000 MB/s to 31,000 MB/s, depending on which test you looked at. While the timings are more relaxed, the extra 267MHz DDR makes up for it and pushes more data through the kit.
As always, once we've tested the kit at its out of the box speeds, we head back into the BIOS to see just how much more we can get out of the kit. Unfortunately, when it came to achieving more MHz, we just couldn't get anything extra out of the kit. As always, this is disappointing. We tried to relax the timings a little, made sure the latest BIOS was installed, and did all the normal things to help improve the MHz, but we really couldn't get anything noteworthy out of it.
Of course, that doesn't mean it's the end of our testing. If we can't get any more MHz out of the kit, we do the next best thing. Try and reduce the timings on the kit to add more performance. Normally our first step when it comes to this is to reduce the Command Rate from 2T to 1T. ADATA has already been quite aggressive in the Command Rate area, though, as we mentioned earlier. While most companies opt for the 2T Command rate, ADATA instead opted for the 1T meaning that we couldn't move in that area.
With nowhere to move when it comes to the Command Rate we have to go straight for the jugular and attack the timings. This is always a tedious task as we have to adjust four different areas. Messing around with our four main timings and the voltage of the kit, you can see we managed to move to a more aggressive 10-12-12-30-1T @ 1.7v setup.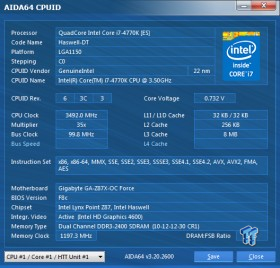 Under AIDA64 we ended up with Read / Write numbers of 34,819 MB/s / 37,492 MB/s, a copy speed of 33,544 MB/s, and latency of 44.7ns. Comparing the two results, you can see little changes when it comes to the raw MB/s. The only area that we see a little bit of movement in is the latency, which drops ever so slightly.
With not too much to report on, we head back into the BIOS to see what happens with the overall speed when we push our CPU clock north. With a 48x Multiplier and a 99.8 BLCK, we end up with our CPU running at 4888.4MHz, a strong overclock from the default 3500MHz. Looking below, you can see the ADATA kit continues to run at the same 2400MHz DDR with the more aggressive 10-12-12-30-1T @ 1.7v setup.
Under AIDA64, we ended up with Read / Write numbers of 34,950 MB/s / 37,534 MB/s, a copy speed of 33,813 MB/s, and latency of 43.5ns. Knowing that the Z87 platform brings little change to Read, Write, and Copy numbers, we didn't expect much change, even with the GHz+ overclock on the CPU. Compared to the previous results and our first ones, you can see on a whole there's really nothing much to see when it comes to these areas.
The one area that does see improvement, though, is the overall latency, which has moved from 44.9ns in our first test to 43.5ns in the last one. Overall, though, you can see that overclocking the CPU as usual brings with it little difference in overall performance.
It's a little easy to find yourself a little disappointed with the lack of overclocking when it comes to the ADATA kit we're looking at today, but this is a really nice kit of RAM that will suit a lot of people. Priced at around the mid $100 mark, it's less than double the price of the 8GB G.Skill kit we looked at. It's roughly only around 60 percent more expensive for 100 percent more memory.
If that wasn't enough to whet your appetite, the 2400MHz DDR clock out of the box is great. It's made even better by the fact that ADATA offers us a 1T Command Rate via the XMP profile. That means that by simply loading the XMP profile in the BIOS, you're getting yourself a decently timed kit of RAM.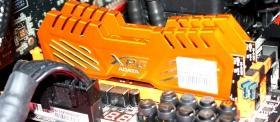 Of course, overclocking is something that can always differ from product to product, and while we didn't have any luck getting extra MHz out of the kit, the improvement on the timings was nice. Looking at the performance difference, though, you can see why most people would choose to just go into the BIOS, set the XMP profile, and leave it at that. The biggest change in performance comes with the CPU speed increase, and that's only in the latency area.
The ADATA kit we're looking at today comes out of the box with decent speed and timings and doesn't cost a fortune. If you're looking for a 16GB kit of RAM and you want something that offers a bit more MHz, this is a fantastic kit. While ADATA might not be the first company that comes to mind when buying performance memory, having a look at what the company offers here today shows that they're someone that you should consider.
PRICING: You can find the ADATA V2 16GB (Gold) RAM Kit for sale below. The prices listed are valid at the time of writing but can change at any time. Click the link to see the very latest pricing for the best deal.
United States: The ADATA V2 16GB (Gold) RAM Kit retails for $155.14 at Amazon.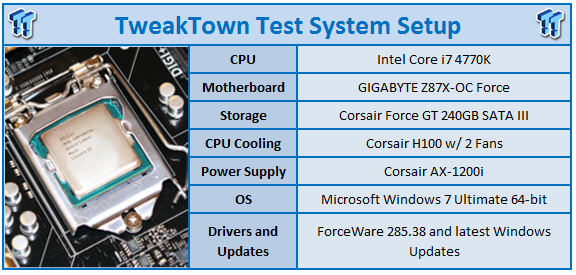 PRICING: You can find products similar to this one for sale below.

United States: Find other tech and computer products like this over at Amazon.com

United Kingdom: Find other tech and computer products like this over at Amazon.co.uk

Australia: Find other tech and computer products like this over at Amazon.com.au

Canada: Find other tech and computer products like this over at Amazon.ca

Deutschland: Finde andere Technik- und Computerprodukte wie dieses auf Amazon.de