G.Skill TridentX PC3-19200 8GB (Z77 Ivy Bridge) Memory Kit Review
G.Skill offers an Ivy Bridge 2400MHz DDR kit that carries a price tag of under $100. The price is great, but is it any good?
Published Wed, Apr 25 2012 3:00 AM CDT
|
Updated Tue, Nov 3 2020 7:01 PM CST

As with any new chipset launch we see companies release a new line of memory. What's interesting about the latest Ivy Bridge / Z77 launch, though, is that for the most part we don't really need new RAM for the new platform.
With no changes in the requirements for the voltage needed along with the same dual channel nature, there's not a big need for new kits. Saying that, something Intel's Ivy Bridge platform does bring to the market is a stronger memory controller then we've currently seen to date.
The new memory controller is helping us achieve speeds that we hadn't seen before and for that reason we're seeing companies bring a new range of extremely high performance kits to the market and in typical fashion, one of the first is G.Skill.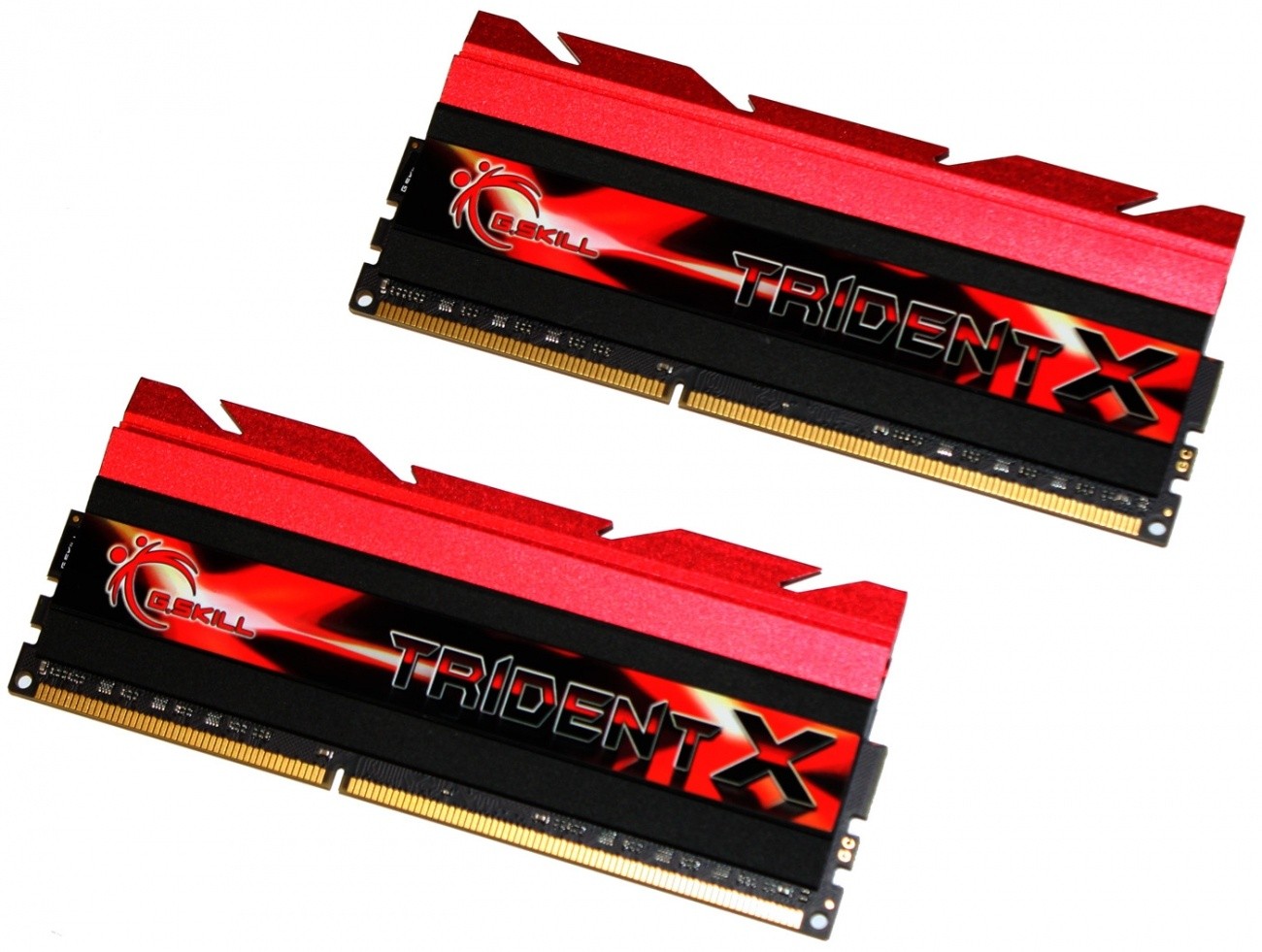 The Trident name isn't a new one, but the new TridentX version is and as you can see above we've got a new heatsink design to go with the name. It's nothing too crazy and doesn't look too bad. It's not my favourite G.Skill heat spreader to date, but overall it looks pretty good. The main thing I love is the fact that we continue to have a black PCB which is always a highlight when it comes to G.Skill kits of memory.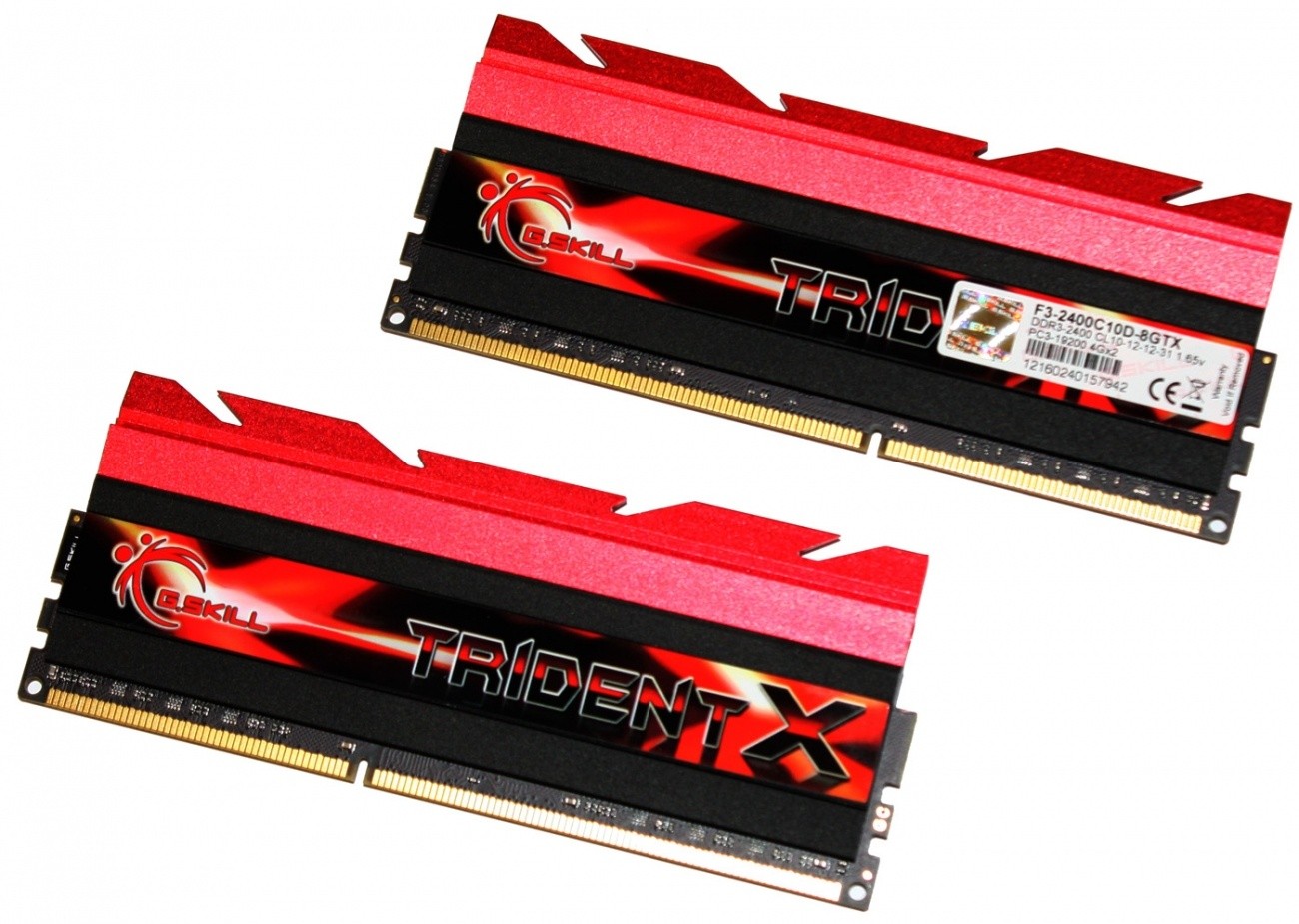 As for what's going on each side, you can see one side clearly has the G.Skill name and the new TridentX name on it while flipping over gives us another sticker that gives us the main details on the kit.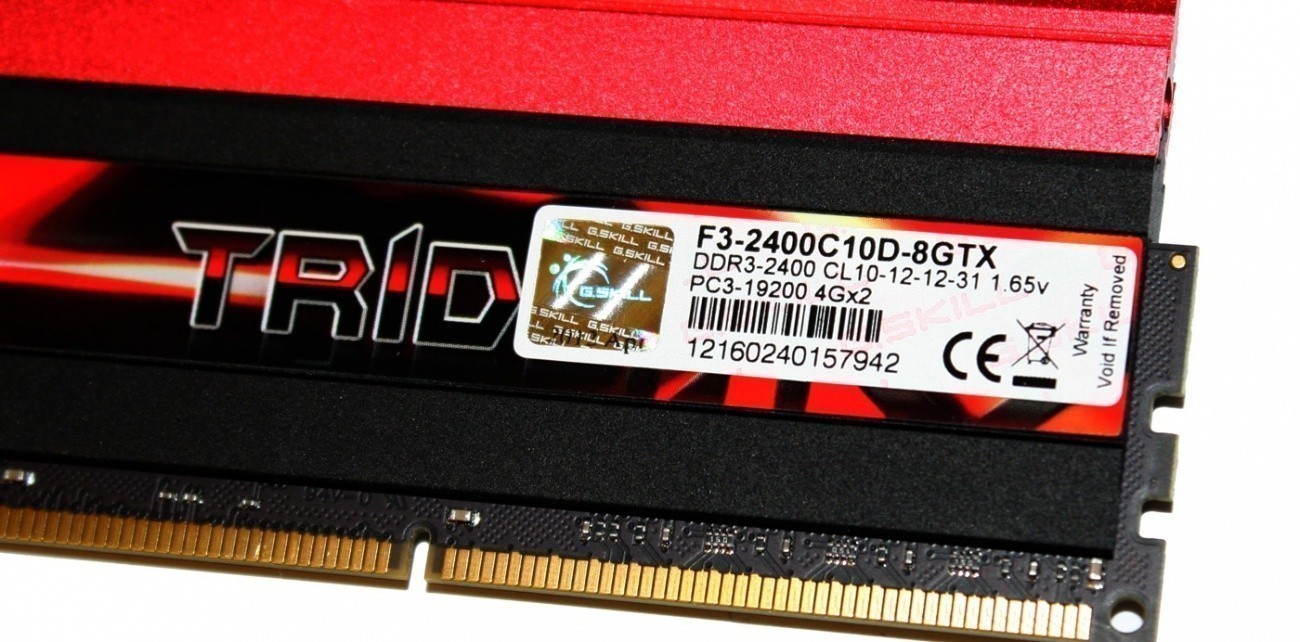 Moving in closer we can see the main details on the kit we're dealing with and the first thing we notice is the 2400MHz DDR nature of the kit or PC3-19200. On the timings front they're slightly relaxed at 10-12-12-31 @ 1.65v and as you can see below that we're dealing with a kit that consists of two 4GB modules to make an 8GB Dual Channel kit.
This is our first time using the ASUS P8Z77-V Deluxe for memory overclocking, but being an ASUS board, we expected little trouble from it. Going into the BIOS, we headed over to the memory frequency section and adjusted the speed to 2400MHz DDR. We then headed into the timing section and set it to 10-12-12-31 and set the Command Rate to 1T, even though it's rated for 2T.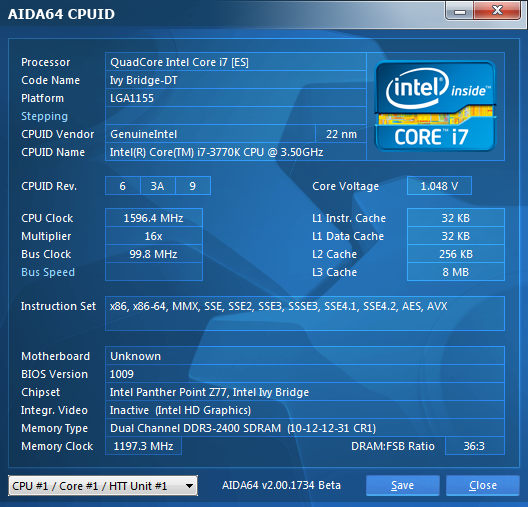 As we expected we didn't run into any problems at all and first boot we found ourselves up and running in Windows.
Under AIDA64 we ended up with Read / Write numbers of 21,887 MB/s / 19,724 MB/s, Copy speed of 23,925 MB/s and latency of 35.5ns.
Performance is what we'd expect out of a 2400MHz DDR kit that's running in Dual Channel. Of course it's going to be slightly better than the default clocks because of that 1T command rate which is always a nice bonus. As always the next thing we want to do is see how we go with overclocking.
We were told we could expect around 2600MHz out of the kit moving to a 11-13-13 setup or possibly a 12-15-15 setup depending on the kit. We opted for the 11-13-13 setup and found that we couldn't get the machine to boot. We headed back into the BIOS and changed from 1T command rate we had when running at 2400MHz DDR to 2T.
Straight away our machine booted and we got into Windows with no dramas. Since that worked with no issue we headed back to the BIOS and figured we'd try for 2666MHz DDR and we got into Windows again with no problems.
Looking below you can see our AIDA64 CPUID screenshot and because of the BCLK not quite being 100, we can see that the 2666MHz DDR divider actually translates to 2661MHz DDR.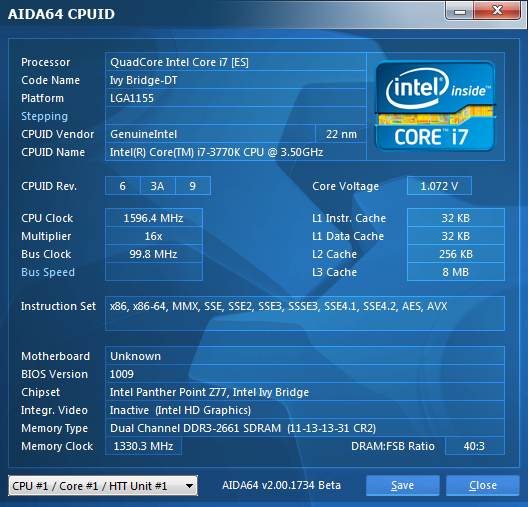 Under AIDA64 we ended up with Read / Write numbers of 21,282 MB/s / 19,941 MB/s, Copy speed of 23,893 MB/s and latency of 35.0ns.
For the most part we don't see much change in overall speed because of the more relaxed timings. Read is slightly down while Write and Copy speed have improved along with latency becoming a bit lower. You can see, though, there's not a huge difference as we have to relaxed the timings and moved to a 2T command rate.
With the top overclock found we always like to head back into the BIOS and adjust the multiplier on our CPU to see just what kind of performance we can end up with when both our RAM and CPU is overclocked. We ended up changing the multiplier to 45x and adjusting our voltages to make sure everything was going to run stable.
Straight away we managed to get our machine posting and within a minute we found ourselves back in Windows with our 3770k running at 4489MHz and our TridentX kit running at the same 2661MHz DDR.
Under AIDA64 we ended up with Read / Write numbers of 22,612 MB/s / 23,742 MB/s, Copy speed of 27,163 MB/s and latency of 32.8ns.
Across the board you can see some nice gains in performance with the best being seen in Write and Copy speed. We also see an overall drop in latency that helps bring performance up another level.
G.Skill have put together a really nice kit here and while I'm not the biggest fan of the TridentX look overall, it's ultimately an excellent quality kit. Outside of the overclocking ability, though, one of the major features that grab our attention is the $99.99 price tag. Considering the speed of the kit, this is a really great price point for G.Skill to come in at with this kit.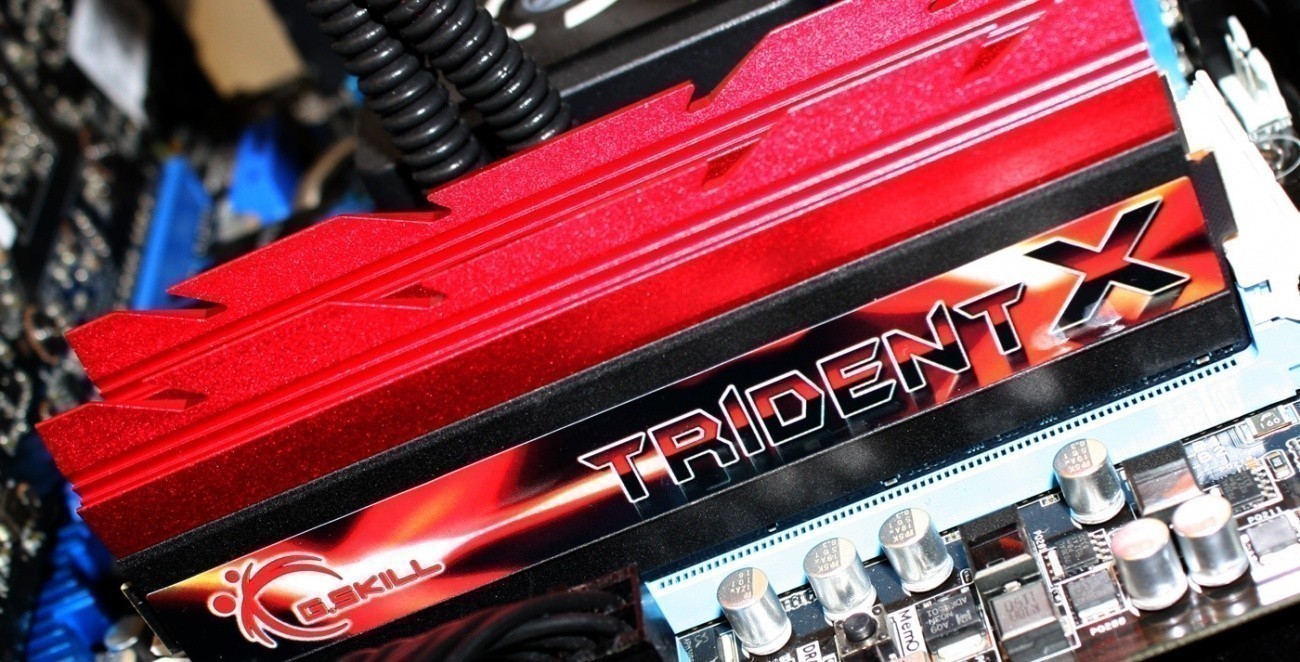 If you're making the move over to the new Intel Z77 Ivy Bridge platform and you're in the need for some new RAM, the TridentX PC3-19200 is a great option for people who are after 8GB of high-speed RAM for under $100. Throw in the overclocking ability of the kit and you've just got a really nice offering from G.Skill here.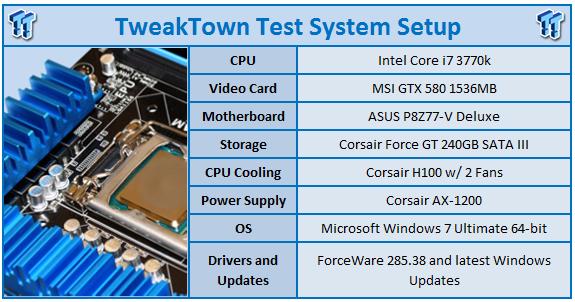 PRICING: You can find products similar to this one for sale below.

United States: Find other tech and computer products like this over at Amazon.com

United Kingdom: Find other tech and computer products like this over at Amazon.co.uk

Australia: Find other tech and computer products like this over at Amazon.com.au

Canada: Find other tech and computer products like this over at Amazon.ca

Deutschland: Finde andere Technik- und Computerprodukte wie dieses auf Amazon.de