KLevv Urbane 2800MHz DDR3 16GB Dual-Channel Memory Kit Review
Chad calls KLevv's Urbane 2800MHz DDR3 16GB dual-channel memory kit the best he has ever used and tested. Read on and find out why.

Published Mar 27, 2015 9:20 PM CDT
|
Updated Tue, Nov 3 2020 6:59 PM CST
TweakTown's Rating: 98%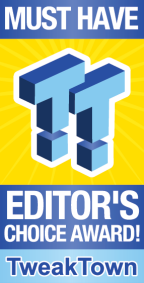 The Bottom Line
Fairly priced, the Klevv Genuine DDR3 2800MHz kit is ready to run out of the box without any fiddling other than setting the XMP profile. Beyond that, this set is the best kit of DDR3 this reviewer has ever had the opportunity to play with.

If you have been following our KLevv memory review trilogy, this is the last of the three installments, and appearance aside, we saved the best for last. While it is hard to beat the appeal of the KLevv Genuine kits, we do have a propensity for speed over looks when it all boils down, and this is definitely the best clocking and performing kit we received from KLevv so far.
We are bringing you the KLevv Urbane series today, which just so happened to have shown up at 2800MHz with 12-14-14-36-2T timings set in the XMP profile. Just like our other KLevv samples, we were sent two 8GB kits, and we will be testing these in 16GB of density. These kits have the same lifetime warranty that the other KLevv kits do, and they even have quite a bit in common with the Neos we saw before, at least as far as the heat-spreader is concerned. However, this time there are no concerns regarding that pinkish undertone showing through, it simply isn't here in this kit.
In our daily usage of DDR3, we haven't gotten any of our past sets much above 2800 MHz, so this kit took us to new heights in speed with ease. As we have already mentioned, we saved the best kit for last when it comes down to raw performance. We even hit a personal milestone, as this is the first set of DDR3 we were able to take above 3000MHz while still enjoying the benefits of its out of the box performance as well. Lastly, just like with all the rest of these KLevv kits, speeds are available across the spectrum for this kit, and it is indeed based on Hynix ICs, which tend to respond very well to a little extra voltage.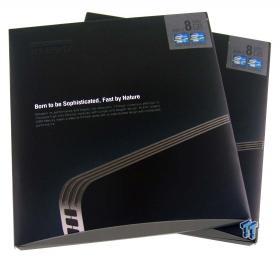 As much as this set reminds me of the Neo kit we saw previously, this packaging is more similar to the black box we found with the Genuine kit. The top offers the density and compatibility, while the main section offers a look at the ridges of the top of the spreaders. The main section also totes the tagline: "Born to be Sophisticated, Fast by Nature," which is a catchy line to use.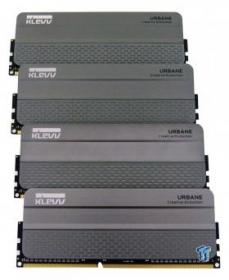 Out of the box, you can easily see the resemblance the Urbane bares to the Neo kit we saw, but this time the spreaders are more silver in color, and much less pink/purple than the Neo's were. Both sides offer the brickwork pattern at the bottom, but only this side of the spreader offers the KLevv name and logo, and the Urbane Creative Evolution at the other end.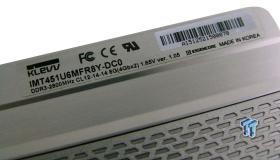 On the opposing side, there is no naming or product logo, but there is a clear sticker. On the clear sticker you can find the model number, speed, timings, voltage, and even the serial number of each stick in the kit. The main thing that separates the Urbane from the Neo is that the Neo offers a slit pattern running at a horizontal angle, but the Urban offers long ridges that run the length of the sticks.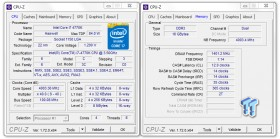 The XMP profile booted without issue. We had no need to increase CPU voltage or add anything to the memory controller to achieve what is shown in this screen shot. With all four sticks of the 16GB of memory KLevv gave us in the system, we see that the 12-14-14-36-2T timings are exactly what boots up for you to use.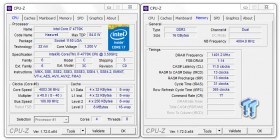 After adding a tenth of a volt to the VDIMM setting, we were able to get the timings down a bit. While we are not amazed in the timings we see, 11-13-13-31 and 1T is nice to achieve at 2800MHz, and we will see the benefits to be had here soon enough.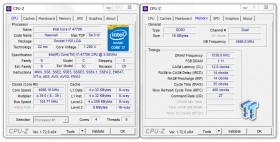 The last of the settings we will be using for testing is our maximum achievable speed of this set of Urbane sticks. With still just a tenth of a volt over the XMP voltage, we were able to take these sticks to 3000MHz and a touch beyond as we hit 3073MHz using the XMP timings. Opening them up did not offer more speed; we felt it needed a touch more voltage to go any further than this.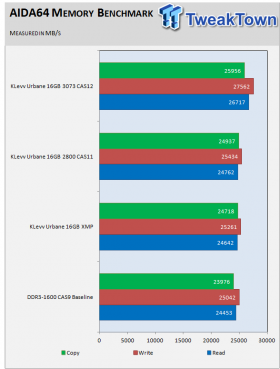 While on previous kits, AIDA64 did not favor much other than the XMP settings, with this set, we see a marked advantage to each step we took. The XMP is better than the baseline, if only marginally, but tighter timings do better, and speed with XMP timings was definitely the way to go to top this chart.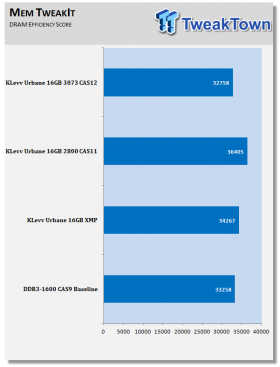 Mem TweakIt, did not seem to like the overclock for their value system, as is scored just slightly better than the baseline kit did. While XMP settings do offer around a thousand points here, tightening the timings showed the best advantages here, and in Pi style testing.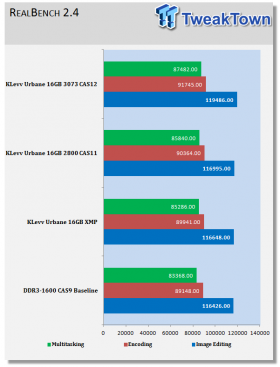 Usually, Mem TweakIt likes overall speed when it comes to their results, but we don't find that here. There is a good improvement at XMP, and tightening the timings shows the best results here. However, when it came to the overall speed, the timings needed were not tight enough to overcome the 2666 CAS11 testing.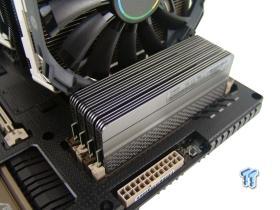 When it comes to image editing, shear speed is what wins out; in fact, speed won out in every instance. Still, with the multitasking and encoding, they are all pretty close to each other, no matter how we run them. Looking at a kit that is 1400MHz slower does shed some light on the situation though; with any kit you buy, you need to think long term for time savings, as the fragments of seconds will add up, but may not be so visible on an hourly basis.
While we are definitely impressed that even while receiving a pretty highly binned kit of DDR3, we still had room to tighten the timings if we wished. Even more impressively, KLevv took us past 3000MHz with XMP timings. Of course, there was a bit of love added to the RAM voltage, but a tenth of a volt is really just getting started. While we would not advise the average user take it any further, those familiar with overclocking will see the potential for sticks like these when it comes to extreme cooling. These Hynix ICs just respond very well to voltage, and if you don't mind voiding warranties and potentially killing new gear, this is a kit that begs to be pushed. We really wanted to keep pushing this kit to see where it finally quit or died, but we did not have the heart to potentially damage the kit in our testing.
On the basic levels, the Urbane sticks do look a lot nicer than the Neo sticks, but we still liked the design of the Genuine sticks most. In our opinion, it is more about raw speed and the potential to increase performance, even if just slightly, when doing a lot of video encoding or multitasking like we do to bring you these reviews. The advantages are felt at the end of the month, rather than at the end of the day, but there are advantages. Our testing shows that timings are still everything when it comes to DDR3, as seen by the relevance of the baseline kit of memory we used as a metric to show what you are getting over the average, run-of-the-mill memory. That doesn't mean you feel any less awesome for running your kit at 3000MHz and above, even if just for the feeling that the jealousy and envy of others brings.
What is really enticing us to show this kit off to the world lies in the price to obtain what you saw in this review. You have to shop Newegg for this kit, but the KLevv Urbane 2800MHz CAS12 kit is priced at an affordable $99.99 per 8GB kit; that is a total of just under $200 to get what you have seen here. While we may not have gotten that same 400 plus MHz that the Neo kit offered us, it stays within reason as we know the higher you get the less room exists. Even so, we are very impressed with what KLevv has done across all three of their kits, and specifically with these IMT451U6MFR8Y-CD0 8GB kits. Also, keep in mind that if you only plan to buy 8GB, and not the 16GB we ran, your results could be much better without all the stress we put on the IMC. While KLevv is definitely late to the DDR3 scene, they came out with guns blazing to offer customers great ICs, solid kits, and plenty of speed and options across the board to suit anyone's needs and desires in one fell swoop.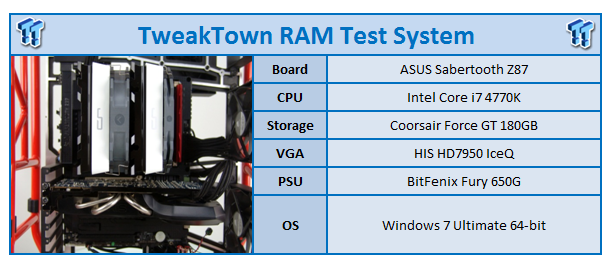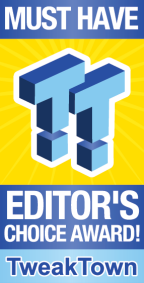 | | |
| --- | --- |
| Performance (including Overclocking) | 99% |
| Quality including Design and Build | 98% |
| General Features | 96% |
| Bundle and Packaging | 98% |
| Value for Money | 97% |
The Bottom Line: Fairly priced, the Klevv Genuine DDR3 2800MHz kit is ready to run out of the box without any fiddling other than setting the XMP profile. Beyond that, this set is the best kit of DDR3 this reviewer has ever had the opportunity to play with.
PRICING: You can find products similar to this one for sale below.

United States: Find other tech and computer products like this over at Amazon.com

United Kingdom: Find other tech and computer products like this over at Amazon.co.uk

Australia: Find other tech and computer products like this over at Amazon.com.au

Canada: Find other tech and computer products like this over at Amazon.ca

Deutschland: Finde andere Technik- und Computerprodukte wie dieses auf Amazon.de
We openly invite the companies who provide us with review samples / who are mentioned or discussed to express their opinion. If any company representative wishes to respond, we will publish the response here. Please contact us if you wish to respond.
Related Tags