KLevv Genuine 2666MHz DDR3 16GB Dual-Channel Memory Kit Review
The second RAM kit from KLevv we're looking at is its Genuine 2666MHz DDR3 16GB dual-channel memory package. Should you buy it? Read on.

Published Thu, Mar 26 2015 9:10 PM CDT
|
Updated Tue, Nov 3 2020 6:59 PM CST
Rating:

95%
Manufacturer: KLevv

Our second visit with KLevv and the memory they are now offering brings us to the Genuine series of DDR3. In this kit, you will find all of the things that users are looking for while shopping around for new DDR3. This kit is speedy, offers pretty tight timings, and best of all, it is the most aesthetically pleasing kit of the three KLevv kits we received. As you will soon see, not only does this kit offer a great mix of brushed metals to see inside of your PC, but this kit also offers LEDs to kick things up another notch.
Before we look at the KLevv Genuine IMT451U6MFR8Y-CC0 2666MHz kit of DDR3, we would like to note a few things. First, we were sent two 8GB kits, and will be testing ours in the 16GB density across four sticks. Also, due to the binning required, our four sticks are close in their serial numbers, but they do skip quite a few numbers. The reason for the discrepancy in numbers is that we are in search of those sticks that will bin well, and we are not just throwing any two together and forcing things by relaxing timings. This CAS12, its lifetime warranty, and the results we are about to show prove that KLevv may be late to the game, but they are in no way trying to pass off junk ICs under some pretty spreaders.
Unlike the slight roadblock we hit with overclocking the KLevv Neo kit as we wanted to, the Genuine kit, which is available in all kinds of speeds and timings, responded in every way to what we like to do. So, right out of the gate we are dealing with more versatility and better aesthetics, and we still get a SK Hynix based kit to play around with. Regardless of the speed or timings you are looking for, in our opinion, the KLevv Genuine kit is going to be KLevv's bread and butter since it will fit the desires of more users.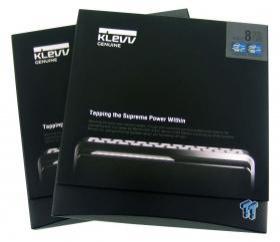 While the packaging of the Genuine from KLevv is all black, the dark background does allow the white text to pop and draw your eye to the "Tapping the Supreme Power Within" tagline. The box also affords a view of the top of the memory to address the fact that this is a LED illuminated kit. Here you can see what the illuminated kit will look like while running in the PC. As with all the other KLevv kits, we were given two 8GB kits, and each box offers two 4GB sticks.
It is hard to deny that the KLevv Genuine sticks hit the nail on the head when it comes to appearance. The play of black aluminum with the natural aluminum is a sure match to a lot of systems out there. Along with the use of black PCBs across all of their memory, we see a KLevv logo and Genuine Creative Evolution printed onto this side of the spreaders.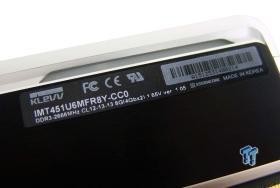 The opposing side of the spreaders is completely plain. The only thing to see there on these 54.3mm tall sticks is the sticker offering the model number, XMP timings, and voltage. You can also locate the serial number of the stick on the sticker.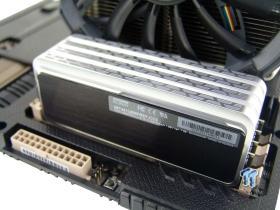 While we still feel the "clean" side of the memory should face this way, rather than the logo facing the CPU, the clear sticker on this side is not that distracting at all. We also like the trapezoid pattern at the top of the memory.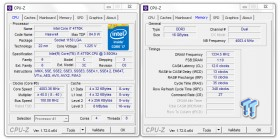 Booting to the XMP profile was as easy as enabling it in the BIOS. With a 100 BCLK used and the 2666MHz divider, this kit comes to life easily with the rated timings and voltage all set and ready to go for you.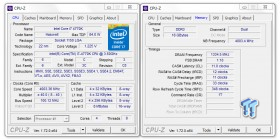 With the Genuine sticks we were able to add in a tenth of a volt to the memory, and the timings did come down a fair bit. Moving from the XMP timings of 12-13-13-35-2T down to 11-12-11-33 at 1T is pretty nice, and should have some advantages for us.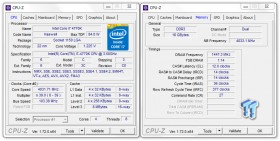 With the same amount of voltage added, this CPU-Z screen shot is showing the speed at 2894MHZ with 12-14-14-36-2T timings. While this is not as much headroom as we saw in the Neo kit, as you get higher and higher in the binning, there is usually a bit less room to clock them on just air cooling. Consequentially, this result is not that shocking or disappointing at all.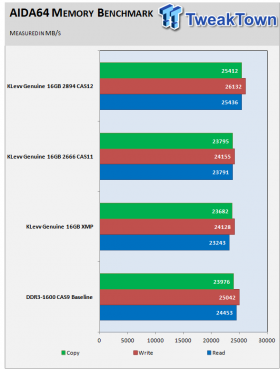 Looking at AIDA64 testing, we can see that the XMP is slightly worse than our baseline kit when it comes to this test. Tightening the timings brings us much closer to the baseline kit, but it took the 2894MHz speed to show some real improvement here.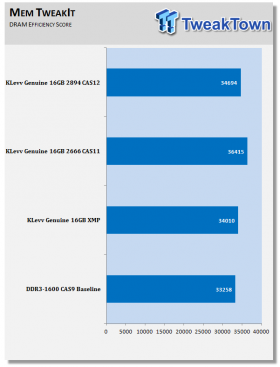 Usually, Mem TweakIt likes overall speed when it comes to their results, but that is not what we find here. There is a good improvement at XMP, and tightening the timings shows the best results here. When it came to the overall speed, the timings needed were not tight enough to overcome the 2666 CAS11 testing.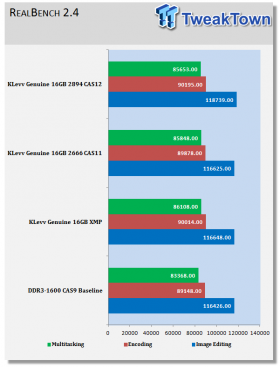 RealBench is the most level of all of our testing, and it does show more of a real-world performance metric for those looking to improve speed in day-to-day tasks. Oddly, for photo and video editing, there isn't much gain to be had from our baseline results all the way through to the maximum speeds. However, when it came to multitasking, 2894MHz shows a defined advantage over our other choices.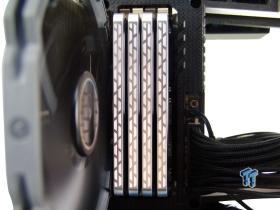 While results show that speed isn't everything when it comes to our testing, we did see marked advantages in SuperPi and wPrime speeds. We also saw that speed won out in 3DMark tests, so there are advantages to be had for those looking to impress themselves and others in the benchmarking arena. For those of you looking for replacement memory and have no real need for super speeds or tight timings, KLevv has you covered as well. With all of their kits, KLevv starts at 1600MHz at CAS9 and runs through to 3200MHz with a CAS of 13, so you can easily tailor any of these kits to your needs.
The aesthetics of the Genuine sticks will sell tons and tons of these kits globally. With that sleek brushed aluminum mixed between the black centers and the natural surrounding bits, these sticks have the same appeal of kits like the Dominator Platinum. Just like the Dominator Platinum kit, this kit offers white LEDs, but in this kit, the LEDs are visible through the trapezoid pattern used on top of these sticks. When it comes down to it, regardless of the results we showed you, it is very hard to get past how slick these KLevv Genuine sticks will look in any build.
One thing that is a bit of a shock, considering what we saw with the Neo set, is that you can expect to dig deep to obtain this specific kit. We found this kit in the 8GB density for $149.99, which is nearly twice the price of the KLevv Neo set. Of course, this is the best looking set, and speed does play into the pricing too, but you do have to pay dearly for these features. This is similar to the premium users pay for something in the same realm of design and features from Corsair. So, while pricing is not completely out of the realm of reality, it will be the limiting factor for those who will have the Genuine kits in their own systems. While we do love the functionality and appeal of this kit, we still feel the price is a lot to swallow considering what we tested with is in the realm of $300.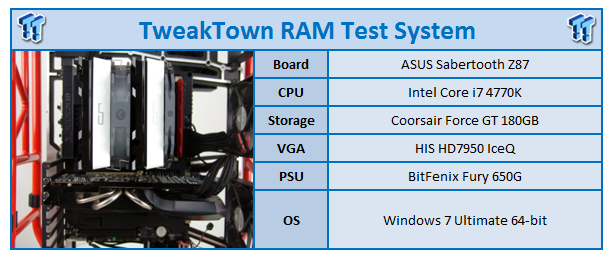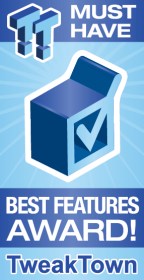 | | |
| --- | --- |
| Performance (including Overclocking) | 94% |
| Quality including Design and Build | 98% |
| General Features | 99% |
| Bundle and Packaging | 98% |
| Value for Money | 85% |
The Bottom Line: This set of KLevv Genuine 2666Mhz memory has great appeal to the masses, is based on Hynix ICs, performs well, and was very receptive to overclocking and tightening the timings. For those who can afford it, Genuine sticks will definitely dress up any build.
PRICING: You can find products similar to this one for sale below.

United States: Find other tech and computer products like this over at Amazon.com

United Kingdom: Find other tech and computer products like this over at Amazon.co.uk

Australia: Find other tech and computer products like this over at Amazon.com.au

Canada: Find other tech and computer products like this over at Amazon.ca

Deutschland: Finde andere Technik- und Computerprodukte wie dieses auf Amazon.de
We openly invite the companies who provide us with review samples / who are mentioned or discussed to express their opinion. If any company representative wishes to respond, we will publish the response here. Please contact us if you wish to respond.