KLevv Neo 2400MHz DDR3 16GB Dual-Channel Memory Kit Review
KLevv is one of the newest memory makers on the block and today we are excited to see what its Neo 2400MHz DDR3 RAM kit is capable of doing.

Published Wed, Mar 25 2015 9:13 PM CDT
|
Updated Tue, Nov 3 2020 6:59 PM CST
Rating:

95%
Manufacturer: KLevv

Upon taking over the memory reviews at TweakTown, the plan was to stick with DDR4 and move on from there. However, one company recently offered up some DDR3 sticks, and we just could not pass up the opportunity to look at them for ourselves. The company in question is KLevv, and while KLevv is a fresh name, this company is part of Essencore, which is a name many of our readers are familiar with. KLevv also has tight ties with SK Hynix, making access to the ICs even easier for this company.
While this review of the KLevv Neo KM3N4GX2Y-2400 will prove that there is some fun and good performance to be had with this kit, the KLevv Neo is just the first of three kits we have been sent to review. For the purpose of this review, we received matching 8GB kits containing two 4GB sticks each. Our matching kits have been combined for a total of 16GB, which is the density in which we will be addressing our kit for testing. Also, these kits are Hynix based in their IC usage, and overclockers know the benefits to be had there.
Our testing system may have changed, but our testing and methodology remain the same, and we even took the time to add in an 8GB 1600MHz CAS9 kit to show just how well this KLevv memory stands up to a product the average customer would choose. In this review, we aim to show not only what KLevv DDR3 has to offer, but also that there are still companies out there that cater to those that like to push boundaries when it comes to memory overclocking.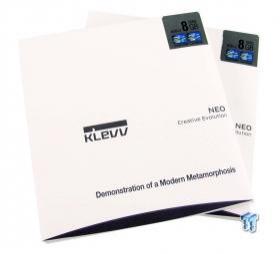 The packaging KLevv used for the Neo kits is clean and simplistic. At the top we find the density of the included kits, and we see they are indeed KLevv Neo Creative Evolution. At the bottom KLevv notes that these are a "Demonstration of a Modern Metamorphosis." One of the four side panels supplies the serial numbers of the sticks inside, and a sticker on the back shows off the XMP speed, timings, and voltage.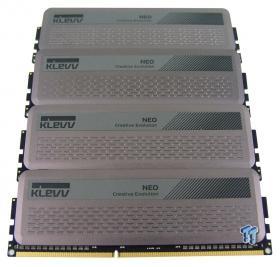 Inside of both boxes we find these four sticks with a pinkish hue to the metal heat-spreaders. The lower part of the spreader offers a trapezoid shaped brickwork pattern at the bottom, and near the top of these 46mm tall sticks there is a textured surface around the stickers.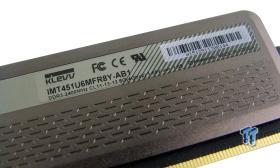 We like that the sticker on the memory is clear so it is not too distracting when this kit is installed, but it is still easy to see the IMT451U6MFR8Y-AB1 naming and the individual serial number. Below the naming and serial number there is also the smaller text with the speed, timings, kit density, and voltage needed for said specifications.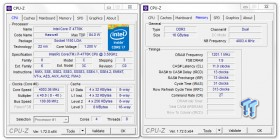 Normally, we would offer three CPU-Z screen shots of the XMP settings (which we see here), a shot of the overclocked version, and a shot with tighter timings at XMP speeds. However, we found that the 11-13-13-31 timings are as tight as this kit of 2400MHz sticks wanted to go.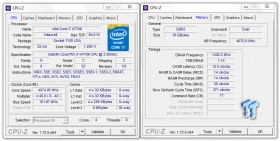 Of course, tighter timings can be beneficial to performance results compared to the XMP profile, but then again, sheer speed can win out as well. Considering this is a 2400MHz kit to begin with, we were impressed to see that they easily climbed to 2852MHz 12-14-14-36 with 1.75V sent through the ICs.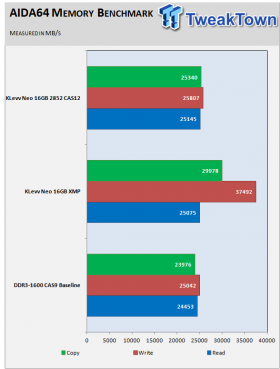 When it comes to AIDA64 testing, we found that we may have pushed this kit a bit too far. While both the overclocked settings and the KLevv XMP profile beat the baseline kit, performance is greatest right out of the box. We did have fun getting this kit that high, but for day-to-day transfers, these may not be the best settings to use.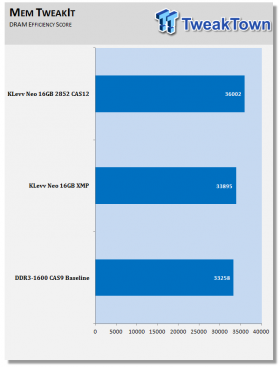 When it came down to looking at Mem TweakIt as a metric to our settings, speed does win out across the board in this instance. Going from 1600Mhz to the 2400MHz is worth a little more than 600 points, but getting to 2852MHz adds over 2000 points to the results.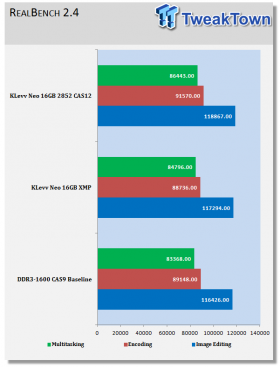 To simulate the everyday workload of a system, we stuck with RealBench 2.4 because it is a good mix of editing video and photos, and a heavy multitasking stage to show what the memory can really handle at said speeds. Again, the XMP profile just sneaks past the baseline kit. Although, in this instance, speed easily wins out with a larger jump in scores from the last 452MHZ than there was between the baseline kit and the XMP profile in the 800MHz.
As with all memory, most of the same rules apply across all kits, no matter the type or density. With this kit, we were able to run all 16GB on our 4770K without impact to the CPU overclock or voltages needed, which is great. Just boot into the BIOS, set the XMP for the memory, and booting the XMP with a 100 BCLK leaves no need to tinker with the rest of the system overclock. Of course, when it came to raising the speed of the kit, we did need to loosen the timings and use 1.75VDIMM. Afterward, it was just a mix of speed, memory dividers, and making sure the CPU did not go too far while pushing the BCLK.
When it came to tightening the timings, there was hope, as we were able to boot the kit at 10-12-12-36-2T, but our testing showed that it was not stable. We do feel that with a bit of tinkering of the secondaries, and possibly a slight increase in voltage, these settings could have become stable, but that is beyond where we like to go in our K.I.S.S. approach to memory overclocking. By sticking to our K.I.S.S. approach, we do not show nearly unobtainable results; instead, we offer something the every man or woman can achieve.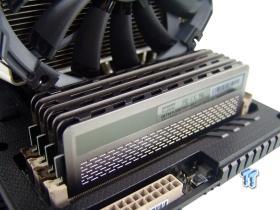 While AIDA64 may have started things off on a sour note, when it comes to the real-world usage of these kits, our photo imaging, video editing, and multitasking all show an advantage to the 2852MHz overclock we were able to achieve with the slightly relaxed timings. Right out of the box, this set of KLevv Neo sticks gets good results. While we do wish we could have brought the timings down at XMP speeds, it just goes to show how tightly binned they are out of the box, and that KLevv is trying to give you the best of all worlds with their XMP profile. The results of our testing prove them to be strong there as well.
Admittedly, it has been ages since we have needed to look at a retail source for DDR3, but all things considered, we do like the pricing we are finding for this KLevv memory. At this time, it also appears that KLevv may be a Newegg exclusive, as the only other location we found a listing for this memory was at eBay. At Newegg.com, you can find these sticks in the 8GB kits listed at $74.99 a set, putting the setup we tested in the range of $150. For the density and speed of this kit, pricing seems to follow the curve. We have owned better binned sticks in the past, but those don't clock as far, nor were they as much fun to tweak.
While this kit was fun and enjoyable to use for overclocking and testing, once that was all over, we had to consider what we were left with. Well, considering the density we used, we are really impressed that of all four sticks, with a range of serial numbers to test, the only issue we are left to discuss is simply the color of the spreaders. That pinkish hue may not exactly be manly, but we are able to overlook an aesthetic color choice for what we were offered in this KLevv Neo 2400MHz kit. Additionally, if you really love the design and color of this kit, the lineup is vast with many speeds and timings to choose from. If you don't care for these spreaders, and that is the only reason you may pass on KLevv memory, then stay tuned, as the next two kits not only change speeds and timings, but also address the aesthetics.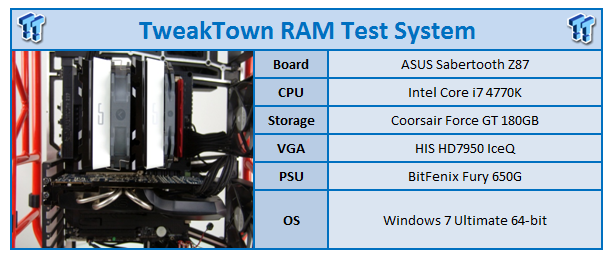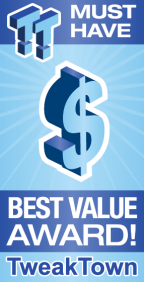 | | |
| --- | --- |
| Performance (including Overclocking) | 93% |
| Quality including Design and Build | 97% |
| General Features | 90% |
| Bundle and Packaging | 98% |
| Value for Money | 96% |
The Bottom Line: While not the best kit that KLevv has to offer as far as speeds and timings go, this Neo 2400MHz kit is a great speed upgrade from our baseline with defined advantages. Offering over 400MHz of overclocking headroom may be a bonus too, definitely show the quality of the ICs used.
PRICING: You can find products similar to this one for sale below.

United States: Find other tech and computer products like this over at Amazon.com

United Kingdom: Find other tech and computer products like this over at Amazon.co.uk

Australia: Find other tech and computer products like this over at Amazon.com.au

Canada: Find other tech and computer products like this over at Amazon.ca

Deutschland: Finde andere Technik- und Computerprodukte wie dieses auf Amazon.de
We openly invite the companies who provide us with review samples / who are mentioned or discussed to express their opinion. If any company representative wishes to respond, we will publish the response here. Please contact us if you wish to respond.