Recently, we reported on the ban on the GeForce RTX 4090 GPU in China, which shocked several people because it's the first time the US-imposed export ban on technology to the country included a piece of hardware designed for PC gaming. This has led to RTX 4090 models being sold for double the price in China, ahead of the restrictions kicking in next month.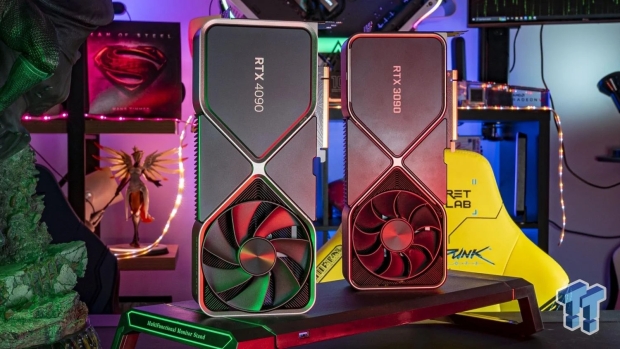 According to sources, it's all about restricting and slowing China regarding AI. With the new restrictions looking to limit the sale of NVIDIA's A800 and H800 workstation cards in the region, the ban, which doesn't restrict specific models but hardware with certain transistor numbers, now includes the GeForce RTX 4090.
No GeForce RTX 4090s for China might not sound like a big deal, but with the AI boom and new reports from outlets like TechSpot, it seems that when it comes to high-end NVIDIA GeForce RTX GPUs, we're on the cusp of another situation where prices are about to go through the roof.
The GeForce RTX 4090 carries an MSRP of USD 1599, the highest flagship desktop gaming GPU price point in the company's history. With up to double the performance of the previous generation flagship - the GeForce RTX 3090 - the RTX 4090 is currently unmatched in gaming hardware. This is one of the reasons sales have continuously been strong for the GPU long after its launch, and with this new China-ban wrinkle, it's virtually impossible to find one at the going MSRP rate.
In fact, according to TechSpot - citing multiple sources - pricing for the GeForce RTX 4090 graphics cards across all models "are expected to increase significantly in the next few months." In the short term, prices will continue to rise as retailers, groups, and individuals buy up stock before the China ban begins. And even once it does, stock in nearby regions will become hot commodities.
The GeForce RTX 4090 might be the only desktop GPU to feature specs in the "do not sell to China" category. Still, the flow-on effect could see pricing for the GeForce RTX 4080, GeForce RTX 4070 Ti, and even competing products like the AMD Radeon RX 7900 XTX rise due to increased demand. The ban and increased pricing could even lead to NVIDIA pushing to release the rumored GeForce RTX 40 Series SUPER models sooner rather than later.
We do not want to see rising GPU prices become the norm, but the good news is that pricing for entry-level and mid-range GPUs is dropping. From the GeForce RTX 4060 to the RTX 4070 and Radeon RX 7600 and 7700 XT - these cards are currently sold for less than their respective MSRPs, which is a great sign for most PC gamers. Those looking for the very best, and wanting to join the GeForce RTX 4090 club - not so much.