NVIDIA's blazing-fast Grace Hopper GH200 Superchip will never see the shores of China, with the US government applying sanctions on the country, stopping them from acquiring, buying, or touching any high-end supercomputer or semiconductor technology. This means GPUs, and this means NVIDIA losing parts of its market.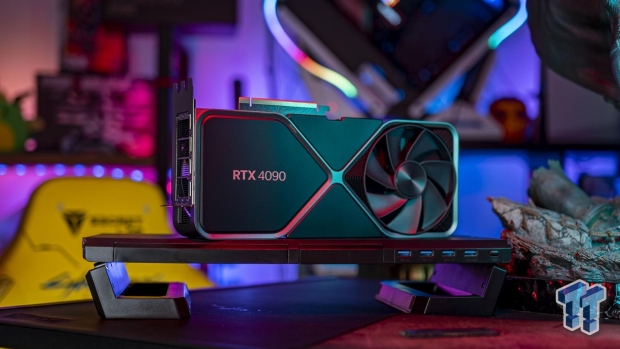 The US government has just imposed new restrictions, which are different to the first restrictions, which looked at the on-device connection speed. Still, with the new rules, it'll see NVIDIA's gaming-focused GeForce RTX 4090 24GB graphics card being banned from entering China. High-end enthusiast PC gamers will miss out on the best gaming GPU money can buy.
The Biden administration has pushed new rules that see limits on high-performance computing chips, with the new sanctions looking to destroy any ability of China being able to advance its high-performance computing chip technology. This new set of requirements will go into effect in 29 days, meaning NVIDIA has a very short amount of time -- while head-first into the holiday season -- to adapt to the Biden administration's new sanctions and regulatory changes.
Remember: Many AIB partners build the flagship GeForce RTX 4090 in China, while most of the brands are based in Taiwan. Taiwan Semiconductor Manufacturing Company (TSMC) is based in Taiwan, so moving high-end GPU production to Taiwan could work. Still, China has warned it would also invade Taiwan and gain control TSMC for itself... so, there's that.
The new rules go into effect on November 16, 2023, where NVIDIA will be stopped from shipping the following AI GPUs: A100, A800, H100, H800, L40, L40S, and then on the gaming GPU side of things, the GeForce RTX 4090.
Also, the new regulations will stop some of the loopholes that allow foreign companies to buy high-end GPUs and then export them to China and into the regions that have embargoes on them. But now, with the new regulations halting even a gaming graphics card like the GeForce RTX 4090, it means that gamers in China seem to have just been shut out of the high-end GPU market for the PC.
This would mean that the next-gen GeForce RTX 5080, GeForce RTX 5090, and other high-end Blackwell GPUs for gaming graphics cards wouldn't even be announced, let alone sold in China over the coming years. Another question is: what happens to GeForce RTX 4090 owners in China right now? Are they allowed to sell their GeForce RTX 4090 in China without breaking the law? I guess not.
GeForce RTX 4090 owners in China: caress your RTX 4090 tonight, as you have in your hands one of the coolest banned items ever. It's like ultra-tier loot, nice.
NVIDIA's SEC filing reads:
"On October 17, 2023, the U.S. Government, or USG, announced that it submitted the Interim Final Rule, "Implementation of Additional Export Controls: Certain Advanced Computing Items; Supercomputer and Semiconductor End Use; Updates and Corrections" (the "Interim Final Rule") for publication in the Federal Register".
"The Interim Final Rule amends ECCN 3A090 and 4A090 and imposes additional licensing requirements for exports to China and Country Groups D1, D4, and D5 (including but not limited to Saudi Arabia, the United Arab Emirates, and Vietnam, but excluding Israel) of the Company's integrated circuits exceeding certain performance thresholds (including but not limited to the A100, A800, H100, H800, L40, L40S, and RTX 4090). Any system that incorporates one or more of the covered integrated circuits (including but not limited to NVIDIA DGX and HGX systems) is also covered by the new licensing requirement. The licensing requirement includes future NVIDIA integrated circuits, boards, or systems classified with ECCN 3A090 or 4A090, achieving certain total processing performance and/or performance density".
"The licensing requirement applies to the export of products classified ECCN 3A090 or 4A090 to a party headquartered in, or with an ultimate parent headquartered in, Country Group D5, including China".