EU Commissioner for Internal Market Thierry Breton posted a letter addressed to Elon Musk warning him of what will come if X continues hosting disinformation/misinformation.
The letter specifically states instances where X has hosted content regarding the attacks in Israel and Palestine and the quality of that content. According to the EU Commissioner, many of these instances resulted in X spreading false information or misinformation, as the posts were "illegal". The letter requests that Musk stop the spread of misinformation on the platform by tightening the systems that are already in place that filter out posted content.
Brenton outlined three key areas of interest in the letter, with the first being a call for the enforcement of content policies. Secondly, it was for X to take faster action when it's alerted on illegal content being posted on the platform, as the speed of the response is critical to mitigating the spread of the misinformation. Lastly, Breton told X to establish "mitigation measures" that will be designed to reduce the risk of disinformation reaching the community and influencing public security.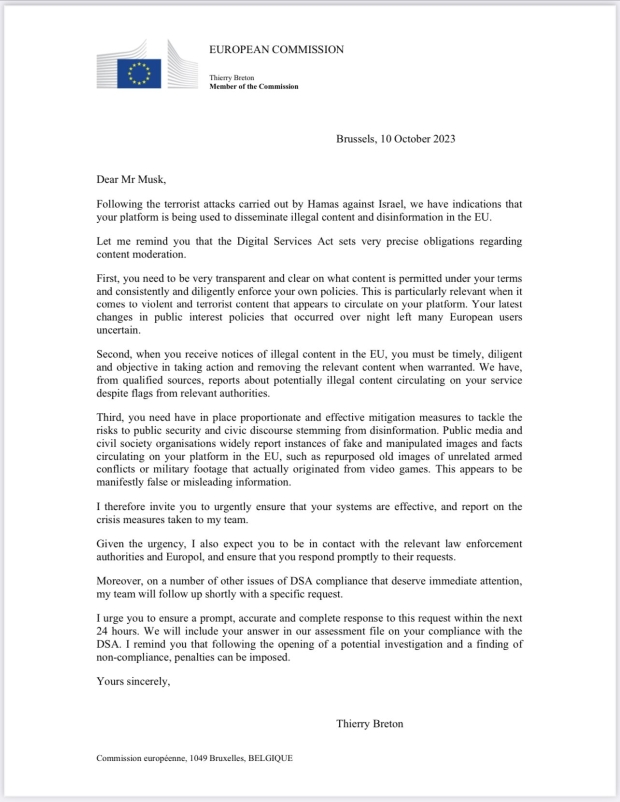 "Public media and civil society organisations widely report instances of fake and manipulated images and facts circulating on your platform in the EU, such as repurposed old images of unrelated armed conflicts or military footage that actually originated from video games," said Brenton. "This appears to be manifestly false or misleading information."