A group of researchers affiliated with Northwestern University, MIT, and the University of Vermont have given a simple request to a custom AI.
The AI system that was prompted is trained on robot designing data while taking into account "billions of years" of evolution on Earth. According to Sam Kriegman, lead researcher on the study and an assistant professor of computer science, mechanical engineering, and chemical and biological engineering at Northwestern's McCormick School of Engineering.
Kriegman is also a member of the Center for Robotics and Biosystems and explained in the above video that his team simply requested this AI program to "Design a robot that can walk". In 26 seconds, the AI produced a blueprint for a robot that was then created through 3D printing. The video suggests there were at least 10 designs before arriving at the design that actually walks, and according to a press release on the Northwestern website, the AI self-corrected these design flaws and by itself arrived at the inclusion of "legs".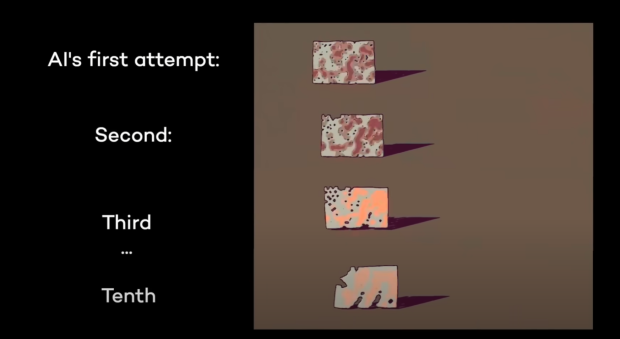 "We discovered a very fast AI-driven design algorithm that bypasses the traffic jams of evolution, without falling back on the bias of human designers. We told the AI that we wanted a robot that could walk across land. Then we simply pressed a button and presto! It generated a blueprint for a robot in the blink of an eye that looks nothing like any animal that has ever walked the Earth. I call this process' instant evolution,'" said Northwestern's Sam Kriegman, who led the work.
"When people look at this robot, they might see a useless gadget," Kriegman said. "I see the birth of a brand-new organism."
"When humans design robots, we tend to design them to look like familiar objects," Kriegman said. "But AI can create new possibilities and new paths forward that humans have never even considered. It could help us think and dream differently. And this might help us solve some of the most difficult problems we face."
"The only thing standing in our way of these new tools and therapies is that we have no idea how to design them," Kriegman said. "Lucky for us, AI has ideas of its own."