It's unclear whether or not Sony is still selling the PlayStation 5 console at a profit, or whether or not the console will be completely profitable throughout the current Fiscal Year 2023 timeline.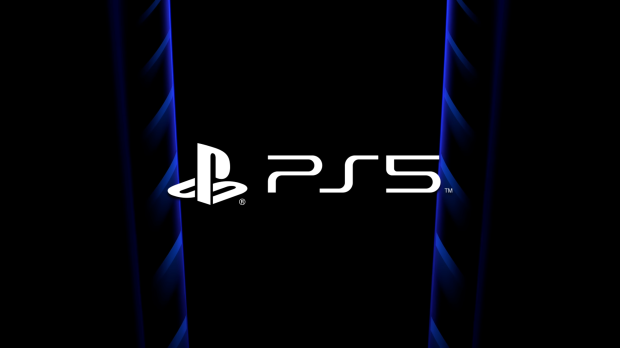 Sony's latest financial report indicates that PS5 profitability may be in jeopardy. The Games & Network Services' new revised operating income forecast indicates that the costs of console production may be outweighing sales by some degree.
In the report, Sony mentions that its flat 270 billion gaming operating income target (about $1.862 billion) is due in part to a "deterioration in profitability of PlayStation 5 hardware mainly due to changes in promotions by geographic region and the sales channel mix". It's unknown as to what extent PS5 profitability has been reduced, and whether or not the system is still sold at a profit.
"Although we upwardly revised the sales forecast for third-party software which is performing well, we have incorporated a deterioration in the profitability of PS5 hardware mainly due to changes in promotions by geographic region and the sales channel mix," reads the report.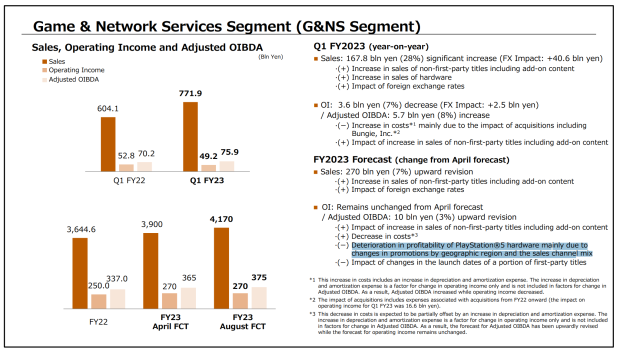 Sony recently slashed prices on its PlayStation 5 consoles by some $50 in order to spark more hardware sales. In Q1 FY23, the beginning of Sony's new fiscal year, the company shipped 3.3 million PS5 consoles. This was slightly lower than expected, and prompted Sony to kick off the aforementioned promotional discount to help boost PS5 sales in the Q2 period.
The discount comes a year after Sony raised the PS5's price in nearly all worldwide markets outside of the United States. Now Sony is more interested in achieving its lofty 25 million PS5 sales target which it hopes to hit throughout Fiscal Year 2023 than it is in strict profitability.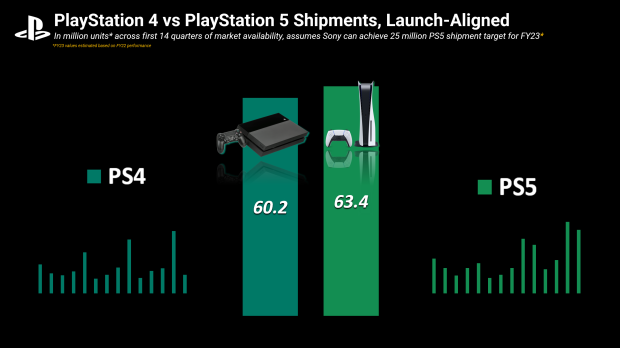 Sony's forecast also mentions lower profits from the sales mix, which is another word for where the consoles are sold. Sony makes less profit from PS5 consoles sold at retailers like Best Buy and Amazon than it does through its direct-to-consumer retail channels like its PlayStation Direct storefront.
The PlayStation 5 recently broke 41.7 million shipments worldwide, trailing behind the PS4's 43.7 million in the same aligned period.
As for increased profitability, Sony is reportedly planning to release a new lighter, smaller PlayStation 5 console sometime in 2023. This new model has reportedly been leaked out, and shows a modular design that is expected to deliver a more lightweight frame specifically created to reduce shipping costs and streamline console production.
Earlier in the year, Sony's Eric Lempel said that "we expect [PS5] to be our most successful and profitable console generation ever."