Video footage of Sony's new PlayStation 5 "slim" model has leaked out, showing a new console case redesign that accomodates the detachable drive.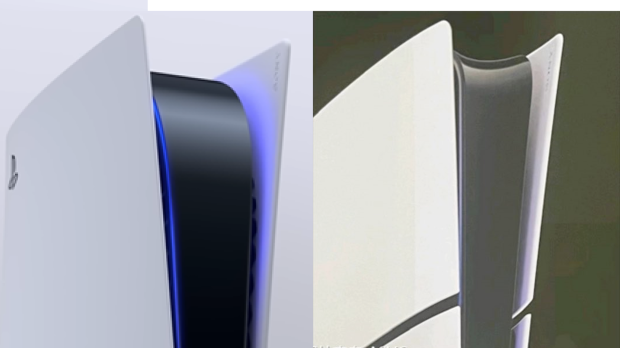 We've seen multiple reports of a so-called PS5 slim pop up over recent months. Sources have told insider Tom Henderson that the new PlayStation 5 model will be a disc-less digital-only system by default--instead of having two PS5 models on the market, Sony wants to eliminate weight and streamline production efficiency with a singular PS5 model. Consumers would buy the base model at a certain price, and then buy a disc drive separately for an added fee.
Now we have reportedly leaked footage of this so-called PlayStation 5 slim (model number CFI-2016). Overall, it doesn't look all that much different than the existing models outside of a new segmented case redesign. The new PS5 features segmented base plates, presumably so that consumers can easily snap off the bottom part of the plate and easily attach a disc drive to the system.
The bottom of the left-side base plate presumably pops off and it is possible the disc drive itself is fused with the detachable plate to ensure an easier hotswap-able design, however this is unknown.
There is also much more room between the side fins and the actual console chassis and this is to presumably improve air flow. It's possible the heatsink has also been adjusted and there are also reports that the power supply unit (PSU) is smaller than the existing models.
It is also unknown whether or not the unit is real. Sony has yet to announce the new models, but that is expected to be imminent, and sources say the new PlayStation 5 could launch in September ahead of the big holiday rush.
This approach to direct-to-consumer modularity should reduce overall costs of making the new consoles. In its recent earnings report, Sony said that the profitability of the PlayStation 5's manufacturing process has "deteriorated" and may be leading to higher costs that are eating into PlayStation's overall operating profits.