Robinhood limits purchases of GME, AMC, BB, and NOK to 1 share
Robinhood puts massive restrictions on GameStop, AMC, BlackBerry, and Nokia shares amidst the WallStreetBets domination.

Published Fri, Jan 29 2021 6:45 PM CST
|
Updated Fri, Mar 5 2021 7:25 PM CST
It was only a few hours before I went to bed last night that Robinhood stopped its Instant Deposit feature to access crypto, pissing off users -- but now it's worse: they're limiting your purchases on "WSB stocks".
These stocks include GameStop ($GME), AMC ($AMC), BlackBerry ($BB) and Nokia ($NOK) which have all been selling some great returns on investment for people. GameStop in particular which has mooned and caused hedge funds to lose billions of dollars, make worldwide headlines, and disrupt the entire market.
Well, now Robinhood is completely limiting the sales of shares of GameStop ($GME), AMC ($AMC), BlackBerry ($BB) and Nokia ($NOK) to just 1 share per customer at purchase. Stock Market News on Twitter shared the new images, which limits the super-popular shares to 1 purchase per customer at the moment.
The poster notes that there are "no restrictions on Webull" and other platforms.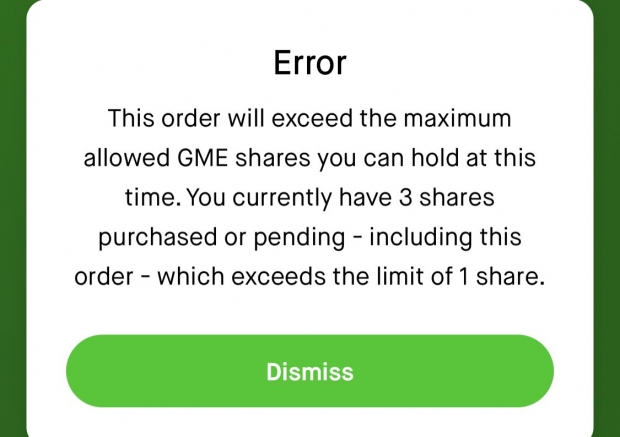 Related Tags