Mixer accounts for only 3% of streaming viewership in 2019
Mixer's viewership is up 149% over last year, but it still accounts for less than 5% of total views in 2019.

Published Mon, Dec 23 2019 5:04 PM CST
|
Updated Tue, Nov 3 2020 11:45 AM CST
Microsoft's Mixer platform is just a small sliver of 2019's streaming numbers, accounting for just 3% of total hours watched.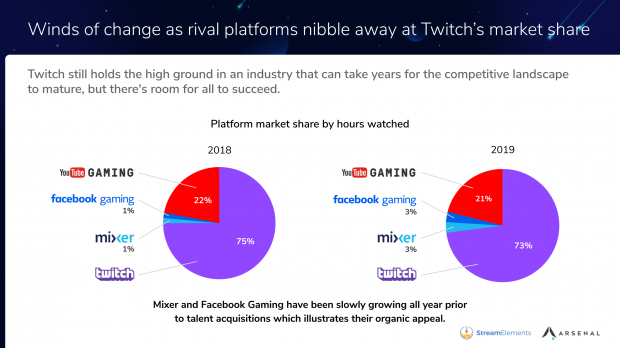 Even with the millions-strong streaming might of Ninja, King Gothalion, and Shroud, Mixer is still being utterly dominated by Twitch and YouTube Gaming.
The latest numbers from Stream Elements shows Twitch is still the undisputed king of streaming with 9.3 billion hours watched in 2019, accounting for 77% of total views. Twitch is followed up by YouTube Gaming with 2.68 billion, or 21%. Both Mixer and Facebook Gaming rival at each other 3% of total hourly views.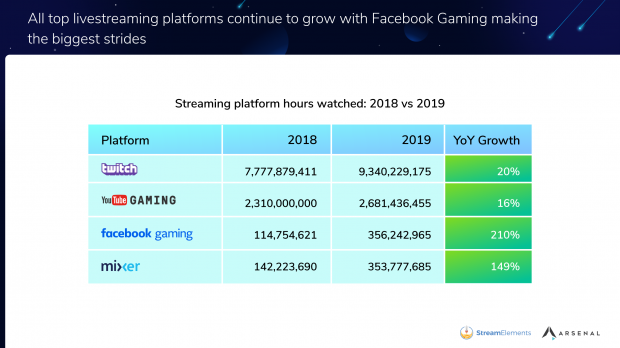 Even still, Mixer's total hourly viewership numbers jumped by a healthy 149% year-over-year to 353 million. Technically Mixer is still in last place, though. Facebook Gaming pulled in 356 million hours watched in 2016, roughly 3 million more than Mixer.
Microsoft's investment with big streamers like Ninja may not fully mature and translate into boosted numbers until 2020 or even beyond. I expect once next-gen consoles roll out we'll see some rise in Mixer viewerships, especially now that Microsoft is giving out freebies for watching specific streams.
Related Tags