Microsoft gives free loot for watching Mixer streams
Microsoft continues incentivizing engagement with free content.

Published Sun, Apr 28 2019 2:11 PM CDT
|
Updated Tue, Nov 3 2020 11:48 AM CST
Microsoft chases engagement even harder by doling out free digital items in exchange for stream viewerships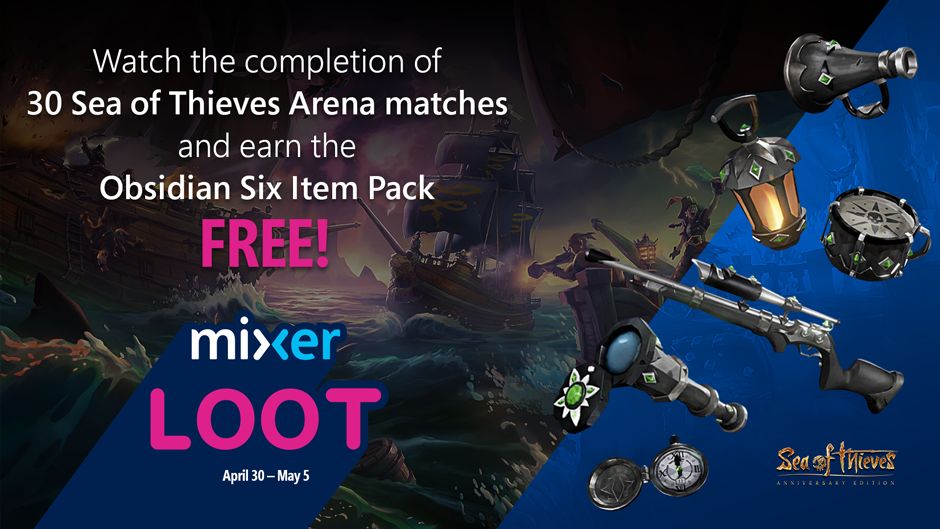 One of the best ways to get consumers to participate in anything is to give out free stuff. Microsoft has a history of this: first they started up a prize lottery you enter by completing in-game objectives, then Xbox Quests on Game Pass that pays you in MS Points for doing things in the service's games. MixPot, which gives you free games or content for watching announcement streams like E3 2019, was another initiative. Now the company is giving out free in-game loot for watching Mixer streams.
The company recently announced Mixer Loot, an initiative that rewards viewers with free digital loot if they happen to catch specific in-game moments. The promo will start with Sea of Thieves, and you'll have to watch 30 arena matches between April 30 and May 5 to get the loot pack. Oh and, there's a "while supplies last" attached to the terms, as if Microsoft can run out of digital items.
"Mixer Loot is powered by the same technology enabling Mixer HypeZone to detect fun and interesting events in the stream. You are rewarded for watching specific in-game activities on Mixer Loot-supported games. The technology must be able to detect important information from the game displayed on screen. The information that must be clearly visible on screen varies for each game," reads the announcement.
Mixer is vital to Microsoft's success and with its massive engagement hooks aimed at keeping people watching--and by extension, playing games--for as long as possible, the streaming outlet is a clear example of the company's service-first approach. Mixer is basically a Twitch platform that's monetized with advertisements and a direct streamer tipping system. Microsoft earns cash from every purchase of Mixer's premium tipping currency as well as from advertisements, but the streaming platform's real value is more subtle.
Mixer is designed to fuel engagement in two ways: by upping exposure to key first-party Microsoft games (games where MS gets to keep 100% of all revenues) via streams and content, which can spark game sales and increased playtime in said games; and two, tapping the lucrative streaming market via influencers and a bustling avenue of all-you-can-watch content.
Engagement is Microsoft's currency. It's no longer focused on just making games, but creating services around and in those games (some games like Crackdown 3 are simply additive to its online-based business model and were created just to sell subscriptions like Game Pass). Every single big first-party game from Microsoft is designed to do two things: be played for as long as possible, and monetize the engagement it creates with a live-based approach.
So it only makes sense that Mixer, an extension of this business model, would tap into the same ideals.
Related Tags