Microsoft has one simple goal with Project Scarlett's backward compatibility: If it's playable on Xbox One, they want it playable on Scarlett.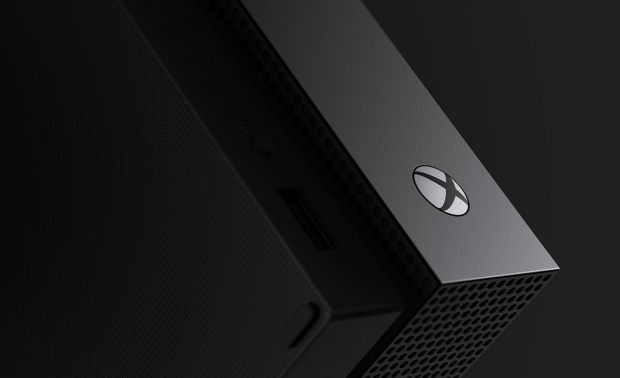 To preserve the Xbox legacy and massively boost value, Project Scarlett should play four generations' worth of Xbox games in 2020. The huge backward compatibility initiative stretches all the way back to the original Xbox. But what about forward compatibility, and will all third-party devs support it?
In a recent interview with GamesRadar, Xbox Studios head Matt Booty talked about cross-gen games development, backward compatibility, and is careful not to promise anything on behalf of third-party developers.
Booty confirms that Microsoft wants to bring all of the Xbox One's currently-playable games to Project Scarlett, including Xbox 360 and original Xbox titles. That's the plan, anyway...but whether or not that'll happen all at once remains to be seen.
"We think about it like Project Scarlett having the biggest launch lineup in history. We want you to know that when you invest in Xbox, you're bringing that legacy content library with you [to Scarlett]. It's why we think we've got an advantage with Project Scarlett, because our goal is that any game that runs on an Xbox One will run on Scarlett."
That last part is particularly interesting and seems to hint Microsoft assumes the PlayStation 5 won't be fully backward compatible in the same way. But patents indicate the PS5 could play all generations of PlayStation games, from PS1, PS2 and PS3 to PS4.
Sony has since confirmed it wants to bring native PS4 backward compatibility to the PlayStation 5.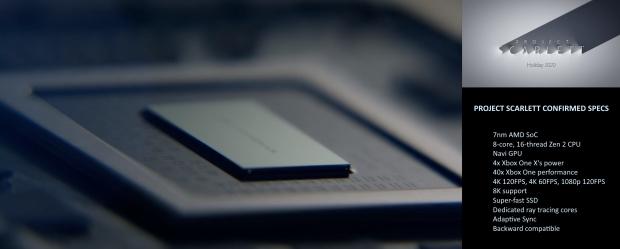 The Xbox exec also talked about Project Scarlet's flexible SDK. The next-gen system is part of Microsoft's internal Xbox SDK platform, which essentially lets developers make one game that's compatible across all Xbox hardware, Windows 10 PCs, and services like Game Pass and Project xCloud.
"You're not porting to a different operating system. You're not porting to a different graphics API. You're just running an Xbox game, right? So we hope that that's a big advantage in terms of our initial content library," he said.
This is a pretty big deal for developers. When Project Scarlett and the PlayStation 5 release in 2020, devs will have to optimize games for up to nine different platforms:
PS4

PS4 Pro

PlayStation 5

Xbox One

Xbox One S

Xbox One X

Project Scarlett

Windows 10 PC

Nintendo Switch
What about third-party games? Certainly pubs and devs want to optimize their games and make them playable on Project Scarlett, right? It's not that simple, and apparently it might be up to a developer to opt into native BC playback.
"Third-party titles...I don't want to answer for them, because they may choose to do some different things. That's why I think it's so important that we have Xbox Game Studios, because it allows us to take content that predictably and consistently will line up with our other services, and line up with our hardware.
"It means that the fans who invest in Xbox have something that they can depend on, in terms of their content and hardware"
Microsoft made big promises at E3 2019 with the Project Scarlett teaser. The BC umbrella is so wide and could give Sony a run for its money in the long run.
"We're delivering four generations of content better than you've ever seen them before," Microsoft said in a Project Scarlett teaser.
"We have hundreds of people across both our first party studios as well as our third party studios working on those next-generation experiences today."
"I don't lose my last generation as I move into the next generation. The people I play with and the games that I want to play. That shouldn't just end with the new generation, but carry over and continue to grow," Phil Spencer said in the video.
Project Scarlett is due out by Holiday 2020. No pricing has been announced.
Check below for confirmed specs and details, and a huge content listing of everything we've heard about Project Scarlett so far:
Project Scarlett confirmed details:
8-core, 16-thread Zen 2 CPU

Navi GPU

Highly customized 7nm SoC from AMD

GDDR6 memory

4x as powerful as the Xbox One X's 6TFLOPs of perf

Can deliver up to 40x more performance than Xbox One in specific use cases

Adaptive sync supported

Super-fast SSD that can be used as VRAM

Supports 8K resolution (likely media playback)

120FPS gaming

Variable refresh rate

Raytracing confirmed with dedicated raytracing cores

Backward compatible with Xbox, Xbox 360, and Xbox One games

Compatible with Xbox One accessories
Project Scarlett coverage: