Death Stranding may be Epic Store exclusive on PC
Death Stranding's PC version could be timed-exclusive on the Epic Games Store.
Published Oct 28, 2019 6:35 PM CDT
|
Updated Tue, Nov 3 2020 11:46 AM CST
2 minutes & 53 seconds read time
Death Stranding is coming to PC in Summer 2020, which isn't a surprise because it was never a PS4 exclusive. The real surprise would be skipping Steam instead of the Epic Games Store.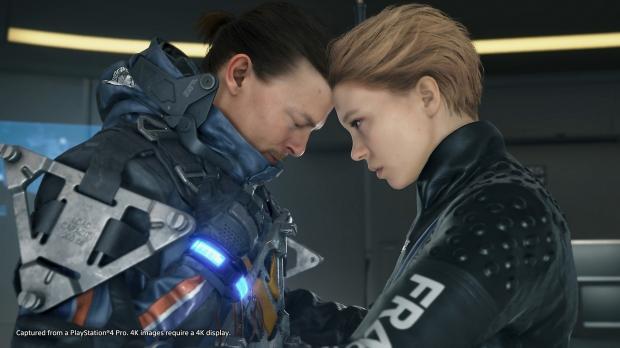 In a move that oddly frustrated PS4 owners, Kojima Productions announced it's teamed up with publisher 505 Games to bring Death Stranding to PC. Now the invevitable question lurks: Epic Games Store or Steam? We don't know which just yet, but based on the publisher involved and KojiPro's indie status, Epic could win them over with a lucrative timed-exclusivity deal.
We reached out to a PR contact that might hint at a staggered PC launch for Death Stranding. This might hint at a launch first on the Epic Games Store and then later on Steam.
"505 Games will publish Death Stranding for PC next Summer. A release date beyond Summer 2020 has not yet been confirmed. We look forward to sharing more information with you in the near future," the rep told us.
Here's why Death Stranding could go Epic Games Store exclusive:
Since 505 Games brought Control over to the Epic Games Store, gamers think it could happen with Death Stranding. That's entirely possible. Epic paid 505 Games $10.4 million for Control's time exclusivity and they might pay even more for a big Hideo Kojima game on their platform.
Kojima Productions is a new indie studio
Remember that Kojima Productions is a very young independent studio. Kojima's studio is not owned by Sony, and if they were, Death Stranding would be a PS4 platform-exclusive rather than a console-exclusive. Sony only helped pay for marketing and development of the PS4 version. 505 Games is stepping in for PC version.
Kojima Productions is made up of lots of seasoned game dev veterans, but the company as a whole is pretty new. It's so new that KojiPro still doesn't have their own games engine--they borrowed the Decima Engine from Guerrilla Games to make Death Stranding.
Death Stranding will be their first shipped game. It's incredibly important they maximize sales revenues and take marketing deals that make sense. For KojiPro, making more money right upfront and long-term could make more sense that launching the game on Steam.
Epic gives bonuses and larger revenue split
Not only does Epic give big payouts for exclusivity contracts, it lets developers keep 88% of all revenues from games sold on its store. Steam only lets devs keep 70%. Borderlands 3 and Control have sold tremendously well on the platform, ditto with Metro Exodus.
Two launch windows
A staggered launch could also be more beneficial by essentially providing two launch windows for the game. It'd come first to EGS and then later to Steam, maybe 6-12 months down the line. Yes, it'd be marred by lots of frustration from PC gamers, but publishers like the idea of re-selling their games on a different platform at a different time.
Whether or not Death Stranding is EGS exclusive obviously depends on multiple factors: Does Kojima Productions control where the PC version lands, or does 505 Games? And if it's the latter, are they willing to deal with more criticism and controversy in favor of more profits?
Also I'm wondering of Kojima signed a contract with 505 Games giving them exclusive publishing on the PC version. To get Control published on consoles and PC, Remedy gave 505 Games 20 years of exclusive publishing rights for Control.
Kojima might've had to sign a similar contract for Death Stranding on PC. If so, 505 Games would likely control where the game lands.
Death Stranding launches on November 8, 2019 on PlayStation 4, and will come to PC sometime in Summer 2020.
Related Tags