Check out Norman Reedus' junk in Death Stranding and you'll get decked
Don't stare at Sam's junk or he'll mess you up.
Published Sep 16, 2019 12:15 AM CDT
|
Updated Tue, Nov 3 2020 11:47 AM CST
2 minutes & 55 seconds read time
Death Stranding has lots of gimmicks, and one of them is too humorous not to mention: Sam will punch the camera if you zoom in on his crotch too often.
Hideo Kojima showcased a ton of new Death Stranding content at Tokyo Game Show 2019, revealing story details, game mechanics, and a lot of little extras that give his new IP some serious character. Primarily based around outdoor exploration and survival in a world haunted by terrifying phantoms, the game has a surprising amount of levity and humor. The fetus tank babies (aka Bridge Babies), for one, have a sprightly personality, and for two, you can equip hats and even sunglasses on Sam for extra flair.
But the real fun comes with Death Stranding's recreational home base. It's basically an extremely high-tech futuristic apartment where Sam goes to chill out after carrying 10,000 boxes across the country. In this space you're a floating camera that can zoom around and check stuff out, from inspecting weapons to looking at your little collectibles, making it feel like the Normandy out of Mass Effect. You can even zoom in on Sam's junk...but only if you want to get knocked out.
You can actually do a surprising amount of things in Sam's cool-down zone. Kojima spends nearly 25 minutes in this space showing off different options and creates an area where players can recouperate, plan their loadout strategies, and check mission progress.
There's a robust amount of customization that lets you change the colors of the room or Sam's outfit. You can of course take a shower, drink a beer, listen to music, eat a weird crunchy worm thing, check your email, and even get a blood transfusion.
Whatever you collect in the game will be available in this space, so if you do a mission for an NPC and get some beers, you'll be able to drink them. There's also little mini collectibles you can nab from shopkeepers or find throughout the United Cities of America. These show up on a shelf similar to the little models from Mass Effect.
This player space is small and menial but it brings a sense of familiarity and a brief reprieve to the onslaught of inky monstrosities and inventory management. This space lets us connect more with Sam, to see him as a human and make him more relatable; Sam has to shower, he drinks, he eats, and he pees just like the rest of us.
Death Stranding releases on November 8, 2019 on PlayStation 4.
Check below for more Death Stranding coverage: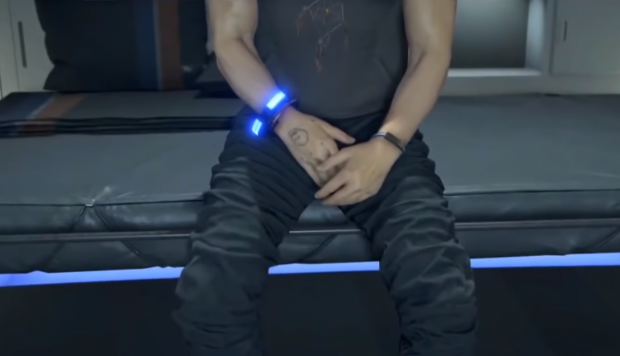 Related Tags