Death Stranding's pack setup is like Resident Evil's inventory system
Kojima takes cues from Resident Evil with Death Stranding's inventory gear setup.

Published Sun, Sep 15 2019 11:22 PM CDT
|
Updated Tue, Nov 3 2020 11:47 AM CST
Death Stranding has a very RPG-esque inventory management system, complete with a loadout framework similar to old Resident Evil games.
Thanks to a recent Tokyo Game Show 2019 info blowout, Death Stranding is getting a lot less mysterious. We've seen two extensive gameplay demos that showcase tons of content including exploration, third-person shooter combat, boss fights, hoverboards, and detailed story primers. Now we get a closer look at how Sam's inventory system works...and it's pretty familiar.
Death Stranding is based around a dangerous cross-country trek across a weirdly altered United States. The game has strong emphasis on being prepared and collecting gear like guns, materials, and other goods for survival in a ghost-haunted world.
Sam basically carries a platform with straps that can hold a ton of pouches and essential gear like a huge battery that must be recharged to keep his Bridge Baby alive (here's what the fetus tank babies are and what they do). It's kind of like a survival sim of sorts, complete with light RPG mechanics and a robust inventory system.
Read Also: Death Stranding is a futuristic high-tech fever dream
The latest TGS 2019 gameplay trailer shows off how this system works. Basically you have a finite amount of space in a grid-based plot to slap pouches and gear onto. Sam can store a number of things in specific pouches like grenade and ammo, and there's even blood packs to heal when low on health. There's a weight limit of course but this can be mitigated and raised with exo leg upgrades.
You can pop a massive amount of boxes and parcels on Sam's back before this happens though, turning him into an Amazon delivery man's nightmare.
Everything takes up space and you have to move things around like Tetris blocks to make sure they fit, very much like wrangling items in older Resident Evil games. Sam can even attach little charms to his backpack to bring him good luck in specific scenarios.
There's all kinds of straps and add-ons you can make to Sam's getup, and you can load him up to the point of absurdity. Sam's backpack gets outrageously monstrous in some gameplay sequences. Players can fabricate or craft extra boxes and pouches if they have enough materials.
Sam also has a neat little hovering platform that can hold extra boxes and gear. If the platform's empty you can even use it as a hoverboard to zoom around the giant map.
I thought this was an interesting little detail that lends some credence into what kind of game Death Stranding is. It's definitely an action-based exploration experience with espionage-style stealth straight out of Metal Gear, complete with some RPG and survival sim mechanics.
Death Stranding launches on November 8, 2019 on PlayStation 4. Other platforms like PC should follow at a later date.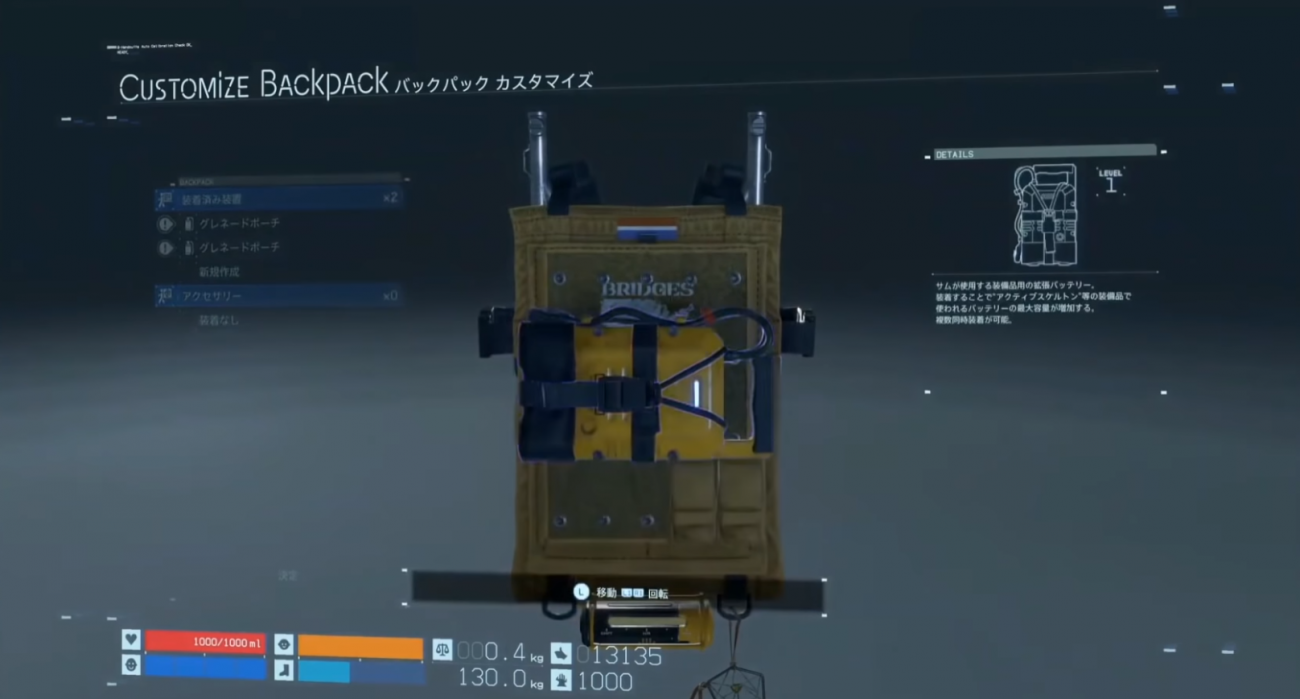 Related Tags