As many developers do, Respawn gave up development of a project so they could work on a big licensed IP. It just so happens in Respawn's case the opportunity was for one of the biggest and turbulent franchises in history.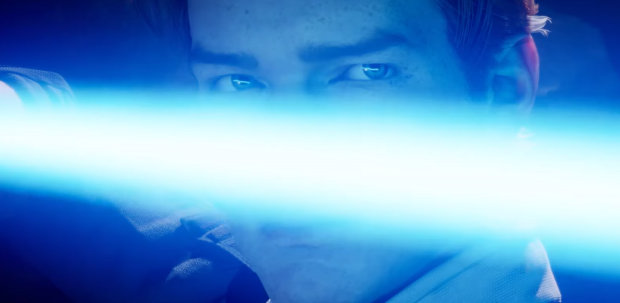 The history of Star Wars games is paved with cancelled projects, shattered dreams, and untold stories. There's hope left in the universe, though, and Respawn could restore balance to the franchise with its ambitious Jedi: Fallen Order game. To craft the expansive exploration-fueled Jedi power fantasy, Respawn had to focus the entirety of its new action-adventure branch on the project. That meant forestalling development of a game that was already in the works.
Jedi: Fallen Order's development stretches as far back as 2014 when Stig Asmussen joined Respawn. EA approached Respawn that same year about doing a Star Wars game, and Asmussen's team, which is undoubtedly the studio's non-FPS segment, put everything else on hold for Jedi: Fallen Order. Asmussen revealed more details in a recent interview with Press Start:
"I think [Jedi: Fallen Order] started with EA approaching us at Respawn and asking us. I had a team, we were working on a game, and they said 'What do you guys think about Star Wars?'"
"And unanimously hands-down...everybody was interested in working on Star Wars. Even though we were really interested in the other game that we were working on, we saw this as an opportunity."
"It was several months before we even met with Lucasfilm. I'm assuming that you guys knew that we were signed on, but it was probably four months before we knew that we were going to be working on it, and we started coming up with what our own ideas. What we could bring to the table at least from a gameplay standpoint."
It's likely that Respawn's old game was instrumental to shaping Jedi: Fallen Order. Asmussen joined Respawn in 2014 and given his pedigree of work on the God of War series, the game he was working on was likely action-adventure. It could've been a new IP, it could've been something like a third-person Titanfall, but whatever it was it's very likely to have had a significant effect on the new Star Wars game.
This happens more than you'd think in the games industry. Projects are cancelled, rebooted, and shifted all the time--sometimes two projects are combined with the fat trimmed off. Iteration is the key to games development, and devs are constantly trying to make the pieces fit in a way that pleases gamers, publishers, and themselves.
I'm mostly interested if this project is still on ice, or if it's been scrapped completely. We may never actually know. But we do know Respawn has two major projects still in the works.
It's working on:
Details are light about the Titanfall experience--maybe it's the forestalled project that brings more third-person depth to the franchise, or maybe it's actually the VR game itself.
Here's what Respawn said about the VR game:
"A combat experience in VR really gives you the chance to experience life closer to what a soldier would experience in real combat. It gives you more of that feeling of paranoia and the tension, fear, and andrenaline and anger...it's more visceral, it's more terrifying," said Vince Zampella, CEO of Respawn Entertainment.
"VR puts you into those situations so you can start imagining a small part of what it must be like," said Peter Hirschmann, director at Respawn.
"Right now we're just getting started. The drive to create this new VR experience was so great that it was a natural fit for us to partner with Oculus. They believe in the vision. They believe in what we're doing," Zampella said.
Jedi: Fallen Order is slated to release on November 15, 2019 on PS4, Xbox One and PC.
A galaxy-spanning adventure awaits in Star Wars Jedi: Fallen Order™, a new third-person action-adventure title from Respawn Entertainment. This narratively driven, single-player game puts you in the role of a Jedi Padawan who narrowly escaped the purge of Order 66 following the events of Episode 3: Revenge of the Sith. On a quest to rebuild the Jedi Order, you must pick up the pieces of your shattered past to complete your training, develop new powerful Force abilities and master the art of the iconic lightsaber - all while staying one step ahead of the Empire and its deadly Inquisitors.

While mastering your abilities, players will engage in cinematically charged lightsaber and Force combat designed to deliver the kind of intense Star Wars lightsaber battles as seen in the films. Players will need to approach enemies strategically, sizing up strengths and weaknesses while cleverly utilizing your Jedi training to overcome your opponents and solve the mysteries that lay in your path.

Star Wars fans will recognize iconic locations, weapons, gear and enemies while also meeting a roster of fresh characters, locations, creatures, droids and adversaries new to Star Wars. As part of this authentic Star Wars story, fans will delve into a galaxy recently seized by the Empire. As a Jedi hero-turned-fugitive, players will need to fight for survival while exploring the mysteries of a long-extinct civilization all in an effort to rebuild the remnants of the Jedi Order as the Empire seeks to erase the Jedi completely.

KEY FEATURES

Cinematic, Immersive Combat - Jedi: Fallen Order delivers the fantasy of becoming a Jedi through its innovative lightsaber combat system-striking, parrying, dodging-partnered with a suite of powerful Force abilities you'll need to leverage to overcome obstacles that stand in your way. This combat system is intuitive but takes training and practice to fully master its nuances as you gain new powers and abilities along your adventure.
A New Jedi Story Begins - As a former Padawan on the run from the Empire, you must complete your training before Imperial Inquisitors discover your plan to revive the Jedi Order. Aided by a former Jedi Knight, a cantankerous pilot and a fearless droid, you must escape the evil machinations of the Empire in a story-driven adventure. Explore and overcome a wide range of challenges focused on combat, exploration and puzzle-solving.
The Galaxy Awaits - Ancient forests, windswept rock faces and haunted jungles are all unique biomes you'll explore in Jedi: Fallen Order, with the freedom to decide when and where you go next. As you unlock new powers and abilities, opportunities open up to re-traverse maps in new ways; leveraging the Force to augment the way you explore. Move quickly, however, as the Empire is actively hunting your every step in their effort to exterminate all remnants of the Jedi Order.