UPDATE: EA CEO Andrew Wilson confirms a new premium Titanfall game is coming on 2019...but it'll have a twist. We're betting it's Titanfall VR.
"Respawn also plans to launch a premium game this year that is a new twist on the Titanfall universe. More to come on that in the months ahead," Wilson said in an earnings call.
Respawn's explosively popular Apex Legends F2P battle royale game isn't the end of the Titanfall series, and publisher EA teases more "experiences" set in the sci-fi universe.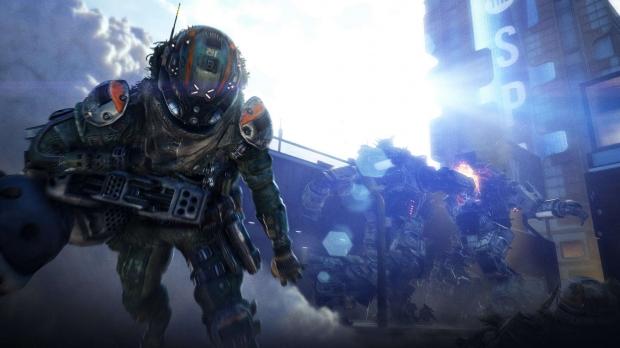 In its Fiscal Year Q3'19 earnings report, EA CFO and COO Blake Jorgensen confirmed more Titanfall is on the way. EA may launch a new Titanfall game sometime in 2019, but it may not be a fully-fledged sequel and instead more like Apex Legends. Respawn recently confirmed it's not working Titanfall 3 (the project likely morphed into Apex Legends), but we do know it's working on an Oculus-exclusive VR shooter game that may be Titanfall-related.
"Looking forward, we're delighted to launch Anthem, our new IP, to grow Apex Legends and related Titanfall experiences, to deliver new Plants vs. Zombies and Need for Speed titles, and to add Star Wars Jedi: Fallen Order to our sports titles in the fall," Mr. Jorgensen said in the press release.
EA CEO Andrew Wilson says 2019 will be marked with exciting games that deliver expansive, memorable experiences. Jedi: Fallen Order, Respawn's big new third-person action Star Wars game, should definitely be one of these games. It's possible the aforementioned VR game will be included alongside Anthem's long roadmap of updates and content.
"We're very excited about Apex Legends, the upcoming launch of Anthem, and a deep line-up of new experiences that we'll bring to our global communities next fiscal year," Mr. Wilson said.
A quick scan of the financials shows EA missed its internal targets, but results aren't exactly weak. It's possible this miss was from poor Battlefield V game sales and long-term monetization.
Digital revenue (which includes live services and game sales) made $908 million during the three-month period from October to December 2018, a strong $120 million jump from last year. Altogether EA pulled in $1.289 billion of net revenue during the quarter, up a slight 11% year-over-year.
We'll have more details on these numbers and EA's future slate once the conference call goes live.